Ebbw Vale: 13th May 2000.

It started as it ended: with rumours about their MD.

Frank Renton was in town and the gossip was all about him taking over at the band now called 'Buy As You View'.

With stacks of money from 'pound a time' televisions and fridges behind them, it was alleged that he was going to be Cory's new conductor:

A meeting was to be held in a back stage room of the Ebbw Vale Leisure Centre and terms discussed with the men who were rumoured to be bankrolling the band to success.

Urban myth

According to urban myth – either Frank's price was too high, or with Cory as the last band on stage, the men in suits had the opportunity to glimpse a very viable alternative.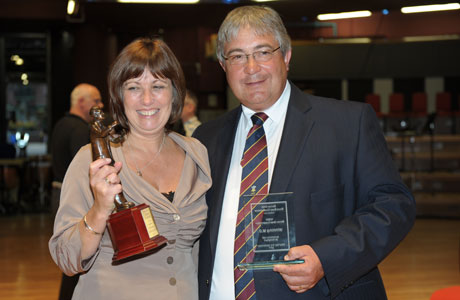 Ever present support: Lorraine Childs enjoys another of her husband's successes

Asked to conduct

Robert Childs had been asked to conduct Cory at the contest because his brother didn't want to compete against Tredegar. They had become the pre-eminent force in Welsh banding, and he had left them a few months previously.

A couple of hours later and the course of 21st century brass band history had been changed forever.

The Lord himself only knows what would have happened if things has turned out differently on that day.

Vision and commitment

A win on 'Diadem of Gold', a hasty meeting that saw those business men startled by the vision, understanding and commitment of the Black Dyke principal euphonium, and Robert Childs was the new man at the helm of the most famous band in Wales.

Five months later, after he had personally spearheaded an aggressive recruitment campaign to secure the best playing talent in Wales, he was sat in the bowels of another contesting venue – the Albert Hall, holding the National Trophy in his grasp.

He had just led Buy As You View Cory to the 'Double'.

It was just the start of a quite staggering decade and more of unprecedented success.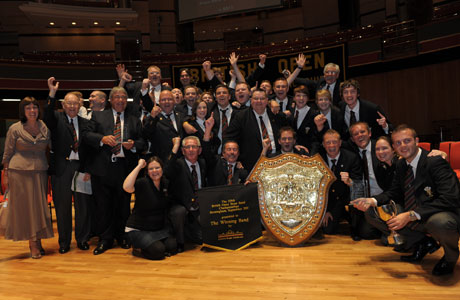 The fifth British Open win in 2011

The money helped - £15,000 a year to start, £350,000 over three years at its peak.

That though still didn't win a single contest.

Razor sharp

The first Open success came as a surprise – a victory that September greeted with a fleeting disdain from rivals, especially those from Yorkshire, who felt it had been nothing more than a fluke.

The Albert Hall win though on 'Harrison's Dream', played with what was to become the hallmark contest features of razor sharp technique, audacious dynamics contrasts and forensic attention to detail, started to shut them up.

Real work

The real work started the following year, after the euphoria of expectation had been replaced with the reality of putting in place the long term structures to compete successfully against the very best bands in the world.

In many ways that has been an even more impressive achievement: Bob Childs was Cory Band.

Everything bore the hallmark of his single minded professionalism; the fingerprints of his involvement and commitment were everywhere, from the long term plans for finances and player recruitment to music commissions and education.

Nothing was left to chance. It was a blueprint for domination.

Euro frustrations

Defeat in his first Welsh Regional contest, followed by the loss of the Open and National crowns, and the first of what was to become a series of frustrating near misses at the Europeans hastened the revolution.

The following years and the dominance started to gain a hold: Wins at the Welsh Area and the British Open in 2002, Wales again in 2003, 2004, 2005, 2006 and 2007.

The British Open was claimed for the third time the same year.

2008 though was the watershed – and European success.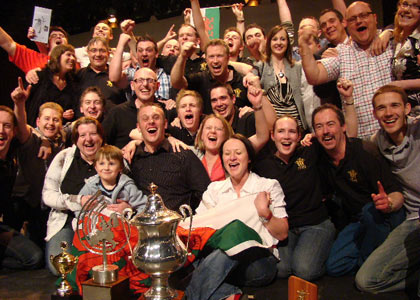 A dream secured with the first European success in 2008

Head in prayer

Six times Cory had come close: Agonisingly so in 2003 and 2006, when only the test piece count back system denied them; bizarrely so in Scotland in 2004, with a result that no one to this day can still fathom.

In Stavanger, with band representative John Southcombe holding his head perfectly still in silent prayer, it all came good – and even better a year later in Ostend with the most commanding of victories.

The hat trick came in Linz in 2010, where they once again won both disciplines of the two legged contest.

Nigh on unbeatable

In 2009 they were nigh on unbeatable – only fatigue finally denying their audacious attempt to claim the grandest of all Grand Slams – topped by a World Championship win.

The second decade of the new Millennium saw them claim a fifth British Open, in perhaps the most emphatic fashion of all, and two more Welsh Area wins.

The only disappointment was that the record books will record just the one National triumph – back in 2000: A curious anomaly for a band that was seemingly equipped with all the right musical tools to win in Kensington more than just the once.

Dr Robert Childs & Cory Band: The Majors


| | | | | | |
| --- | --- | --- | --- | --- | --- |
| Year | Welsh Area | European | British Open | National Finals | Brass in Concert |
| 2000 | | | 1st | 1st | |
| 2001 | 4th | 2nd | 3rd | 5th | |
| 2002 | 1st | | 1st | 2nd | |
| 2003 | 1st | 2nd | 6th | 3rd | |
| 2004 | 1st | 6th | 2nd | 4th | |
| 2005 | 1st | 2nd | 2nd | 3rd | 3rd |
| 2006 | 1st | 3rd | 2nd | 4th | |
| 2007 | 1st | 3rd | 1st | 3rd | |
| 2008 | 3rd | 1st | 3rd | 3rd | 1st |
| 2009 | 1st | 1st | 1st | 3rd | 3rd |
| 2010 | 2nd | 1st | 5th | 2nd | |
| 2011 | 1st | 3rd | 1st | 3rd | |
| 2012 | 1st | | | | |
Construct

Each victory has been a construct of the MD's insatiable desire to win.

Each performance has been based on musical pragmatism. The head has always ruled the heart.
Sears Tower

A Cory contest performance under Robert Childs has been the banding equivalent of the Sears Tower in Chicago: An architect's vision of startling technical purity – an edifice of form and function.

They have rarely been things of mesmerising beauty, but then, beauty rarely wins a brass band contest.

And boy, does he know how to win brass band contests.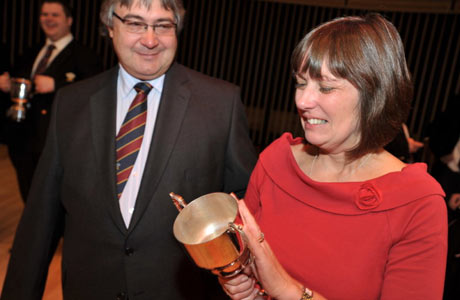 The Brass in Concerr title was secured in 2008
Accolades

The accolades will come thick and fast: And deservedly so.

Five years in row they have been ranked as the world's top band.

He has delved deep into antiquity to restore compositional reputations, record forgotten gems, paid top dollar to push test piece boundaries and encourage playing talent.

Respect

He has won numerous individual awards and gained wide spread respect for his work at the Royal Welsh College of Music and Drama.

The level of professionalism he has brought to Cory has been remarkable.

They are a band that has never been anything other than superbly prepared – from high profile concerts and festivals to television broadcasts and CD recordings.

He demands 100% and gets 100% back in return from his players.

Welsh benefits

What he did in making Cory pre-eminent has also had great benefit to Welsh banding too.

The best brass students now flock to the Cardiff, with local bands (including their traditional Welsh rivals) boosted by a new found seam of talent.

Standards have been raised all across the board as former students embark on their own musical careers, from Goodwick and City of Cardiff to Pontypool and Pontardulais and many more besides.

As a result of his teaching and direction, Welsh banding is enjoying a new found confidence.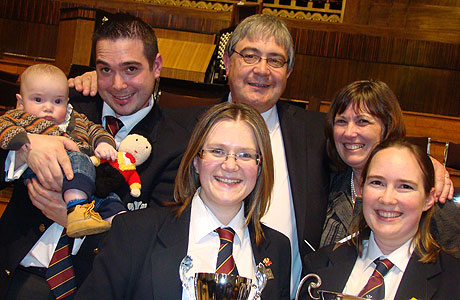 Family matters

Satisfying

He leaves with nothing else to achieve with Cory (apart from a final assault on a fourth European crown) – his reputation embossed into the record books in 24 carat gold lettering.

He will also enjoy so much more success – that is without a doubt. And he will also enjoy an inceasingly satisyfying family life with his wonderful wife Lorriane and the new generations of the Childs clan following the arrival of his first grandchild.

It ended as it started: with rumours about the MD.

It is hard to think who will be good enough to replace him.

On this occasion, unlike Ebbw Vale 12 years, there may not be another Robert Childs waiting in the wings for Cory.

Iwan Fox