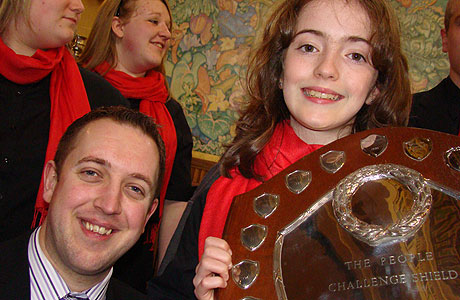 Are you ready Mr Spielberg? Owen Farr gives us his best film star smile

There was a rumour that Steven Spielberg was spotted in Pontypool on the Saturday night of the Welsh Regional Championship.

Snapped up

Never a man to miss the chance to add saccharin coated fantasy polish to a true story of honest graft and endeavour, he would surely have snapped up the rights to the tale of a band on its last legs, inspired to contesting glory by a hometown boy made good, aided by a former Olympic athlete on a test piece that evoked the spirit and ethos of the ancient games themselves.

Hells bells: Owen Farr and his band could have been enjoying Tuesday night rehearsals in Beverley Hills. You could see it up in Hollywood lights: 'Chariots of Brass'.

Pontypool Brass certainly did their bit and more to make the fairy story come true.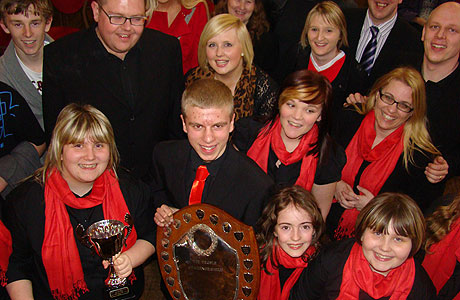 Cast of fouzands... Pontypool celebrate

Down to six players just 18 months ago, back came the Cory horn star (who still lives in the town) to revitalise a moribund band, with Venissa Head, the former shot putter and discus thrower who represented Great Britain at the Los Angeles Olympics in 1984, playing Bb tuba.

Intrigue and mystery

As with all good film scripts, this one also had a fair dollop of intrigue and mystery to add to the musical mix too.

Philip Harper's 'Olympus' test piece certainly caused its fair share of problems, with Derek Broadbent faced with the usual compare and contrasts issues in the tent. He knew what he wanted to hear though – and Pontypool gave it to him in spades.

They took the winner's laurels thanks to a well structured account that saw Owen Farr carefully make the most of his resources.

Intelligent and crafty

Like his mentor Bob Childs at Cory, he brought out the detail from the score, enhanced the individual contributions of his strongest players (including 'Best Instrumentalist' Lynne Turner on solo horn) and kept something in reserve for a bold finish.

It was intelligent (crafty even) in approach, and gave the band their first Area title since 1994, and Owen his first taste of conducting glory. If there is to be a sequel then agent's fees will have to be negotiated well before they take to the stage in Cheltenham.

This partnership has the potential to run and run.



Ogmore return to the Finals

Vibrantly coloured

Meanwhile, the whiff of intrigue came from Ogmore Valley – with a performance that very specifically caught the ear of Derek in the box.

Stylish and vibrantly coloured, it featured solid individual contributions from the euphonium and solo cornet, whilst the talented MD Alice Jones kept the music flowing with drive and purpose.

It was a decent show, but an eminently beatable one. That it qualified (to send the band to the Finals for the first time since 2003) came as a surprise to the neutrals in the hall. The adjudicator liked it though – and that's all that counted come the end credits.

Film-noire

The dollop of film-noire mystery came with Melingriffth 2 under Dewi Griffiths.

The simplest explanation to why a performance that seemingly had the essential elements of security and balance solidly locked in place was Derek just didn't like the powerful approach in the box.

Keyse Soze

They certainly inhabited different dynamic terrain to their rivals, but precision and tuning was seemingly a class apart too.

Derek didn't think so though and placed them fourth.

Any decent film needs a surprise baddie as one of its usual suspects: To Melingriffth supporters, Derek Broadbent was up there with Keyser Soze.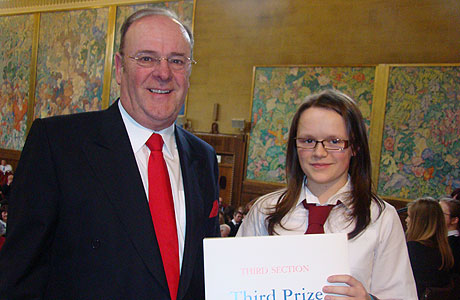 Third place for Crwbin

Genghis

Come the announcement of the rather unexpected results, M2 was also beaten by solidly delivered account from Crwbin conducted by Andrew Jones (who rejoices in the great filmatic nickname of Genghis).

Helped by a fine principal cornet lead, tuning issues may just have cost them a place at the Finals for a second time in three years.

Predictable course

The contest then ran a predictable course – Briton Ferry, led by the animated Rhodri Griffths brought colour and excitement, if all rather loosely put together in their rendition to end fifth, whilst it was great to see Thomas Coaches Mid Rhondda back in competitive action (with Phil Morris putting in a cameo appearance in the front row cornet bench).

Alan Gibbs led his ensemble cast (they were low on numbers) with a real understanding of what could and couldn't be achieved to make the most of his resources in ending sixth.

Youthful promise

Upper Rhondda showed plenty of youthful promise under the baton of Cory's second trombone player Gareth Robinson, to round off the contest with a flourish.

The early contesting scene was set by a promising marker from Newport Borough that featured notable individual contributions (a powerful bass trombone and three hard working young girls on solo cornet in particular), although the lack of ensemble personnel (despite having a brilliant 90 year old on trombonist) just saw them fade away to end 8th.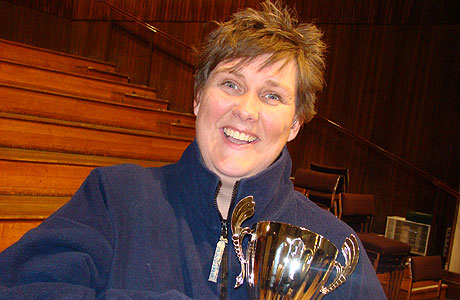 Best Instrumentlaist winner Lynne Turner

Tuning

Meanwhile, Tata Steel was just let down by annoying tuning issues in a persuasive rendition under Ceri Thomas that featured a fine sop and solo trombone, whilst Ammanford and Ynyshir also fell foul of intonation problems that undermined the good musical intentions of both their young conductors.

In the end it was Pontypool Brass that enjoyed the happiest of contesting endings.

Further victory celebrations and possible film contracts beckon if someone has managed to get Mr Spielberg's telephone number.

Iwan Fox