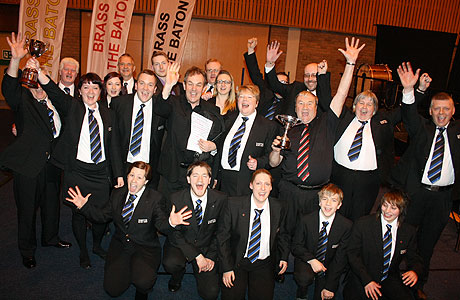 Hands up!: Cheltenham here we come for Dunston Silver
Picture: Steve Jack

You've got to admire Mike Kilroy's abilities both as a musician and as an adjudicator.

Over the course of three consecutive weekends, the well-known euphonium player adjudicated 47 performances of 'English Folk Song Suite'.

Not a chore

It wasn't a chore though – he enjoyed every minute of it, and made sure that every band that he listened to knew exactly why they came where they did.

He has the stamina of an old Craghead Colliery miner to go with an inexhaustible love of all things Vaughan Williams. The band's here got full value for their money from the judge.

In a crystal clear, yet admirably diplomatic address he told everyone just what he was looking for: Get the basics right and then add the extras.

Clues

There were more than enough clues in what he said to ensure that everyone also knew that he was also a tad disappointed by what he heard on the day.

Folk music is an important part of the social fabric in these parts, but it seemed on this occasion the MDs didn't quite know what to make of the simple, transparent score.

As a result, an inconsistent and variable contest gave Mike a very difficult job of placing the bands in his order of merit.

Convincing account

There was little doubt that the most convincing account came from the eventual winners, Dunston Silver conducted by Steve Archer.

A band full of potential, led by an intelligent MD, they certainly managed to glue all the basic ingredients together.

With excellent contributions from their main soloists (especially their prize winning euphonium) it was the one performance of the day that sounded musically at ease, despite the little clips and errors.

Skillful

Steve Askew's Kingway Printers Cleethorpes will return to Cheltenham for a second successive year after they skilfully captured the stylistic nuances of the score, despite occasional errors and some tuning problems.

What was noticeable however was that the MD never relied on misplaced volume to try and create excitement and energy, keeping a sense of control that enabled the music to flow.

The two qualifiers picked themselves, although behind them it was a very difficult to compare and contrast performances that varied so much in execution as well as style.

Spirited

Mike eventually plumbed for a spirited account from Trimdon Concert Brass to place third, after they started well but couldn't quite build on their excellent start, whilst fourth spot was taken by an encouraging performance from debutants, Jayess Newbiggin.

Another newcomer in Barton Community Band will have been delighted to have finished in the top six, after they showed that they had plenty of enthusiasm to go with the bags of potential.

They could be a band to look out for in these parts in the coming years under the talented Gary Oglesby.

Best principal

Craghead Colliery's, Melissa Dean gained the 'Best Principal Cornet' award for her fine efforts in a slightly misfiring performance that ended in sixth, despite conductor Brian Wright's best intentions to allow the music to flow with freedom.

Meanwhile, Swinton & District Excelsior and Stanhope Silver neither really settled and seemed to battle to find the right style required to make the music flow with ease and simplicity.

Hats off

Hats off to the bottom three of Burneside Brass, Spennymoor Town and Knaresborough Silver.
All three took to the stage short on numbers but full to the brim with a brilliant sense of commitment and enthusiasm for the task ahead.

The trio of MDs used their noggins too – not asking their players to try to do something they knew they couldn't manage.

As a result there were gaps and errors, but with smiles and nods of encouragement from the MDs they all managed to get to the end – a bit bloodied but certainly not beaten.

Malcolm Wood