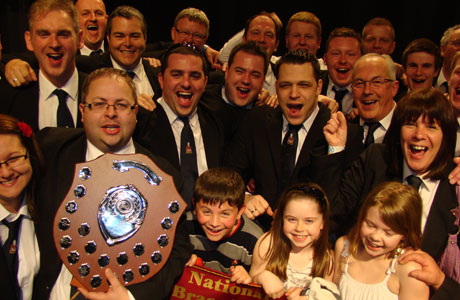 Triple champions: Flowers win their third major contest of the year

With the time approaching 8.00pm on Sunday night, there was to be heard, arguably the most satisfying stage performance of the whole weekend.

Surprisingly it wasn't a musical one – a rather uneven Championship contest sought to that.

It came instead from Alan Morrison.

Model

His pre-results analysis, borne of 'stress and frustration' was a model of clear thinking and straight talking.

There was no pretence or obfuscation, no bland platitudes or well meaning banality. Both he and Jim Davies were disappointed by what they had heard.

Flowers deserved to claim the title with a performance that clearly had the control, if not quite their usual finesse.

They were certainly expecting more from all the 11 contenders.

It was the one rendition that had an authentic stamp of top level quality about it. The rest were some way behind.

Bristling

When Alan had finished speaking you could feel the bristling indignation of a number bruised egos. They had nothing to complain about. He was spot on.

This was pretty average fare, and even Flowers – a band that has been playing to the top of its form of late – didn't really realise their full potential.

It was a still a performance that won by a clear margin though.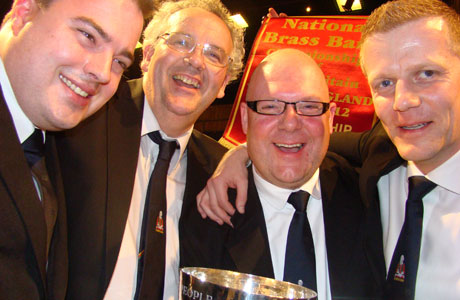 Foundation builders: Flowers prize winning bass section

Precise direction

Led with precise direction by Paul Holland, the Butlins Mineworkers Champion regained the title with a 'Devil' that engaged rather than engrossed.

Perhaps they knew they had the beating of this field before a note was blown, because they never stretched themselves to the limit once they started to play.

The opening set out their stall, and with some fine individual contributions (Nigel Fielding's presence on sop was noted) a facile, purposeful fugue and a secure, malleable close, it was never in danger of being beaten.

There is more to come from this impressive band. With the obvious ability to engage an extra gear if required against higher class opposition, they will be one of the favourites to claim a qualification place to the British Open at the Grand Shield.

Flexible

Bournemouth Concert Brass under the flexible direction of Captain Dave Barringer certainly played to their limits in what was a colourful interpretation, full of excitement and tension.

It hung onto the coat tails of a feverish 'Devil' at times, but with a host of rivals failing to maintain their grip with over ambitious tempos and overblown dynamics, it held its form to the close.

Qualification may have been a bit of a surprise, but given what Alan had said from the stage, it really shouldn't have been.

Interesting

Sherborne Town's conductor Paul Cosh had presided over the Yorkshire Championship Section the previous weekend (where the decision on the runner up certainly raised an eyebrow or two), so it was always going to be interesting to hear what his interpretation was going to be like.

What it was like, was confident and intelligent approach, with Paul making the most of available resources, with well chosen tempos and dynamics featured from start to finish.

It never thrilled – but it wasn't meant to. It was as an astute performance that gained an astute reward.



Bournemouth are back at London after coming runner up

Exciting

Just behind them came the newly promoted National First Section champion, Aldbourne.

Helped by David Johnson's bold interpretation, they delivered an exciting account, full of intensity and drive that despite the odd misplaced intervention always had enough about it to feature in and around the top six.

Adventure

So too St Dennis, directed with a sense of controlled adventure by Darrin Hawkin.

They overcame some uncertain moments to bring a real spark to a committed and full bloodied offering that saw them finish in fifth. Their delight at the announcement of the results spoke volumes in more ways than one.

Tails

The heavyweight trio of Camborne Town, Woodfalls and Mount Charles all headed to Torquay with realistic aspirations of taking the title, but left with their tails between their legs.

Each of them will want to forget the weekend as quickly as possible.

Convoy

Heading the convoy out of Torquay would have been Garry Cutt.

After enduring an idiosyncratic kick in the goolies thanks to Frank Renton's Devilish beliefs in Bradford, he stood by his instincts to deliver the most stylish reading of the day with Camborne Town.

However, despite a superb start, it became increasingly error prone and fell from contention. Sixth was a disappointment, but the execution never came close to the musical inspiration.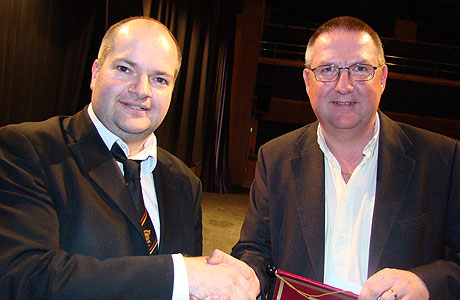 Third place for Sherborne

Close behind

Dr Robert Childs will have been close behind, after Woodfalls failed to convince the men in the box that they had fully overcome a very nervous start in defence of their title.

The well known Area curse struck early (the opening quartet varied between a solo and trio) and their chances of mounting a qualification challenge were lost despite a rousing fugue and a subtly shaped closing section.

Ambitious

Philip Harper's ambitious tempos put paid to a very scrappy Mount Charles, as they never gained a degree of self control in what had the makings of a possible title challenger.

Nothing came off as they would have hoped. Eighth was as a disappointing return for a disappointing performance.

Dug deep

Lydbrook, St Austell and Portishead Town all dug deep to deliver brave accounts on a piece that tested them to their limits and beyond.

Ian Holmes, Richard Evans and Andrew White all earned their fees in full as they battled to impose a musical sheen of control over the noticeable technical defects.

They were Championship Section performances in name only.

Something to spare

Not so Flowers, who despite not perhaps displaying the full gamut of their increasingly impressive contest winning armoury had more than enough firepower to take this title with something to spare.

Despite the odd misfire, they were still too good for their rivals here.

It may be a different story at the Grand Shield, but you suspect they know that already.

Malcolm Wood