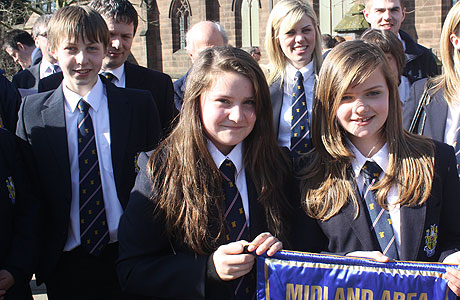 Happy girls and boys of Bilton Silver

10.00 am on a Sunday morning is never the best of times for a band to take to the contest stage, yet it proved to be ideal for Bilton Silver (Rugby) and David Stowell as they won off the number 1 draw.

And rarely does victory off number one come in more convincing fashion than was the case here.

Goff Richards' 'Cross Patonce' once again revealed itself to be an extremely challenging test, with the majority of the ten bands finding the challenges of its rhythmic intricacies and demanding individual lines, along with the ebb and flow called for in the melting slow movement, just too much to control in comfort.

Nilhilistic

Yet there was no lack of bravery and endeavour from the players, despite many a MD revealing a nihilistic musical approach that lacked the musical insight and sophistication called for in a piece that might deceptively and unfairly be described in clichéd terms as 'light' music.

So many, got this so wrong from the word go.

Capture

Adjudicators Malcolm Brownbill and Barry Thompson spoke of the need to capture the Allegretto marking and rhythmic detail of the opening movement, the rapidly changing time signatures of the Finale and the innate expression of the central interlude.

The best did it (certainly Bilton and Shirebrook), and whilst they commented that they had been 'pleasantly surprised' by the standard of play overall, it did leave you wondering, just what they might have been expecting in the first place?

Consistency

For the winners it was straightforward consistency that sealed their trip to Cheltenham as Midland Regional Champion.

David Stowell directed a performance that not only captured the detail of the opening movement but also highlighted its contrasts of mood and timbre that was highlighted by a very fine solo euphonium.

Despite a shaky opening, the second movement displayed flexibility and freedom of expression whilst the Finale, although not always capturing the same level of clarity as the first, negotiated the changing time signatures with impressive agility.

Yes!

Shirebrook Miners Welfare Unison were one of two bands directed by Mark Wilcockson, whose exclamatory cry of 'Yes!' at the end of their performance certainly told you just how well he thought his band has played.

He wasn't wrong.

Having followed Bilton on stage, it was a performance that displayed an impressively bold sound, and although lacking the clarity of detail of the winners, the dynamic control of the central movement was notable, as was the spirit of the Finale, which built to a resounding conclusion.

Two bands gone and the contest was over.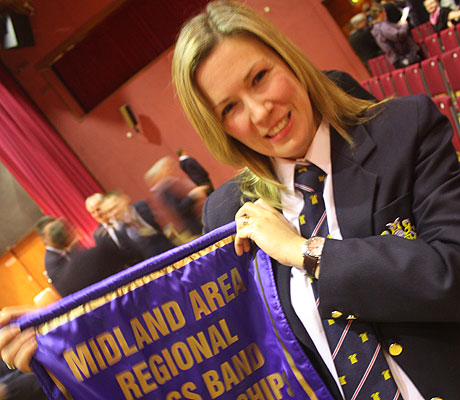 Champions: Bilton had to Cheltenham

Solid

Third placed Raunds Temperance came close but never really threatened to claim a Cheltenham berth, as they rather unluckily repeated last year's finish under Robin Norman.

It was a solid performance that although demonstrating neat ensemble in the outer sections along with warm affection in the slow movement, just lacked the subtlety of the two front runners.

Highlight

The highlight of Wigston's fourth place under Garry Sleath was a finely wrought the central section, although any chances of coming higher were undermined by an uneasy sense of pulse and rhythm in the outer movements.

Playing last, Mark Wilcockson's second band, Bakewell Silver might count itself a touch unlucky to have finished fifth, with a rendition that although requiring a little more flexibility in the central movement, displayed both rhythmic confidence and momentum.

Ultimately though, too many blemishes cost dearly.

Experience

The experience of MD Wesley Kendrick enabled Amington to end in sixth with some of the most musical and sensitive playing of the contest in the central section.

The inconsistencies in the outer movements though were severe.

Illness

Meanwhile, seventh placed Matlock delivered a scrappy account that was not helped by issues of balance and wayward percussion.

Due to the illness of MD and former GUS soprano player David Jones, Towcester Studio summoned the last minute assistance of Jonathan Mott to conduct the band.

It was perhaps no surprise that minds were elsewhere as they ended in eighth.

Step

For Avonbank (Evesham) and newly relegated Foss Dyke, 'Cross Patonce' proved to be a significant step too far with neither able to get to grips with its difficulties.

Not so Bilton and Shirebrook, both of whom will head to Cheltenham boosted in confidence by their ability to overcome a very demanding set work.

They will only hope they don't get such an early draw though when they get there.

Christopher Thomas