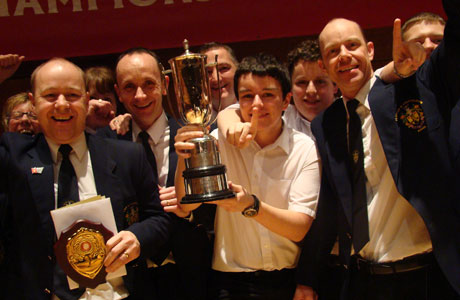 Champions: Clifton & Lightcliffe celebrate

The opening salvo's of the Yorkshire Championship weekend saw twelve bands faced with the daunting prospect of getting to grips with 'Cross Patonce'.

As was shown a week earlier in the North West, its enchanting beauty and joyfulness masked a deeply demanding work for bands at this level – something perhaps Goff Richards did not intend when he wrote it.

Problems

And although there were a number of contenders that very nearly mastered it, even the best encountered problems overcoming the demanding solo lines and complex ensemble structures that surfaced almost from the very first bar.

Amid the cheers from those announced in the prizes and the two bands heading to Cheltenham, there was also a palpable sense of long awaited relief too: Euphonium players in particular will sleep easier now this one is out of the way.

Excellent speeches

Putting three coherent, consistent movements together was a huge challenge, as both Philip McCann and Phillip Sparke spoke about in their excellent pre-results speeches.

Each talked about style as well as substance, the need to control tempos and dynamics before trying to add the final sheen of interpretation polish.

A seamless continuity was required - something that proved elusive on the day, especially as the treacherous opening movement soon gave way to the lyrical beauty of the central 'Sweet Shepherdess' – a deceptively difficult gem to really play with simple elegance.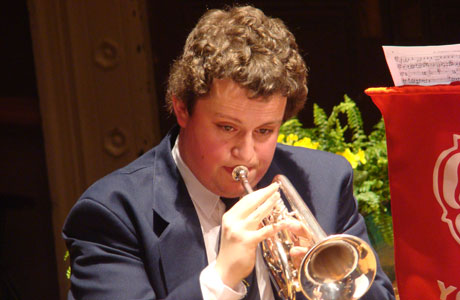 Young leader: Clifton's principal cornet leads the way to victory

For the judges the marker delivered by Clifton & Lightcliffe off the number 1 draw wasn't matched by any of the following 11 bands.

Without a doubt it was beatable, but with each passing challenge it's permanency in the qualification places grew and grew.

Tight ensemble

A commendably tight ensemble of warm sounds and solid solo lines was enhanced by the common sense approach from the middle by John Clay.

He used all his years of experience playing under some of the great conductors at Black Dyke to shape the music with a subtle sense of understanding.

That is eventually beat off the more extrovert challenge from City of Bradford may have come as something of a surprise (it certainly did for their band rep on stage), but you could hear why it made such a persuasive impression in the box with two men who enjoy refined playing.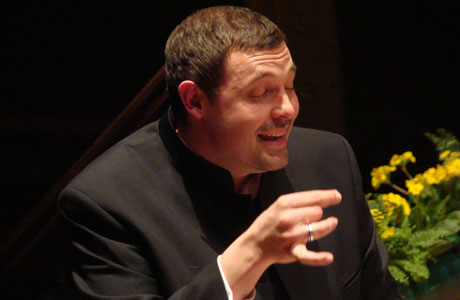 Mesmeric: Lee Skipsey leads Bradford to Cheltenham

With a camera crew following their every move, City of Bradford took to the stage under Lee Skipsey to deliver a commanding, confident account that perhaps just became a little too colourful and robust on occasions.

Sparkling form

Principal cornet, Tim Pool was in sparkling form to take the soloist award (for the second year in a row albeit in different sections), whilst the MD was his usual mesmerising self – including the now obligatory catwalk turn to the audience as the last chord rang out.

Although they will be disappointed that they were unable to provide the cameras with the win they perhaps expected, it was a valuable lesson for an ambitious band:

Less can certainly add up to more on occasions – and this was one of them.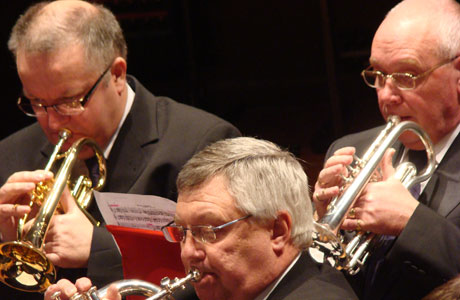 Experience counts for Cornerstone Brass

Good return

Meanwhile, the returning Cornerstone Brass took third place. Under the direction of the youthful Damian Wileman they sounded as if they were just a rehearsal or two away from producing a something that would have certainly claimed them a qualification place, if not the title.

It's was also good to see a fine bunch of musicians back at Bradford this year even if due to their Salvation Army commitments it's only on Saturday contesting days.

Frustration

For Strata Brass, another year of understandable frustration, as they produced yet another solid account of themselves to end just outside the qualification places.

The resigned shrug of the shoulders from their band rep at the results rather summed things up.

One day they will get to the National Finals, especially if they continue to play with the admirable sense of musicality they displayed under MD David Holling.

On this occasion though, just a few too many minor slips cost them dearly.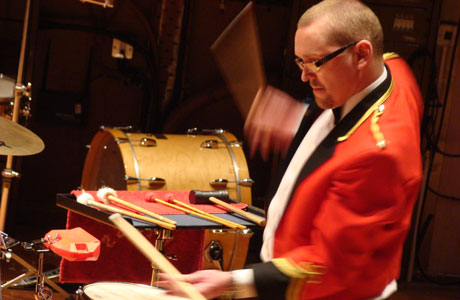 'av it! Strata's percussionist gives it 110%

Detailed

Rob Straw's Barnsley Chronicle brought the contest to a close with a detailed rendition that always had enough about it to feature in the prizes, if not qualifying spots.

Tight, efficient and well directed, the sensible approach paid dividends and fifth was a good return.

Lindley's Jason Smith looked dapper in red bow tie and cummerbund, and he had good reason to be smiling at the end of his band's account.

Whilst not quite reaching the level of consistency shown by the qualifiers, it wasn't too far behind, with some notable euphonium playing a real feature on a day when nerves and lack of air support robbed many of the confident start they required to make a real impression.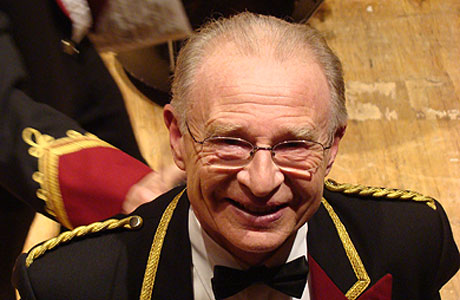 The face of experience: Lindley's fine euphonium gives us a smile

Strived

The remaining contenders gave it their all as they strived to deliver three consistent movements of music making.

Both Chapeltown and Horbury Victoria will have headed home a little disappointed.

Chapeltown never quite seemed at ease on stage, despite Andrew Dennis ensuring that the music flowed with a sense of purpose and the dynamic structures were relevant and balanced.

The same applied to Horbury Victoria, with a performances of 'what if's' and 'maybe's' that rather frustratingly failed to gell together.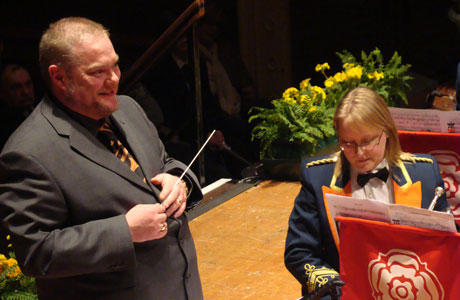 Happy chappie: Rob Straw with Barnsley Chronicle

Never settled

Meanwhile, Crofton Silver and Dodworth Colliery never really settled after rather nervous starts.

Both Kevin Belcher and Eliot Darwin showed a real appreciation of dynamics and tempo contrasts, but a litany of unforced errors put pay to their chances of finishing any higher than they did.

Encouragement

It was a case of encouragement all the way through with a wink and a smile for Tabby Clegg, as she led Slaithwaite's committed performance.

Not once was there a single scowl or piercing look of reprimand. Better days lie ahead for the band under her direction.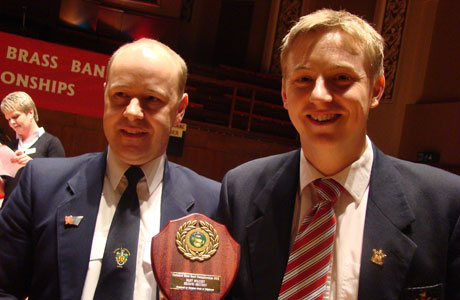 Best Soloist: Tom Pool (right) of City of Bradford

Steeplechase

That just left Wetherby & District Silver.

hey found the test piece as heavy going as a three mile steeplechase at their local racetrack, although full credit to MD Alan Seymour, who not once reached for the whip and encouraged his band right to the finishing post in what was a very difficult contest outing.

Rolling slopes

On a racing analogy to finish, both Clifton & Lightcliffe and City of Bradford can look forward to the rolling slopes of Cheltenham with a great degree of well placed confidence.

The local brass band bookies will already have slashed their odds too on the evidence of this weekend.

Malcolm Wood