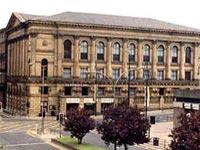 Despite the steam punk mechanics and Heath Robinson design, Yorkshire banding continues to produce 21st century contest results the envy of the rest of the UK.
The gruff boast about 'Yorkshire Pride' had a fair degree of substance about it in London and Cheltenham last year, with Brighouse & Rastrick and City of Bradford returning home with National Championship titles to their name.
Hard to disagree

However, Yorkshire banding does things its own way – and it's hard to disagree that it doesn't work (helped by having one of the best run contests around).

That's despite the ongoing debate for a radical overhaul of the grading structure, which this year sees a bloated field of 13 bands battle for one extra qualification place in the Championship Section.

There is also the curious anomaly of a Second Section that contains four promoted bands from the Third Section but none that have come down from the First.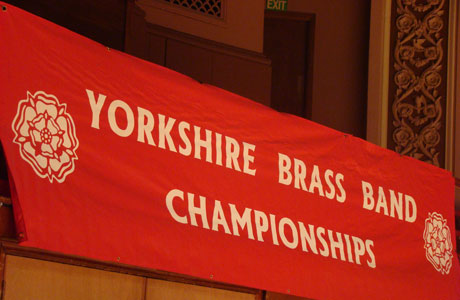 The biggest flag of all to wave...

Flag waving

Nobody was prouder (or better at flag waving) than Regional Secretary Peggy Tomlinson when Brighouse & Rastrick and City of Bradford claimed those titles.

A realist as well as a romantic for all things Yorkshire, Peggy will surely be just as happy with the small increase in numbers taking to the St George's Hall stage on the weekend as she was in seeing the National Championship Trophy reside in her beloved county for a sixth time in a row.
Cheltenham saw a revival of fortunes for the Yorkshire representatives after the 'annus horribilis' of 2010, with three podium finishers to go with Bradford's victory, and the good news continues here too, with the return of three competitors, including Markham Main making their first appearance since 2007 in the Fourth Section.
Great contesting venue

St George's Hall remains one of the great contesting venues of world banding – the sense of eager anticipation and throbbing excitement is palpable at times, so it comes as little surprise that the television cameras have been trying to capture some of the heady mix for a programme that may be shown on sometime in the future, so keep youe eyes peeled on the weekend.
Drama

They should have plenty of drama to catch, with the top section providing a late night climax on Sunday to what promises to be an enthralling weekend.
4BR will be there as usual to catch all the action and that drama as it unfolds.
Let's just hope there is enough steam in the contest boiler....
Iwan Fox