There are not that many folk songs that demand the sledgehammer approach to play well – especially when they have been so expertly put together by master craftsmen such as Vaughan Williams and Gordon Jacob.
'English Folk Song Suite', may be bucolic music of a green and pleasant land that no longer exists except in the imagination of American tourists and Steven Spielberg, but it can still warm the heart and swell the pride of patriotic lovers of all things St George.
Wonderful entertainment

25 bands certainly provided wonderful entertainment in the Pavilion Theatre, even if the standard did vary greatly at times, with four excellent performances claiming the qualification places for Cheltenham.
Derek Southcott did have a long contest day in the box (thankfully there will be two judges for the event in 2013), but it would have been one that skipped along thanks to the slick organisation and bands who came well prepared under their MD's.
Light, bright and breezy, the opening march segued into the lovely 'Intermezzo', before the suite was rounded off by that most English of tunes, 'Blow Away the Morning Dew'.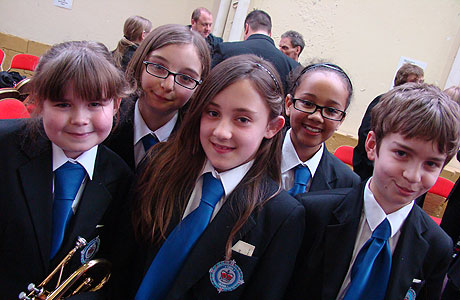 The future stars of Lees Band

Caught the ear

The bands that took care to adhere to the dynamics and play with a warm balance to their ensemble sound caught the ear of the man in the box – and deservedly so.

Those who opted for the more strident approach were less successful – deservedly so too.
Support

The standard of solo playing was also varied too – with nerves paying their part. It was noticeable however how many young players seemed to lack the basic mechanics of breath control.

Promising starts to the cornet solo in the middle section simply fell away through a lack of support.
Derek Southcott gave a very constructive analysis of what he heard – praising the efforts of the bands, but also reminding the MDs that the music needed to flow – as well as be in tune.
Basics

It was the basics that sorted out the best from the rest.
One band that certainly got those right and more, was the eventual winner, Golborne, conducted by the experienced Paul Andrews.
It later emerged that Paul had instigated an 8 week 'professional development plan' with the band – and the benefits of his work where clear to hear.
Precise, detailed and secure, with contrasting dynamics and well chosen tempos, it all added up to a deserved winning performance (headed by a very fine solo cornet).

If they can build on this foundation of good practice, then they will be a band to fear in Cheltenham.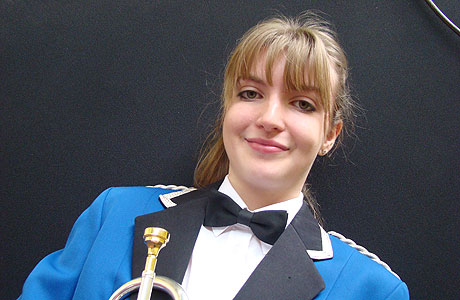 Young star: 14 year old Cara Wheeldon of Whaley Bridge

Scruff of the neck

Joining them there will be Parr (Richardson Ltd) St Helens, who grabbed their opportunity by a well managed scruff of the neck under the baton of John Ludden.

Vibrant and bold it was a performance full of colour and vitality, and although it just didn't quite have that extra little bit of sheen of the winners, it wasn't too far behind.
Darwen Brass really set the marker to beat off the early number 5 draw, and they were a good margin ahead of the rest of the first half of the field.

Once more, a well structured reading by Steve Hartley ensured that all the basic requirements were put in place – and they amounted to a well deserved 3rd place.
Neat touch

The final qualification place was claimed by a confident Hawk Green (Marple), directed with a neat touch of delicacy by Neil Hewson.

Just the odd little scruffy moment or two denied them a podium finish, but overall it was another well set out account, played with style and purpose.
A bold Ramsay Town, who benefitted from some wonderful solo contributions from all around the stand came in 5th, whilst Pilling Jubilee Silver delivered a real team effort full of solid ensemble playing to end 6th.
Heck of a task

It must have been one heck of a task for Derek to separate out the bands who filled the midfield places – and there will be little cause for complaint from those who eventually came 7th – 14th.
Littleborough, Rode Hall Silver (led by an excellent flugel), Greenfield (who had a cracking soprano player) and BMP Europe Goodshaw filled the top 10 slots after producing performances of real merit.
Each had considerably more plus points than minus ones on the balance sheet, but just lacked that extra bit of basic control to have pushed towards a qualification slot.

All will have gone home pleased with their efforts though.
Encouraging

So too, Sale, Dobcross (conducted by Jonathan Parkes – youngest son of the great 'Major'), Ellenbrook & Boothstown and Mereside Brass, all of whom caught the right breezy feeling of the opening movement and joyfulness of the finale, but were a little less secure in the central section.
Once again though, there were encouraging signs of developing bands on show under MD's who always tried to keep the music flowing.
Consistency

Consistency – or the lack of it, started to rear its head further down the results table.
Trying to compare the performances that came in 15th – 20th was an almost impossible task.

You could make a good case of any of Thornton's Cleveleys, Blackley, City of Chester, Copull & Standish, Tarleton and Denton (conducted by sop star Alan Wycherley) coming in just about any order (or even higher at a pinch), but they all knew that nerves and unforced errors cost them on the day.
Some overblowing and untunefulness also lost valuable points too, but the evidence was there in each performance to suggest the bands are moving in the right direction.
Brave efforts

The bottom fifth of the results table was made up of brave efforts, blighted by basic problems in tuning more than anything else.
It was good to see plenty of smiles of encouragement and little nods and winks of appreciation from the MDs, especially to the young players, who may have found the lively acoustic in the Pavilion Theatre a bit daunting to get used to.
Valley Brass (Haydock), Port Sunlight Lyceum Brass, Whaley Bridge, Lees and Tottington Public will have benefitted greatly from their performances, with some cracking young players on show especially at Whaley Bridge and Lees, which bodes well for the future for those two bands.
Proud boast

Overall though, the contest provided further evidence to back up the region's proud boast of being the strongest in England – the standard from top to bottom a credit to the players and the conductors.
The region should also be confident that at least one of their qualifiers can return home from Cheltenham boasting at the very least a podium finish or even better.
Dave Tinker