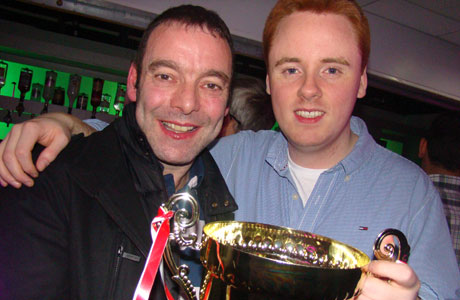 We shall rise again and again. Becontree and their MD (right) master High Peak

Eric Ball certainly 'rose again' at Butlins on the weekend.

Last year 'Resurgam' was used in the Second Section, whilst this time around it was the First Section bands that were faced with another iconic masterpiece in 'High Peak'.
Problems

And like 'Resurgam', age has certainly not tempered this former National Final test piece's ability to cause immense problems at a lower level.
It may be wonderful music to listen to, but bands with realistic aspirations of gaining promotion to the top section by the year's end will have headed home with an early season dose of contesting reality.
'High Peak' is still a demanding Championship Section test piece – from the opening note on the declamatory euphonium, to the last, elongated ensemble chord of returning satisfaction.

The contenders deserved a great deal of credit for their efforts, but the overall standard was disappointing – not many conquered the work unscathed.
Musical pointers

Adjudicator's Richard Marshall and Steve Sykes were direct in their opinions when talking with 4BR after the contest.

Both highlighted a number of musical points, the most crucial being the need for the conductors and players to understand Eric Ball's intentions in the descriptive score.

Second place for Drighlington

Intonation

Richard highlighted intonation problems and the lack of dynamic control throughout many performances, and whilst he praised solo contributions, he did feel bands were hampered by basic errors.

Meanwhile, Steve complimented the number of euphonium players who delivered at the beginning of the piece, but added that the following 'glittering' cornet entries were at times, anything but.
A lack of real understanding of some of the composer's stylistic requests also caused their eyebrows to be raised on more than a few occasions too.
Top six

The judges revealed that the top six performances stood out with their conductor's producing coherent readings that set them apart from the rest of the massive 23 band field.
The top two prize winners in Becontree and Drighlington not only played back-to-back, but played relatively early in the draw – allowing the judges to compare two contrasting readings which provided a high marker that later rivals could not beat.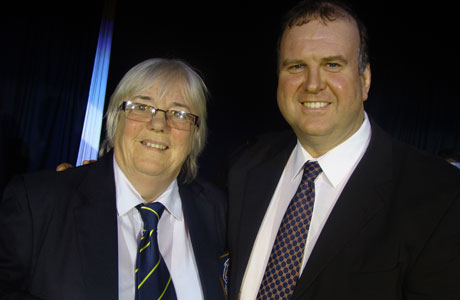 Yorkshire Imps take third place

Elegant

Becontree certainly drew on their experience from 'Resurgam' last year as they took the title under the elegant direction of Adam Cooke.

It was a balanced, warmly toned, tastefully phrased performance that certainly captured the style of the music, enhanced by some terrific individual contributions.
'The winners spoke for themselves', the judges later said – and that was certainly true from a band that has come a long way in a relatively short space of time.

Further progress towards the top section appears on the cards after this deserved win.
Delighted

Drighlington meanwhile will have headed back to Yorkshire delighted with the runners up spot.

Jim Davies used all his experience to shape an intuitive interpretation that like the winners was always going to take some moving from the podium placings.
Amazingly, their performance was also helped in no small part by Becontree's principal cornet player Mark Kennedy, who stayed on stage to replace Drighlington's principal cornet who had earlier been hospitalised. Mark will remember High Peak for many years to come.
Expectation

There was great expectation in the hall as Yorkshire Imperial took to the stage in the final stages of the marathon event.
Under Dave Nesbitt they certainly delivered a performance of musical merit; full of space, tight ensemble and some fine solo contributions which caught the ear of many neutrals but not quite the men in the box.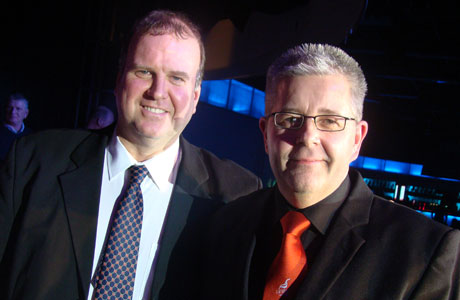 UNITE end in fourth place

Reignited

The same went for Unite the Union (formerly City of Sheffield) under Derek Renshaw in fourth, who following a period of a couple of hours when no band really produced a performance of prize winning potential, reignited the contest with a rendition that benefited from stylish lyricism and musical transparency.
The final top six places went to Kidlington Concert Brass, who was the first band after Drighlington to deliver a well defined account of musical flow and understanding from Duncan Wilson, and GT Group Peterlee.

Black Dyke's Joe Cook drew on all his experience to produce a stylish account that brought the lyrical elements in particular to life.
Variable consistency

Behind the top six, the quality varied considerably. Inconsistent performances were blighted by unforced errors and some strange interpretations as MDs strove to find a metaphoric meaning that didn't really exist in a very transparent work.
Leigh Sharpe's Cawston produced a solid account that was taken at a steady pace to end in seventh, whilst it was much the same with Enderby and Carlton Brass, both of whom were aided by sensible MDs keeping a check on the extremes of dynamic and tempi to end in 8th and 9th respectively.
Experience

David Lancaster used his experience to help Kippax to 10th despite an uneven account, whilst Forester's Brass and Old Silkstone gave it their all as the first two bands of the day to claim hard earned 11th & 12th places.
Both Steve and Richard gave a great deal of thought about the lower placings, so there could be little cause for complaint from the bands that ended in the bottom half of the results table.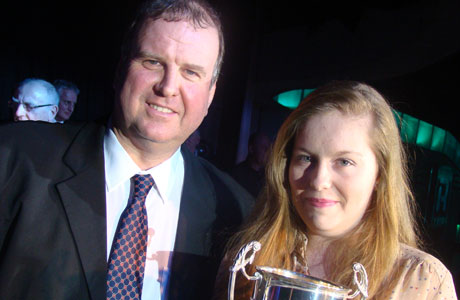 Top mining band GT Group Peterlee

In order?

Stannington, South Yorkshire Police, Langley, Haydock, Blidworth Welfare and Leicestershire Co-op, could have come in just about any order after delivering performances that had endeavour and enthusiasm offset by inconsistent execution and questionable dynamics.
The bottom five struggled somewhat, but you have to take your hat off to the young guns at Shirland Welfare under Marie Smith, who gritted their teeth and clung on to get through the piece.
Minor cuts and brusies

Ipswich & Norwich Co-op, Bedworth Brass, Harborough and Rogerstone will be glad to have got off this particular mountain with as few minor cuts and bruises as they did – it was a hard trek for them in anyone's book.
As for the winners?

A fine result for a band very much on the up under a conductor who was able to fully realise the musical potential of a classic test piece. Watch out for Becontree in 2012 on this form.
Malcolm Wood