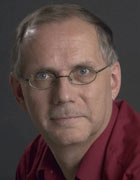 It would be difficult think what the brass band world would have been like if Philip Sparke had decided that his compositional talents lay elsewhere.
Thankfully, he didn't – although he has been just as successful when he has written for all sorts of other musical mediums.
Great works

He has given us a host of truly great major works – and many more just as memorable 'minor' ones too – from youth band level to the superstars of world of brass, and his unique ability to be able to write in any style or genre without ever losing his personal stamp of authenticity is remarkable.
His website lists around 200 original compositions and arrangements from brass – from solos and duets to concert repertoire and major test pieces. It is hard to think of a composer whose work has been performed and enjoyed so much anywhere in the banding world.
Ask any brass band performers to list their favourite concert or contest works and the name of Philip Sparke appears time and time again.
Outstanding

As a result he has notched up more awards in recognition of his excellence than even Sir Alex Ferguson along the way – all of which have been graciously accepted, whilst he is also an outstanding adjudicator, free minded thinker and opinion maker.
He has done more than any other composer to enhance the quality of contest repertoire than any other in the movement's history – challenging musical and technical expectations with an unerring ability to push the boundaries for performers with tantalising, realistic ambitions.
All that, and the audiences the bands perform too are not left feeling isolated or unengaged by the technical prowess that is displayed in the musical process.
For that alone we should remain forever in his debt.