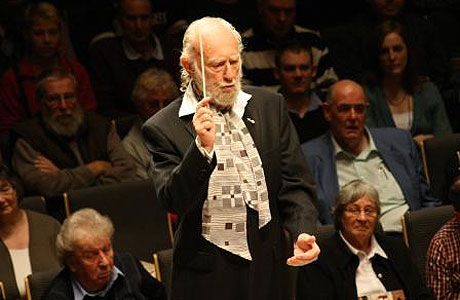 The King of Swagger - Richard Evans in his full glory

Brass in Concert continues to confound your expectations.
Just when you thought you had worked out after 35 years what makes it such an intriguing, frustrating and certainly inspiring contest – it still has the capacity to leave you scratching your head in bewildered enjoyment.
Perhaps that's the secret of its success all along.
Packed

As always the place was packed all weekend – the remarkably loyal audience queuing outside the doors to The Sage at 8.30am on Sunday morning to ensure they had time for quick cup of tea before they claimed their seat in the hall for the first of the eleven competing bands.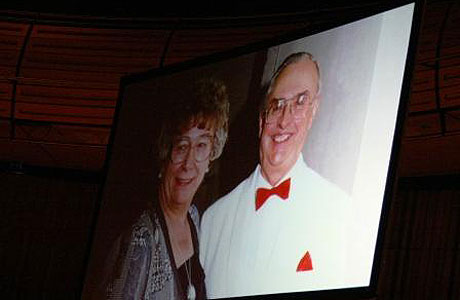 Fond memories - Dr Roy Newsome

Backbone

They are a mature crowd – no doubt about it, but one that provides a resilient backbone of support that sees no sign of diminishing – especially, if they continue to enjoy the type of entertainment that was provided throughout the day.
Generous, knowledgeable and sympathetic in their appreciation of the programmes on offer, they sit and listen (only Rothwell suffered as many couldn't get back into the hall in time after the mid- session tea break) – even if there was an audible sigh of collective relief when Frank Renton finally announced that they were to get a proper march from the 'King of Swagger' himself, Richard Evans.
You sensed they had been waiting all day for a slow military two step.
Likes and dislikes

They do know what they like here – even down to their appreciation of the dress sense of the MDs – which this year included a few eye poppers on the sartorial elegance front from Sandy Smith's waistcoat to Philip McCann's jacket, and of course Tricky Dickey's free flowing cravat.

Of course, Frank Renton, didn't miss an opportunity to ensure they were well informed too – from dress sense to Greek tragedy.

He was on the top of his form all weekend – interacting with his usual mix of sharp wit, self deprecating humour and archivist expertise.

His was a class act performance in its own right.
Hair gell

On the Saturday the haircuts on show were full of gell rather than flecks of grey as once again the Shaw Trust hosted a tremendous series of 'Taster Sessions' to encouraged future generations of brass band players in the area, whilst Rochdale Borough Youth Band joined them to provide a substantive afternoon concert.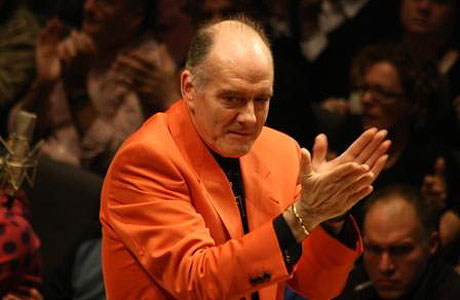 Technicolor McCann

Great success

These have been two of Brass in Concert's greatest successes – with players both young and old coming together to enjoy themselves, thanks to great tutors and a friendly atmosphere full of fun that climaxed with the concert under direction of Philip Harper and Eric Landon.

It would have been something Dr Roy Newsome would have been extremely proud of.
Greatly missed

He was greatly missed on the weekend by friends and colleagues alike – although in a fine gesture, Muriel Newsome was invited to present prizes and the large multi media screen was utilised to bring a musical tribute before the contest began from Black Dyke and MD Nicholas Childs – all to the strains 'Queensbury', which would have pushed
Richard Evans and 'Imperial Echoes' for the march prize on any other occasion.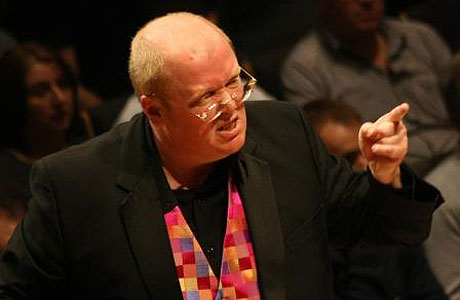 Sandy Smith makes a sartorial point of fashion...

Didn't work

What wasn't such a success however was the Gala Concert, which featured a rather reticent International Staff Band and misfiring Brass Band of Central Florida.

The organisers have managed to create a growing following for this usually impressive and invariably interesting curtain raiser over the last few years, but somehow this combination didn't work.
The ISB seemed reluctant to let go of their musical shackles, whilst Florida simply sounded knackered.
Reluctance

Strangely, that inherent feeling of musical reluctance was reflected in many of the programmes chosen by the bands on the Sunday.
The inflexible, archaic points system now hinders bands in their attempts to provide coherently planned programmes, the result of which has led to a 'pick & mix' approach that fails to encourage them to perform anything too innovative or 'left field'.
Huge amount

There were some brave efforts (Redbridge and Whitburn) and some polished ones (Florida and Tredegar), but overall it was pretty ordinary, dated presentational as well as musical fayre.

It could very well be argued that Leyland's victory owed a huge amount to Richard Evans being on the top of his personal entertainment form rather than that of the band itself.
It all rather reinforced the growing feeling that the contest needs to redefine its musical parameters – not just for the benefit of the bands, but also the audience too.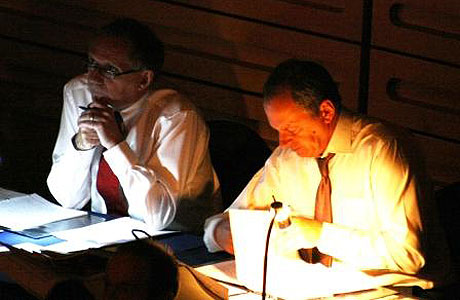 A matter of musical light and shade for Sparke and Wiffen...

More than two aspects

Surely, the quality of the music played, how a programme is put together and how it is performed is paramount. That in itself provides intelligent brass band entertainment.

There are more than just the two aspects of a 23-minute programme that need to be considered by the judges
The audience here appreciates good music, well played and well presented.

Slapstick and fancy dress belong in the history books, along with the past the sell by date pot boilers and cheap powerpoint slide shows.
Investment

The investment in the contest by 'blue chip' sponsors has provided Brass in Concert with a 21st century platform that has enabled the amazingly hard working organisers Jackie and Paul Beere, David Bennet and a host of helpers to be able to provide a contest to be proud of.
However, that investment has also highlighted Brass in Concert's potential to grow into something even more impressive and lasting.

Just think how it would confound your expectations then.
Iwan Fox