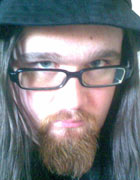 One of the great perks about being a composer (right) has to be the wonderful places you get to visit to hear your music being played.

Recently I was privileged to be invited by Torstein Aagaard-Nilsen to the BrassWind Festival in Bergen, to hear Manger Musikklag give the Norwegian premiere of my 'Waiting For a Pain Hit!??!!?'.

Pioneering

BrassWind began in 2004 and is an annual festival of new music for wind and percussion that is both progressive and pioneering in its outlook and approach.

Manger own, run and promote the weekend, which sees the members involved in every aspect – from front of house stewarding to performing themselves – an amazing achievement.

Young performers

The Festival is also committed to developing young players, and featured groups consisting of Norway's finest professional and amateur musicians alongside children as young as eight, all playing with fun, passion, commitment and huge amounts of skill.

Forsvarets Musikkorps Vestlandet, conducted by the charismatic trombone superstar, provided Christian Lindberg the Friday evening concert.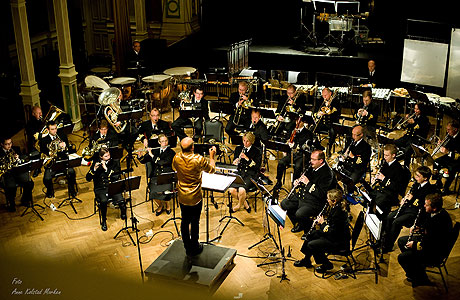 Superstar at the helm: Christian Lindberg directs

The professional army wind band is based in Bergen, and known for their commitment to new music.

Postheroic

Their performance contained three world premieres, beginning with Ruben Sverre Gjertsen's 'Postheroic Fanfares'.

Written for trombones and percussion it effectively used the Logen Theatre's balcony to create captivating antiphonal effects.
It was a piece that would have to be constructed, rather than rehearsed, but still provided the perfect start to the weekend.

Geir Johnson's 'Bygdin' explored the textural possibilities of a modern day wind ensemble. Contrasts between tonal and dissonant, along with changing rhythmical measures gave the music a vibrant feel.

Brainrubbish

The first half concluded with Lindberg's own 'Brainrubbish', which portrayed his exuberant personality to perfection: Broad, sweeping motifs interacted with moving figures with a great use of foreground and background. It felt like Hollywood on acid!

A happy murmur flowed through the audience as Christian opened the second half with trombone in hand for 'Tribute To JJ GM and JT' by Andrea Tarrodi, before leading a brass ten piece through a surprising bit of laid back jazz in 'Night Signal', by contemporary genius Toru Takemitsu.

Ease

For the finale the audience was introduced to Ole-Henrik Mohn Pettersen, the saxophone soloist in Lindberg's, 'Creeping out of the Muddeded'.

The soloist interacted with the ensemble with balanced ease in all of the fast, rhythmical detail.

As the last note rang around the theatre the audience was vocal in their appreciation.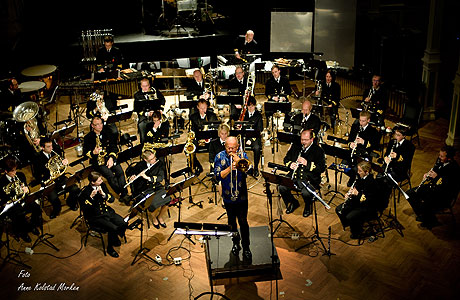 Trombone in hand: Lindberg in performance

Manger Musikklag had a lot to live up to in the second concert of the evening - and they certainly didn't disappoint.

Passion

The reigning European champion is a classy group of musicians with a real passion for new music.

Conducted by the remarkable Michael Antrobus, they provided a three-item recital that showed the full gamut of their capabilities.

In the Norwegian premiere of 'Waiting For a Pain Hit!??!!?', the band produced a performance full of texture, detail and vibrancy.

It was a real honour to hear the piece 'live' by such a great ensemble.

Premieres

Jostein Stalheim's, 'Zaoeaa' was the fourth premiere of the evening, utilising the band to full effect.

Motored elements were contrasted with static harmonies to bring the music through an organically developed structure to a pleasing finale.

John McCabe's, 'Desert II: Horizon' brought the concert to a close.

Full of all of his trademark tonalities and textures it covered a wide range of tempos and moods, which brought Manger's immensely impressive programme to a fitting end.

The opening night was brought to a conclusion with a short contribution by the innovative Tuba duo, Microtub.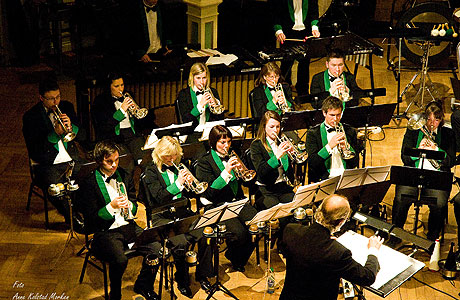 Manger on classy from under Michael Antrobus

Exploring the possibilities of electronic acoustic music and micro-tonality the group improvised and interacted with the sounds they created to produce imaginative textures and colours.

Late night reflections

Late night at Bar Rica was time to unwind and reflect on a very successful first day.

As I chatted with Michael Antrobus I couldn't help but think how Norway's gain has been the UK's loss.

His vision and thirst for boundary pushing new music inspires the band scene in Norway.

Highlight

Saturday brought my personal highlight of the Festival.

Krohnengen Skolekorps is a remarkable 25 strong group of 8-17 year olds, conducted by Chritian Breistein, and they began with Gregson's timeless 'Patterns'.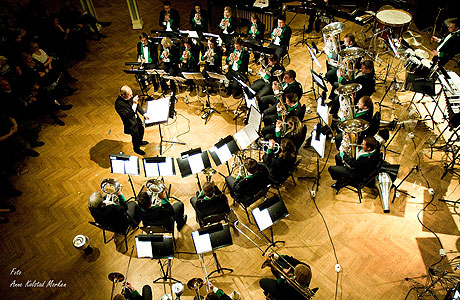 Remarkable group - Manger in full flow

The group had worked with Idar Torskangerpoll and Webjørn Sæther on a series of compositions written on a course the week before the Festival.

Amazed

I sat amazed as they performed a 20 minute, nine-section work from memory, helped only by cues from the conductor, which incorporated aleatoric elements within a robust structure.

The piece demonstrated why the Norwegian band scene is nurturing clever, intuitive musicians for the future.

Still buzzing from the concert, I was amazed once again, this time by Manger Folkehogskule Brass Band, conducted by Patrik Randefalk.

Urban Jungle

Opening with Idar Torskangerpoll's, 'Urban Jungle', they produced a great sound and a love for the driving rhythms as they pumped their way through the piece with vigour.

A cultured performance of Webjørn Sæther's, 'Guff' followed before Torstein Aagaard- Nilsen's 'InteraktivMegaGigaRytme' saw the band really shine, with the bass end in particular showing their strength.

You could tell that the band loved the music as the dots jumped from the page.

Tradition

With a nod to banding tradition they finished with Malcolm Arnold's quirky, 'Attleborough Suite'. It was a classy end to a well-constructed programme.

Following the afternoon break, Sandvikens Ungdomskorps, conducted by Tormod Flaten and Bjorn Breistein, treated us to Johan Modahl Leivas, 'Tales Of The Universe', with the impressive Eirik Gjerdevik on tuba.



Shaping new music - Christian Lindberg in action

The concert, featuring music from Aagaard-Nilsen, Husa, Svein Giske and Meechan demonstrated why they are regarded as one of Norway's premiere wind ensembles.

Manger Musikklag's principal cornet, Erlend Aagaard-Nilsen, give the world premiere of Bjorn Bolstad Skjelbred's Trumpet and Piano work, 'Resisting Gravity'.

Confidence and poise

A performer of talent, confidence and poise, he was totally at ease with the music and interacted effortlessly with the pianist and the audience.

Krohnengen Band, directed by Gary Peterson, provided a more conventional concert, which gave the audience a welcome break from the serious repertoire and provided the opportunity to sit back and enjoy music, most of which was arranged by the conductor.

The penultimate concert gave the opportunity to hear the Bottom End Quartet, comprising percussion, bass clarinet, bass trombone and tuba, which featured music from percussionist Craig Farr and students from the Grieg Academy.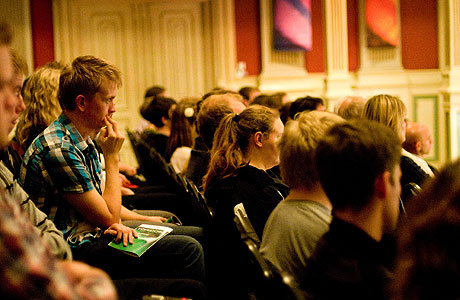 Rapt attention from the audience in Bergen

Once again it succeeded in giving young writers the chance to have their music played to a knowledgeable audience.

It was intelligent programmings that saw the Festival start and finish with its two most anticipated concerts.

Brass Expo

Bringing the curtain down was the Norwegian Brass Expo, a ten-piece brass and percussion ensemble that draws its personnel from the ranks of the best professional musicians from across Norway.

Performing a heavyweight programme of music not for the feint hearted, the ensemble gave a demonstration of flair and imagination.

Opening with Mark-Anthony Turnage's, 'Set To', they instantly provided an example of their qualities on demanding music.

Gut fur

The world premiere of 'Yacky Gut Fur, Sour Beehives', from the pen of Jon Øivind Ness saw the audience's ears pinned back, as we were led on an inventive, energetic musical ride.

A short break was needed before the ensemble flew into Derek Bourgeois', 'Concerto Grosso'.

A personal favourite and so much more effective in its original form than the brass band version, the ensemble showcased their technical prowess to great effect, especially Frode Amundsen, who gave a mini masterclass in tuba virtuosity.

The work drew to a powerful finale, which left the audience demanding more.

They weren't to be disappointed.

Encore

As an encore, a lovely rendition of 'Jeanie with the Light Brown Hair' played as sweetly as you could imagine.

Back at Bar Rica, performers, organisers, composers and audience chatted and partied into the early hours, a perfect end to a great weekend of music making.

I have no idea what next year will bring, but if anyone is looking for a bit of musical inspiration, then you need to be in Bergen to check this great festival out for yourself in 2012.

Hopefully I will see you all there too.

Paul McGhee