How big? Nick Clegg or Ron Jeremy. Phil Harper gives us a clue...
Pictures by Ian Clowes (www.pbase.com/troonly/brass)
In the end 4BR failed in its attempt to get the exclusive pre contest 100th National Championships interview to beat all others.

Never mind David King or Paul Lovatt –Cooper, we are talking the scoop of the brass band century here – a choice between Deputy Prime Minister Nick Clegg and American porn star Ron Jeremy.

Pulitzer Prize

Visions of a possible Pulitzer Prize appeared on Friday night at the hotel where the 4BR team found itself surrounded by curious looking government apparatchiks as we prepared to do our own little bit of pre contest filming in the foyer.

Nervous looking young blokes in well cut suits and trendy glasses glared menacingly as they tried to decipher what we meant by 'bookies favourites', 'dark horse' and 'defence of titles'.



Dressed to kill. Frank Renton recalls his military service...

Former life

In a former life the 4BR Editor had done a bit of work for the local Lib-Dem MP in Mid Wales, so a quick request for a friendly chat with the Deputy Prime Minister to see him offer his congratulations to the brass band movement on the 100th Nationals and to wish all competing bands good luck seemed like a chance not to miss.

However, on revealing that the potential interviewer's name was Fox – and on a day when the Defence Secretary had just resigned over allegations of wrong doing, started the alarm bells ringing in the political banana skin stakes, and we were ever so politely (Lib Dems are ever so polite) told it would be impossible.

First chance missed then.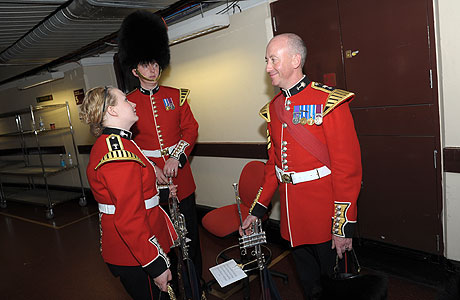 Soldiers on parade: The trumpeters get ready...

Big Ron

Meanwhile, news came that Ron Jeremy was reportedly in town – and staying in the hotel opposite.

What an interview that would make – the world's most famous porn star chatting about who would come first at the Albert Hall.

Faced with the distinct possibility of divorce papers being filed by the wives and partners of the 4BR team if we did, as well as alienating the female population of the brass band movement to boot, we opted to play safe and give it a miss.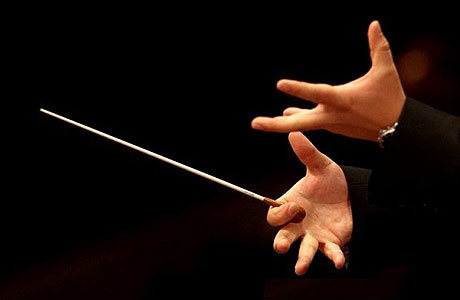 Expressive gestures : The hands of Michael Bach at work

News of the World

If ever brass bands could have got on the front pages of the old 'News of the World' on Sunday morning it would have been this weekend.

Just think of the possible headline: 'Deputy PM and porn star in Black Dyke qualification fiasco'.

Second chance missed then.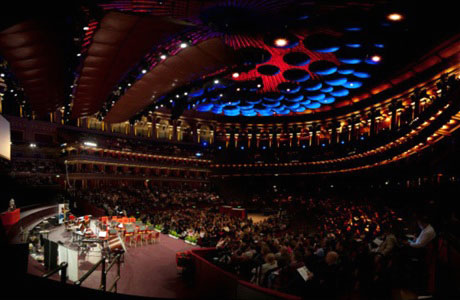 The hall awaits the contenders

Contest day

Instead we had plenty to report on what was a highly enjoyable contesting day.

Kapitol Promotions had been under pressure to stage an event worthy of the 100th Championship – and to their credit they pulled it off with a touch of classy aplomb.

The old cake tin buzzed with a heady mix of anticipation and enjoyment all day in fact – helped by Paul Lovatt-Cooper's controversial choice of test piece getting a resounding thumbs up from the paying public (it was the biggest crowd here for many a year) and the bands providing the engrossing entertainment in performing it (made the more so by the fact that not one delivered a dead cert winning performance).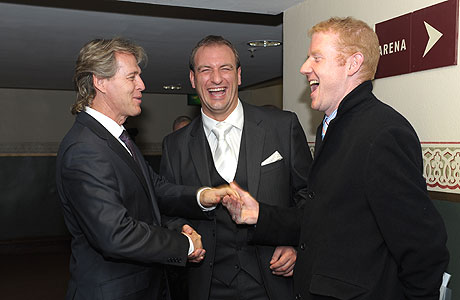 Smiles all round for David King and PLC...

Future

The use of the large multi media screens provided a tantalising glimpse into future presentation possibilities, whilst the current set up was a well balanced mix of gravitas and giggles (from the memorial tributes to Frank Renton dressed as Admiral Nelson).

Moving the adjudicator's box forward about 3 meters or so also proved a success – something David Read confirmed later.

"It did enable us to hear the detail right from the world go – even at the quietest dynamics," he said.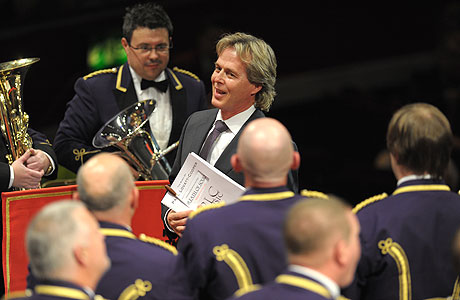 A job well done

Revived

The traders may well have missed out on a few customers because most people stayed in the hall (even the midway break was well timed) but even they will perhaps see this as a price worth paying if the contest itself continues to be revived in such a manner.

Peter Bates and Frank Renton were on fine form in the MC and compere stakes, whilst Cory (and David Childs in particular) did a professional job in presenting a high quality pre-results mini concert.

It did go on a bit for some tastes, but given it was the 100th championship, that wasn't a bad thing.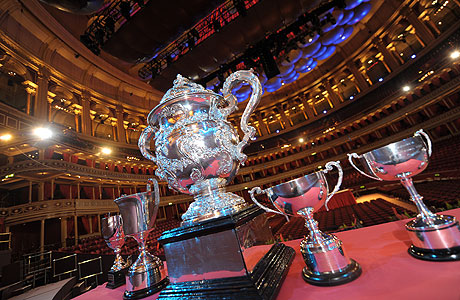 What it's all about...

Baby kissing

Meanwhile, Paul Lovatt-Cooper revealed himself to be a politician in the making with a crafty old speech to the audience, which included a roar of support for his test piece, not even Nick Clegg could have bettered at a Lib-Dem conference if he had announced the scrapping of student tuition fees.

The baby kissing was perhaps a bit too much though…

All that and it ended at a very reasonable hour to give those with a few pre-inflation pounds still left in their pocket to enjoy the exotic night life of London – although hopefully not in company of Mr Jeremy.

Iwan Fox