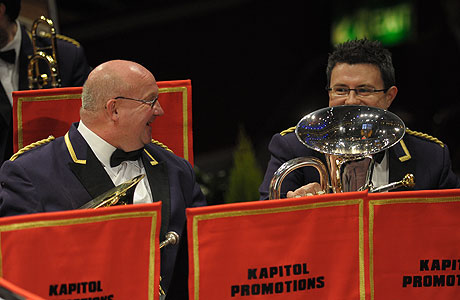 Well done mate: David Thornton back to his best with Brighouse
Pictures by Ian Clowes (www.pbase.com/troonly/brass)

One of the main talking points surrounding Paul Lovatt-Cooper's 'Breath of Souls' test piece was the inclusion of the six multiple-choice cadenzas.

A or B options for euphonium, flugel, soprano, trombone, bass and horn – a mathematician's delight for those into working out the possibilities of permutations, but a fairly straightforward one between pragmatism and potential for the MDs.

Key performer

The key performer was without doubt the euphonium (nearly all of who had fine contesting office days).

The first solo entry at rehearsal letter P ensured that we soon found out whether a player was equipped for the test to follow.

It was an opportunity to show off their contest day cahoonas.

Those who soared up to the top Eb (with some even having the nerve to linger there) were invariably those who went on to deliver the most impressive cadenzas too.

Back to his best

David Thornton was back to his very best with Brighouse, whilst the stunning Glen Van Looy with Beaumaris and Tredegar's Kiwi import Buzz Newton, who stood and delivered without music (how their rugby team could do with an outside half with cahoonas like those come the Rugby World Cup Final on the weekend) were notable exponents on a day when the majority chose option A (the top one on the score, which started high and ended low) and performed with commendable aplomb.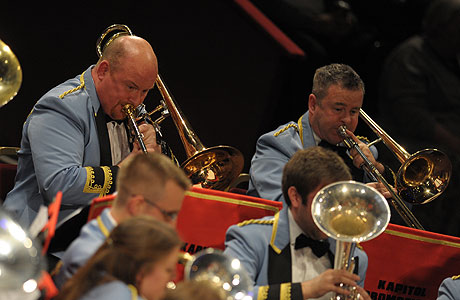 Going about their business: Fairey's trombones do thier bit...

Flugel fish

The flugel cadenza that followed however was a different kettle of fish.

Just a handful had the nerve to opt for the mp top Bb option – only five in fact.

Nearly all of them came off big style with Fairey's Mike Eccles in particular producing a quite stunning rendition that took the breath away.

There were some almost equally fine efforts with Cory, Flowers and GUS too.

Sop stars

Sop players being the breed they are invariably took the high wire option – just five refusing the chance to indulge in a bit of top C minim blindness.

Those budding Blondini's all just about emerged with reputations intact.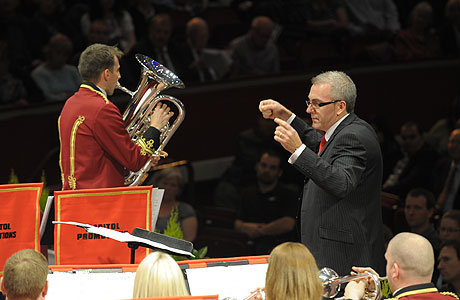 Stand alone: Buzz Newton of Tredegar takes a lone stand

So too the trombonists, who quietly went about their business – all but two opting for the top Bb entry (helped by the sop giving them the pitch), whilst the basses (and the majority sounded like brass band basses rather than orchestral tubas) had a bit of a mix and match day.

50/50 split

It was very nearly a 50/50 split (a sign of pragmatism if ever there was one), although a few did revel in the spotlight (Woodfalls and Beaumaris in particular). It was noticeable that some efforts were made up of more than the one contributor though.

Finally the horn – and some stunning playing from the likes of Tredegar's Chris Davies, Carlton Main's, Leah Williams and Redbridge's Chloe Mallett who backed themselves to ring out a top D or two without splashing it all over like Henry Cooper in an old Brut aftershave advert.

Cadenza choices


| | | |
| --- | --- | --- |
| Instrument | Cadenza A | Cadenza B |
| Euphonium | 13 | 7 |
| Flugel | 15 | 5 |
| Soprano | 15 | 5 |
| Trombone | 18 | 2 |
| Bass | 11 | 9 |
| Horn | 13 | 7 |
Mutes?
And as for the usual multiple-choice selection of mutes?
It was good to report that the vast majority of MDs stayed faithful to the composer's very specific musical intentions, although one or two did sneak a fibre, cup or even bag mute onto the stage.
It was so obvious they did however – and the judges picked them up – even if they diplomatically did not say so in their remarks.
Hepworth in particular may have even lost a possible top six finish because of their approach.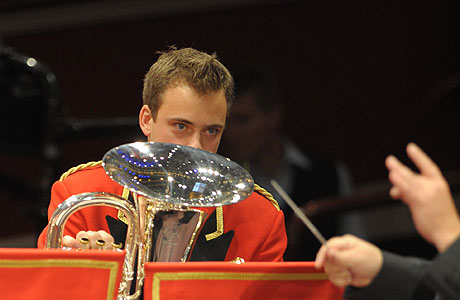 Eyes on the job: Glen Van Looy of Beaumaris
Multiple choice
adjectives
As for the multiple-choice selection of adjectives used by the critics to describe Paul Lovatt- Cooper's test piece,
'Breath of Souls'
?
'Challenging' was perhaps the one that summed it up the best: Others couldn't be printed on a family friendly internet website.
Whatever the bandsmen, listeners, conductors and even fellow composers thought – the simple fact of the matter was that it proved to be immensely popular and certainly did the job it was intended to do.
As multiple choice answers go – that wasn't a bad outcome in anyone's book.
Iwan Fox