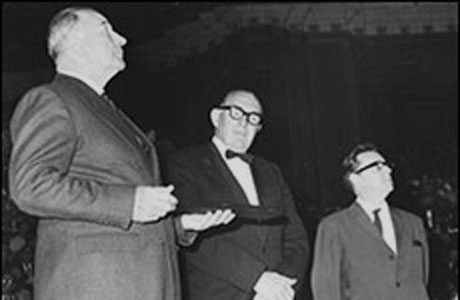 Vaughan Morris looks to the future...

On 9th October 1971, another National Brass Band Festival drew to a close and a curtain came down.
As the lights in the Royal Albert Hall dimmed and the vast audience dispersed into the cool night air of London, one man stood alone, erect, looking at an empty auditorium.

That man was entitled to a moment of peace: He had stood on the stage every year since 1945 and now he was to retire.
Momentous

That man was Edwin Vaughan Morris, the owner of the National Brass Band Championships, who had taken over the event from 'The People' newspaper a few years earlier.

It was a momentous occasion, for in 1945 Vaughan Morris had been handed responsibility for completing the deal between John Henry Iles and the Odhams Press Group, which saw the latter assume ownership of the event.
Immediately, Vaughan Morris recognised some significant changes needed to be introduced – rules and conditions, registration of players and regional qualifying contests so it was truly a national event.

"Basically it amounted to establishing law and order", he wrote.
Event of substance

There is no doubt that Vaughan Morris made brass bands and their big day something of which they could be proud and that others would recognise as a musical event of some substance.

As well as sorting out the structure of the event (which still largely exists today) he introduced the 'Spotlight on Service Award', commissioned a lot of very good music – notably from Vaughan Williams, Iles, Bliss and Howells – and presided over two sold out evening concerts.
The departure of Vaughan Morris also saw the end of the so-called World Championship, which had been instigated the previous year.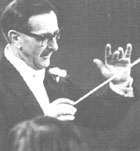 Energy

The 1971 event had seen a victory for G.U.S. (Footwear) Band, largely regarded as the only band that had really got to grips with the specially commissioned set work, 'Energy' by Robert Simpson.
A few years later, in one of a regular exchange of letters, Vaughan Morris wrote to me stating that he had "…prevailed on him to write 'Energy'. We both knew what we were up to, viz, to give the mangle a new and arresting turn."
The late Major Arthur Kenny's view (right) was that, "…it wasn't contemporary music really – I'd say thirty years behind the times – but at least it was a step in the right direction. Everybody in the Royal Albert Hall in 1971 said it was rubbish…."
Watered down

The watered down 'Champion Band of Great Britain' event (previous National winners were elevated to the World category) was won by Wingates Temperance with City of Coventry in second, Cory in third and Hendon fourth.

They had played Frank Wright's arrangement of 'Le Roi d'Ys' by Lalo which had first surfaced in 1959, whilst the 'Insignia of Honour', awarded for 'conspicuous service to brass bands' went to James Shepherd, and the 'Baton of Honour' to William Scoles.

Both of these awards only lasted a few more years and were phased out in1976.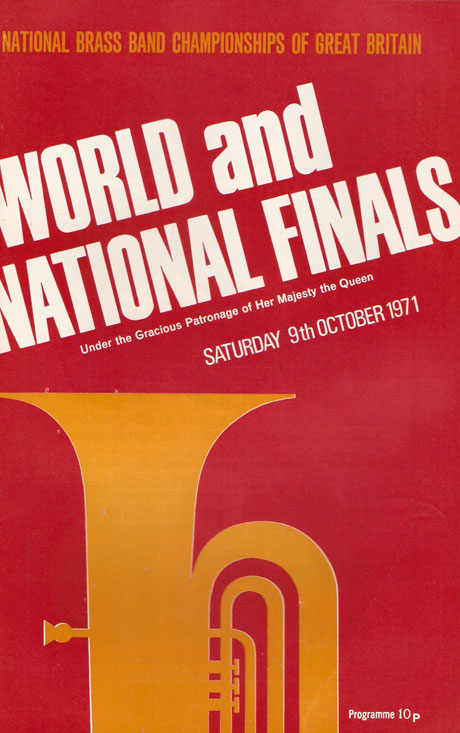 Capital host

Four other halls in the capital played host to the Second, Third and Fourth sections plus the Youth Section Championship, won that year by the Queensbury Music centre playing Eric Ball's 'English Country Scenes'.
The two festival concerts were given by Black Dyke Mills, Brighouse & Rastrick, C.W.S. (Manchester) and Fodens Motor Works, with the conducting shared by Eric Ball and Roger Barsotti.

The programme included a 'Fantasia on British Airs' arranged by Barsotti, 'Les Preludes' by Liszt and a 'Suite from Handel's Music for the Royal Fireworks'.
Bowing out and coming in...

Meanwhile, over at Belle Vue, Manchester a month or so earlier the British Open contest had yielded a brace of wins for the Band of Yorkshire Imperial Metals – what a graceful name that was.

Under the late Trevor Walmsley, they followed their success of 1970 with another win, this time on Eric Ball's 'Festival Music'.

And, whilst one man was bowing out in London, two men in Manchester were about to set the band scene alight at Belle Vue.

Granada Band of the Year

The first Granada Band of the Year contest was held in the King's Hall at Belle Vue in November 1971.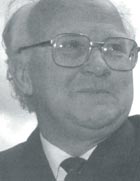 Bram Gay (right) and Arthur Taylor – a Granada TV producer – were behind the event, which featured ten bands, each playing an entertainment programme: The winners were Cory conducted by Arthur Kenny.

The significance of the event was that the winner repeated its performance, which was recorded after the announcement of the results and later screened (along with highlights of the other competitors) by Granada Television and four other regional ITV companies.

Brass bands were 'on the box'.
Hated it

Years later Bram Gay told Arthur Taylor: "All the contest organisers hated it, because there have always been too many contests, and they didn't want this one at all."

In the first year Gay explained that everyone had the wrong ideas, except Cory, who had won a television contest a few weeks before and learnt a lot from it.

"They came in when Black Dyke opted out a week before the contest – for Cory to win at such short notice was wonderful."
Black Dyke weren't the only ones to opt out.

Bram Gay recalled: "Some of them said they would come and came; some of them said they would come and didn't come. We were very badly let down – without very good reason – by some very celebrated people."

The benefit of bands withdrawing is that it meant bands came who probably otherwise would not have made it including Cory.
WD & HO Wills

There was one other big brass band contest bash in 1971.

WD and HO Wills, the tobacco manufacturers, had a keen interest in brass bands – they had sponsored the Belle Vue contest in 1962.

And in 1970, with the support of the late Ted Buttress, they had created an event on similar lines to the National with a series of regional events culminating in a Championship Section Final at the Imperial College with the Champion of Champions event over the road at the Royal Albert Hall.
The contest was short lived petering out in 1973, but in1971 the Champion of Champions was won by G.U.S. (Footwear) under Stanley Boddington playing Vinter's 'James Cook, Circumnavigator'.

There was also a massed bands evening concert which was recorded for LP release by EMI. Heady days indeed.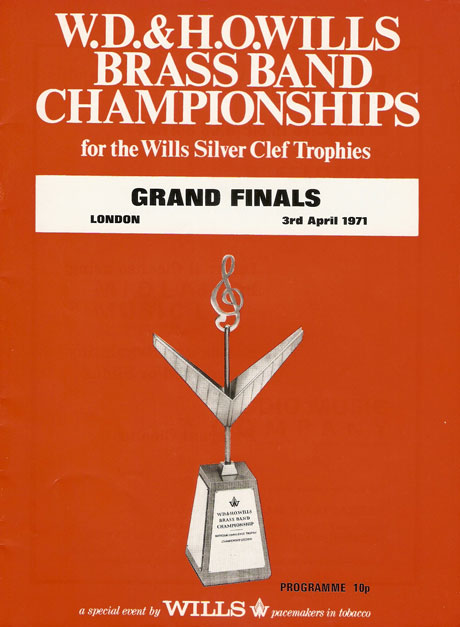 Media coverage

Media coverage of bands was significant in 1971.

In addition to the one hour – albeit late at night – broadcast on ITV of the Granada Band of the Year, the BBC were still very supportive of brass bands.

Radio coverage

Compared to the miserable 30 minutes of magazine style 'Listen to the Band' we get today on Radio 2 (very seldom are there studio sessions now) the band press would publicise a veritable feast of band broadcasts.
'Listen to the Band' was on Radio 2, 'Challenging Brass' on Radio 4, 'Bandstand' on Radio 3 and bands were also featured on 'Friday Night is Music Night' and 'Breakfast Special'.
Harry Mortimer's name is synonymous with brass bands and is undoubtedly the one household name it created and from the end of the Second World War he had become the most prominent musical figure in the movement.

HM

In 1971 his recording company, EMI, decided that the King's Hall, Belle Vue, having been the scene of so many of his contest successes, should be the venue for a Jubilee Concert which was duly recorded.
'Diamond Jubilees' reflect 60 years, and it is something of a mystery as to what the period of time relates to! The LP sleeve is singularly unhelpful.

No matter, for at the time HM was still a big player in brass bands running the Open and undertaking concerts especially with his Men O'Brass – Fodens, Fairey and Morris.
Elsewhere on the recording front 1971 produced no less than 16 LP releases.

Major releases

Two of the major releases were from Black Dyke Mills – Handel's 'Messiah' and World Champion Brass – and other releases featured big names like G.U.S (Footwear) (below), Grimethorpe Colliery, Fodens Motor Works and Fairey.

Lesser lights with releases included Hendon, Luton, St Dennis and Watney Silver.
The British Federation of Brass Bands has been much maligned but in its early days was responsible for commissioning a lot of new music.




In 1971, as a result of Federation commissions Edward Gregson's 'Essay' and 'Horn Concerto' were published as well as Buxton Orr's 'Concerto for Trombone'.
Big names

All the big name bands of 1971 were sponsored (aside from Brighouse & Rastrick) in one shape or another - Black Dyke Mills, G.U.S (Footwear), Yorkshire Imperial Metals, CWS (Manchester), Fairey, Fodens Motor Works.

Grimethorpe were building on their two Belle Vue wins in 1967 and 1969 and Carlton Main Frickley was a fine band.

Morris Concert was still a very good band from the south and there was also Hammonds Sauce Works, Cory and Ransome, Hoffman Pollard from the Midlands.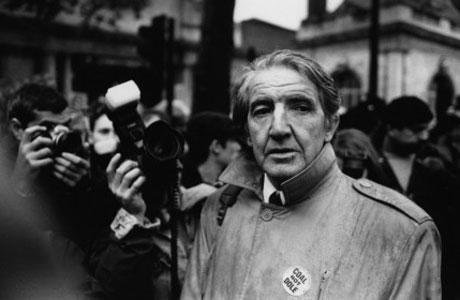 The Beast of Bolsover...

Houses of Parliament

And finally……..brass bands were raised in a House of Commons debate on 23 November 1971 which went like this:
Mr Dennis Skinner (MP for Bolsover) asked the Chancellor of the Exchequer whether he will now take steps substantially to reduce the level of taxation on brass band instruments.
Rt Hon: Anthony Barber: No, Sir. I reduced all the rates of purchase tax by two-elevenths this summer.

Mr Dennis Skinner: Well, that is a pity. I thought that the right hon. Gentleman was going to blow his trumpet again.

Is he aware that these bandsmen have been having a pretty rough time recently, leading all these working-class demonstrations against the Government's policies, resulting in all these expensive replacements?

More seriously, if it is right for the Arts Council to hand over £30,000 to the National Youth Orchestra, why cannot a little recompense be given in the form of reduced taxation for working-class music?

Rt Hon. Anthony Barber: I entirely agree with the hon. Gentleman that those who blow these brass instruments have had a very rough time indeed.

In 1964, the tax on their instruments was 25 per cent., in July, 1966 it was increased to 27 ½ per cent., in March, 1968 to 33 ⅓ per cent, and in November, 1968 to 36 ⅔ per cent.

At least we have made a start by reducing it to 30 per cent.

Tim Mutum