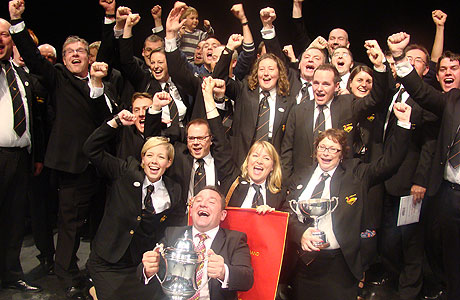 Genre specialists: Aldbourne celebrate another title

Despite it being a short overture, 'The Force of Destiny' certainly proved to be a massive test for the First Section bands on Sunday afternoon.

And by the time the dust had settled, the destiny of the national title lay firmly in the grasp of a band and MD that are fast becoming the genre specialists - a rampant Aldbourne under David Johnson's brilliantly vibrant direction.

Spades

The West of England champion delivered their take on Verdi's bizarre tale of fateful coincidence in spades, to convincingly claim the third major title of a brilliant contest season, following victories at the Area and Senior Trophy.

It is hard to think of a performance so gripping and swashbuckling that also sounded so completely under control, led by a conductor whose focused energy seemed to have been transfused into his players by some sort of magical musical osmosis.

The result wasn't really in doubt after they left the stage as the penultimate band of the day.

Come alive

John Berryman and Malcolm Brownbill spoke of 'the music coming alive from the pages of the score': They were not wrong.

This one leapt at you like a pop out book.

Talented

From first note to last it was a performance of growing tensions and dark undercurrents – exploding into a thrilling climax that was played with a stamp of balanced ensemble authority.

It was high class playing in anyone's book. They are a band and MD going places.

The Championship Section now awaits a confident, talented combination.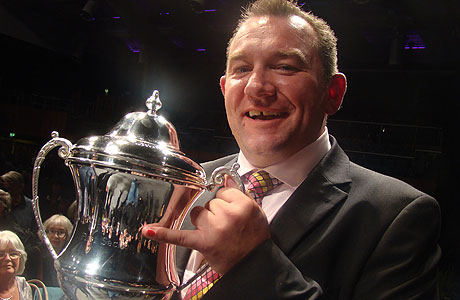 Fickle finger of fate: The pink nail varnish of MD David Johnson... and cup

Rather well

Before a note was blown there were some grumbles about yet another overture choice for the finalists to play after they qualified on 'Carnival Romain' earlier in the year.

But given the time constraints faced by the organisers, (the contest finished around 7.30pm) 'The Force of Destiny' did its job rather well.

It may be a pretty monochrome arrangement that is showing its 50 plus years of age, but as John Berryman said when speaking to 4BR, (and he played it when it was first used at the Nationals in 1962) it still retains the ability to bite the backsides of both the unwary and overconfident.

There were quite a few of both throughout the contest.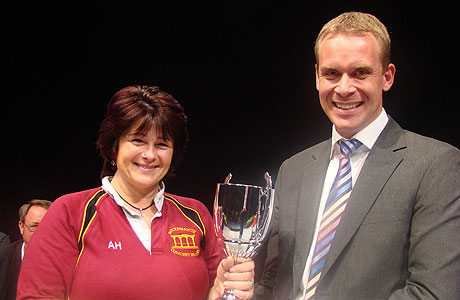 Refined solo winner Alfie Hughes of Bournemouth

As a result, all but a couple of bands completely nailed the technical aspects of the score, and whilst some got away with flesh wounds, others suffered more severe blood loss than could be found in the original storyline of love, loss, lying and jiggery-pokery combined.

Bizarre

Some interpretations were even more bizarre than Verdi's torrid tale too – a couple of MDs introducing tempo changes like a learner driver missing a gear on their driving test.

Whilst the overture doesn't give that much time to really bring a great degree of musical creativity to bear, the bands that found their way into the prize list certainly portrayed the subtle shifts of style and tempi required thanks to understanding MDs.

Musicality

Bournemouth was a worthy runners up, and like Aldbourne showed that under Dave Barringer they are a combination full of confidence and inherent musicality.

Theirs was a slightly less dramatic interpretation, but one that benefited from an ensemble that understood its conductor's musical demands and a principal cornet in Alfie Hughes who was the very epitome of Leonora, the tragic heroine of the story.

Her lovely tonality provided a fine focal point of plaintive refinement from start to finish and deservedly won her the 'Best Instrumentalist' Award.

Rueful and relish

Much was expected of the two Yorkshire contenders, and whilst Hammonds Saltaire will reflect ruefully on a cultured performance blighted by mistakes that consigned them to a disappointing 7th place, Yorkshire Imperial Urquhart Travel will remember their highly charged account with relish.

Pacy and exciting it contained lovely little touches of colour (the muted cornet sound was excellent) that enhanced a performance of quality under the direction of Dave Nesbitt.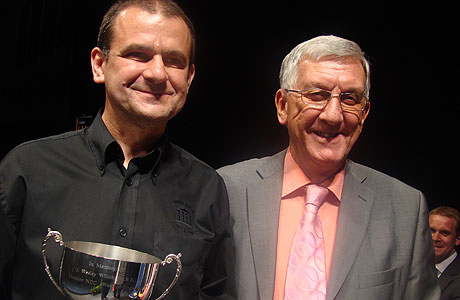 Smiles for second for Bournemouth

Lovely flugel

The same could also be said of Longridge in fourth, who produced a classy rendition under Mark Peacock that was enhanced by some lovely flugel playing.

There were moments of looseness that will have cost, but like the rivals who finished above them, they are a band heading very much in the right direction.

Intelligent direction

So too Pontadulais in fifth and Ratby in sixth, with performances that bore the stamp of their MD's intelligent musical direction.

Both Paul Jenkins and Michael Fowles took the foot off the accelerator to enhance detail and clarity and were rewarded by solid ensemble playing only blighted by the occasional costly individual error.

Gone begging

Hammonds will know this was an opportunity gone begging.

Cultured and stylish on the one hand, slightly untuneful and error strewn on the other: It perhaps explained why it came where it did, but Morgan Griffiths and his band will still be disappointed that it still only merited seventh place.

Many listeners (including 4BR) had it in the podium places, despite the noticeable blemishes.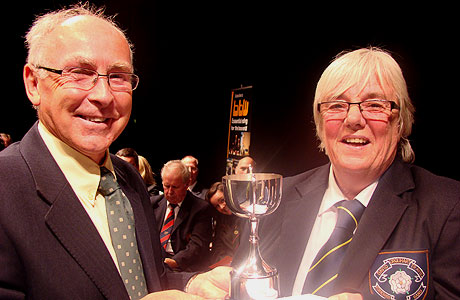 Imperial echoes for third placed Yorkshire Imps...

Minute of madness

Behind them the difference in quality and class was more pronounced.

Harrogate will rue a performance that was 90% podium contender, 10% bottom three certainty, to end in 8th, thanks to a minute of madness when they lost the plot (and that is saying something given the storyline).

With the finishing line in sight they opted for an all guns blazing finale and came a cropper. If only.

Solid merit

Bedford and Kirkintilloch filled the remaining top ten places with performances of solid merit, although both never quite managed to turn the potential of well thought out interpretations into something a little more tangible in execution.

The midfield finishers that ended in 11th to 14th were made up of a combination of performances blighted by inconsistency.

Appealing

East London Brass delivered an appealing reading under Jayne Murrill, that held musical interest through its well shaped phrasing, although the error count mounted, whilst Hathern rounded off the contest with a rendition that perhaps could have benefited from taking a few more risks.

Roberts Bakery under Colin Cranson certainly took them, but they didn't quite come off in a performance of variable tempos, whilst Haverhill thrilled in parts but may have lost a few places due to the over obvious depping of too many solo lines to a single source of excellence.

Not to plan

The bottom quartet had days when not a great deal went to pre-contest plans.

Phoenix left their best playing until too late, City of Cardiff took too long to find their feet off the number 1 draw, whilst Westoe seemed to lose connection with the musical intentions of the score when things were starting to build well.

Broxburn never quite managed to control the desire to create excitement despite the fine individual contributions of their flugel player and the intuitive approach of the MD.

Bold and full of fun

No such problems for the deserved winners though.

Bold, colourful, flamboyant, excitable, thrilling, talented, feisty and full of fun:

David Johnson is quite some character (he had his little finger nail painted pink) - and his band displayed all the same characteristics in taking the First Section National title back to the West of England.

Andrew Warriner