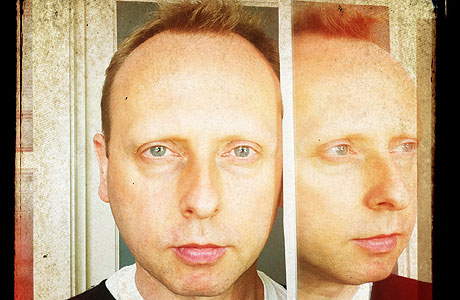 Double or more: Robin Rimbaud aka Scanner

A new arrangement of 'The Floral Dance' is causing a bit of an artistic sensation at this year's Durham International Brass Festival.

The 20 minute long work entitled 'Floral Dearrangement' by British artist Robin Rimbaud, also known as Scanner, has been heard each day from 9.00am to 9.00pm on Kingsgate Bridge near Durham Cathedral, and has been creating quite a stir.

Fans or critics

Variously described as 'dreamy and languorous' or 'pretentious nonsense' depending on the opinions of fans or critics, it has certainly caught the imagination of the public – especially those who walk across the bridge surrounded by the sound of the music as it is piped through speakers suspended below the walkway.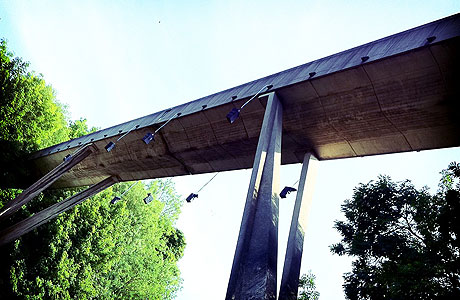 Surround sound - the hanging speakers off Kingsgate Bridge

The original work was written in 1911 by Kate Moss, based on the traditional Cornish folk tune, and has appeared in many guises.

Many artists have also performed it over the years too – most famously perhaps by Brighouse & Rastrick in an arrangement by Derek Broadbent, which reached number 2 in the Top of the Pops charts in 1977.

Radio 4 interview

In a recent interview on The Today programme on Radio 4, the artist described what he was trying to achieve by expanding the folk tune by 130 times its original length, creating a mysterious, multi layered composition in the process that features faint echoes and ciphers of the original work and that iconic Brighouse arrangement.

That interview also created a bit of a stir, so 4BR caught up with Robin Rimbaud, who explained more about the work, its inspiration, and his plans to include brass bands in future projects.

Talking exclusively

Speaking exclusively to 4BR he said, "The Floral Dance music really has a personal resonance to me. I was slightly shocked and bewildered by the appearance of the band on Top of the Pops in 1977, having never seen anything like this before on television. It was so out of the ordinary for its time, so radically different."

Rimbaud describes the new work as a 'walk back in time'.

"Seeing the Brighouse & Rastrick Band perform in such a manner has stayed with me, so it was an opportunity to go back in time and to embrace 'The Floral Dance' and its undoubted magic once again, but in a very different way.

"It's about memory and feeling filtered though very personal ears. I think the freedom and beauty of the original folk tune is hopefully enhanced by my personal take on it."

Not lost the essence

And although the artist did not want to use brass band instruments in his new festival commission, he believes his approach, which uses computer enhancements to create the extended linear lines of ambience, has not lost that essence of its 1977 Brighouse inspiration.

"I didn't want to make this a brass band arrangement, but instead create something new and interesting, inspired by what I heard all those years ago. I have a great respect for the brass band tradition and its musicians, and I am already working on a new commission for the 2012 Festival which will certainly include brass on a much wider scale."

Reception

He has been delighted as well as surprised by the reception the work has already created – especially from those people who have walked across the Kingsgate Bridge, immersed in the ambient sound.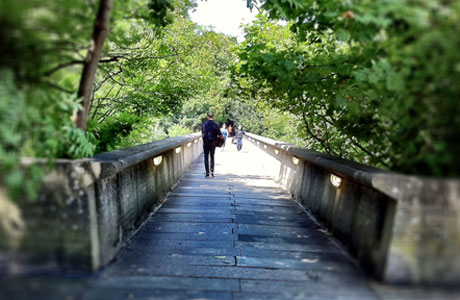 Ambience of sound - the Kingsgate Bridge in Durham

The artist has also already filmed people walking across the bridge and asked them anonymously what they thought.

"The response has been amazing," he said. "An elderly couple spent time looking where the music came from, whilst two American tourists just told me that they felt it was like walking into the heart of a church organ. It seems to spark the imagination with the echoes connecting with deep seated memories."

Puzzled

However, the work has caused some musicians to wonder why an artist who stated in the Radio 4 interview that he 'doesn't like brass instruments', has taken much of his inspiration from the famous Brighouse recording.

Multi instrumentalist James Stretton has played with a number of top bands such as Black Dyke during his career, and seemed puzzled. "It's a bit odd to explain why a high profile brass festival features such a work when the composer has made his feelings about the brass band medium clearly felt."

Pretentious nonsense

He added: "I understand its been called 'pretentious nonsense', and although I have the greatest of respect for Scanner and his work, it does seem strange that he seeks to find what he calls the 'magic inside the Floral Dance' by deconstructing Brighouse's take on it.

"Saying that it caused 'childhood trauma' and 'as long as it doesn't contain brass it's fine with me' in the Radio 4 interview strikes me as a bit of publicity seeking. It would be nice to see what is essentially a brass festival invest more time and money into top class brass bands a bit more."

130 times longer

However, other people have been more supportive of the commission, which is deliberately set 130 times longer than the Brighouse original as a reflection of what was in 1977, the 130th anniversary of the West Riding band's formation. .

Radio 4 presenter Nicola Stanbridge called it a 'dreamy, languorous reincarnation', whilst local media critics have called it 'spooky', 'atmospheric' and 'engrossing'.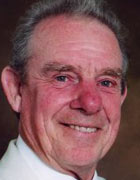 Laid back

As for the man who actually made the iconic Brighouse & Rastrick arrangement, Derek Broadbent (right) is wonderfully laid back about its latest foray into the media spotlight.

"I've heard about the work, but haven't heard it performed. It doesn't really concern me. It's another interpretation on a simple tune that was written 100 years ago this year. I've done a number of interviews over the years about the 'Floral Dance' and especially this year for local and national media, so it's nice to know its still being heard."

Delighted by response

Robin Rimbaud is delighted when told of the response. "It's such a wonderful arrangement, so cleverly written. It's a great pop tune. It can only have survived for so long because it was so good and in doing so continues to catch the imagination of the listeners – something I hope my new take on it does too."

And the artist is keen to utilise brass further. "I'm already working on my 2012 project for the Festival and would love to team up with other composers and artists in the banding movement to try something innovative and new."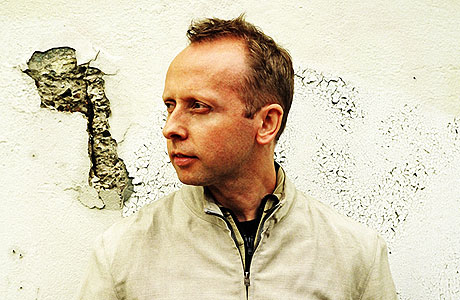 Looking towards the future with brass - Robin Rimbaud

So keep you eyes and ears peeled, as Robin will be uploading the work onto the social media site 'Soundcloud' in the near future as well as a short film about the work and the people experiencing it on You Tube.

It's certainly the Floral Dance, but not quite as you would have expected.

Iwan Fox
---
BBC Radio 4 interview:
news.bbc.co.uk/today/hi/today/newsid_9537000/9537887.stm

Floral Derrangement can be heard on Kingsgate Bridge near Durham Cathedral between Thursday 14 and Sunday 17 July.

You Tube:
youtu.be/6N-td0RVCU8