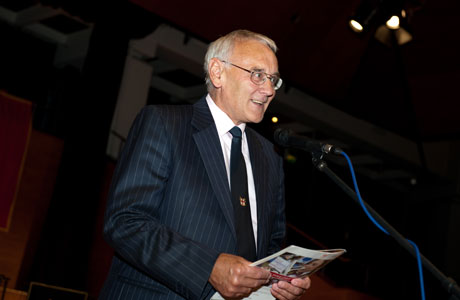 Robert Morgan MBE of the BFBB had plenty to smile about...

It wasn't only Black Dyke who wore smiles of satisfaction from a job well done in Preston.

The hard working members of the British Federation of Brass Bands also left for home wearing a bit of smug grin too: They were thoroughly deserved.

True identity

The English National Championship looks as if it has finally found its true identity – a result of the BFBB taking a long hard look at the contest, and deciding to make it into a competition worthy of the name.

Now they have a foundation stone on which to build an event of lasting stature.

Although this was not the last throw of the dice, this year's contest desperately needed to project a feeling of significance to persuade both competing bands and the listening public that it had a viable future – although perhaps not in the glum surroundings of the Guild Hall.

The BFBB certainly did its bit and more, whilst the bands themselves also delivered too: The emphasis on quality and not quantity worked a treat.

Spring in the step

In the hall, contest controller Derek Atkinson and his excellent team of support staff had a spring in their step as they worked tirelessly all day.

There was a fine choice of set work, study scores and an excellent programme, whilst the results presentation was well managed (including a lovely presentation to Dr Roy & Muriel Newsome) and the bands had opportunity to warm up.

Ray Payne's percussion service was excellent as usual, there was an extended comfort break for lunch, the judges spoke and the prize fund was generous.

All that and it still ended in plenty of time to get home without having to put your car lights on full beam.



Good warm up facilities were enjoyed by the bands

Incremental change

With the possible exception of a new venue (Manchester's RNCM would give a much more intense, intimate contesting experience) any other changes can now be incremental.

Nine bands is more than enough – eight even better, ten too many.

The event now projects the right feeling of competitive elitism.

The best bands want to be part of it – not just for the chance to play at the Europeans, (which helpfully over the next few years are at venues that will not break the bank) but to also garner a bucketful of ranking points in the process.

Nine top ranked bands

The BFBB can now invite the nine top ranked English bands knowing that very nearly all of them will take up their offer to compete over the twin disciplines of test piece and own choice showcase.

If one band does drop out then they can still invite the next band on the ranking list – although it should be a very short subs bench.

Late withdrawals should not be replaced by late substitutions just to make up the numbers.

To remain attractive this is an event that must continue to show that it does not dilute its musical quality – something that was tantalisingly glimpsed with the start being delayed by 10 minutes as an unexpectedly long queue formed at the box office.

It resulted in there being around 550 or so people in the audience – a healthy increase on past years, but still a fairly sparse sea of welcoming faces for the bands to play to.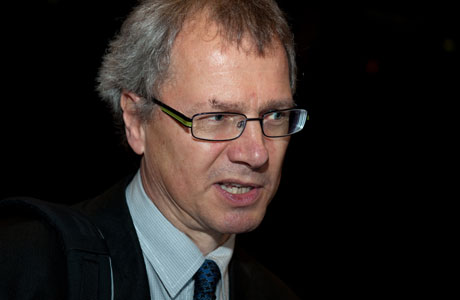 Martin Ellerby was on hand to enjoy his excellent test piece once more

Lack of intimacy

That lack of intimacy at the Guild Hall creates an atmospheric barrier the bands cannot feed off - that invisible sense of growing 'edge of the seat' expectancy that you get at St George's Hall for instance, when its packed out.

The Guild Hall auditorium remains a big old barn – and one this contest cannot hope to fill.

550 packed like sardines into the RNCM – tickets like gold dust, the sweat of the players lingering in the nostrils of an audience seated just a few feet away from the action.

Now that's an atmosphere you can almost taste in your mouth.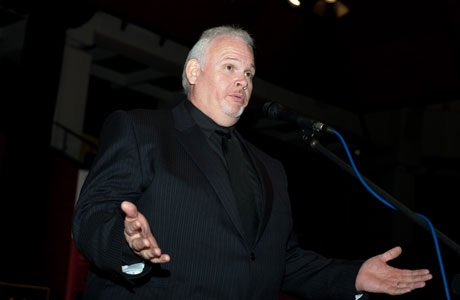 Steve Sykes was also on hand at the end of the day to tell it as it was...

Quibbles

If there are quibbles then the BFBB can now approach them with renewed sense of confidence.

The matter of adjudication still needs to be addressed. You would have to be naive in the extreme to believe that the judges in the own choice section didn't know who was playing what.

Derek Broadbent and Ian Brownbill are men of musical stature and experience.

If they want to remain in the box to help in their decision making process then fine – but let's at least respect their professionalism and trust as a given, and be open about who is playing what.

All day judges

The BFBB might also just like to insist on their judges being there all day too.

Andrew Duncan's predicament was understandable, but still should never been allowed to arise. Judges are paid to do the full job.

If they can't do it then someone else should be brought in.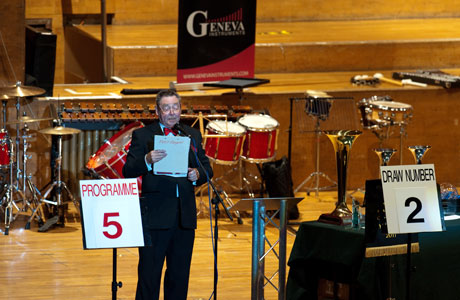 Bob Kerwick making sure the numbers were right...

Vibrant health

For a contest that looked one step away from knacker's yard, the English National now looks in more vibrant health and set to become one of the most important contests of the banding calendar: And all thanks to the excellent work of the BFBB.

A few minor tweaks (the introductions to the own choice pieces should have been made between the bands not whilst they were already on stage waiting to play) and the BFBB could have a contest the envy of the banding world.

Bet you didn't think you would hear 4BR saying that would you now…

Iwan Fox