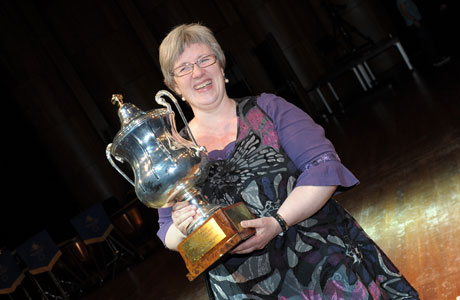 The mother of Manger Band - Helga Vetas

More great images from Ian Clowes of Goldy Solutions can be found at:
www.pbase.com/troonly/2011_ebbc

When a very nervous Helga Vetas took to the stage at the Albert Hall as a player at the very first European in 1978, you wonder whether she thought that 33 years later she would be a member of the very same band crowned as champions of Europe?

Close to tears

11 further attempts passed before the wife of composer Torstein Aagaard-Nilsen was seen close to tears of joy as she hugged the famous European Trophy close to her chest on the stage of the Stavinski Auditorium.

The undisputed 'mother' of Manger Musikklag Band had fulfilled the one playing ambition to elude her in her wonderful playing career – and now she was able to enjoy it with her two sons, principal cornet player, Erland, and Eb tuba, Vegard too.

Long time coming

It has been a long time in the making, but Manger's victory could well herald a new era of Norwegian dominance – and one that could well last much longer than Eikanger's all too brief hegemony over two decades ago.

Manger's first appearance at the inaugural contest was directed by the remarkable Tom Brevik, a man who has also become something of a father figure to Norwegian banding over the years.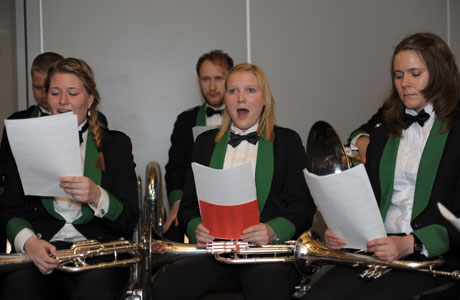 Plenty to sing about for Manger in Montreux

Fitting

It was fitting that he was also was on hand in Montreux to see the band he directed on that occasion on the almost naive 'Norwegian Fantasy', take the title thanks in no small part to a work from the pen of a composer who has done more than most to develop the musical excellence of Norwegian banding over the years – Torstein Aagaard-Nilsen.

It was a lovely, unexpected twist of musical fate for them all – from dreaming 'Fantasy' to joyous reality.

Upper hand

Despite their numerous domestic titles, Manger has tended to be overshadowed by their close neighbours and rivals Eikanger Bjorsvik, although at early European Championships they had the upper hand when both took part.

No longer.

Lock horns

Now both have European titles to their name and for the first time since 1989, they will lock horns at the 2012 event in Rotterdam to provide the rest of European banding with a formidable duel obstacle to overcome.

Manger took part in the first four European competitions, coming within a hairsbreadth of winning the title under Michael Antrobus in 1981, when only a James Scott inspired Brighouse & Rastrick beat them by a single point.

They returned twice more in the 1980s – but failed to make an impression.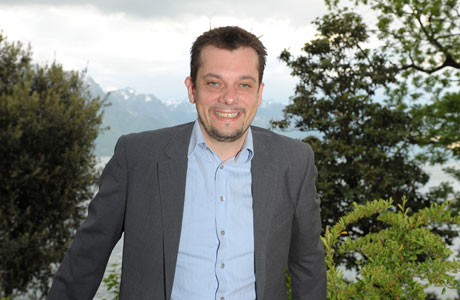 The man behind the Manger victory - Peter Sebastian Szilvay

Destiny

As Eikanger became the dominant force, Manger looked on as under Howard Snell, their rivals took their first European title in Lucerne in 1988, following it up a year later in Bergen with a second victory.

It seemed they were destined never to equal the achievement, despite their own domestic dominance in the mid 1990s under David King seeing them compete at the Europeans on four more occasions,

But despite having the Australian at the helm in 1995 they could not quite manage to repeat the 1981 heroics – thanks in part to the inspirational MD going on to conduct the all conquering YBS.

Their last appearance of the 20th century in 1998 saw them end in 10th place.

Different

How different the Manger story may have been if he had been able to direct them instead?

Five more years passed until Allan Withington led them to 5th place on home turf in 2003, but it was not until they returned for a 12th time in Montreux that they finally claimed the crown that they first tried to grasp all those years ago.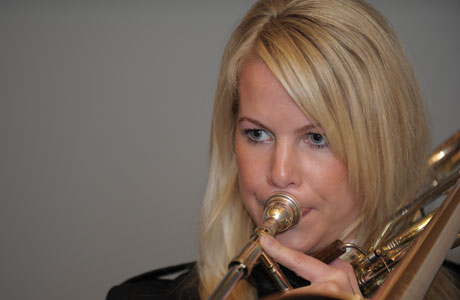 Concentration is the key for Manger's solo trom...

European rulers

Now they rule Europe – and with a resurgent Eikanger to partner them in Holland next year, this may well be the start of extended Nordic supremacy at the world's premier banding contest.

You can be sure that when Helga Vetas took those first nervous steps on to the Albert Hall stage in 1978, she didn't think that would be the outcome 34 years later.

Iwan Fox