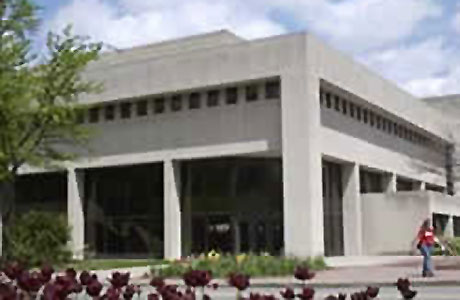 Ohio State University

Once again the Ohio Brass Arts Festival featured a fine and varied display of what a number of the very best American brass bands have to offer.

This fifth event was superbly organised by Andrew Seymour and a large team of volunteers from the Central Ohio Brass Band, and as the ensembles were not restricted to the standard British format or limitation of numbers, it gave rise to an interesting mix of instrumentation as well as repertoire.

Funk rock

This was epitomised by the headline act - Bonerama, a funk rock ensemble that included the amplified electric-guitar effects produced by co-founder Mark Mullins on trombone.

They provided fantastic entertainment and simply have to be heard live. They are some band.

The event was once again held in the Weigel Hall, named after Ohio State University Marching Band Director, Eugene J Weigel.

In the late 1920's Weigel remodeled the marching band and based the instrumentation on the British brass band, discarding all woodwind and in the process producing a sound that could fill the massive OSU football stadium.

Huge following

Marching bands have a huge following in Ohio and an enthusiastic number of players and supporters - past and present.

The impressive rehearsal room for instance can hold 250 performers, and is set up to enable rehearsals to be recorded and made available to players to analyse and memorise their parts.

The sense of professionalism geared to the sheer enjoyment of music making was obvious, and whilst that is an element somewhat forgotten on the UK side of the Atlantic Ocean, it certainly wasn't the case here.

Friday free event

Friday night was a free event that included the Festival Trombone Ensemble performing 'O Magnum Mysterium', 'Scarborough Fair', and the intriguingly entitled, 'Bap Bap'.

Hearing one of Tallis' finest works played by a trombone choir of 17 was a delight, whilst 'Bap Bap' was transformed by the Bomerama clinic that followed Mark Mullins tips on style, technical nuances and projection.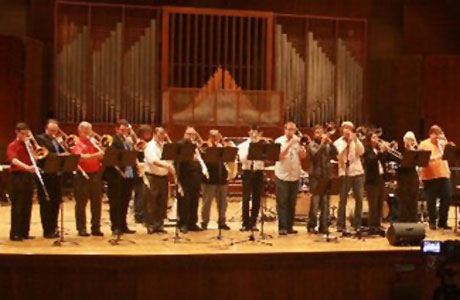 Troms to the fore!

Repertoire Band

Later, the Repertoire Band played through all six compositions short-listed for the Festival, beginning with Gareth Davis' 'Love theme from Giacomo', then my own 'Wassail!', 'Boca Tango' by Richard Taylor, 'Epitaph' by Andrew Cook, 'Festivitas' by Frederick Schjelderup, and finally, 'Flourish Theme and Fugue' by Terry Treherne.

A different conductor directed each piece, whilst the competition was unusual in that each member of the band and the audience were invited to vote for their top three pieces in order of preference.

Those that fared better seemed less technically demanding, as each was essentially sight-read.

At the end of the voting, Richard Taylor's 'Boca Tango' came out on top.
---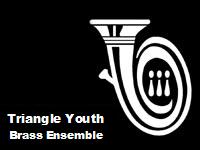 Saturday bands

Saturday began with the Triangle Youth Brass Ensemble (right) directed by Jesse Rackley providing a well selected set that featured 'Little Suite for Brass' and 'Share My Yoke', with a secure solo by the young Shuehei Tsurumi on trombone.

That was followed by James Curnow's challenging, 'Meditation: The New Covenant' and 'The Dark Side of the Moon'.

Triangle displayed playing well above their early years to produce excellent accounts of both works.

Well presented

Chapel Brass followed under Dr. Keith Wilkinson, with a fine selection of Salvationist music well presented and executed, including 'Salvation's Song', the upbeat samba, 'Praising' by Erik Silfverberg, and 'Pastorale' by James Curnow.

Keith's own 'Ye Banks and Braes' was eloquently performed by Andrew Wolfe on trombone with the most sympathetic accompaniment heard all day.

They closed with Steven Ponsford's 'Kerygma', a quirky and not always convincing diversely styled piece.

Exciting and diverse

Meanwhile, the TBDBITL Alumi Band did what they do best, and produced an exciting programme that featured multiple Eb cornets with Bb trumpets producing a more brilliant sound than any traditional brass band.

Under the direction of Dr. Paul Droste and Jon Waters, the vibrancy was mesmerising, and they will be well worth checking out on their appearance at the Durham Mineworkers Gala later this year.

The Brass Band of the Tri-State (Ohio, Kentucky, and West Virginia) chose a deceptively difficult programme, but one that they obviously enjoyed playing.

Opening with their conductor Chip Gue's own arrangement of 'Allegro ma non troppo' from Dvorak's 'Symphony No. 8', they then turned their attentions to Holst's 'Moorside Suite' before a finale of '76 Trombones' which was delivered with flair and style.

How was that for a diverse bit of repertoire!

Second outing

Keith Wilkinson's second outing with the Band of the Western Reserve, produced an outstanding programme.

Beginning with 'Enter the Galaxies' and 'I Only Have Eyes For You' with a cracking bass trombone, then moved on to Dean Jones' excellent 'Processional' delivered with power and panache.

Goff Richard's 'Armenian Fire Dance!' was neatly portrayed, although some of the excellent cornet detail was lost due to the acoustic of the hall, before ending with classy Wilkinson arrangements of the march, 'Rolling Thunder' and 'Bacchanale'.

Theatrical


Dublin Silver & Cornet Band from Dublin, Ohio (right) produced the most theatrical programme of the day, including authentic Irish voiceovers and a pitch black start to 'Ardross Castle' – a real challenge for the horn and baritone who began the piece from within the audience.

The Silver Band's playing of 'Hymn to the Highlands' was divided by the Cornet Band (10 piece ensemble) playing two movements from Peter Graham's 'Gaelforce', before a return to the Highlands and 'Dundonnell', which provided an electrifying finale, as the full band migrated from seated formation to stage centre, in a slick and stylish close.

Triangle return

Triangle Youth Brass Band conducted by Tony Granados performed a well selected programme, featuring 'Procession of the Nobles' followed by a fine rendition of Curnow's, 'Be Thou My Vision' with Sean Blye on trombone.

'Irish Blessing's' challenges were handled superbly with the Festival rarity of a good pianissimo dynamic followed by a controlled and well balanced build to the climax.

Their set concluded with 'Hinemoa' and Henry Fillmore's march, 'Circus Bee', in what was a technically challenging and masterfully executed close.

Circus theme

The Scioto Valley Brass and Percussion Co. chose an entertaining, and at times bizarre programme based around a circus theme.

A fully dressed band, complete with red noses and make-up, took a very audience-friendly approach to classics such as 'Entry of Gladiators' and 'The Daring Young Man on the Flying Trapeze', whilst the appearance of the pantomime horse during the 'Light Cavalry' overture was the signal for something out of the ordinary.

That was certainly confirmed when MD Chris Hoch and Don Clark appeared from within the horse to play a thoroughly entertaining version of 'Cousins'.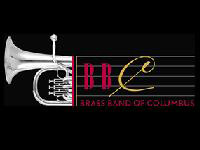 They concluded with 'Join the Circus' sung by the arranger David Meulenberg, who earlier had taken the baton during the entry of the pantomime horse and had at some point ran into the crowd to lob fistfuls of sweets at the unsuspecting audience!

Only in America!

Normailty

Brass Band of Columbus (rigt) brought proceedings back to normality with a well chosen programme that began with Philip Sparke's arrangement of Gershwin's 'Cuban Overture' which could have done with a bit more Cuba Libre to fully bring to life.

'I Will Follow Him', with five trombones was a real treat followed by Vaughn Williams' 'Overture to Henry the Fifth', that could have benefited from a little more stylistic flair.

However, Goffin's 'Red Shield' was finely played save for a limited dynamic range, to close a solid and secure set.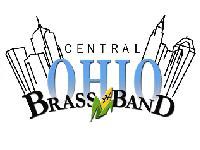 Fine performances

Finally the hosts, Central Brass of Ohio (right) under Jessica Sneeringer.

They rounded proceedings off with two fine performances of the set work and their own choice test piece for next week's North American Brass Band Association contest.

The set work, 'Victorian Snapshots: On Ratcliff Highway' didn't get off to a flying start, but was soon well controlled and delivered, whilst their own choice selection (which for the purposes of this retrospective will have to remain nameless due to the NABBA contest restrictions) was well executed and should serve them well at Grand Rapids in Michigan.

The grand finale saw Bonerama return to perform with 27 additional trombones (30 in total) to produce a real spectacle with 'Bap Bap'.

It provided a wonderful end to a fabulous weekend of brass playing – American style.

Richard Huw Cole