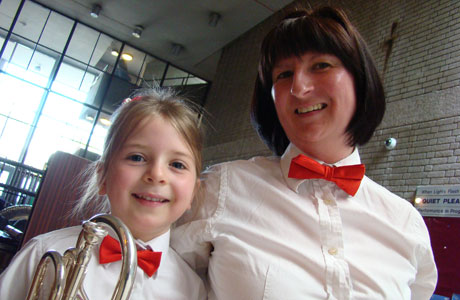 Well done Mum! Lauren Pilkington aged 5 and her Mum, Claire - just a bit older...

The Royal Northern College of Music once again provided a fine venue for a highly enjoyable National Youth Brass Band Championships.
41 bands took to the stage, whilst literally hundreds of players from the age of 5 to 21 revelled in an atmosphere of friendly, supportive rivalry.
Progressive thinking

The growing success of the event is obvious –made possible by the progressive thinking of the organisers.

The standard of playing has improved because of it too, with some outstanding individual and ensemble performances on show this year.
However, with that success, the inherent problems of trying to produce a series of age related competitions become increasingly defined.

The BFBB (with Arnold Tattersfield and Gary Walzack in particular) deserve every plaudit that comes their way (the inclusion of a hymn tune requirement, a real stroke of good thinking), but they know they cannot rest on their laurels.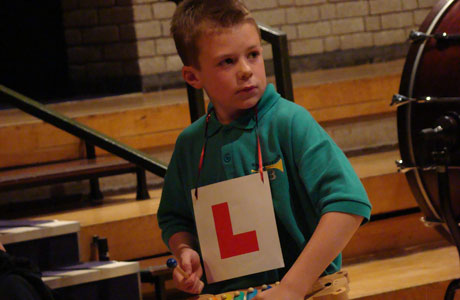 Learner driver in Chalford...

Challenge

There are real challenges ahead if the competition is to continue to flourish: The biggest surely rests with the age criteria surrounding each of the five sections. Age limits of 14, 16, 18, 19 and 20 seem far too closely linked.
The Training Section remains a joy – but one that is so broad in scope that it has become almost impossible to judge with any sense of coherence.
Invidious task

Malcolm Brownbill and Lucy Pankhurst were left in an invidious position of deciding upon a 'Band of the Day' in a competition that surely shouldn't have had any competitive element to it at all.
To try and compare a band that took to the stage with 18 players (including four adult helpers) performing basic Jock MacKenzie pieces, with one that was almost 40 strong with a programme that wouldn't have been out of place at the Action Research event, seemed more than a little unfair on both the bands and the judges themselves.
Meanwhile, the difference between the contenders taking part in the Advanced and Premier Section seemed almost negligible.
Perhaps the admirable desire to encourage participation at grass roots level may be better targeted if the age limit for the Training Section is reduced to encompass children of primary school age only.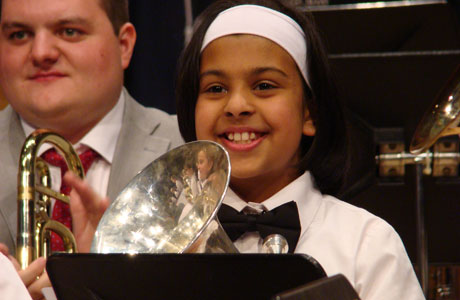 That's what its all about - sheer enjoyment...

Re-alignment

The other sections may also benefit from a re-alignment – perhaps 14, 17 and 21, with the top two sections combined.

The Premier and Advanced Sections at present seem almost indistinguishable.
Whilst there has been a welcome acceptance by the majority of MDs to encompass the competitive musical ethos of the event, it would be interesting to know what guidance if any, is given to help conductors understand what the Championships overall is trying to achieve.
'Mickey Mouse' music has its place – especially at the grass roots entry level, but is this event an entertainment competition at its higher levels?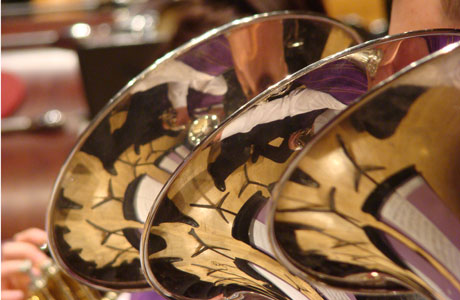 Is all bells and no whistles the way forward?

Template

The inclusion of set works provides a comparative template, and it was good to see the organisers invest in compositional youth.

Demanding works by Gavin Higgins and Peter Meechan provided the contests with a sense of musical discipline that certainly benefited the players and the conductors.
Youthful investment

However, it would be good to see that same type of youthful investment being shown in the choice of adjudicators.
Talking to a number of parents, few if any, knew who James Scott, Stan Lippeatt and Malcolm Brownbill were.

They also felt that the players were more likely to be inspired by the likes of Ian Porthouse, Richard Marshall and Lucy Pankhurst – musicians of a generation they can more readily identify with.
That was confirmed when talking to the players themselves. Having a judge who is the same age as your own parents and who knows what LOL means when it appears on their mobile phone is an added bonus in anyone's book.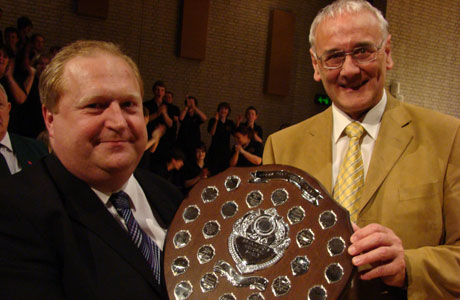 The Brian Hicks Memorial Award went to Nigel Birch

Same language

It may well help the organisers – especially as the time has perhaps come to inform bands in language they clearly understand, that that there are some unwritten contests ethics that shouldn't be open to liberal interpretation.
Having adult help in the training bands is one thing, but it becomes rather questionable when they play every note of the pieces being played.
There were some wonderful examples of encouragement and cajoling, support and direction (with plenty of finger pointing at parts and at least one example of a loving arm being wrapped around a crying shoulder), but others, when it was less easy to see where the line was being drawn.
Gripes

Meanwhile, there were a few gripes over some 'imported help' too. Having full time students, who live and study away from their home areas being brought back into bands that they surely have no ongoing direct musical contact, is a questionable interpretation of the broad intentions of generous rules.
It was a reminder that there is a slightly unsavoury competitive underbelly to youth banding that is revealed every now and again – and not just at this event.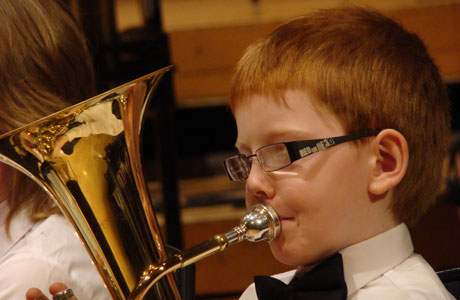 The next generation...

Welcome desire

It would be easy for the BFBB to ignore these areas of concern and simply point to the fact that for a second successive year numbers are up and standards are improving.
However, such has been their welcome desire to provide banding in the UK with a National Youth Championship that places a distinctive emphasis on musical excellence and organisational transparency, that you feel they will once again move this flagship event in the right direction.
Iwan Fox