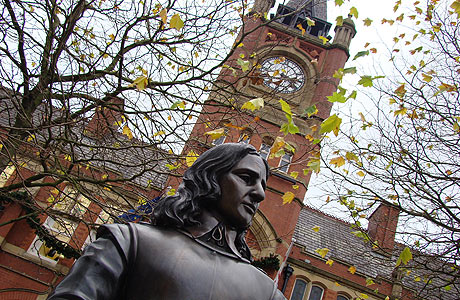 Ready for a great day out at Tameside...

There was a great day's contesting to be enjoyed at the 15th Tameside Open held at Dukinfield Town Hall.

And after the dust had settled there were wins to celebrate for Oldham Band (Lees), Tyldesley, Trinity Girls and Parr (Richardson Ltd) St Helens.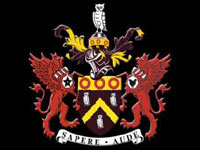 Championship Section:

In the Championship Section it was a resurgent Oldham Band (Lees) (right) that took the top prize of £550.

Capabilities

Adjudicator Paul Andrews had remarked that all four performances (it was a disappointingly small field with one withdrawal) were strong ones, but the winners just had that little bit of extra quality.

He also made the pertinent point of mentioning the need to pick test pieces that were within band's capabilities.

That was certainly the case with Oldham's, 'The Essence of Time', which featured excellent rhythm and tuning throughout.

The tricky opening section in particular was excellent, with well controlled dynamics underpinned by a big sounding bass section (amazingly made up of four 17 year olds).

There was also a noticeable the lack of nerves in a performance that grew in stature and was graced by high quality solo cornet playing and leading lines of poise and style.

Dilemma

The dilemma faced by the adjudicator was the age old one of compare and contrast (a much more difficult task on diverse own choice selections).

Here we had Ashton under Lyne and Hammonds Saltaire possessing superior ensemble sounds, but in performances liberally littered with minor clips – certainly not a feature with Oldham's precise and almost error free rendition.

Musicality

Ashton's 'Paganini Variations' was one of confident musicality with an excellent euphonium contribution and opening trombone solo.

The ensemble glitches though were noticeable, and every so often spoilt the atmospheric mood. In the end second place held some self induced frustration.

Poulton le Fylde meanwhile delivered a compact 'Music for the Common Man' to come third - not as technically demanding as others on the day, but one intelligently chosen to highlight strengths and minimize weaknesses.

Gareth Westwood directed with authority too, stepping in steer his band away from problems with precision.

Minor error rate

There was no doubting the confidence of Hammonds Saltaire's opening to, 'Between the Moon and Mexico', as the newly crowned Yorkshire First Section champion produced a wonderful ensemble sound that was enhanced by first rate intonation.

However, the minor error rate was high and eventually just tarnished a well thought out reading.

On another day it would have possibly gained a better return, especially with their tonal quality displayed with such authority, but the errors made the decision for Paul Andrews much easier to substantiate.
---
Second Section:

An enjoyable contest saw Tyldesley deservedly take the honours, but just as in the top section, there was some debate over the eventual destination of the minor prizes and places.

Fine winner

Their 'Variations on Maccabeus' was a fine winner – full of clear balance, big rounded bass sounds and enhanced by a top class euphonium lead.

MD Rob Taylor encouraged his band throughout – a smiling presence that exuded confidence.

It was repaid in full by his players and appreciated by a knowledgeable audience.

Pushed all the way

Mossley under Duncan Byers pushed the winners all the way.

Their reprise of Darrol Barry's 'Rise of the Phoenix', which had seen them victorious at Butlins was detailed and precise – a real reflection of the MDs conducting style.

With a lovely solo cornet contribution it seemed destined for victory, only for a rather harsh ending to take a touch of gloss off a quality performance.

Potential

The final podium place went to Uppermill, whose emotive 'Resurgam' under Allan Widdop, was tempered by some troublesome internal intonation issues, whilst Dobcross delivered a rhythmically vibrant 'Shine As The Light', featuring quality cornet and percussion playing in a rendition that was just robbed of its winning potential by equally errant intonation.

Behind them, Middleton's 'Resurgam' benefitted from a reading of great understanding from the peerless Alan Lawton, although the execution was a little edgy at times, whilst there was an encouraging performance from Old Hall Brass under John North.

Their 'Resurgam' was cut from a slightly different musical cloth, and it may have been a touch of personal preference from the adjudicator that just cost it a couple of places on the day.

Uneven

The final two bands produced uneven accounts, but will have taken a great deal of encouragement from their performances.

Greenalls' 'Music for a Festival' was bright, bold and well controlled, but suffered from wayward intonation issues, whilst Hoover (Bolton) were certainly not short of ambition with 'Connotations', which was delivered with confidence (although not without the odd clanger): It wasn't far off being a real contender.
---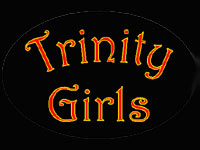 Third Section:

Trinity Girls (right) under the excellent Stuart Barton were clear winners of the Third Section, after delivering a quality rendition of 'Three Part Invention' that combined rhythmic accuracy to well balanced ensemble sounds, solid soloists and good intonation.

It was excellent playing throughout in a performance enhanced by the MDs understanding of the score and his player's confident execution.

Top quality

And it had to be a top quality performance to beat York Railway Institute, whose reprise of 'A Little Light Music', which the week before had given them the North of England Third Section title, was played with brio and vibrancy, with only an uneven middle section costing them potential victory. .

Confidence

Darwen Brass delivered an 'Oceans' of confidence and colour to come third – although tuning problems on the sustained chords took the shine off a little in places. There was much to enjoy though in a performance led with a touch of sparkle by Steve Hartley.

There was a little gap in quality between the top three and the rest on the day, with Coppull & Standish's, 'St. Austell Suite', played with appreciation of dynamic levels but just tarnished by poor tuning. It was a performance full of future promise though.

Potential

Eagley meanwhile also showed considerable potential in a rendition of 'A Little Light Music' that unfortunately lost focus after a fine start and was rather spoilt by a noticeable disconnection between band and percussion once too often.

Bringing up the rear were Farnworth & Walkdon with their vibrant account of 'A Little Light Music'.

It too was just tarnished by a loss of balance between percussion and band.

Perhaps it was the acoustic, but at times it was off putting – to such an extent that it led to a couple of nasty wrong entries.

Nothing but praise for the winners though – and Trinity Girls, despite missing from the Areas this year are a force to be reckoned with at any contest to come in 2011.
---
Fourth Section:

It was a question of ''When the Saints Come Marching In' for Fourth Section winners Parr (Richardson Ltd) St Helens.

Under John Ludden's excellent direction (without a score), Goff Richards', 'Three Saints' was impressive from the word go, with a tight ensemble, dynamic contrast, precise syncopation and subtle styling. It was a deserved victory.

Fine account

Behind them came a fine account from Boarshurst, whose 'Music for Kantara' was crisp and clear, with just a couple of balance issues taking the gloss off a well constructed account under the experienced David Ashworth.

Touch of sparkle

Gollborne's reprise of 'Prelude, Song & Dance' was confident if perhaps lacking that extra touch of sparkle that it had in qualifying for Cheltenham a few weeks back in Blackpool (despite a cracking sense of witty style in the 3rd movement), whilst St. Johns Mossley couldn't quite overcome the inherent intonation problems that just blighted their hard worked performance of 'Music for a Festival'.

Enjoyable

Nelson's enjoyable 'The Aeronauts' was a another performance of merit that just needed to have been more secure in the intonation to back the solid ensemble and solo work on display, whilst Deeside's brightly played rendition of 'Anglian Dances' just tired after a promising start and solid middle section.

Finally, Denton Brass, with an encouraging account of 'Dimensions' under Colin Myer that had all the right elements in place but just needed a touch more confidence in execution – although it did grow in stature as it went along and featured some excellent contributions from the timpanist.

Andrew Warriner