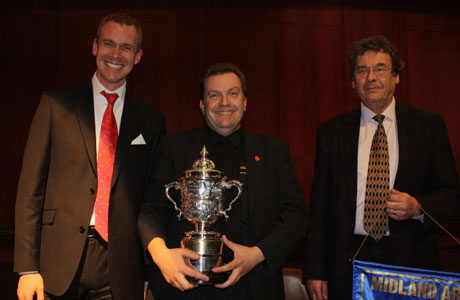 Virtuosi winning performance from GUS

He was a bit of a lad was Niccolò Paganini:

Prodigiously gifted as a virtuoso violinist, womaniser and serial gambler, (although he ended his life in financial ruin thanks to a disastrous casino enterprise in Paris) he was rumoured to have enjoyed a close relationship with Beelzebub himself.

Blockbuster

His somewhat lurid, but undeniably colourful life contains enough episodes for the script of a blockbuster film, let alone the material for legions of composers to plunder his innocuous little violin 'Caprice No. 24'.

As adjudicators Philip Harper and Peter Bassano pointed out at the conclusion of the contest, it's that extrovert, wildly romantic, but occasionally roguish spirit that has found its way into Philip Wilby's wonderfully kaleidoscopic score.

Factors

They were also the factors that needed to be communicated successfully to navigate the rapidly changing moods and timbres of his masterful take on the 'Caprice' theme – all then weaved into a unified, satisfying whole.

For qualifiers Virtuosi GUS and Thoresby Colliery, those elements were found in abundance; albeit delivered in two very differing approaches by John Berryman and Ian Porthouse.

It left the vast majority in the Civic Hall audience in no doubt as to which bands would be carrying off the top two prizes.

Philip Harper's comment that there had been disagreement and negotiation between the two adjudicators as to which should raise the Champion's banner though, added a spicy note of intrigue to the announcement of the results.

High marker

From the number one draw it was Thoresby that set a high marker, giving a performance engineered with utmost cohesion by Ian Porthouse - a musician that can do no wrong at present.

Those thoughtfully crafted, intelligent interpretations continue to mark him out as a man destined for yet greater things in the banding world – although hopefully not a Parisian casino.

He inspired his troops to heights many pre contest critics thought not possible:

In a nutshell they played out of their skins. It was the best playing we have heard from Thoresby in a very long time.

Trombonist Richard Walker set the scene with a finely measured, full toned contribution, whilst both the 'Funebre' and 'Romanza' were captured with an impressive atmosphere.

It was just a touch of aggression in the cornets that detracted at a couple of key moments, but Thoresby's proved to be a performance in the truest sense of the word.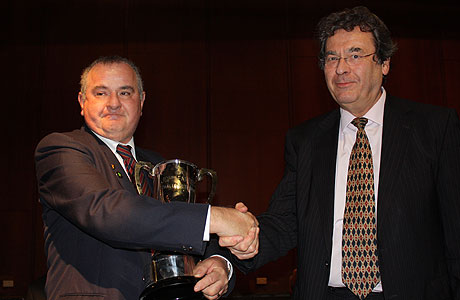 Heading to London for Thoresby

Serious challenger

It wasn't until Virtuosi GUS took to the stage at draw 9, that they had a serious title challenge on its hands.

From the opening bars the bold sense of purpose displayed by John Berryman and his team was striking, with faultless individual contributions from Chris Jeans, Gary Wyatt, James and Gary Fountain.

The MDs animated approach drew playing that was truly edge of the seat stuff; with impressive precision and seamlessness in the semi quaver runs and a magnificent 'Bolero' that was easily the tightest of the day.

As an overall performance it might not quite have achieved the subtlety and interpretative clarity of Thoresby, but in terms of technique and polished quality, GUS was the clear-cut winner – virtuosi name and action.

Golden opportunity

With their late draw Desford had a golden opportunity to take the contest by storm, but with Russell Gray away in Scandinavia, Steve Sykes led them in an oddly disjointed reading that failed to knit together as a convincing whole.

Despite flashes of brilliance and a majestic close, it never captured the ensemble precision, balance and solo line consistency of the two frontrunners.

The somewhat muted response of the audience spoke volumes: 3rd place was the right result.

Curious

Duncan Beckley and Newstead in 4th gave one of the more curious performances of the contest; stylish to open with an impressive Lyndon Cooper on euphonium, followed by quality ensemble work from the cornets in the 'Bolero'.

However, ragged endings and basic tuning issues robbed it of real conviction, and the band will have to wait another year to try and claim a London berth.

Renewed confidence

With the confidence of its renewed sponsorship deal, Jaguar Land Rover was unlucky not to squeeze higher than 5th with a performance moulded with subtle musical shape and style by Dave Lea.

Little blemishes in execution and ensemble just tarnished in places, whilst some inconsistency in tempos and the lack of that last ounce of clarity of detail held it back.

However, their best finish since its Albert Hall qualification in 2006 gave glimpses that they might just be getting back to their best.

Triumphant result

For newly promoted Derwent Brass in 6th, it proved to be a triumphant result.

Keith Leonard directed the last performance of the day – one that was of widely varying quality, but at its best during the opening variations had a stamp of classy authority.

It did tire to close, but it was a 'Paganini' of distinguished merit.

Musical purpose

Sovereign Brass under Graham O' Connor suffered much the same fate; showing a sense of musical purpose from the outset that was eventually marred by some distinctly uncomfortable moments of ensemble uncertainty.

This was a very different Sovereign to the band that earned a podium finish under Peter Parkes last year, and the fact that his name was still shown as their conductor in the programme served as a poignant reminder of the loss all the banding world felt on his death.

Shadow

Staffordshire was also something of a shadow of its former self; a scrappy, disjointed performance by Huw Thomas and his team to finish 8th was unrecognisable in overall quality from the one that won the title here just four years ago.

The early indications are that First Section banding beckons; a sad reflection on fluctuating fortunes since that 2007 victory, but perhaps an ideal opportunity to rebuild in a more permanent fashion: all the ingredients are there for certain.

Bright opening

Gresley Colliery under Wes Kendrick opened brightly enough but soon found the going tough, rarely finding any atmospheric flow and falling prey to fragility amongst the band's soloists.

9th was a fair return.

Propping up

Propping up the last three places Kibworth, Glossop Old and City of Coventry emphasised the yawning gulf that was all too evident between true Championship level contenders and the rest.

These were somewhat lifeless, error strewn accounts that quelled the doubts of any misguided souls still questioning the choice of 'Paganini Variations' as a test piece at the top level.

For newly promoted City of Coventry, 'Paganini' proved to be a mountain of almost insurmountable proportions.

Expletive

By the time Steve Cooper directed an audible expletive at his cornet section, the damage was already done. It wasn't an edifying sound in any respect.

Hopefully, apologies were forthcoming.

For the two bands that will journey to London there will be a good deal of pride as well as confidence to take with them.

Thoresby's appearance will be their first since 2001, whilst for Virtuosi GUS, sealing the double was a historic moment - the first time they have retained the Midlands title since the area was reorganised seventeen years ago.

Flutter

What it meant to the band was quite clear from the player's celebrations in the hall.

On the kind of form John Berryman and his team showed in Bedworth, that old rascal Paganini might well fancy a flutter from the grave on their chances of pulling off an equally fine result in London.

Chris Thomas