Look what my Dad won - Sophie Hobbins aged 6 and Dad with the trophy

Interesting

Say what you like about Bradford, but you don't half meet some interesting people there on the weekend of the Yorkshire Regional Championships.

In the past few years we have enjoyed the company of the lads from the pop group 'Smokey', witnessed a wedding reception fight and met a bloke who earned his living selling photos of Susan Boyle to German tabloid magazines.

Frightening

This year, we happened to meet a couple of the most frightening people we have ever come across…

The eveving had started with some pre contest grub at the local Chinese 'buffet' restaurant just around the corner from St George's Hall – a temple to MSG inspired gluttony.

Snorter

Whole top section bass ends would struggle to shovel down their gobs as much as some people were doing on Saturday night: It was frightening in its medieval intensity.

It seemed only we were able to talk and eat at the same time – the only other sound was of mastication on an epic scale.

Filled to the sternum with fried chicken balls and coconut jelly, we made our way back to the hotel for a snorter, before an early start the next day.

Things seemed to be going well (discussions on how to reduce the top section in the UK to 30 bands etc) until we were asked to join a very nice set of locals, who just happened to be here on a weekend break.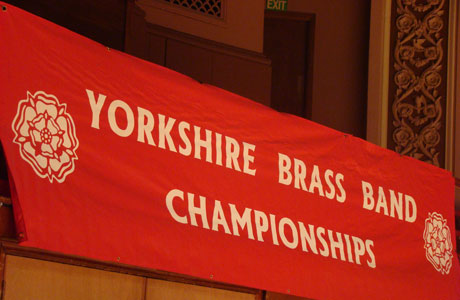 Keep the red flag flying...

Never heard a band

Strangely for a foursome from Barnsley and Bradford, they knew nothing about brass bands, but plenty about black market cigarettes, recreational relaxants and the type of friends who could 'do you a favour'.

Polish plasterer

Their lives seemed unduly simplistic; the two blokes spoke in a causal way about things most of us would blanch at even considering possible, whilst their girlfriends, who dripped with bling and make up that seemed to have been administered by a Polish plasterer, wore they type of bored expressions that comes with an attention span the length of a semi quaver run in 'Paganini Variations'.

Bizarrely they found the whole idea of a brass band contest on their doorstep something of great interest – although it was with great relief the next morning that their offer to come along and sit next to the press corps for 'Le Carnival Romain' at 9.15am was not taken up.

Darker edge

Still it was a great night – helped along by a great couple of ex players who joined us for a drink, and who were here to listen to the bands over the two days as a bit of a weekend break.

Bizarrely however, their banding lives also had a darker edge – with a worrying ability to join once healthy contesting outfits who then just happen to die a death soon after.

Harold and Rose

It was a bit like welcoming Harold Shipman and Rose West to you cornet section.

One minute everything was fine – the next, after a month of two with them in the ranks, there is a wreath outside the door as another old band meets its maker.

Their list of 'victims' read like the obituary column of the British Bandsman.

It must be added however, that these two delightful people were great company, enjoyed wonderful 'real' lives and just seemed as perplexed as 4BR by their worrying curse.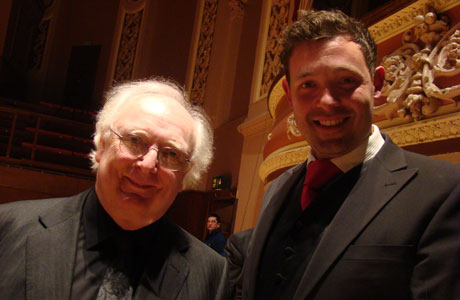 Thanks for the light entertainment: Philip Wilby and Lee Skipsey

Odd moment

Over the way at St George's Hall, the drama, excitement and even the odd bizarre moment or two almost paled into insignificance – but not quite.

It will take a long time before you forget David King's mesmeric performance with Brighouse and the gasp of almost Hitchcockian horror as Black Dyke was announced in fifth place.

Then there was Lee Skipsey's wonderfully idiosyncratic musicality conducting City of Bradford and Morgan Griffiths celebrating a long overdue Yorkshire First Section title with Hammonds.

Add to that some great little nippers playing percussion in the Fourth Section and the taste of one of the best meat and gravy baps followed by proper rice pudding provided by Peggy Tomlinson's excellent team of hard working volunteers and catering staff.

Yes. Bradford really does deliver drama, pathos, excitement and the cast of 'Royston Vasey' to your doorstep at times.

Iwan Fox