A winner's smile from Hoover (Bolton)
Picture: Steve Jack

Philip Wilby's 'A Little Light Music' is a lovely composition; but on the evidence of this contest, it is perhaps more suited to finding a National Champion in the Third Section (or even Second) rather than just two qualifiers for Cheltenham – even from a region as strong as this.

The standard here is one of the best nationally, but there was no denying that these well prepared, thoughtfully directed bands struggled to cope with its demands.

Commend

There was much to commend in the approaches, (especially with those contenders who were unable to field a full compliment of players), but even the eventual qualifiers were made to work unnecessarily hard for their finals place.

Through no fault of their own, it made for a rather downbeat contest – full of enthusiasm and passion, endeavour and commitment – but not a great deal of memorable playing.

There was a great deal of relief etched onto faces at the conclusion of performances – not an emotion that signals that players believe they have really done themselves justice.

Neopolitan flavour

Technically (the ice cream inspired 'tarantella' in particular) demanded too much of the bands – especially if they wished to play it at a tempo that had the Neapolitan free flowing vibrancy required.

The opening 'Fanfares' were played with brio and purpose, and whilst the lyrical 'Lady of the Fountain' found herself taking in troublesome gulps of water at times, there was a commitment to keep her floating at a well judged lyrical pace.

It was the 'tarantella' that showed just why the piece was too much of an ask.

Bluff

Those bands that took a notch or three off the pace found problems with a disjointed flow, whilst those who tried a bit of Italian inspired bluff, found themselves getting tied up in more knots than a bowl of spaghetti.

No wonder there was that sense of relief when the bands were able to regain composure with the refrain to the rousing end.

Adjudicator, Steve Pritchard-Jones knew it wasn't easy, but he reminded all those waiting for the results, that the clues to tackling the piece lay in the titles of the movements. Not rocket science perhaps, but by adding further detail, he gave the audience a thoughtful appreciation of how he came to his decision.

Clear winner

In the end he found a clear winner in Hoover (Bolton), conducted by Trevor Halliwell, who was the first band to really make a serious impression with a performance that was precise and detailed, and all importantly, captured the descriptive essence of each of the movements.

Nitpicking decisive

Steve added that when it came down to the choice between second and third, it was down to nitpicking and personal preference.

Whitworth Vale & Healey's safely manoeuvred, cleverly controlled performance that did just what was written on the score, got the nod.

John Binns drew a great deal from his band by using his old noggin with real musicianship.

Narrow miss

Missing out by the narrowest of margins was the warmly balanced Eagley Band from Bolton.

Steve openly told the audience that the rhythmic discrepancies were key to them just missing out on a qualification berth, but like Whitworth, it was a performance that was controlled and intelligently directed by Neil Parkinson.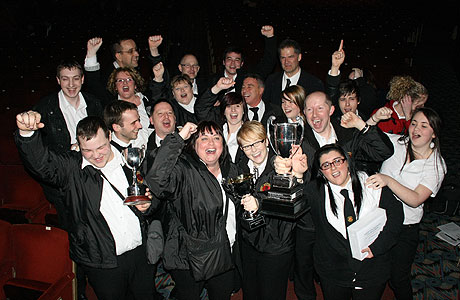 We're on our way to the races - Hoover (Bolton) celebrate
Picture: Steve Jack

Touch loud

Outside the top three Steve Pritchard-Jones had a much, much harder task with the age old problem of compare and contrast.

Greenall's under Karl Stott produced a performance that was 'nearly but not quite' in places, but held a great deal of good solid banding basics to work on in the future, whilst it was a similar story for Pemberton Old DW 'B' directed by Peter Ashley.

Their rendition started and ended so well, but the middle sections never quite felt as comfortable.

Non traditional

Eccles opted for a non-traditional formation under Mareika Gray with the trombones sat where the back row cornets usually reside.

Theirs was a performance full of energy and dynamism, but it was also a little bit scruffy around the edges too, as players tried to give that extra 5% more when perhaps 5% less would have been the better option (although Russell Gray on soprano enjoyed himself, even if his lip must have hurt as he gave it everything in the cause too).

Tough baptism

Fourth Section National Champion, Hazel Grove under Nigel Beasley discovered that life in the Third Section holds promise, despite a performance that sounded a little nervous in places.

A solid midfield finish was a good start, and they won't be pushed to the limit by a set work like this for a while we are certain.

Early problems

Lostock Hall and Rivington & Adlington had early draws and seemed to find early problems that they couldn't quite overcome despite some fine individual contributions and warm ensemble sounds in the lyrical middle movement.

Meanwhile, Farnworth and Walkden who came up from the Fourth Section found things a little tougher than their rivals, but battled through to the end under the sensible direction of Peter Ashley.

Struggle

It was a struggle for the trio of BMP Europe Goodshaw, Stalybridge Old and Hawk Green (Marple) but it was a struggle they kept battling at from first note to last.

Each performance had its moments when things settled and their strengths rather weaknesses were highlighted, and all three will have gained benefit from their outing here, even if it was hard old graft.

Not unhappy

Philip Wilby's piece is a lovely composition, but on the day it didn't always sound as such.

No fault of the competing bands who tried their best to overcome its challenges, but the majority won't be too unhappy they won't have to play it again.

That's a pity, but for Hoover and Whitworth Vale, the struggle paid off with well-deserved qualifications for Cheltenham.

Malcolm Wood