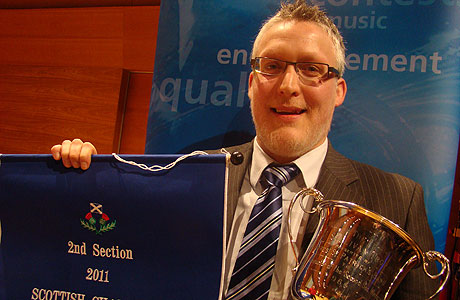 Champions! Bruce Wallace holds the Second Section Scottish Trophy and banner

The honour of giving the first competitive performance of the 2011 National Championships of Great Britain fell to Kilmarnock Concert conducted by Craig Anderson – but not before they had to pay homage to Her Majesty the Queen, who by all accounts wasn't even in Balmoral let alone Perth on the weekend.

Souls of the righteous

Still, with the niceties out of the way, the first notes of 'Resurgam' were heard accompanied by the first thoughts that the souls of these righteous competitors were not to be found in mysterious hands of an omnipotent God, but in the more earthy confines of a mock Bedouin tent with Peter Bassano and Lt Col Graham Jones sat in judgement.

Wisdom of Solomon

That said they needed the wisdom of Solomon to finally work out their prize list (it took a full 45 minutes for the results to be announced due to their thoughtful deliberations) after a contest that through not fault of the competitors themselves, was full of well matched bands unable to draw anything emotionally inspiring from Eric Ball's music.

Succinct

Both Peter and Graham gave succinct, pertinent pre results analysis of what they heard: Graham calling it music from a different era but with modern challenges, whilst Peter gave his usual elegant appraisal of its style and need for lyrical, but not misplaced, passion.

All the competitors knew they had come up against an old classic that still had the ability to bite back with a vicious, if tasteful snap of its biblically inspired jaws.

Not a cropper

Not one came a cropper, but not one truly mastered it either, even with a well constructed winning performance from City of Discovery conducted by Bruce Wallace.

With four horns and just three basses, it gave the band a slightly warmer, less darkly edged ensemble balance, and allied to the MDs desire to keep the music flowing without recourse to any misplaced desire to wallow in the more emotive elements, it became a performance of technical and musical merit.

It was also a performance helped by solid individual contributions too – notably from a warmly toned solo cornet and the lyrical security of 'Best Instrumentalist' winner, Neil Watson on euphonium.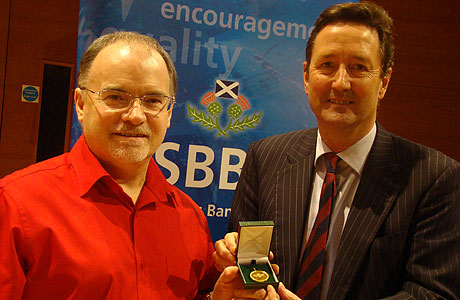 Well done Watson! Neil Watson picks up the Best Instrumentalist award

Bruce later admitted that he just got 'the old juices flowing' – although after claiming the first finals spot since 2006 for the Dundee based band, he will have also have got his celebratory alcoholic juices flowing too in the bar.

Long wait

Joining them in Cheltenham will be Granite City Brass conducted after a long wait for the judges to blow their whistle, by Lt Col. Robert Owen.

Resplendent in what looked like Black Dyke replica jackets, they produced a performance, perhaps not quite of that quality, but with plenty of solid virtues and musicality to gain qualification for the first time since 2007.

Difficulty

The real difficulty for the judges was the placings 3 - 10, as they later revealed in explaining to 4BR why they took so long over their decision.

It was a question of compare and contrast – some performances were better than others in some areas, worse in others etc.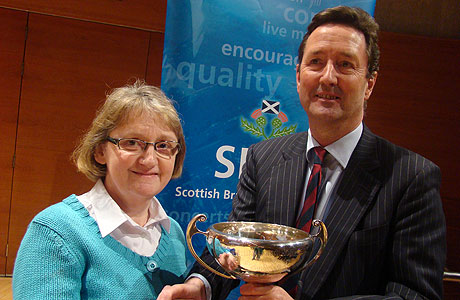 Granite variations - as the Aberdeen based band heads to Cheltenham

The absence of real consistency from the opening pick up to the final repose was so variable that comparative analysis even for these two fine musicians was always going to be difficult to resolve.

Merits and thoughts

In the end, they discussed the merits of each performance in detail once more, and that was why it took 45 minutes to find out who won.

You can't say they didn't give it plenty of thought.

It also meant that they opted for the solid if rather non descript performance of Annan Town under David Shanks in 3rd, which pipped the more colourful but certainly more error strewn efforts of Irvine & Dreghorn in 4th and Croy Silver in 5th.

In any order

You could have put all three in just about any order, but whereas Annan opted for a studious approach with the emphasis on safety, Irvine under John Boax and Croy, directed by Ken Blackwood, opted to reveal more lyrical emotion.

Each performance had its merits but also its noticeable weaknesses.

The final top six place went to Shotts St Patrick's with a tastefully phrased account under Mike Marzella, which just fell away to close, whilst it was Kilmarnock who opened the contest that ended in 7th after delivering a solid show that benefitted from fine individual solo contributions.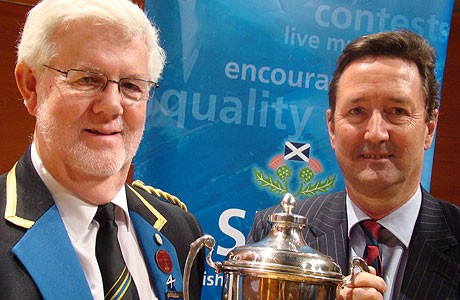 Just missing out on a finals trip for Annan Town

Closely matched

Behind these came the rest of the field – all closely matched, but all perhaps lacking that extra touch of consistency to varying degrees to have made a persuasive case to the judges to have come higher up the results table.

Dunaskin Doon's performance cried out for more flow and pace at times, whilst St Ronan's started well, featuring a fine euphonium lead, but became increasingly tired and untuneful as the band lost focus and stamina.

Surprise result

The surprise to many was the low placing of Tullis Russell Mills, the clear cut bookies favourite before a note was blown.

And after a fine opening under the command of Martyn Ramsay they appeared to be on course for a qualification place, with tasteful contributions from a trio of former Scottish Co-op National winners of 1990 vintage, in Gavin Lindsay on sop, Allan Ramsay on solo cornet and Stevie Craig on horn.

However the ensemble tuning was suspect and soon became a real problem, whilst a terrible moment in the final quarter saw the bass end become totally detached from the rest of the band.

Recovered

It recovered thanks to the MDs sharp baton work, but it was as close to a car crash as we heard all weekend – and they only just survived.

10th was a tad harsh perhaps, but they had made the decision easy for the judges.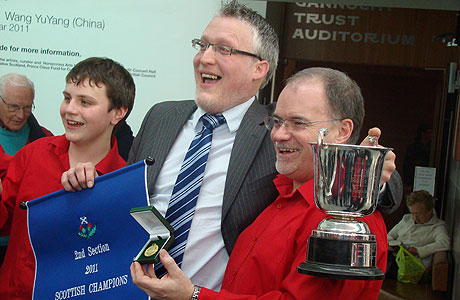 Happy smiles all round for the winners

Bit of an ask

That just left the bottom two of Selkirk Silver and Barrhead Burgh, both of whom found 'Resurgam' a bit too much of an ask on this occasion, although there were extended moments of quality in both performance, notably from the solo cornet of Selkirk and the four troms of the depleted but brave ranks of Barrhead.

For City of Discovery and Granite City, long haul trips south for the finals in September – but ones they should undertake with confidence.

For the rest – they will surely 'rise again' to the challenge, but perhaps not on a work as difficult as this.

Iwan Fox