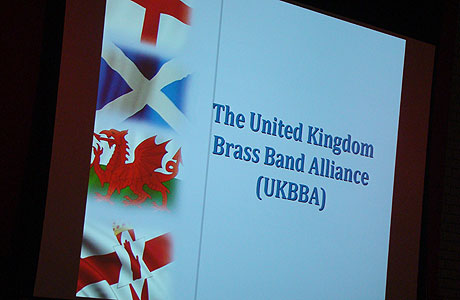 Flag of nations - The new name

The second Brass Band Summit Conference took place at the Royal Northern College of Music with a noticeable degree of collective willingness on display from the 37 invited delegates present.
Hosted by the members of the Umbrella Working Part Group set up at the first Summit Conference in Birmingham in 2010, it was led by its Chairman, Stan Lippeatt.

The first series of proposals outlining the identity, composition and role of a new body to oversee and promote the brass band movement in the UK were unveiled.
There was no doubt the 'Umbrella' members, Stan Lippeatt (ABBA), George Burt (Scottish BBA), Trevor Caffull (Brass in Concert), Martin Mortimer (British Open), Philip Morris (National Championships), Pedr Roberts (Welsh BBA), Robert Morgan (BFBB), Allan Davidson (Northern Ireland BA), Andrew White (NABBC) and Alan Edmond (Scottish BBA) had worked long and hard in developing their initial proposals.
Presentations

A series of short presentations were made covering the proposed structure, aims and objectives, youth input, funding and consultation, with a series of slides clearly defining each area for debate.
First and foremost however was the proposal to give any new body a name.
With a helpful explanation about the pros and cons of alternative titles, the United Kingdom Brass Band Alliance was unveiled – and with it, the body's mission statement, terms of reference, composition, aims and objectives.
---
These were defined as follows:
Mission Statement:
"To secure a dynamic future for brass bands and brass band music in the United Kingdom."
Terms of Reference:
Mandated by all interested parties:
To act on behalf of all UK bands
To secure funding
To undertake promotion and development
Composition:
Chairs of the National bodies
Chair of ABBA
Chair of NABBC
Nationals, British Open & Brass in Concert
Youth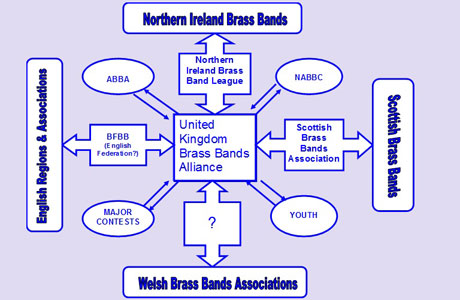 How it will work...
Aims:
1. To enable co-operation between England, Northern Ireland, Scotland and Wales on matters relating to brass bands.
2. To promote and support the brass band as an integral and traditional musical art form in the UK.
3. To stimulate and encourage young people to take up playing a brass instrument as a life long hobby and to encourage those players who have left to return to banding.
4. To foster the concept of personal enjoyment and benefit to the community of playing in a brass band.
5. To encourage brass bands, players, conductors, adjudicators, contest promoters and governing bodies (all participants) to look forward, to adapt to change and strive for continuous improvement.
Objectives:
1. To help co-ordinate and by working together, add value to the activities and initiatives of the members of the Alliance.
2. To arrest the decline in the number of brass bands in the UK – and, hopefully, bring about an increase in the number of active brass bands.
3. To capitalise on the investment that is being put into music teaching in schools And elsewhere in the educational system.
4. To restore brass banding to its traditional position as a widely accepted part of mainstream music making in the UK.
5. To help raise the standard of brass bands in the UK.
---
Action Plan

With these elements in mind, it was proposed that UKBBA would undertake a proactive action plan as follows:
1. Establish and maintain a register of all boa fide brass bands currently active in the UK.
2. Establish links with schools and LEAs which have brass bands.
3. Carry out surveys to identify areas of strength and weakness across the UK.
4. Undertake market research to determine the public perception of brass bands and brass band music.
5. Lobby the wider media to encourage coverage of brass band events such as Nationals, Open, Brass in Concert and others.
6. Establish connections with the All-Party Brass Band Group in Parliament.
7. Establish a network of connections with prominent people and people of influence known to be friendly towards brass bands.
8. Hold seminars on press and public relations for band officials.
---
Youth and finance

Further elements of the UKBBA's remit were discussed and debated, such as the active involvement of youth, which was given an impassioned presentation by Alan Edmond, the highly successful Scottish Brass Band Association Development Officer.
Using the examples of high profile young performers such as Katrina Marzella and Stephan Sykes to highlight the benefits of brass banding, he put forward the strongly argued case for proactive involvement and development.
Healthy debate

The question of funding, although still at a very embryonic stage was touched upon in the presentation made by Robert Morgan MBE, whilst Allan Davidson gave a compact analysis of the day's discussions in the final summing up.
A healthy debate was encouraged, with views, questions and queries both for and against aired with passion and good humour.
A final vote on a proposal for the working party to proceed to the next stage of UKBBA development was undertaken with 33 in favour and 4 abstentions.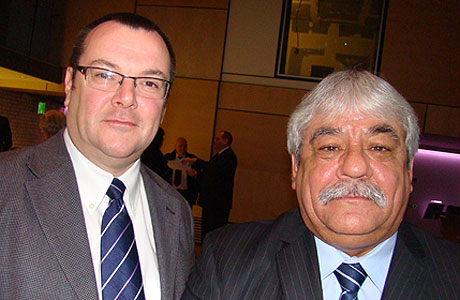 Alliance supporters - Stan Lippeatt and Trevor Caffull

The views of Stan Lippeatt and Trevor Caffull, two leading proponents of the Umbrella Group were given to 4BR Editor Iwan Fox:
www.4barsrest.com/news/detail.asp
It is hoped that a further Summit Meeting, open to all interested organisations, groups and individuals will be held in the coming months, whilst it is also intended that a website giving further information of the proposals will be set up in the near future.

Iwan Fox