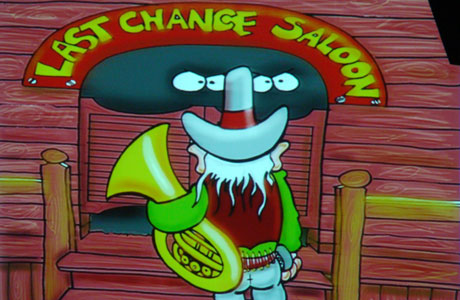 Not quite - but something is not right with the entertainment genre

Just a few years ago at Butlins, David Read and Peter Parkes let the entertainment cat out of the bag - innovation and inventiveness was to be rewarded.
Three years later however and conductors, players and paying public alike are still left wondering where the cat in question scarpered to?
Gone feral

Given its long overdue freedom from its prescription led captivity, it has gone feral - running wild with a mad eyed musical compass of directionless good intentions - as if being chased by a pack of hungry Rottweilers.
No one quite knows how to get it back under control.
"I just don't get it," one rather exasperated conductor told 4BR after the announcement of the results in the top section. "Even you liked us, but then changed your mind!"
You had a great deal of sympathy for his state of angry bewilderment.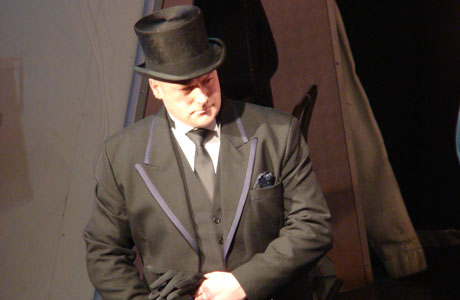 Some bands were as funny as death itself...

Flux

The brass band entertainment contest is in a state of confused flux.
Imaginative thinking and musical innovation is being rewarded one week, penalised the next. No wonder even the hard bitten pest control hacks of the press can't make up their own minds about what is now on offer from Skegness to The Sage, Yeovil to Bolsover.
The Butlins contest highlighted the inconsistencies both in the playing as well as the adjudication of the modern entertainment contest format – although it may well the methodology of assessment that is the root cause of the continued state of confusion that now prevails.
Laissez-faire

Brass in Concert, despite the recent structural changes to its assessment system, still elicits an inherent entertainment conservatism from its competitors, whilst Butlins, with its more laissez-faire approach, certainly encourages radicalism, but is allied to a 'free for all' marking methodology.
Other contests employ other methods – from the more detailed checklists of the Action Research Youth Contest to the antiquated 'closed adjudication' approach at other events.
It should have come as little surprise then that the bands and their conductors were caught between at least two stools at Skegness on the weekend.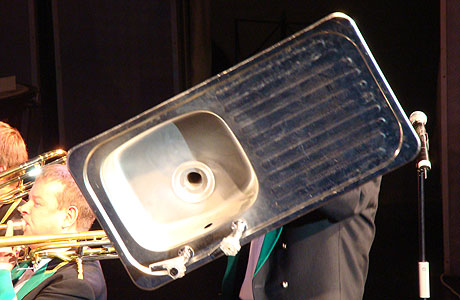 Everything and the kitchen sink from Marsden

Neutered

Whichever way the cat ran in search of a warm bed and a Warwick Vase full of seven grand's worth of celebratory milk, there was always going to be the danger of it being neutered along the way – as some competitors found out to their cost.
Virtuosi GUS took first place with a programme that although containing invention wouldn't really be described as truly innovative, whilst Redbridge, who came sixth, opted for much more innovation, even if the formula itself had a familiar inventiveness about it.
EYMS on the other hand produced a set that would have been familiar to an entertainment contest audience 20 years ago, and came fourth (as well as winning the 'Most Entertaining Band' prize), whilst Woodfalls, who certainly opted for something from the truly febrile Scandinavian entertainment mindset was rewarded by coming just two places above them.
Brass in Concert?

If any of these these bands had been invited to Brass in Concert, let alone Yeovil or a closed adjudication contest - how would they have fared in the entertainment placings?
Conductors are becoming more adventurous in their programming, asking more than ever before of their players in sacrificing traditional skills in an effort to exploit new ones.
Merely standing up to play a solo nowadays isn't enough. It has to be done without music, (although disappointingly far too many players still rely on the safety net of a part propped up on a badly placed stand), invariably on the move, and most probably in some form of fancy dress.
Done well it can be a visual as well as musical joy.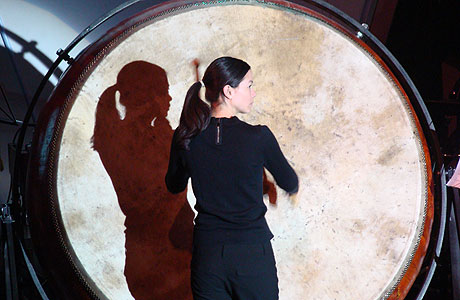 A big old drum roll from Redbridge

Sauntered

Chris Jeans sauntered with a relaxed bonhomie in his solo with Virtuosi GUS, whilst Neil Day played with atmospheric sensitivity to take the 'Best Soloist' prize with EYMS accompanied by warmly hued projected images.
The bands tried something different too. Redbridge employed a bass drum the size of World War 2 bomber raid spotlight, whilst Woodfalls opted for cardboard cut out snow topped mountains and blazing campfire.
Others though seemed set in their ways – especially in the humour stakes, which without question remains the Achilles heel of just about every band that takes to an entertainment contest stage.
Past mistakes

Flowers learning from past mistakes dropped the tasteless cross dressing to accompany Phil Green's fine cowboy tuba spot in their programme, although Blackburn & Darwen's efforts were less successful.
The attempt to impersonate Lionel Ritchie by donning an afro wig, was possibly just a few uncomfortable backward steps away from the dark days of Black & White Minstrel inspired mimicry.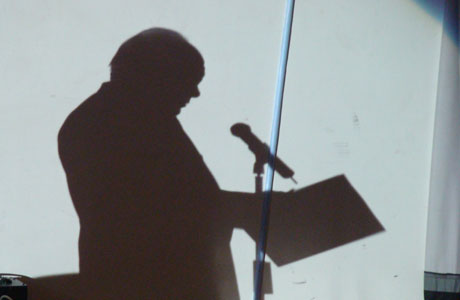 Casting a shadow: Frank Renton proves he's not Dracula

Badly ironed

Slapstick humour has its place, although it quickly becomes tiresome when all it amounts to is the pushing and shoving of the MD, amateurish silent movie comedy theatrics and the wearing of a badly ironed dress.
It is perhaps little wonder then that there was some considerable bewilderment over the final placings on the Sunday: Nobody seems to know in what direction this discipline of the Butlins contest (let alone all the others) is now taking.
Personal entertainment choice is just that – and whilst no-one would want to revert back to the days when all we got were small variations on a prescribed diet of crash bang wallop opener, solo, comedy item, lyrical interlude and big finisher, perhaps some sort directional analysis and debate is needed – starting here.
Otherwise that damn cat will never become housetrained again.
Iwan Fox