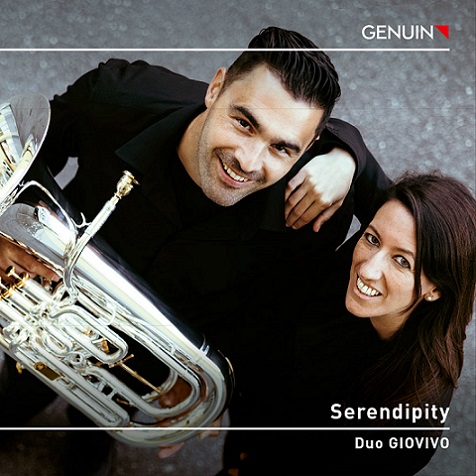 Multi-instrumental skill can sometimes be viewed as a quirky musical anomaly; shallow trickery primarily aimed to entertain rather than engage.
Not so with this release from Fabian Bloch (euphonium, wunderhorn, alphorn, piano) and Muriel Zeiter (piano, violin, transverse flute) who amply demonstrate the full panoply of their musical talents (they also play melodica and saxophone) with virtuosic substance.
Variant detours
It bursts into life with 'Blue Heart' from Philip Sparke's 'Diamond Concerto' – Bloch capturing the free-flowing jazz waltz groove with ease, before they take variant detours (the CD title 'Serendipity' is well chosen) that mixes seriousness with humour, lyricism with pyrotechnic, familiarity with the unusual.
Steven Verhelst's 'Danzone' meanders into Gankino Horo's 'Bulgarian Folk Dance' (Zeiter swapping piano for violin), before calm serenity comes with Saint-Saens' famous 'Swan'.
The title track itself evolves from a plaintive opening into meandering intricacies, whilst Bloch's own 'City Walk', is a catchy midnight stroll with a darker emphasis than you may first appreciate. Waldteufel's 'Skaters' Waltz' is elegantly witty.
There is a great deal packed into an hour and three minutes; the lucky dip taking in Monti and Bach via Sandstrom, Sommer, Hess, Sorger, Francois and Revaux to Baadsvik and finally Daniel Schnyder's 'Concerto for Nay', which was originally written for Arabian bamboo flute and orchestra.
Weaving in and out
Both artists play with remarkable dexterity; weaving in and out between each other with a relaxed understanding (they have performed together since 2019) that has a marked generosity of space and focus.
Not everything works, and sometimes the pairings leave you wryly perplexed: 'My Way' on the wunderhorn and 'Baritone Lechner' are delicious oddities. Elsewhere 'Spirit of the Alphorn' has an evocative, if occasionally flat, beauty, whilst 'Heimatvogel', with Zeiter picking up the transverse flute engages with its 60's folk song naivety.
The compact variety pack detours may come quick and fast, but you are still left satisfied by the trip they take you on.
Mark Good
---
To purchase: https://giovivo.ch/en/produkt-kategorie/cd-en/
Play list:
1. Blue Heart from Diamond Concerto (Philip Sparke)
2. Danzone (Steven Verhelst)
3. Gankino Horo (traditonal)
4. The Swan from Carnival of the Animals (Camille Saint-Saëns)
5. Serendipity (Daniel Hall)
6. City Walk (Fabian Bloch)
7. Meditation on the First Prelude (After J. S. Bach's BWV 846) (Fabian Bloch)
8. Fnugg (Oystein Baadsvik arr. F. Bloch & M. Zeiter)
9. Song to Lotta (Jan Sandstrom)
10. Czárdás (Vittorio Monti)
11. My Way (Claude François arr. M. Zeiter)
12. Les Patineurs, Op. 183 (Emile Waldteufel arr. F. Bloch & M. Zeiter)
13. Baritone Lechner (Wolfgang Sorger)
14. Der Heimatvogel (Carl Hess arr. M. Zeiter)
15. Spirit of Alphorn, Op. 202 (Hans-Jürg Sommer)
16. Karachi from Concerto for Nay (Daniel Schnyder)