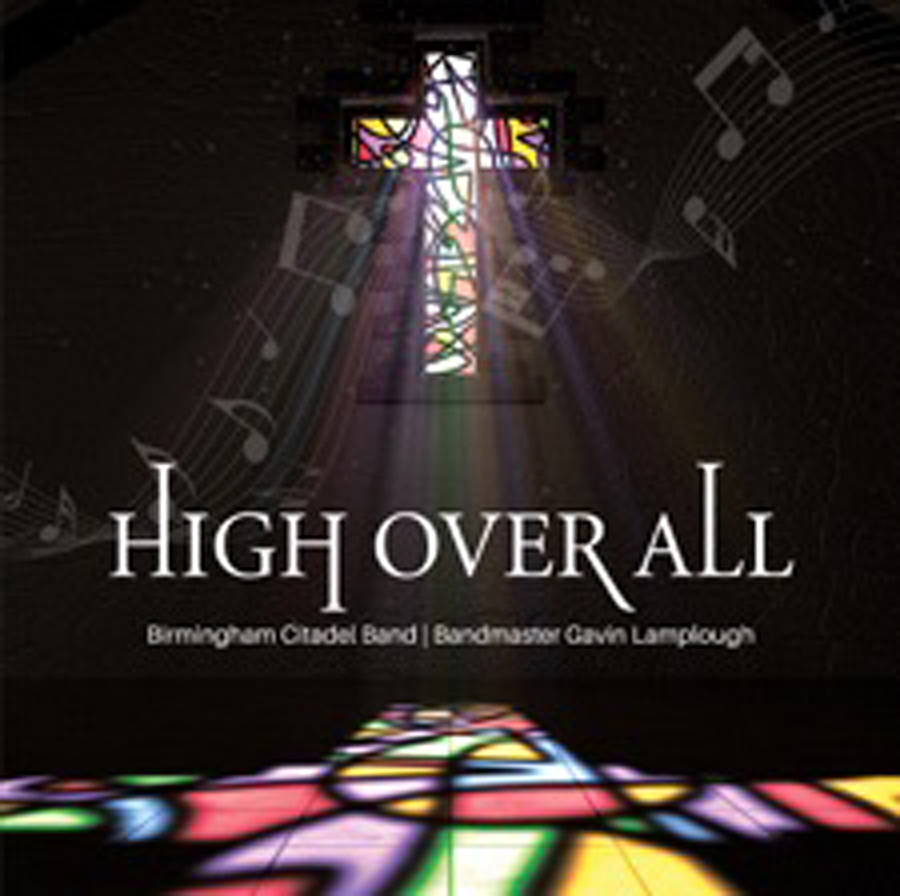 For several years the Birmingham Citadel Band has provided the musical entertainment as the audience gathers for the start of the British Open Championship. They continue to provide a long tradition of Salvation Army music-making and under the leadership of Gavin Lamplough maintains a high standard of performance.
Mix of styles
Their latest recording 'High Over All' contains repertoire both old and new, and there should be something there for most tastes - from the well-established items by Erik Leidzen to the up-beat contributions of Australian Sam Creamer. The performances show a good sense of style, from the swagger of 'On the King's Highway' to the funk and samba influenced 'Hold that Fort!' and the title track.
Accomplished soloists
The three soloists present contrasting pieces: Horn player Neil Blessett delivers an elegant rendition of 'A Time for Peace', before David Taylor shows what an accomplished player he is with 'A Troika? Tidy!' from the Karl Jenkins euphonium concerto. Mark Sharman opts for flamboyant 'Fiesta', with its Latin American influences - all three are well-supported by the band.
William Himes visited the Corps last year, and provides the narration for his own 'Jericho (Revisited)'; a humorous retelling of the biblical account with excellent interaction with the players.
Supporting worship
The band's role in supporting worship is reflected in the programme; with a sensitive setting of 'The Good Shepherd' and the lively opener, 'Make His Praise Glorious', whilst the use of transcriptions from the classics is represented by 'Marche Militaire Francaise', taken at just the right tempo to provide excitement without losing any of the detail and precision.
Martin Cordner's high-octane 'Escape Velocity' places considerable demands on the band with its driving rhythms and both it and 'Corpus Cristi' are given most convincing readings; the basses and euphoniums blending well in their solo feature in the latter.
This fine recording comes with an excellent sleeve note, although one may need a magnifying glass to read the very small print!
Peter Bale
Available from: http://www.birminghamcitadelband.com/BCB_Website/Welcome.html
Track Listing:
1. Make His Praise Glorious (Bill Wolaver arr William Gordon)
2. A Time for Peace (Peter Graham)
Soloist: Neil Blessett
3. Escape Velocity (Martin Cordner)
4. Hold that Fort! (Sam Creamer)
5. A Troika? Tidy (Karl Jenkins )
Soloist: David Taylor
6. The Good Shepherd (Erik Leidzen)
7. Jericho (Revisited) (Willam Himes )
Narrator: William Himes
8. On the King's Highway (Erik Leidzen)
9. Fiesta (Peter Graham)
Soloist: Mark Sharman
10. Marche Militaire Francaise (Saint-Saens arr Kenyon)
11. High Over All (Sam Creamer)
12. Corpus Christi (Robert Redhead)