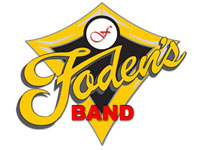 Foden's eagerly awaited festival performance provided plenty of talking points for the numerous fans and admirers of the Sandbach band who packed into the RNCM bar after their appearance under the twin batons of Russell Gray and Michael Fowles on Saturday night.
The only pity was that any attempt to discuss what was perhaps the most intriguing concert of the weekend was obliterated by the strains of student bierkeller entertainment that submerged fledgling conversations in a miasma of musical diarrhoea.
Contrast

What a contrast it provided to the double champions themselves, who opened their intellectually demanding programme with a stimulating performance of Paul Hindmarsh's colourful arrangement of Benjamin Britten's, 'Occasional Overture'.
Russell Gray's free flowing reading brought out its snobbish brilliance to a tee; illuminated by pompous fanfares and lyrical interludes, interspersed by sharp witted precision and delicacy.
Centrepiece

The centrepiece of the first half was a thoroughly absorbing premiere of the latest collaboration between composer Andy Scott and the band – or more specifically, with soloist, John Barber.
His 'Molecular Cocktail Party', written to allow the performer to fully explore the kaleidoscopic palette of his trombone and piano skill set, was almost a concerto of 'free improvisation'; the architecture of which appeared ostensibly to be nothing more than a series of gossamer thin instructions from which he was given free rein to expertly construct a performance of the deepest, intense sensuality.
Lubricant

John Barber acted as a kind of three movement binding lubricant; delving deep into the well of his fertile jazz mind to create an alchemist's touch of molecular osmosis that gradually fused together what started out as two very separate musical elements through brazen trombone riffs and soulful piano interludes.

It created enough talking points to have lasted long into the night – given half the chance.
Sensuous

The first half closed in equally sensuous style, with a finely crafted performance of 'Daphnis et Chloe' that shimmered in intensity, thanks to the intelligent direction of Michael Fowles and some lovely touches of high class filigree work from all the main soloists.
Everest

After the break 'Contest Music' once again bared its teeth to take a few discomforting chunks out of a broadly laid out interpretation from Russell Gray – although its inherent austere characteristics remained in faithful, almost reverential place.
It was though a timely reminder that Heaton's masterful work may well be reaching venerated status, but still remains stubbornly, beautifully, invulnerable to those not completely prepared to meet its Everest-like demands.
In contrast, a sense of sublime tenderness underscored Richard Rodney Bennett's poignant, 'Flowers of the Forest'.

Russell Gray drew rich sonority from the ensemble, expertly layering the defined textures to add a darkened sense of melancholic lyricism.
Montreux giants

Despite the intense nature of the programme, Foden's had just enough left in the tank under Michael Fowles to provide a thumping piece of evocative, tinderbox atmosphere to Peter Meechan's intoxicating 'Fire in the Sky'.

It brought a fine evening to a vivid close (the 'Champions' march wasn't needed) - focusing the mind on snapshot memories of the Montreux based giants of Miles Davis, Igor Stravinsky and Freddie Mercury: Three blokes who certainly would have had different opinions to air if they could have heard themselves think amid the post concert entertainment.

Iwan Fox