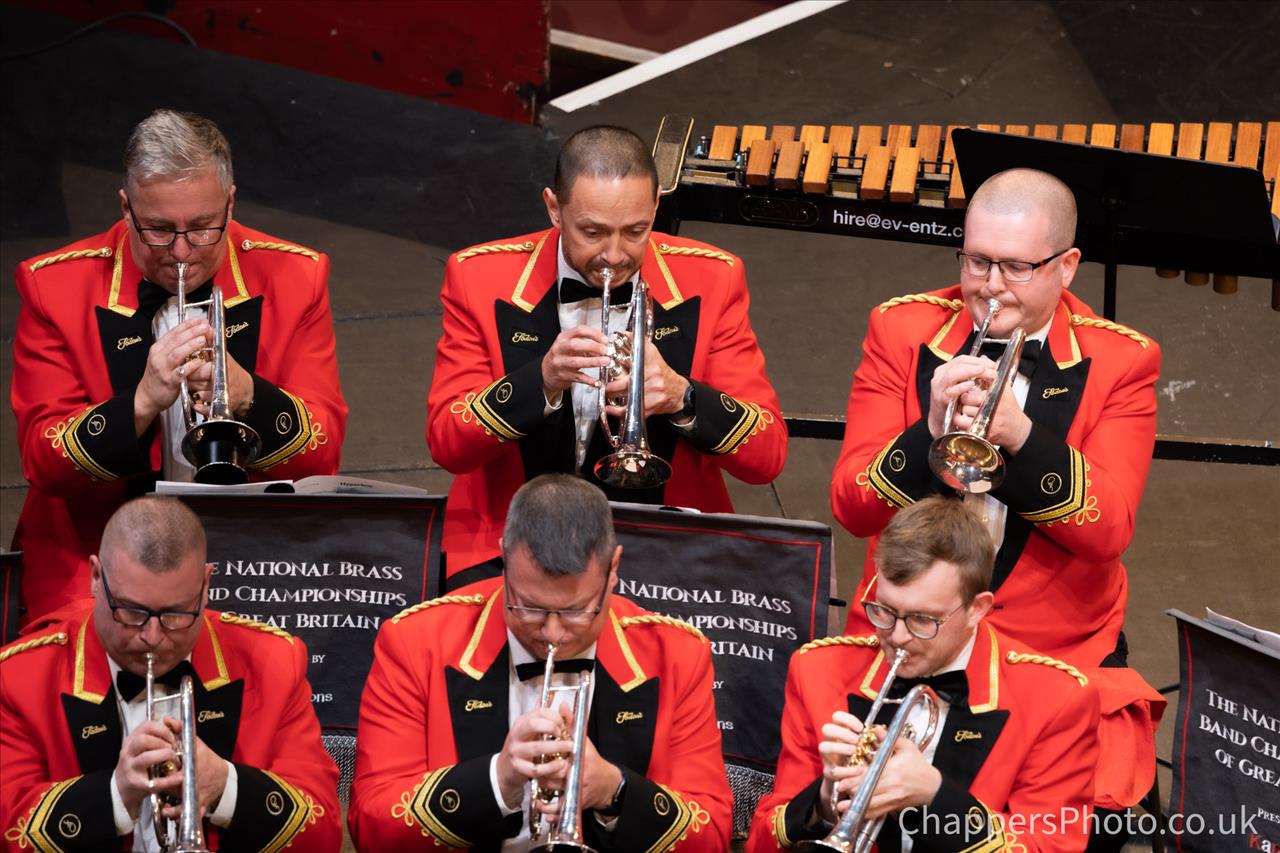 1. Foden's
Draw: 20
I.
Majestic start. A – Great trombones. B – bit loud for mp.
Excellent transition into D. Great fugue (not overdone).
J – super sound. L – good. Last chord – dim yes!
II.
Good start – excellent balance perc/brass. B – Beautiful flugel sound and horns to follow. Bass trom good. D – good horns. Eb bass solo – well played. E – so musical and expressive. 52 – super. F – such great feeling/into G – great
H- glorious sound.
The fade was really effective.
III.
Great tempo and what a build to C.
G – full of detail. 58 – low band such a rich dark sound. J – K – super! L – superb solos!
Q – Majestic full rich big band sound. Presto super.
T – to end – what great pace,
A truly remarkable performance – technique, musicality and magic.
Well done. Bravo!
Dr Robert Childs
I.
Well shaped opening. A – accented troms – mp maybe a bit loud. Interesting detail in cornets at 15 and at C.
Good matched modulation – and poise and pace in fugue. H – good shaping here and very articulated and considered. J – (tick) L – good – a well directed and constructed movement. 108 (tick)
II.
Horns maybe a little loud for mp – but accurate and in tune. B – flugel (tick) – nicely balanced as a team – very good.
C – nicely shaped cornets – then soloistic baritone. D – horns good – bass solo well done.
Excellent quality in ensemble and intonation, E – lovely sound and space at 48, 51/52 – okay – horns.
Really nice hold to F – all well thought out. Lovely into G – this is just transcendental. Big sound into H. Prominent lines carry through. Lovely fade. Minor scratch on euph.
III.
Great detail – spaced – into D – drives – all detail heard. Troms good. H – detail. I (tick) J-R detail all there but controlled – details from the cornets flawless – may have settled this. Huge drive through vivat – absolutely thrilling. Presto – wow.
What a performance – so musical and measured – lyrical, beautiful and exciting.
Fantastic!
Rob Wiffin
I.
Impressive opening
Well executed playing at A – troms – clarity on (triplet semis) too. – good transition into D.
D - Fugue – a brisk tempo. Clarity maintained though.
K – Dramatic. Risoluto – convincing ending.
II.
Secure commencement. B – beautifully played by all.
C-D – gorgeous – well played Eb bass. E – haunting, beautiful – thank you. All the horn interludes well handled – just before F exquisite! Euph too – wonderful playing.
H – 'welcome home' appropriately heard. I – worked.
III.
Exciting – definition/clarity – great build up!
horn/sop – bravo at E – J just brilliant. J – unwavering quality too at J. Brave sop before K!!
L.M.N – soloists outstanding!! Breathtaking quality.
Q – majestic – noble – what a sound.
Presto – worked T – interesting clarity and excitement.
An absolutely brilliant performance – it had everything!
Exciting, musical – just breathtaking.
Congratulations conductor and band
Stephen Cobb
---

2. Black Dyke
Draw: 16
I.
Majestic start. A – great trombone – clear cornets. 21-22 – very good. Transition? D – Great detail and a uniformed style throughout. 83 – great sound. L – super. Ending – dim great.
II.
Great start/excellent balance perc/basses. B – super sound flugel – good horns. C – fine. Bass trom – yes! D – horns- yes, Eb bass solo expressive. E – so well shaped musically. 52 – small blip. F – 66 great. 70 – very effective. H – super sound
Effective fade
III.
So well measured C-D – great. G – super.
H – bravo cornets. J – super. K – great sop.
L - Excellent work from all soloists.
Just listening now – wow!
What a super show – in every way – musical, technical – spiritual.
Bravo to all.
Dr Robert Childs

I.
Measured opening. Very sustained ground bass.
A - Db a little flat in trom – section phrases good – sense of poise and pace – stately – allows detail to come through. C – well shaped and a clear marked modulation. Fugue – well detailed and shaped. Good dynamic contrasts in to H. All detail significant - can hear the troms at I. J – (tick). L – so beautiful – well shaped. 108 – new chord. Good ending
II.
Slight smudge – very restrained. B – fugel just a little sharp and B -intonation not quite tight through this passage. C – well shaped – good bari. 27 – good cornets and troms. D – good inner work from the horns. Bass solo good expression.
Nice work from horns and cornets. Obvious quality going to E and through to 48. 51/52 not quite. F – nice hold and forward – playing to us over lovely accompaniment. Beautiful into G. H (tick) – lovely quality here. Just a minor slip on top D in euph. Euphs drop out early – too obvious? Imaginative fade.
III.
Lots of detail – splash on sop. Good into D and detail at E – maybe one knocked over. H – well shaped detail at J (tick). Good piano quality. K (tick) L – just brakes on slightly – good detail from cornets. P (tick) Q – big quality sound R (tick) Presto – lots of great detail and clarity – passionate and convincing.
Just a few minor flaws – but this was a very high quality performance that was hugely enjoyable.
Well done!
Rob Wiffin

I.
A convincing start.
Very poised, allowing clarity throughout – quality!
Impressive into D
Fugue – character and space – great playing.
J – yes! Upper/lower brass impressive again.
Risoluto – lovey decay at the end.
II.
A very atmospheric opening. This is beautiful!
D – 'cold' respected – delicate, musical tuba, despite a couple of blemishes. E – the shaping of the section is enthralling – F – 'welcome home' just enough.
Well executed euph – one before G – sublime control. 5 before H – yes! (vibe classy). What an atmosphere the MD and band have evoked here – stunning.
III.
Controlled opening – real excitement into D. So much detail (H for example!) J – control! Fab.
L.M.N – fiendishly difficult – great effect created (a couple of blemishes but…)
Q – noble and majestic!!
Presto – well executed. Brave excitement!!
Fabulous percussion which is enhancing the overall band.
A breathtaking performance – really appreciated the reading of mvt 2 – very much. Thank you MD and band.
Stephen Cobb
---


3. Cory
Draw: 19
I.
Great – impressive. A – great trombone. B – great. 22 – unlucky trombone and rather loud for mf. Good transition into D.
D - I like the uniformity of style throughout this fugue. K – wow! What a sound. Last chord dim great.
II.
Excellent start. B – super flugel. Small clip to follow. Bass trom good. D – good horns. EB bass – great solo.
E – beautiful. 51 – good super playing, so very musical. 66 – well done. 70 H – so well paced.
III.
Great build to C. G – good trombones. H – great cornets. J-K super. L – cornet and euph great but sop just a bit uncomfortable. Q – what a glorious sound. What a band. Presto to end so well paced.
A performance of great musicianship and artistry. Great soloists and a great MD.
One or two minor blips – so what!
Dr Robert Childs

I.
Good attack. Bright tempo A – trom solo – panache, big attack – but then control to mp (tick). Neat details under this line. C – good mp – troms catch one. D – fugue – bright and difficult for us to hear all the detail in this acoustic. H - why the hard beat accents on Side Drum? Troms strong at I. J (tick) – big sound. Lots of attack and panache in the movement. 108 – good cornet chord.
II.
Horns very good. B – flugel nicely done. 18 – solo horn not quite. C – strong shape – good baritone. 2 before D – intonation not good in troms. D – just a little untidy in horns. Very good bass solo. Nice shape into E. 51/52 well done horns. Nice movement into F. Just a little slip in euphs 58. Lovely band tone – beautifully into G. Not sure about accented cornets. Inventive ending.
III.
Strong – fast – just minor clips on some of the rising figures 2 J. So strong troms J – good and into K (tick). L – listless – great detailed work from first couple but second at N not so good. Q – huge sound. Presto – great technique.
Hugely exciting – just a very few minor flaws but overall a fantastic listen. Many congratulations.
Rob Wiffin

I.
Opening – nailed it! Bravo.
Appreciating the clarity and precision throughout.
A slight blemish before D
D – sfz's acknowledged consistently – conviction – perhaps a shade loud?
L – risoluto – well extended.
II.
Fabulous control revealed and at B – well played flugel and horns. D – 'cold' acknowledged – beautiful Eb bass motif. Gorgeous intonation at E and a very well shaped cresc. Fine baritone before D – horns – well played. F – 'welcome home' – just right. This is enthralling playing here at G. I – very effective.
III.
Exciting start with real clarity and conviction evident. Incessant clarity! The mood change at J – well negotiated. Sop – excellent.
L – cornet/euph excellent N – couple of blemishes but the excitement – wow! Lead into Q – really wonderful…
Presto – great. T – bubbling away and developing to a brilliant conclusion! Bravo. Thank you conductor and band for some brilliant technical playing, but enthralling musicianship – particularly in mvt 2.
Stephen Cobb