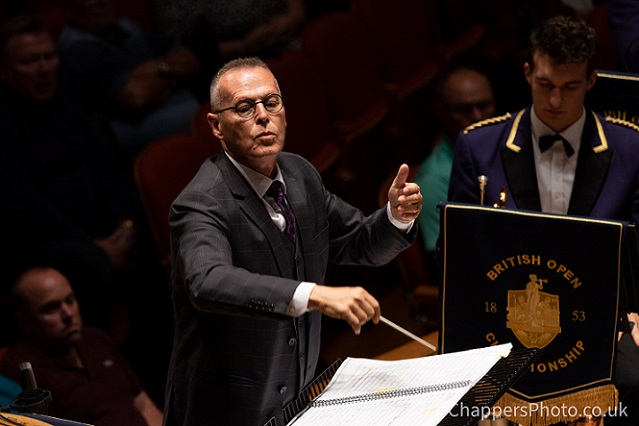 1st Place:
Band No: 13
Brighouse & Rastrick (Prof David King)
Slight to start, but quality exudes.
2. Lovely clarity and great tempo. Good link (slight slip) into 8 which is played with virtuosic intensity and splendid dynamic shading.
15 - is just right (slight slip) and full of atmosphere. The detail is always there. Fine basses into 20. It is quick, but still detailed. 29 - splendid soloists all through and lovely dynamic shading.
Intonation at 328 s. mutes and open?
Lovely basses at 341 – sexy! (smiley face emogi)
Lovely baris too!
35 - good tempo and brilliantly executed to the end.
A towering performance of breathtaking virtuosity and brilliantly paced musicianship. It was a privilege to hear it.

Stephen Roberts

A little too marcato perhaps in 3 + 4. Lovely sound and balance. Ff not quite together.
Capriccio: good tempo. 4 – well balanced.
Connotations quote = excellent.
Danza – dancing (tick) and colourful.
Horns good before 12. Some great playing and colours created.
15 – Could be slightly more held… but a good blend. 16- a lovely sound. Trombones at 17 well integrated sound (tick)
19 – bass trombone very good. Good intonation (tick)
Danza 2 – fast but controlled and clear. Well paced as a journey. 27 – tastefully – excellent variation.
29 – good 'feel' – horn excellent – tuba tasteful.
30 – excellent sound quality – lovely flugel.
Cornet and euphonium beautifully matched.
32 – great colour – flugel (tick)
33 – ideal colour – sop OK… good high C!
Tubas really impressive
34 – good whole band sound. Excellent ff dynamic and before 35 – excellent cornets – and the low G too.
Burlesca: fast but controlled. Good detailed playing.
40 – bravo. Excellent precision.
43 – really arrives! Hurrah….
Very satisfying performance. So much detail, both musical and technical. Dynamic shading and clear and precise balance. A pleasure to listen to.
Bravo all involved.
Martyn Brabbins
Prelude: Musical start, everything well balanced.
Capriccio: Great style – and such good clarity – very well integrated percussion.
65 - good bari 68 – all even – good. 75-79 – good.
La Danza 1: 9 – again super style and so well measured. Great dynamic and stylistic contrasts. Cheeky temple blocks to close.
Processional: Tempo, style, dynamic all as should be – bravo MD. 180 – subtle troms – well done.
18 – nice change to marc! This variation is a real procession.
La Danza 2: 234 - so difficult to balance but you did! 276 – secure pitching – percussion sup throughout.
Arias & Duets: Beautiful expressive playing.
309 – cornet and euph compliment each other – great playing. 323 – super – magical. 327 – trombone just a bit sharp – Also 336 sop!
34 – full of passion – bravo! Super ending.
Fuga: Effective tempo – all detail heard but still exciting.
What a transition into Chorale.
Chorale: Organ like and detail
Postlude: Great majestic finish
A super performance full of musicality and drama. Well done band and Bravo MD.

Dr Robert Childs
---


2nd Place:
Band No: 14
Foden's (Russell Gray)
Secure opening – fine trombone
2 – Good tempo
3 – rushed a little, but overall good detail and quality sounds.
7 – not quite clean into rall
8 – is generally neat and detailed. Good corent sounds into 12
15 – has character and the balance is exemplary
20 -well judged tempo allows for detail to come through and coloured dynamics create intensity and excitement.
29 – good solos. Horns takes one breath too many perhaps. Soloists continue in a rich vein of expressive musicality. Tam-tam too loud at 329. Great sop – truly outstanding!
Well done basses too. 357 not quite.
35 – good tempo and lots of detail and colour.
All continues with comforting excellence and sense of authority. 475 – comma a tad too long perhaps.
A truly outstanding performance. It was replete with tonal excellence, well-paced musicianship and brilliant soloists. A privilege to listen to.
Stephen Roberts

A couple of lumps in the opening bars – bravo trombone.
ff chord – scary!!
Capriccio – a little heavily accented – not as controlled as could be.
Connotations moment very fine. A little relentless perhaps?
Danza – could be much quieter to begin. 11 – nice.
Intonation after 12. I would have appreciated a good deal more light and shade – to facilitate clarity of musical infusion.
15 – more lontano? 16 – piu piano
19 – 2- excellent.
Danza – good tempo. Too loud too soon?
Some ensemble slips
29 – lovely warmth. Horn and tuba fine duet. 30 – trombnes excellent.
Cornet and euph not quite in synch. But lovely sounds.
32 – a little aggressive.
ff chord not quite together. Bravo soprano cornet. Tubas a good sound – rather too much percussion the bar before 34.
Burlesca – a shade too fast, trom some clarity lost.
40 – very good
43 – joyful – perhaps a little bottom heavy.
A strong ending to a strong performance.
Bravo. A little more variety of dynamic, balance and colour would have added to my appreciation of what you did. But a very fine band with some great performances today.
Thank you.
Martyn Brabbins

Prelude: Good start (bar 5?) fine continuity in semis – super trombone.
Capriccio: Effective tempo. 30 - so clean. 68 – great. 76 – end v good.
La Danza: This is full of character. Great rhythmic drive. 9 – great. 14 – great top D euph. Very good percussion throughout.
Processional: Tempo and style are perfect, so noble. 18 – nice changes of style. 20 – super sop.
La Danza 2: As above – full of character and fizz 276 secure pitching.
Arias & Duets: Beautiful sounding horn. Stylish trombone. 30 – well baritone also trombone 300.
306 – great sop/cornet and euph well done
331-333 super/336 great sop
34 – What a great band sound. 352 – well done 355 – baritone mf – mp good baritone 2??
Fuga: Effective tempo – it allows for excitement and clarity – bravo.
Postlude: All and well paced – Great musical phrasing – closing bars – super.
What a super performance, only the very slightest of glitches to note. So musical. Bravo Band and MD.
Dr Robert Childs
---

3rd Place:
Band No: 14
Aldbourne (Ivan Meylemans)
Quality sounds to open.
2 – good tempo is played with technical assurance. Link into 8 is marred by small slips but no matter this quality is good to continue.
There is lots of detailed and drama and as sense of authority in the execution.
15 is characterised very well and again there is an overall sense of tehcical mastery and musical intelligence.
20 – good tempo and detail. The loud interjections are impressive. Good control in to 29 and musical soloists in spite of the odd little blip. Fine solo cornet and euph – first rate quality of tone and musical shaping. Dramatic "memory" section is moving and sop does very well with fine recovery! 43 – beautiful sound!!
2nd baritone – not quite – never mind.
35 – good tempo. Lots of detail and control. Splendid into 43 with full and generous tone. Organ-like at 474 as it should be and well done solo trombone – your were a star!
A really fantastic performance. By far the best so far with such beautiful tone quality, fine soloists and on point tempi from the MD
Stephen Roberts

Opening sentence well shaped and balanced – perhaps a little too marked in the accented bars.
ff = good sound.
Capriccio - a fine tempo. Controlled playing of character. Connotations = excellent.
Some finely controlled dynamics – thank you.
Danza – good tempo. Percussion dynamic shading excellent.
12 – excellent muted sound and intonation.
14 – nice relaxation.
15 – softly treading in stately procession (tick)
16 – excellent balance. Nothing forced – subtle playing (tick)
19 – bravo bass trombone
20 – good start – character again – just right.
Refreshingly clear presentation – detail and shapes all in good order.
29 – lovely feel – horn excellently phrased. Demi semi-quavers nicely shaped by all. Trombones after 30 – very good
Flugel beautiful! before 31
32 – well judged
Muted ricordo well done. 33 – nice colour
Tubas finely graduated.
34 – lovely sound – and the ff very natural. Perc very loud 1 before 35!!
35 – good poised tempo
Chorale well prefaced – and excellently achieved. Joyful and appropriate.
A splendid performance, with very few blemishes. Tempi very well chosen – therefore the music spoke clearly. A fine band. Thank you.
Martyn Brabbins

Prelude: Good start
Capriccio: Nice tempo. 30 – well played, fine percussion.
65 – good baritone. 68 – excellent. 75 – 79 – several problems.
La Danza 1: This has good character. 118-120 horns?
13 – textures well managed.
Processional: Good tempo and good style. 169 well done back row. 180 subtle troms. 186 – good style.
La Danza 2: You make the music dance – well done. So well controlled. 276 – great.
Arias & Duets: Well played, just the slightest of slips (horn). The music has so much time. Beautiful duet cornet and euph. 323 – magical. Great sop and trombone.
34 – Beautiful sound. 355 – end good, perc just a bit loud for mp.
Fuga: Great tempo. 388 bravo baritones. 40 – brave sop. Super clarity and excitement (great tempo). Wonderful lead into Chorale.
Chorale: Organlike – good
Postlude: All the semis are clear. Super ending.
A splendid performance of the highest order. Musically well constructed and technically well delivered (there was one moment 75 – 79!!)
Bravo – super show.
Dr Robert Childs