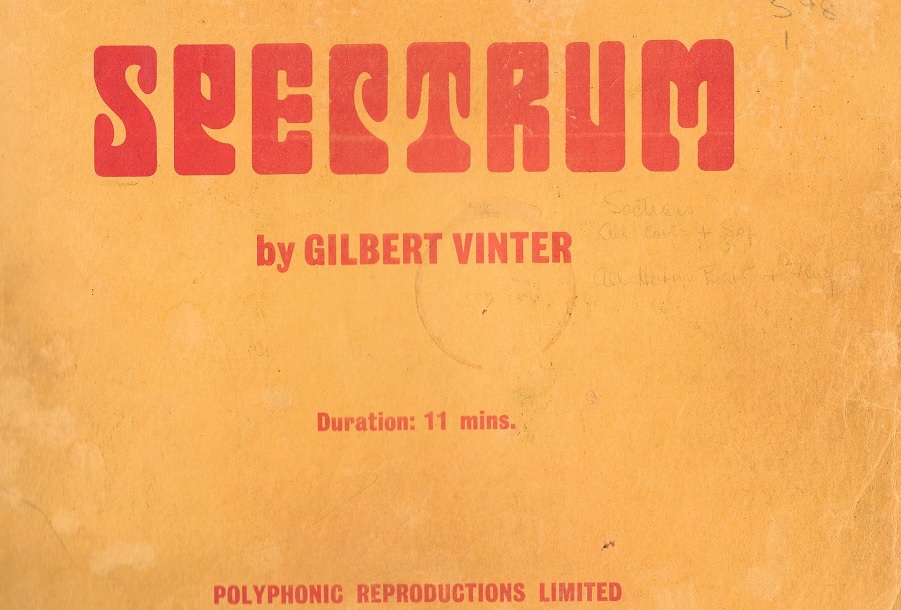 4BR looks back through the archives to find five of the best recordings of Gilbert Vinter's iconic test-piece, 'Spectrum'.
Originally earmarked for the 1968 National Championships of Great Britain, the composer was deeply upset that the contest organiser Vaughan Morris had accused him of being unprofessional in making 'John O'Gaunt' available for the 1968 British Open.
Vinter therefore made 'Spectrum' available to the British Open - and it caused a sensation – and not just on the audience at the famous King's Hall at Belle Vue in September 1969.
To find out more about the story go to: https://www.4barsrest.com/articles/2019/1811.asp
It has since become one of the most popular brass band test-pieces of all time – performed around the globe and recorded on numerous occasions.
These are our five of the best…
---


Williams Fairey Engineering
Conductor: Major Peter Parkes
The Music of Gilbert Vinter
Polyphonic Recordings: QPRL 058D
Recorded in 1993 this sumptuous rendition (superbly recorded by engineer Mike Moor) forms part of an outstanding release from a band that was fast approaching the very peak of its powers.
Parkes was also still in his prime and his interpretation is full of thrilling character and colour.

The pacing of each movement is superb: The whirling kaleidoscopic opening accelerating perfectly into a furious 'Red', which blazes until exhausted like a spent firework into a languid 'Orange'.

Thereafter the MD paints a vivid canvas (helped by superb solo lines and excellent percussion), but always within respectful boundaries – the bleak portents of 'Purple' lowered like a coffin into the grave before the final flourish.
It's a benchmark performance of 11 minutes or so of timeless quality.
Find out more: https://www.worldofbrass.com/cds/british-bands/fairey-band/rssmqprl058d-spectrum.html
---


Black Dyke Mills Band
Conductor: Geoffrey Brand
High Peak for Brass
Pye Records: GSGL 10453
Although as defending champion Black Dyke under Geoffrey Brand failed to come in the prizes at the 1969 British Open, the MD had already hailed 'Spectrum' as "a breakthrough in thinking" in an article in British Bandsman before the contest.
It was interesting then that he took the earliest opportunity to provide his own definitive interpretation when the Queensbury band released what is now regarded as one of the most famous LP recordings of the era in 1970.

It holds its own to this day.
Superbly paced and thoughtfully characterised (just a snip under 12 mins), there is a seamless flow between the movements – backed by technical brilliance and nuance; its emotive pulse never constrained by its obvious academic sensibility.
The MD understood the importance of 'Spectrum' as a significant step forward for the banding movement and his musical footprints are still well worth following.
Find out more: https://www.worldofbrass.com/25018-the-music-of-gilbert-vinter-cd-master-8342.html
---


Grimethorpe Colliery (UK Coal) Band
Conductor: Elgar Howarth
The History of Brass Band Music
The Golden Era: 1920-1970
Doyen Recordings: DOY CD160
An interpretation of rich musical individuality from Elgar Howarth, as he holds a powerful Grimethorpe Band (the CD was released in 1993) in check from swirling opening to majestic close.
The MD eschews the obvious immediacies of the score and delves into the soul of the music – allowing time to govern its tempered flow (it's well over a minute slower than Peter Parkes and Fairey).
It's a very different and imaginative appreciation of Vinter's palette; the colouring of each movement is less vivid, although equally marked in allowing the character to seep through his canvas weave rather than simply splashed over its surface like a manic Jackson Pollack - the pastoral 'Green' and 'Indigo' waltz, miniature gems.
Find out more: https://www.worldofbrass.com/21234-the-history-of-brass-band-music-the-golden-era-1920-1970-cd-master-7814.html
---


Leyland Vehicles Band
Conductor: Richard Evans
Contrasts in Brass
Chandos Recordings: BBR 1008 (S)
The contrast between the interpretations of Elgar Howarth and Richard Evans could not be more pronounced when you listen to this 1980 release which formed part of a special gatefold album made up of two separate recordings issued to coincide with the band's historic trip to Japan.
Evans is a kindred Vinter spirit - his canvas awash with vivid DayGlo colours as if squeezed straight onto his score from tubes of oil paint.

This is a 'Spectrum' at the height of 1960's psychedelia – the MD giving us a retro delight of tie-dye red, orange, yellow, green, blue, indigo and purple that burns the back of your musical retina.
The pacing ends a short head behind Parkes over the timing furlongs (coming at 11 mins 30 secs) after a well whipped breathless ride that oozes powerful thoroughbred excitement.
Find out more: https://www.youtube.com/watch?v=wnAomua5j1M
---


Grimethorpe Colliery Band
Conductor: George Thompson
Festival Band Series Vol.3
Saga Records: SAGA 8147
Grimethorpe claimed the 1969 British Open title under George Thompson, and a few months later they were able to record 'Spectrum' for posterity on the Festival Band series.
As a result there's a freshness and immediacy about the approach - enhanced by the MDs stylised interpretation of the technical and musical demands that mixes brazenness with romance to produce a dramatic reading (Thompson certainly pulls it around a bit at times – coming in at just over 12 minutes).
It's also got its idiosyncrasies and the recording itself is a little rudimentary (some of the balances pop out at you) in relation to later releases, but it's still a performance that leaves a thrilling impression on the senses - just as Vinter would have wanted.
Find out more: https://www.youtube.com/watch?v=_80Sp5u4y0M
---
Others to note...
These are our top five – although there are a few others well worth checking out, such as Stanshawe's 1974 'Spectrum' LP under Walter Hargreaves (https://www.wyastone.co.uk/spectrum.html) and Black Dyke conducted by Prof Nicholas Childs from 2009 (https://www.worldofbrass.com/doycd269-within-blue-empires-cd-master.html).
There's also a fine rendition from GUS Band and Dr Keith Wilkinson on the Kestral label from 1983 amongst others.