Sunday 28, 08:18:05
Awards Ceremony
Images from the Awards Ceremony
Challenge Section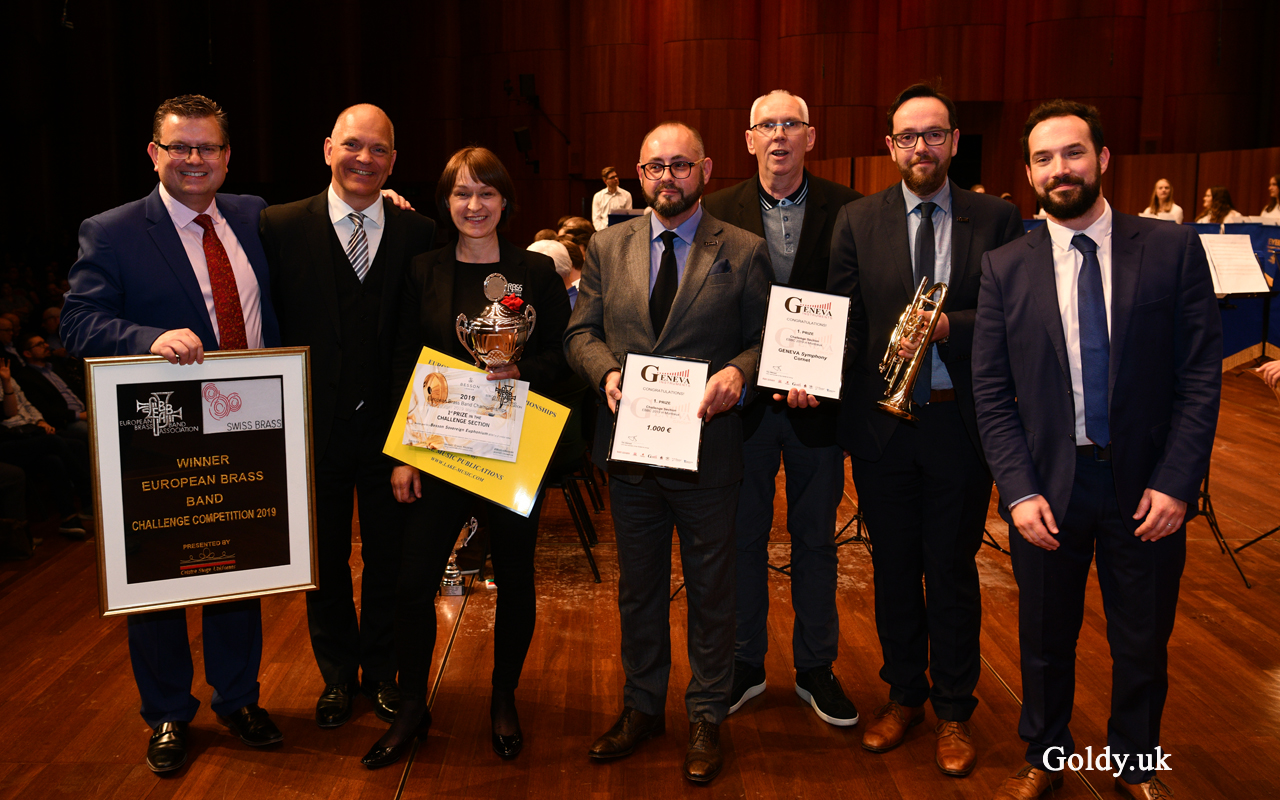 1. Brass Band Regensburg (Dave Lea)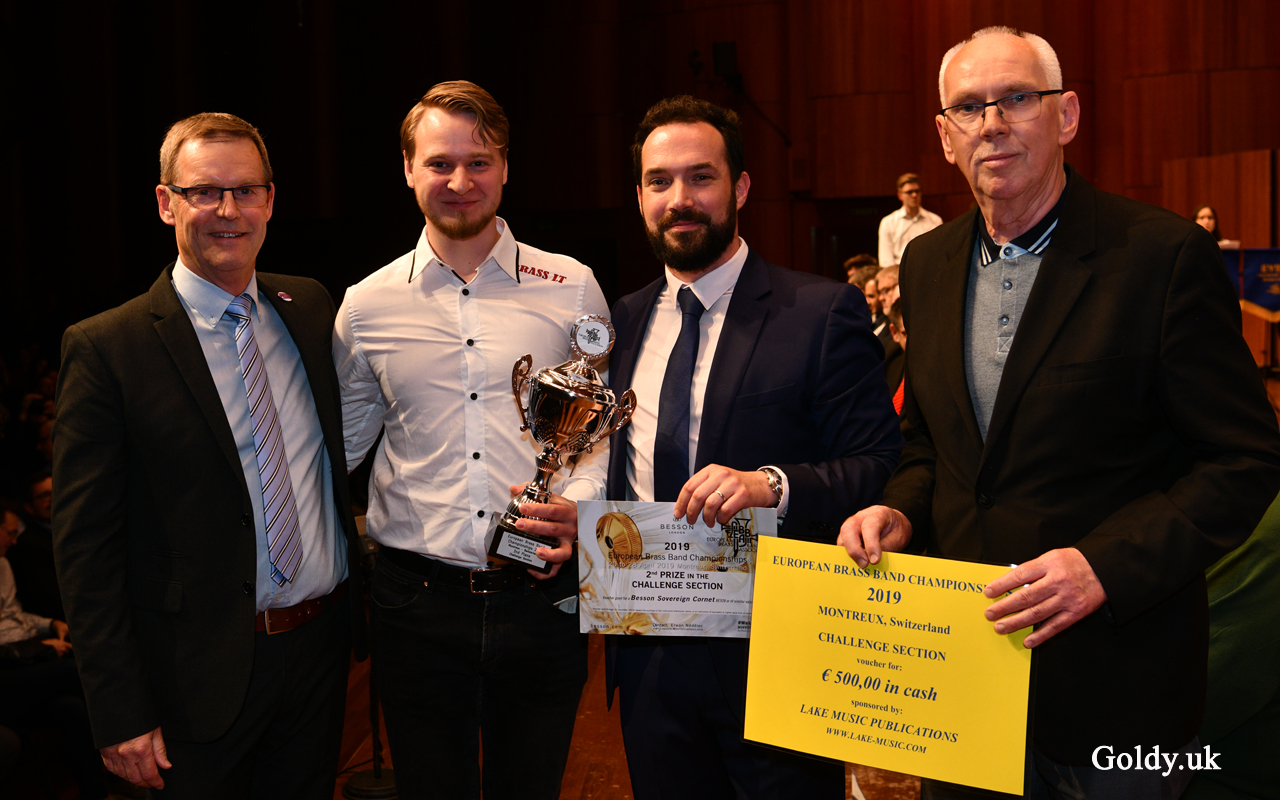 2nd. Brass LT (Russell Gray)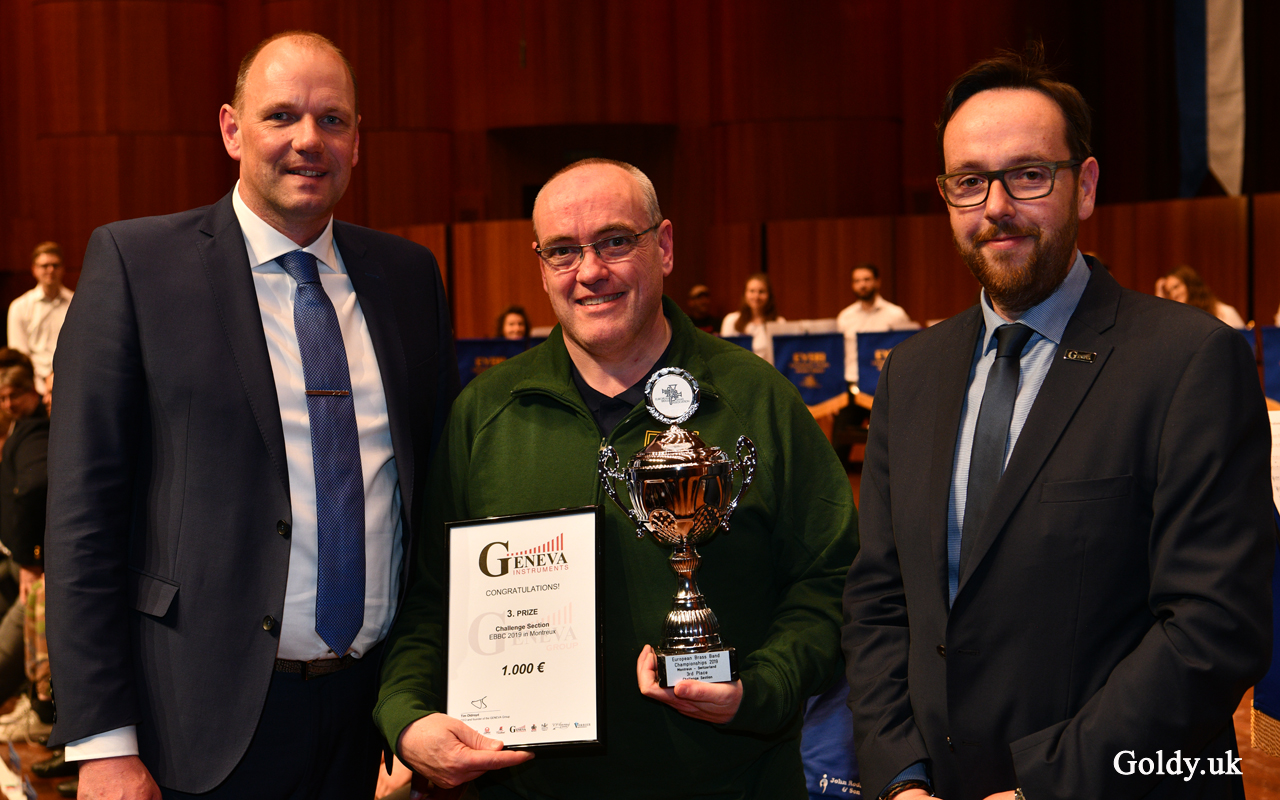 3rd. 1st Old Boys (Stephen Cairns)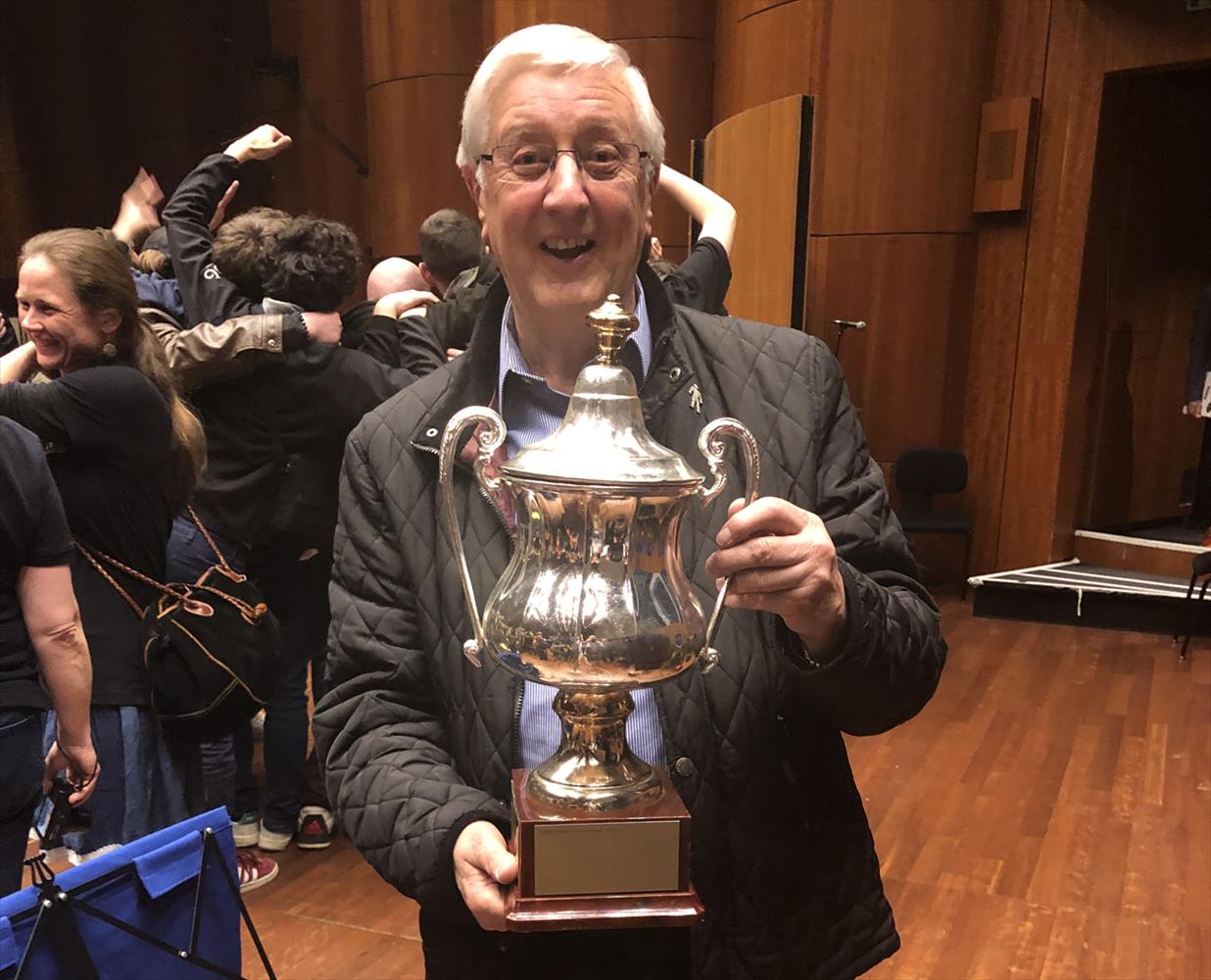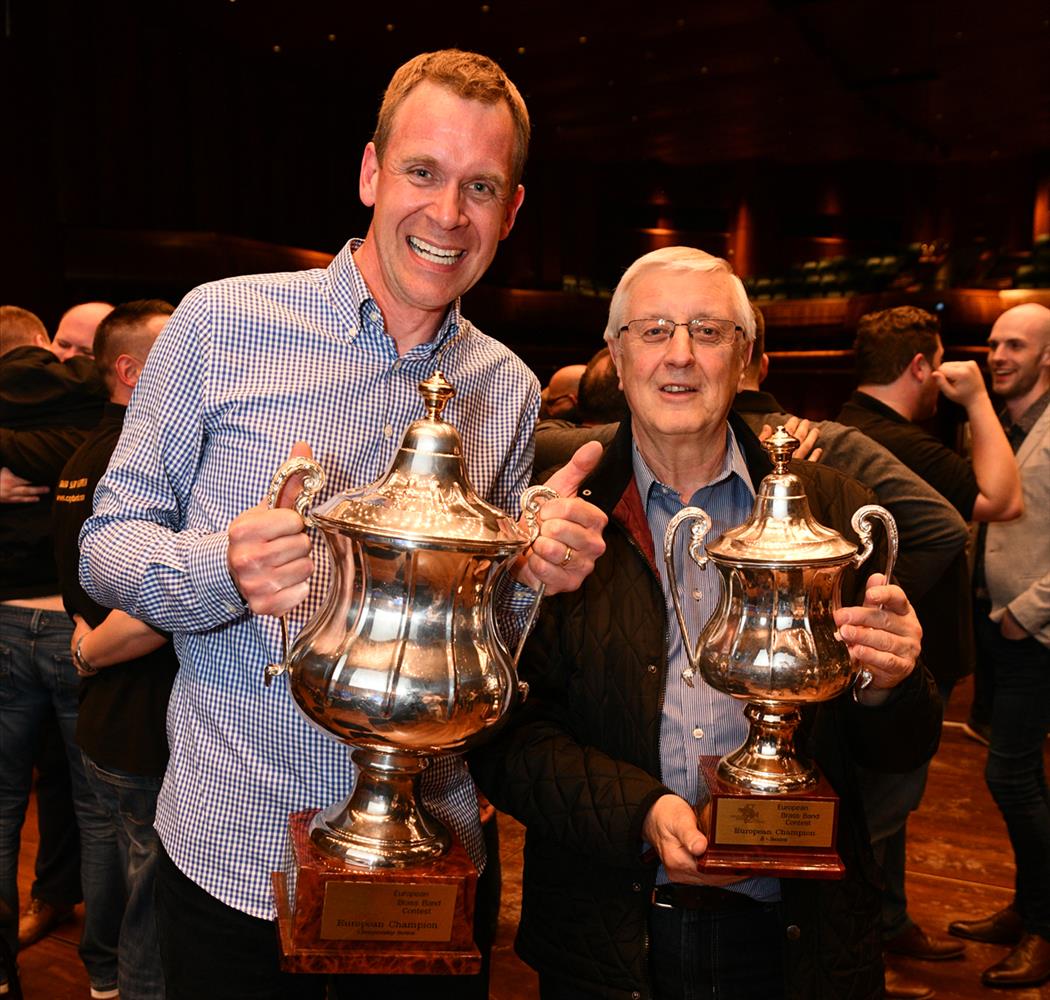 ---
Saturday 27, 22:31:50
Results:
Challenge Section: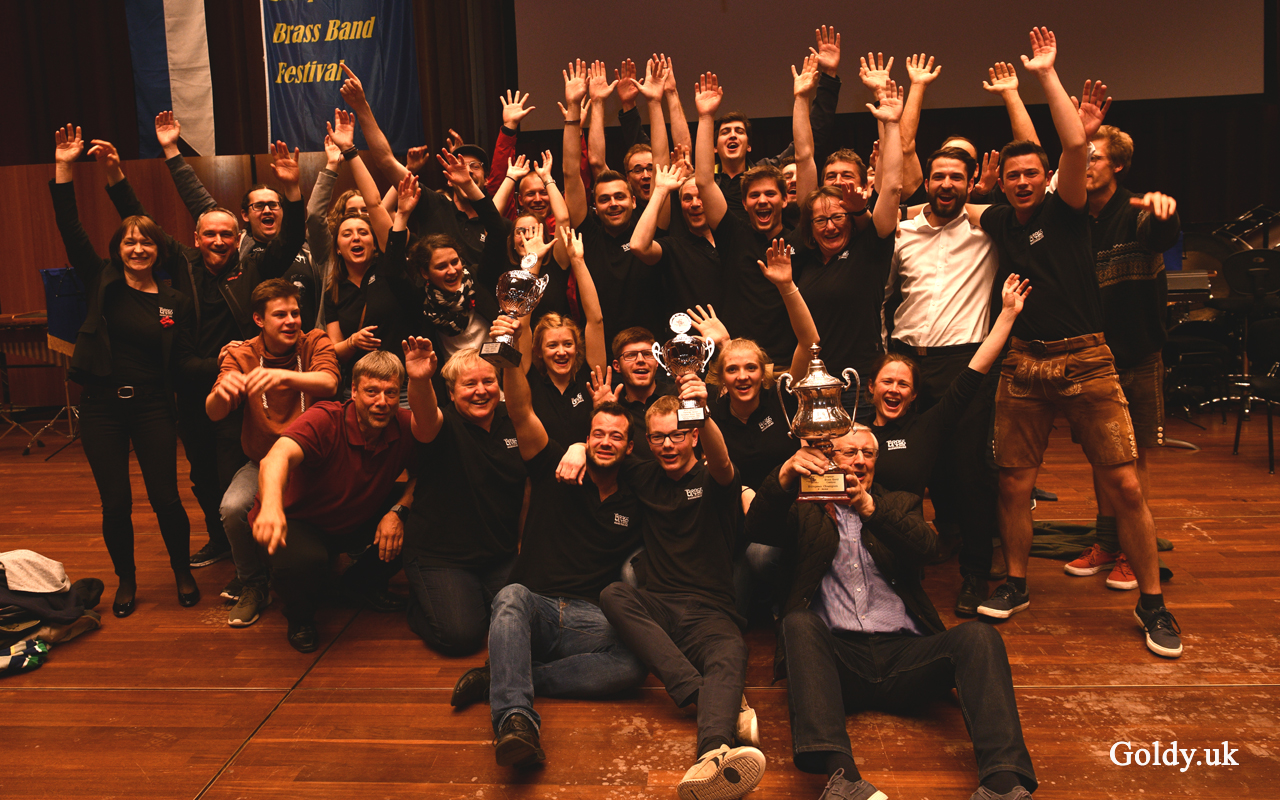 Adjudicators:
Ian Bousfield, Herve Grelat, Bert Van Thiernan
Test Piece: TerezIn (Mario Burki) & Own Choice Programme
1. Brass Band Regensburg (Dave Lea) :5, (95) points
2. Brass LT (Russel Gray) :4, (93) points
3. 1st Old Boys (Stephen Cairns) :2, (92) points
4. Malaga (Victor Eloy Lopez Cerezo) :1, (89) points
5. Annan Town (Paul Drury) :3, (88) points*
Best Soloist: Euphonium Brass Band Regensburg
*denotes penalty for exceeding playing time
---
Saturday 27, 12:01:55
Challenge Section final thoughts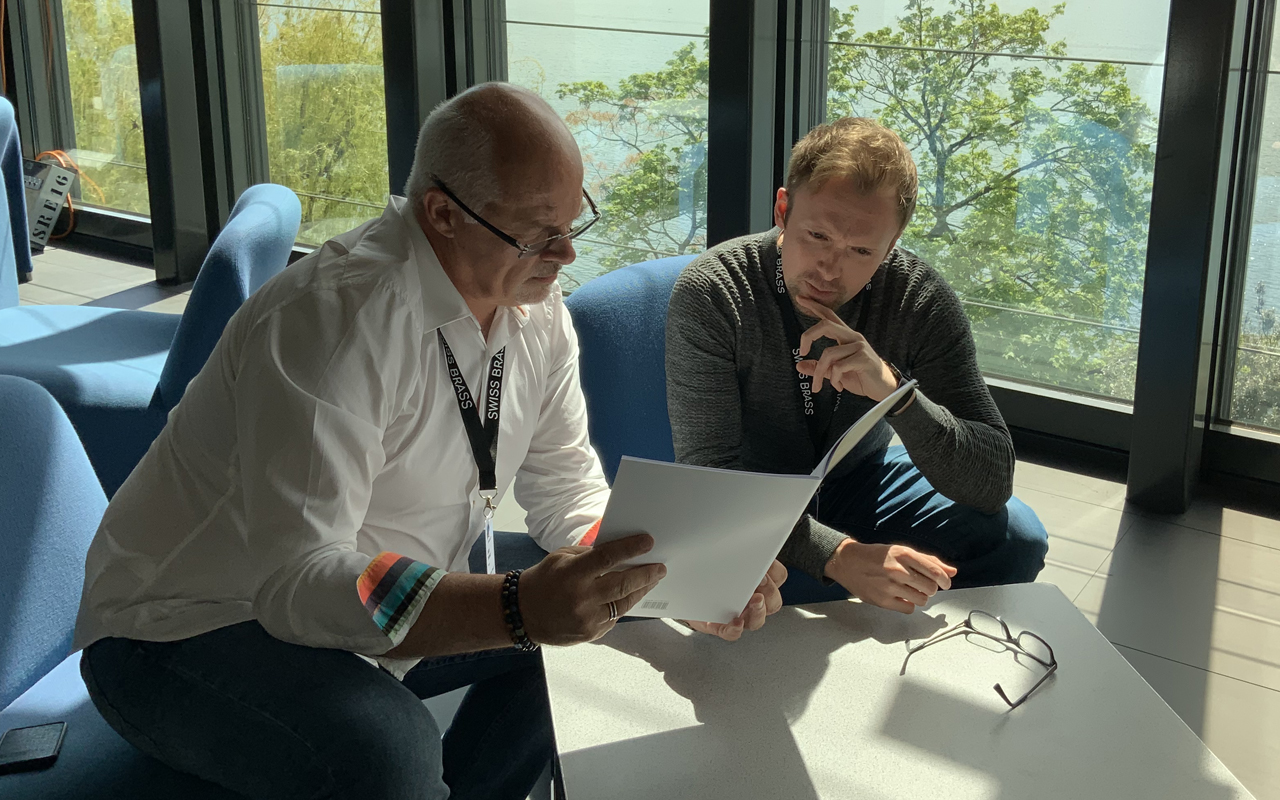 Our two commentators both agreed what a great Challenge Section contest it's been.
They unanimously concurred on the fact that there was much playing of energy and commitment, a strong set test and some engaging own choices.
As a result they both concluded that the standard has been admirable throughout and together go for :
1. Brass LT
2. 1st Old Boys Association
3. Regensburg
4. Malaga
5. Annan Town
---
Saturday 27, 11:12:53
5. Brass Band Regensburg (Dave Lea) (Germany)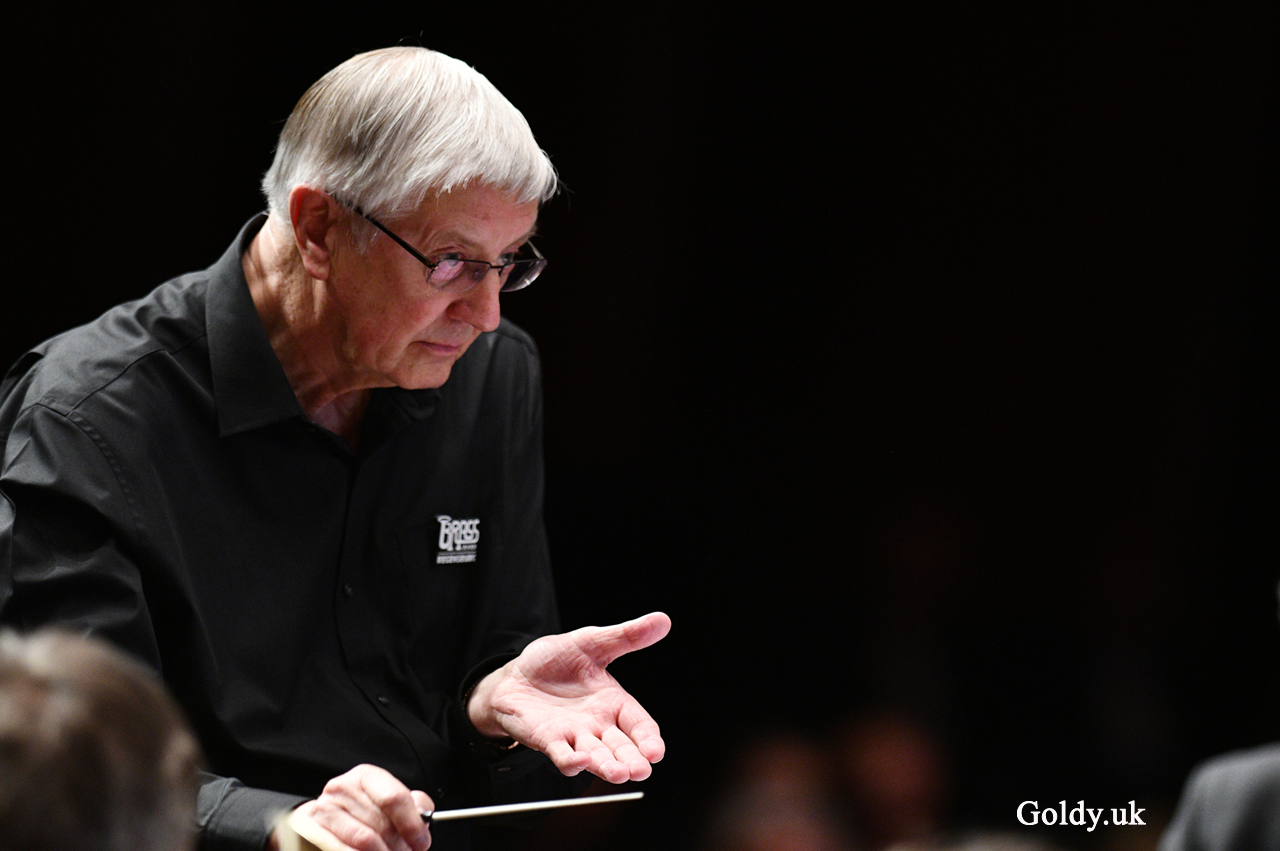 Another rendition of Spectrum.
Big, bold opening with plenty of excitement. Such tough ensemble playing — ruthlessly accurate. Dynamics sometimes a little too extreme at the quiet end and some of the drive is lost.
Tempo occasionally feels a touch laboured, but there is plenty of quality on show. The excitement perhaps wanes a little, but then we are woken up as the performance shifts gear. Some minor blips in the octaves around the band — some splits and some moments of insecure intonation.
Euphonium plays delicately and with flare. I don't always get a handle on the continuity of lines, especially when they descend — makes some of the detail a bit tricky to hear. Indigo could perhaps be a bit more pointed. There's some drama here, but I'm never quite thrilled.
Now for the set work.
Opening octaves not quite in tune despite strong conviction. This becomes a bit of a recurring theme. Block band tuttis are impressive in scope and sound. Horn and euphonium do very well as the music transitions to a calmer mood. Flugel, trombone and solo cornet are excellent. Marimba impressive too, but matching phrase in cornets perhaps lacks a bit of the same flare.
I start to lose some detail as we get closer to the finale — particularly the semiquaver passages. Tragico is organ-like and well- balanced. Quartet is beautifully shaped. Ending gets a bit scrappy, but the build to the final climax is resolute and exhilarating. Superb ending.
Some commendable aspects to these performances. Perhaps a touch more drama would have enhanced things.
Chris Davies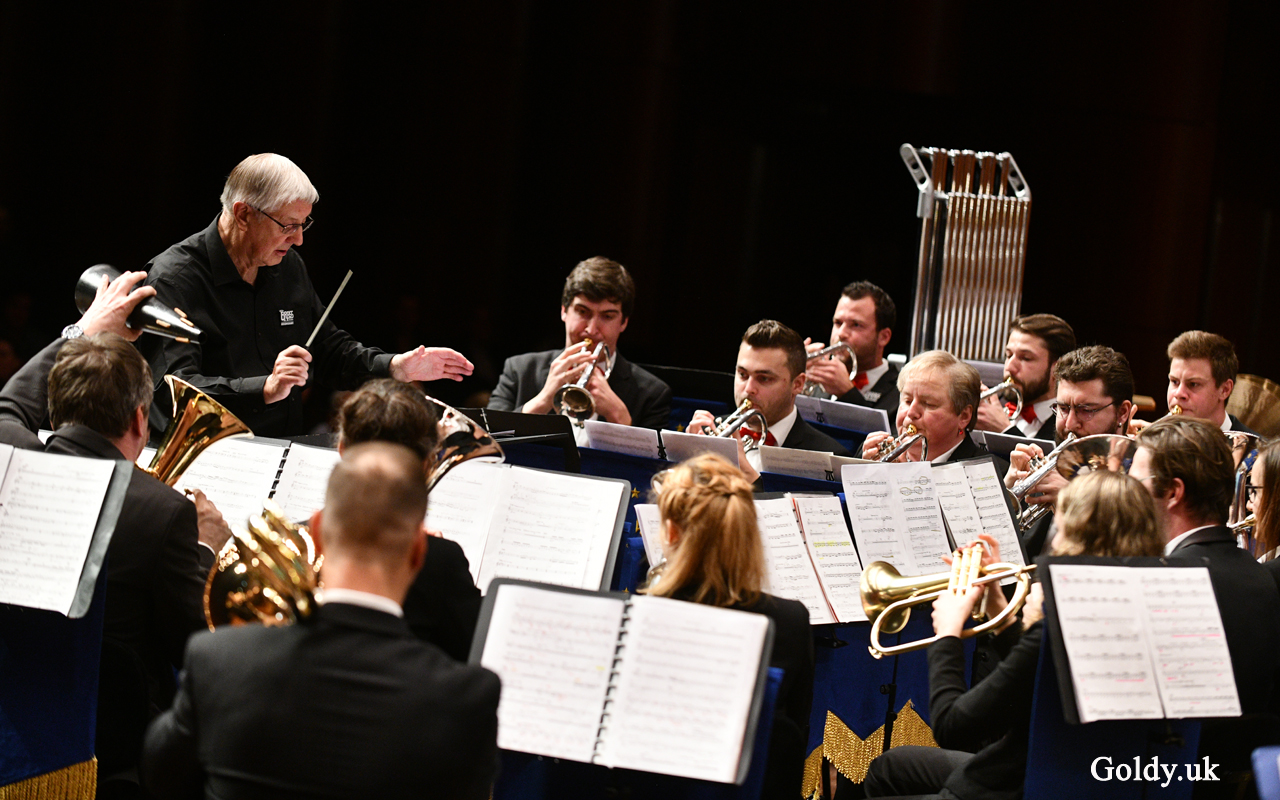 Spectrum — Gilbert Vinter.
The second consecutive performance of Spectrum and the sound of the band immediately makes an impression. This is big and bold in its approach, but it's also playing of clear confidence and commitment.
Solo entries are uniformly consistent and the changing colours
are displayed in both vivid and burnished tones. It builds to a fine ending.
Terezin.
This packs drama in from the off. Excellent euphonium solo and as in Spectrum, the individual playing displays confidence and consistency of execution. Percussion tends to over power at times but full marks for dramatic effect and intent here. This was a no holds barred
performance!
Overall:
Big, bold sounds from the German band that possibly lacked a touch of subtlety at times
but was marked by abundant confidence and a big boned approach.
Chris Thomas
---
Saturday 27, 10:42:15
4. Brass LT (Russell Gray) (Lithuania)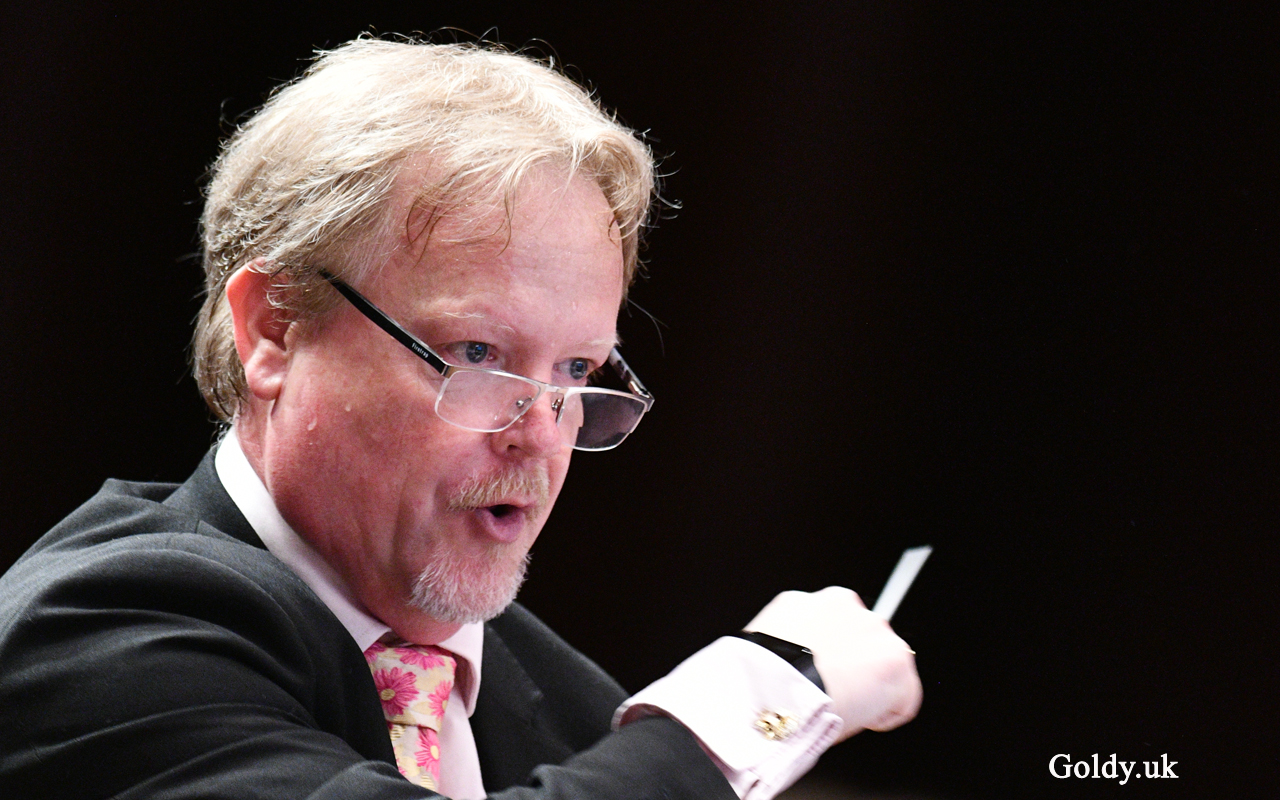 Terezin to kick things off.
Controlled opening, with inner parts given precedence. Some terrific sounds — a true pyramid with basses providing strong foundations.
This is excellent playing. Solos from horn and euphonium are delivered with panache. Flugel too. Bravo. Solo cornet and horn both excel (horn sound is huge!). This is really solid solo playing all round. Marimba matches the quality of her colleagues, with xylophone joining in with equal excellence. A joy to listen to.
Tragico is so powerful, but so together. One big brass block. Final quartet is delivered from a standing position and with aplomb. Ensemble not always together as the piece draws to a close, but there is so much excitement here. Not sure about the gap before the final chord, but this is brilliant stuff.
Spectrum next.
Opening sparkles with Vinter's colours. Ensemble is so tight, but the excitement just keeps coming. Seamless transition, with delicate percussion and controlled whispers from muted cornets. This is all so controlled. Solo soprano is so classy, and trombone trio is well-balanced.
The band sings warmly. Yet more excellent solo playing — euphonium deserves a special mention. This is just so enjoyable. Indigo is full of drama — they're not going out with a whimper. Marvellous performance.
This was all so impressive. Russell Gray has worked his magic once again. Pick of the bunch for me so far today.
Chris Davies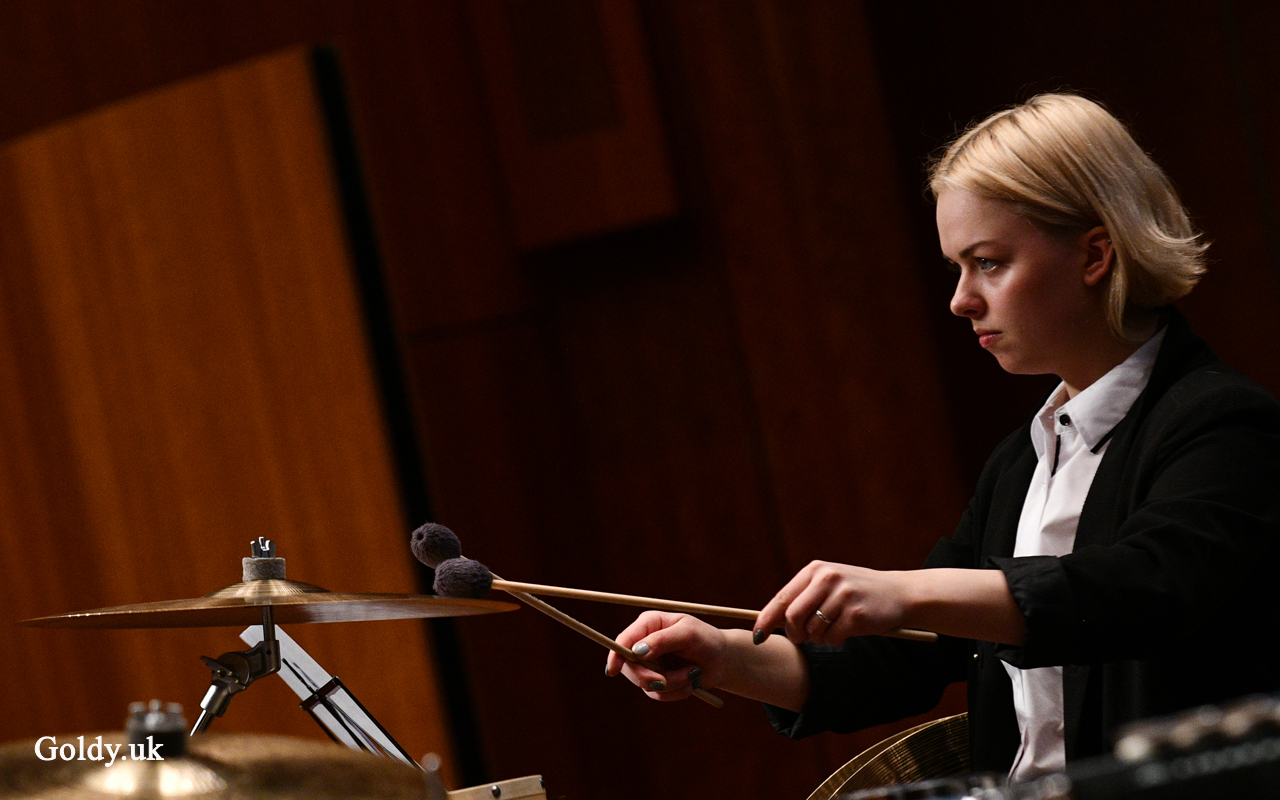 Terezin
This is a young band yet there is immediately so much excitement and commitment in the playing. It's evident from the opening bars and the dynamic contrasts are wide ranging and striking.
Occasionally there's a slight loss of detail but this is so vivid and Russell Gray chooses to stand his quartet up; a clever little move. It builds to such a powerful close. We really enjoyed that!!
Gilbert Vinter — Spectrum.
What an adrenalin fuelled opening. Russell Grey is drawing such
commitment from his players as they throw everything at the music. It's breathlessly exciting and what great attention to the dynamics and effects. Even when it gets a touch ragged it never loses that essential momentum and the band lifts the music off the page through sheer enjoyment. But it's also intelligent music making, that communicates with the listener very directly.
Overall:
A young band playing with the spirit of youth. A 'salute to youth' in fact to coin a Vinter analogy! This had energy in spades and we simply sat back and enjoyed. Congratulations to next year's EBBC hosts!
Chris Thomas
---
Saturday 27, 10:03:22
3. Annan Town Band (Paul Drury) (Scotland)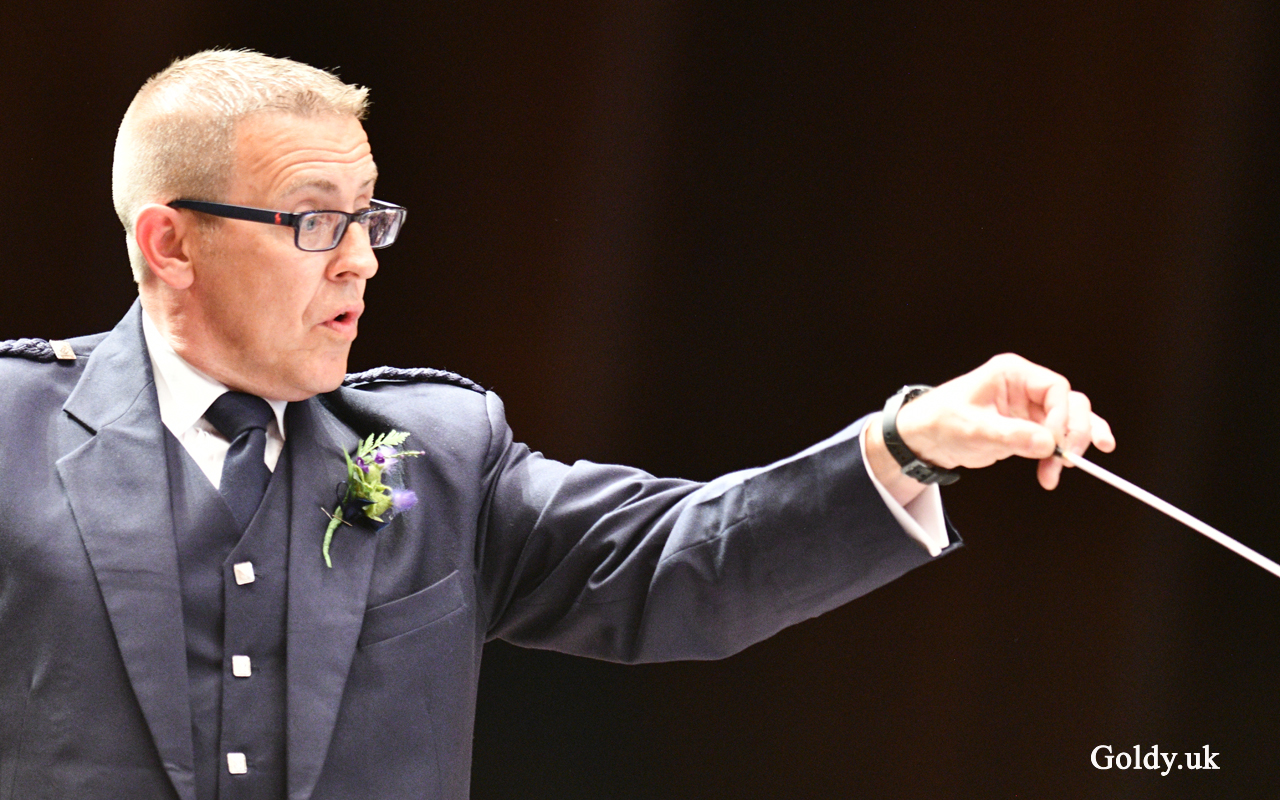 Set work up first.
Opening sounds are bold and full of intent, though ensemble isn't quite together and the performance loses tempo quickly. I struggle to hear some of the detail — especially in the horns — the MD has opted for excitement instead. Soloists never quite convincing, but they don't shy away.
Vivo is a touch untidy and loses tempo again, thus losing some drive. Marimba solo is almost very good, but the ensuing scurrying semisquavers are rarely together in the band. There's plenty of excitement here though. Percussion dominate towards the close, somewhat masking the band.
Closing grandioso doesn't quite work for me, with tiredness creeping in. Final utterances are in a similar bold vein to the opening.
Now for Gregson's Essay.
Again, a bold statement to open. Horns are lovely — well played. This is much better playing from Annan — first movement ends in style.
Bravo. Euphonium opens the second movement with a poignant embrace — moving stuff. Basses not quite in tune, but this doesn't detract too much from the lovely character of the performance. Solo cornet is so lyrical — fine delivery. Soprano/horn call and response is lovely, and the movement ends with a hint of mystery. Final movement is exciting with some great moments of ensemble playing. Bombastic ending to a performance that was simply a league above the set work.
Annan hit their stride with their own choice, but the set work may cost them today.
Chris Davies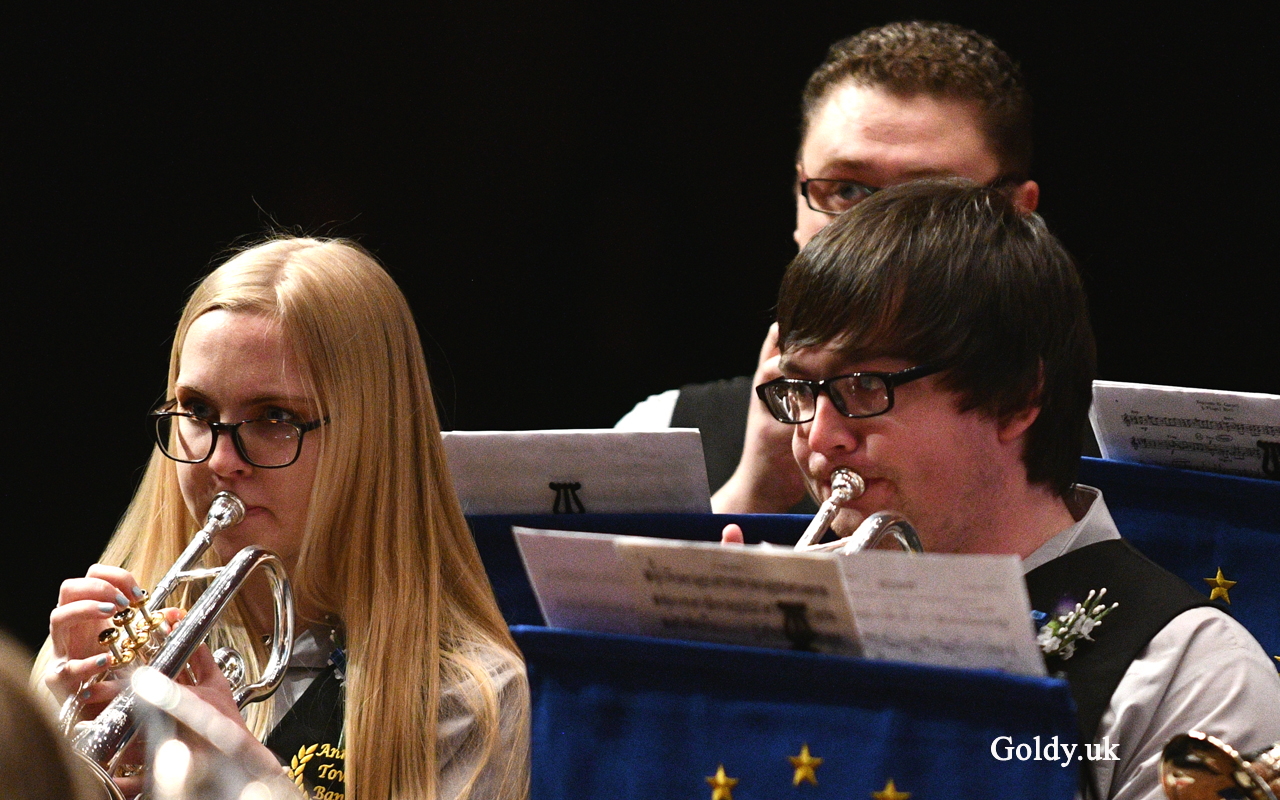 Terezin
The opening hits us between the eyes with a mighty percussion stroke and this is immediately bold and arresting. The detail is sometimes a touch obscured beneath the surface and there are a few nervy solo entries. The tempo also slows at times but we sense the band trying to
inject drama into the performance.
Well done marimba but overall this is something of a musical battle against the might of the fortress it represents. All credit to the players for driving on to a dramatic end.
Essay — Edward Gregson.
Opens well and this sits so much better within the bands comfort zone.
The first movement progresses well and we sense a surge of confidence returning at the close.
Nice flow to the slow movement and the finale has a nicely measured and engaging feel to it.
Overall:
Bags of Scottish spirit and determination from Annan Town but there were times when the set test really pushed the band to its limits today.
Good to hear Gregson's Essay and this was a well chosen own choice piece.
Chris Thomas
---
Saturday 27, 09:48:48
waiting and waiting..
Ready for day two ??#ebml #ebbc2019 #eurobrass19 #stomvi #vincentbach pic.twitter.com/uYlYlkSJhS

Jon-Vegar S. Sundal (@SundalJ) April 27, 2019
---
Saturday 27, 09:33:03
2. 1st Old Boys Band (Stephen Cairns) (Northern Ireland)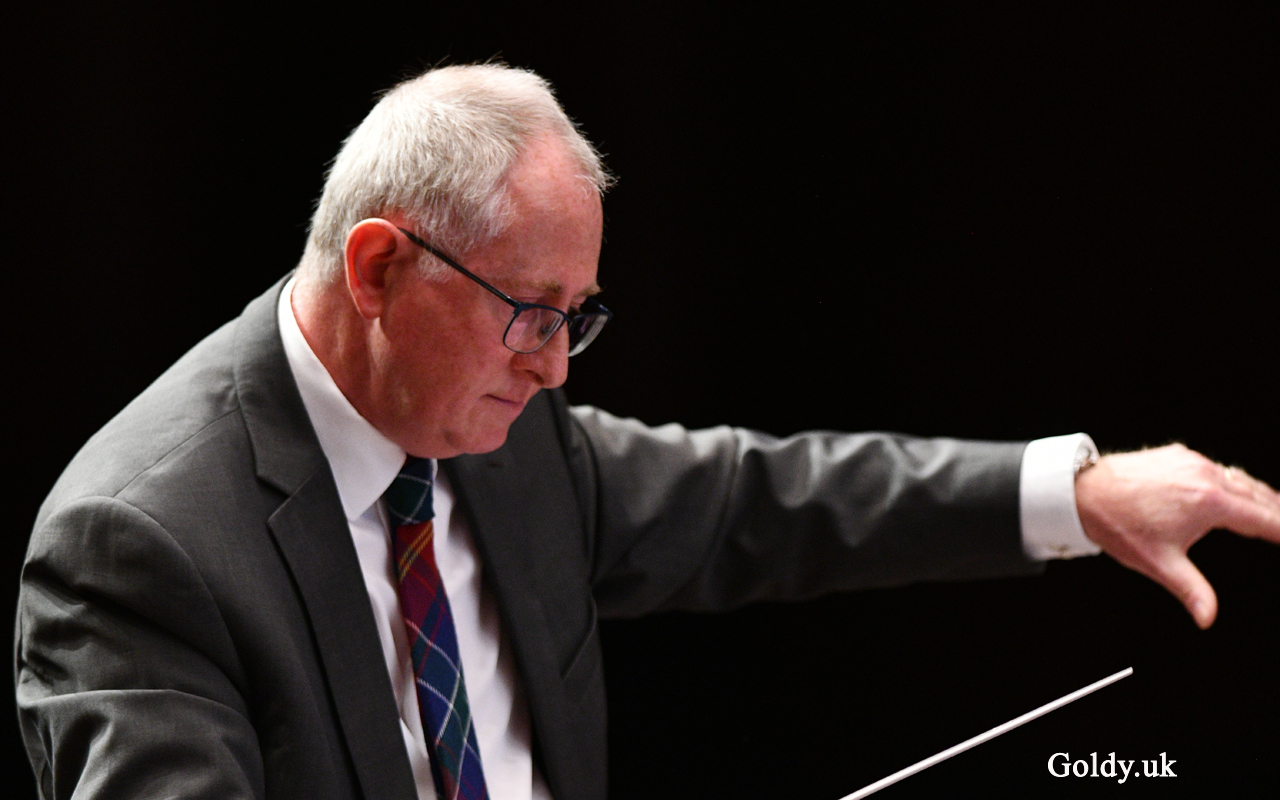 Set piece is up first.
Opening is well-shaped and the atmosphere is at once captured. Ensembles isn't always perfect, but this is an impressive statement. Solo lines are well-measured and assured. Solo cornet does well. Marimba is excellent — bravo.
Things get groovy and the music has so much style. Quartet is pleasant, but not always together. Trombones are especially good. Cymbals a touch early at the close, but the ending is confident and not too overpowered. Really enjoyed that one.
Sinfonietta No. 3 (Etienne Crausaz) up next.
The opening fanfares evoke John Williams — such colour and attention to detail. Solo horn has plenty to do in the early exchanges, and he excels. MD takes a sensitive approach to the texture, and the detail floods forth. This piece suits the band well.
My goodness what a trombone section! You enthral me! Middle movement has lovely shape with splendid horns and passionate euphonium. Solo cornet offers a confident account with only minor blemishes. The fanfares return in glorious fashion — exciting stuff. Thrilling ending with so much commitment — I'm just captivated.
Two performances that will take some beating. The band and MD should be proud of themselves today!
Chris Davies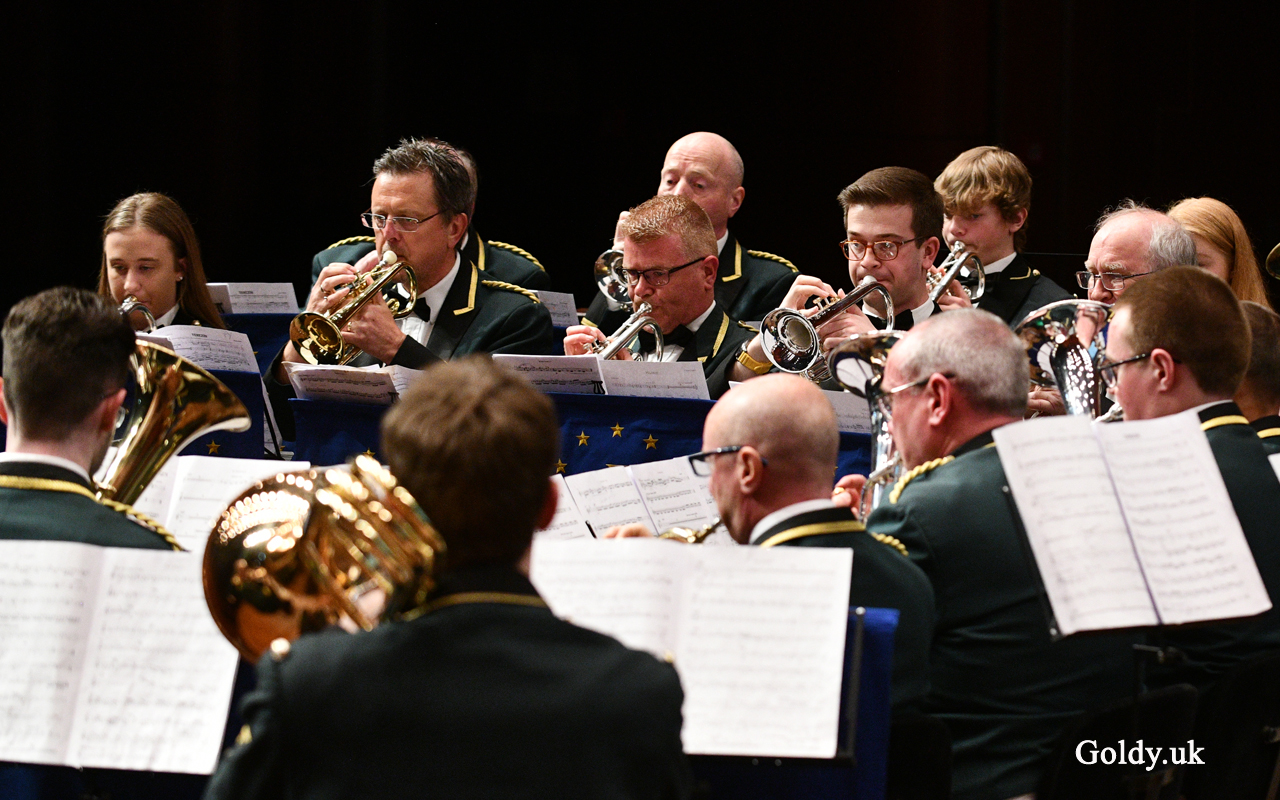 Mario Burki — Terezin.
The Irish challengers open with the set test and another vivid, opening
statement that resounds around the hall in bold and dramatic fashion. There are excellent contributions from the soloists around the band including cornet, soprano flugel and marimba and there's so much presence about this.
Tempo and mood changes are well handled and the closing statement is darkly triumphant.
Etienne Crausaz — Sinfonietta No. 3
The bell sounds of the opening immediately set the tone and
there is a warmth about the band sound that impresses with a fine sounding four man trombone section playing a crucial part.
This really buzzes and the contrasts of dynamic are impressive as
the MD drives the music on. Just the odd little hesitations in solo entries in the slow movement but it doesn't detract from the overall picture. The approach to the end is well measured and the
anticipation builds well to a great close.
Overall:
Bold playing from 1st Old Boys and this was a performance that really held our attention,
laced with drama and intent throughout and aided by a fine own choice selection. Great stuff.
Chris Thomas
---
Saturday 27, 09:30:38
1. Malaga Brass Band (Victor Eloy Lopez Cerezo) (Spain)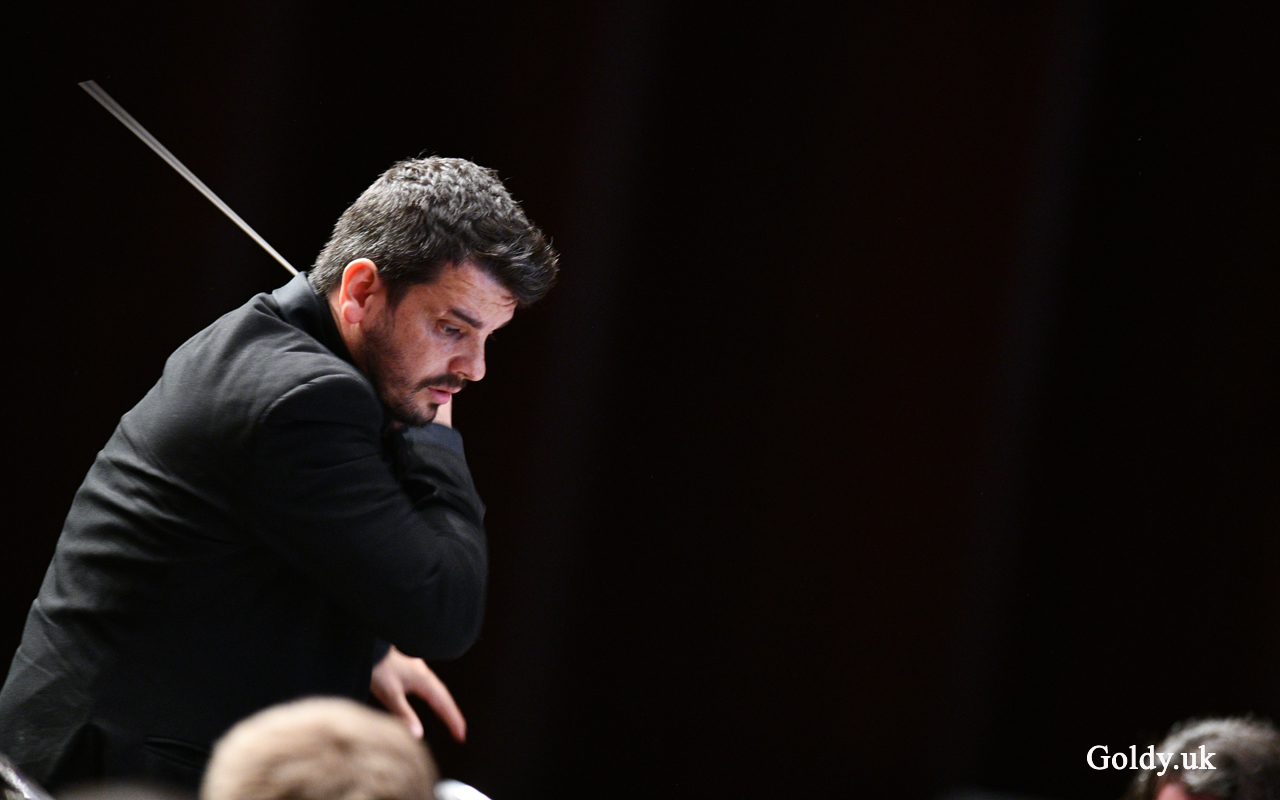 Triumphant, bold opening from the Spaniards as they tackle Sparke's London Overture. The performance has pomp and style, and soloists cope well with the challenges. Ensemble is tight throughout, and the performance ends in a similar bold vein to its opening. An enjoyable show.
Now to the set work.
The opening is purposeful, but intonation across unisons and octaves not secure. Impressive band sound. Soloists shine — euphonium, flugel, solo cornet and horn on fine form today. Ensemble could be tighter in the vivo section, but the ensuing martellato is much better and exudes character.
Detail could be a bit clearer as we reach the closing climax, but the build-up is exciting. Closing quartet is nicely shaped and soloists do well. The ending is exciting, though not always together.
Overall a splendid account from Malaga which will surely do well today.
Chris Davies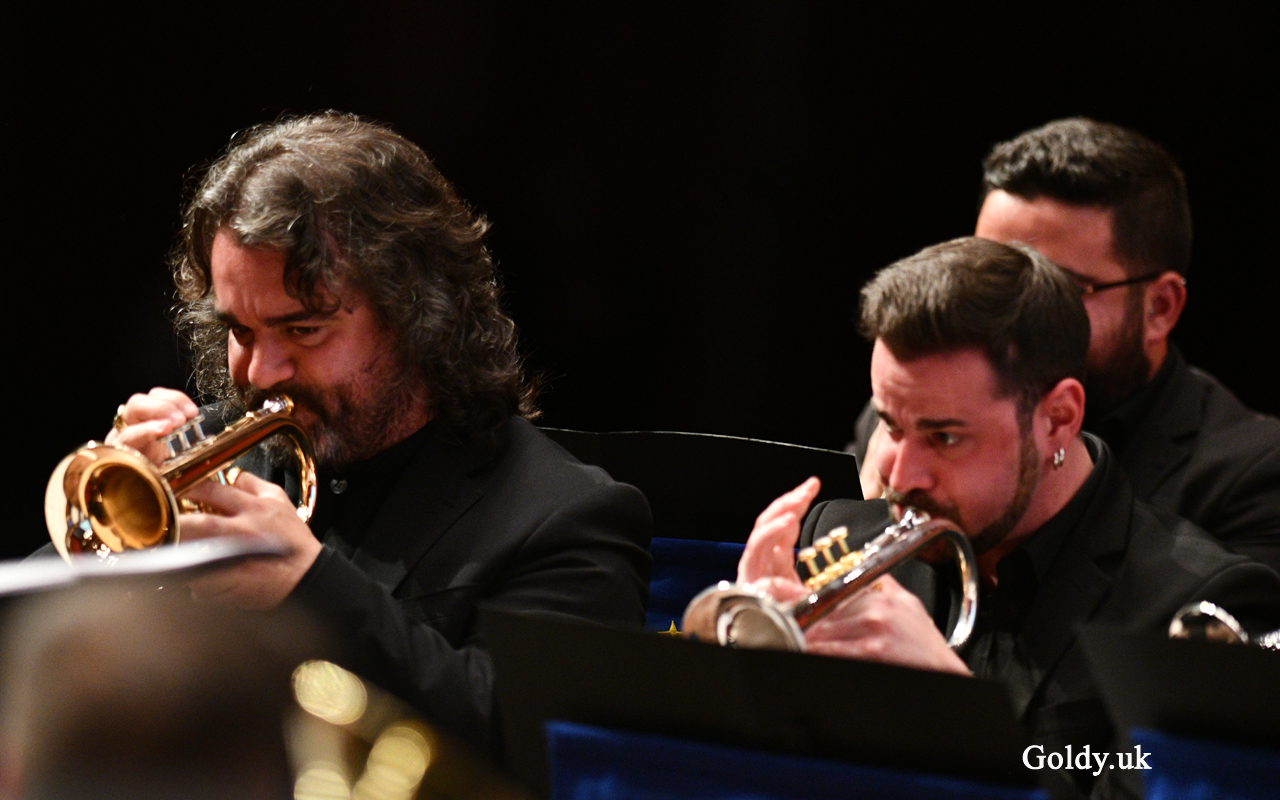 A London Overture — Philip Sparke.
Viva Espana! Spain joins the European banding family for the first time as Malaga Brass Band takes to the stage.
Fielding french horns the sound is immediately intriguing as the band launches into Philip Sparke's A London Overture. And they do so with aplomb. Aside from one or two early nerves this had so much spirit and a real commitment to the score.
Terezin- Mario Burki.
Malaga display what an absorbing piece Terezin is. Darkly dramatic and at times majestic yet underpinned with a resolute sprit that drives through to the final bars.
This was a performance packed with visual imagery of the fortress that inspired the music and its dark and disturbing history.
Overall:
What a fine debut from the Spaniards. This was playing that really captured the spirit and atmosphere of both pieces.
Chris Thomas
---
Saturday 27, 09:19:25
World Premiere
We're ready for the world premiere of Terezin by Mario Bürki. The set test piece in the Challenge Section. See you in Stravinsky Auditorium #eurobrass19 #ebbc19

— EBBA (@EBBC2019) April 27, 2019
---
Saturday 27, 09:12:20
Terezin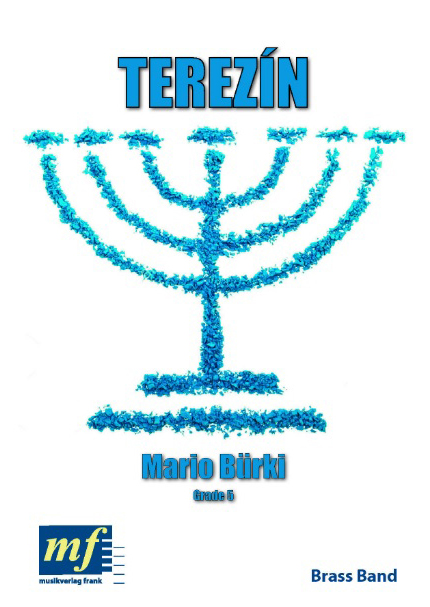 The Challenge Section bands will all perform the evocative set-work, 'Terezin', by Mario Burki, which is inspired by a fortress built by the Emperor Josef II, ruler of the Austro-Hungarian empire from 1780-90.
He was also a noted patron of the arts and music, commissioning works from both Mozart and Beethoven. Although the building named after his mother Maria Theresa was supposed to be used for defence, it became infamous first of all as a prison, and later during the Second World War as a Jewish ghetto and concentration camp.
---
Saturday 27, 08:36:58
Challenge Section:
Draw
Test Piece: Terezin (Mario Burki) & Own Choice Programme
Stravinski Auditorium, Montreaux
Commence: 9.00am (local time)
Adjudicators:Ian Bousfield, Herve Grelat, Bert Van Thienan
1. Malaga Brass Band (Victor Eloy Lopez Cerezo)
2. 1st Old Boys Band (Stephen Cairns)
3. Annan Town (Paul Drury)
4. Brass LT (Russell Gray)
5. Brass Band Regensburg (Dave Lea)
Own Choice selections
Sinfonietta No. 3 (Etienne Crausaz)
A London Overture (Philip Sparke)
Essay (Edward Gregson)
Spectrum (2x) (Gilbert Vinter)
---
Saturday 27, 08:26:24
Good morning from Montreux — Saturday
Welcome back!
We have a great day ahead — starting with the Challenge Section at 9.00am.
Plenty to look forward to then.
Draw coming up as soon as the judges are in the box.