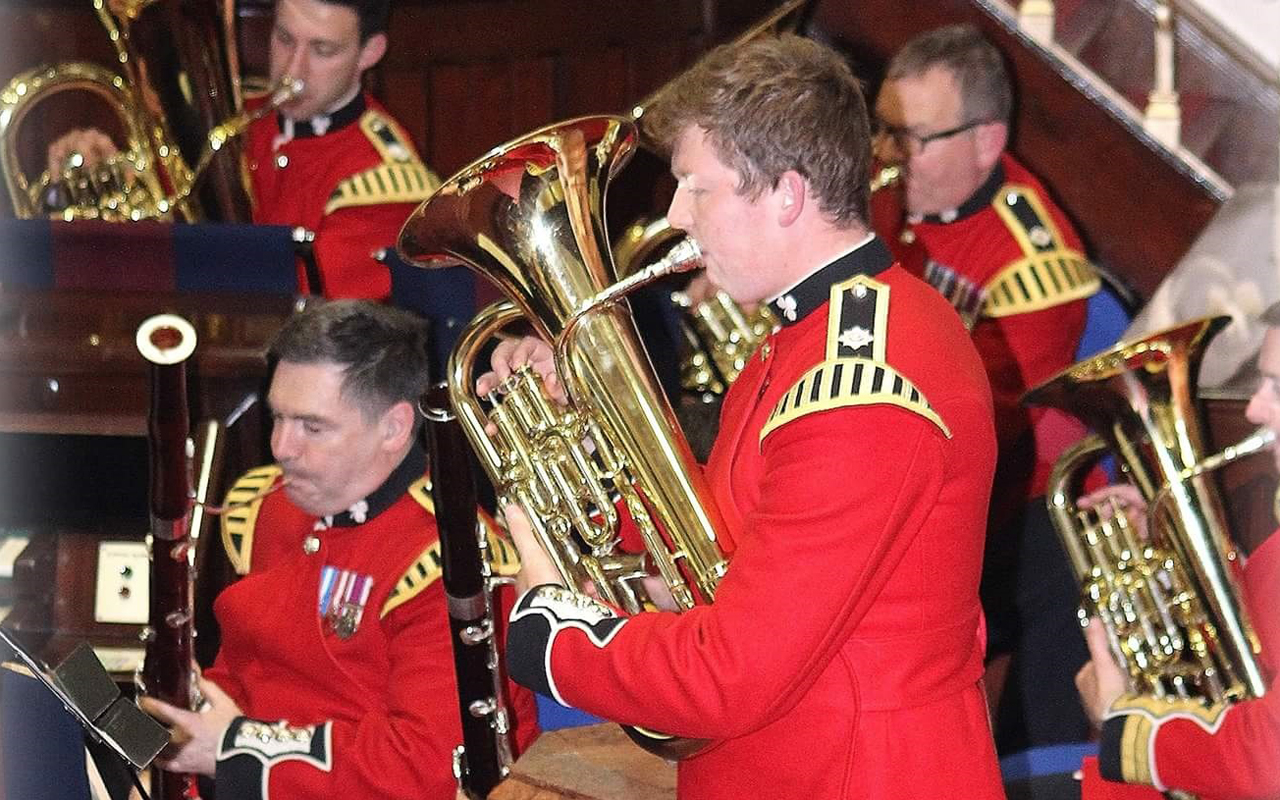 1. Tell us a little about yourself and your musical background?
I began playing the euphonium at the age of 8 in a local brass band which sparked my interest in music. After playing in various ensembles for several years I went to the University of Huddersfield to study for a degree in music.
Since joining the Corps of Army Music I've completed my Masters in Performance at the Royal College of Music which of course wouldn't have been possible without the support of my band.
---
2. What made you decide to look into a career as a musician in the Corps of Army Music?
The promise of a diverse and satisfying career was certainly a hook for me, though the main thing that got me interested was the idea of becoming a Director of Music.
Of course the opportunities for travel, the stable career, and the prestige of the job are all very attractive things too.
---
3. Tell us a little about the training levels or the musical standards you had to achieve and undergo to get accepted into the Irish Guards.
After your initial audition and basic training we attend what is called Phase 2 training. This takes place at the Royal Military School of Music and is designed to take you from your current level to the minimum level expected of all musicians in the Corps.
It includes marching band, playing in various ensembles, harmony and aural. These are taught alongside your 'one to one' lessons with the expert instrumental professors.

During this time you are also taught how bands administrate themselves and what will be expected of you once you leave the school to go to a band.
---
4. What have been some of the highlights you have experienced in the last couple of years?
The Queen's 90th Birthday Celebrations are certainly not something I will forget easily - likewise with our recent trip to Ireland where we played at the Knockagh Monument which was incredibly poignant.
Another highlight has been performing in Canada, where we had a full fireworks display choreographed to one of our performances, which according to several members of the audience "Rocked!"
---
5. Has your decision to join as a musician lived up to the expectations?
Without a doubt it has exceeded my expectations. The opportunities afforded to you are endless and the support offered is second to none.
---
6. What opportunities are available to you to improve as a musician and to seek career development?
There is always something going on within the Corps - whether the opportunity to do a Bachelors degree, a Diploma, or a Masters. Often people pursue other types of courses related to fitness, health and safety, or instructing.
For career development there are also several postings outside the bands for instructors and recruiters, which give you a wider view of the Army and the role CAMUS plays within it.

As an aside to the formal development, a bonus of being based in London is having the opportunity to attend the wealth of concerts that happen every week.
---
7. What types and genres of music to do you play on a day to day basis?
Some days we can be playing your run of the mill marches alongside some orchestral transcriptions - the next you could be playing some transcriptions of the latest chart tunes. The music within the job is incredibly varied and is always open to suggestion from every member of the band.
---
8. What is a typical day (if there is one) like for you as a musician?
Though it's difficult to describe any day we have as 'typical', the closest we get to one is being on Queens Guard which is the most regular engagement we undertake.
I would generally arrive in work for around 8:30am for breakfast, then clean my uniform and sort my music ready for the Guard Mount. We then make our way onto the square at Wellington Barracks around 10:50am where we are inspected.

We play several pieces then head over to a crowded Buckingham Palace where we entertain the crowds, often with popular music.
After that is finished we generally have rehearsals, administration, or personal practice to get on with. Occasionally there will be another job in the evening such as a marching display or a recital in the chapel.
---
9. What does the immediate future hold for you and as a member of the band?
I'm currently working towards my audition to get onto the Musical Director course, and I'm also in the process of working on my PhD application.
---
10. What three tips would you give a young player to help them develop as a performer?
Learn your scales: They really are incredibly important for music making.
Set attainable goals for your practice: Practicing should always have a purpose, whether it's to learn a given passage of music, become familiar with a new piece, or just to learn a one octave scale of Bb major. A goal is important.
Listen: It's important for both playing on your own and with an ensemble that you listen to what is going on around you.
That's not to say be critical of the playing around you, but instead be sensitive to it: You all have an equal part to play in creating a balanced sound.
To find out more about a career in the Corps of Army Music go to:
https://www.army.mod.uk/rolefinder/role/145/musician?campaigncode=n15x01100b&c3ch=internal-referral&c3nid=tumblr-tlg