Welsh colour to be added: Nick Walkley in playing mode

Being a part of the Household Division is a tremendous privilege.
Members past and present all know this; sharing great pride in recalling stories of the time when they wore the famous bearskin cap. I might be biased, but this is particularly true of the Welsh Guards Band.
Honour

I recently had the honour of escorting one proud ex-member to the barracks, going by a name of David Read MBE.
David is the doyen of brass band adjudicators, but in his younger days he was an outstanding cornet player with the likes of Carlton Main and GUS.
Changing the Guard

He began his music career as a member of the Welsh Guards Band from 1953-56, and we were honoured to have him back to watch the Changing of the Guard - trading stories between us before the band marched out of the gate.
Strikingly, whilst much had changed, there was so little it seemed that hadn't.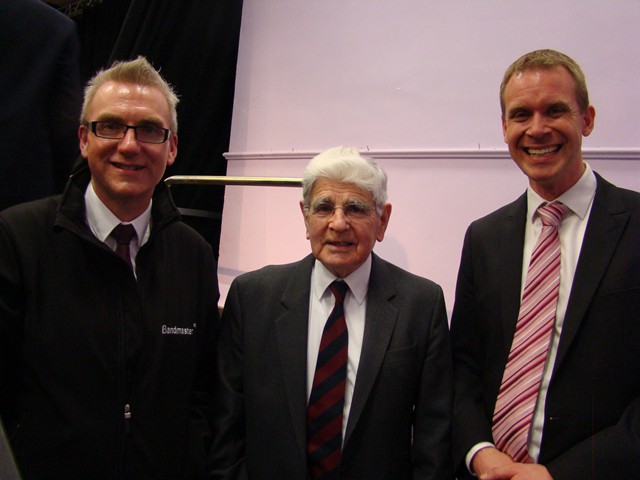 The Doyen of adjudicators: David Read MBE and some happy MDs

David started just three days after the coronation of Queen Elizabeth II - missing out on the spectacular ceremony. Having just missed out on the Royal Wedding in 2011 by the same margin, we sympathised together!
Looking for adventure

Like David, I joined the army looking for an adventure; too young and curious to spend the rest of our lives behind an office desk.
Initially I had spent time in the Irish Guards, as today, all Army bands fall under the umbrella of the Corps of Army Music (CAMUS). David directly joined the Regimental Band of the Welsh Guards.
After 3 years I swapped a shamrock for a leek as part of a corps-wide restructuring - meaning that I was given the honour of stepping into the Principal Cornet position of the Welsh.
100th year

As the band reaches its 100th year, I've been fascinated to hear more about the men who have held this seat before me; men such as Bram Wiggins (former LSO principal), Eric Bravington (former LPO principal) and the great Roland Cobb.
Roland was also the principal cornet of the International Staff Band, and Hendon Salvation Army Band and David played 'second man' to him during his time in the Welsh.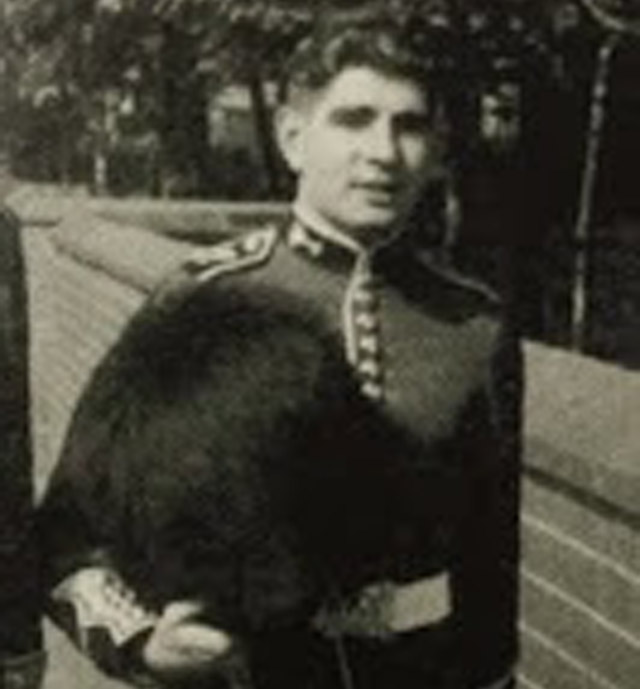 Proud and precise: A young David Read in uniform

How 18 year old Musn Read came to such heights is quite an amusing one, as recalled in his book, 'Beyond the Box'.
Stroke of luck

"...I placed myself on the bottom chair of about 12 cornet players. We rehearsed an opening number and then Sgt Cobb on Principal Cornet shouted down to ask me if I knew the cornet trio which was being passed around.
The trio was 'Three Jolly Sailormen' by Edrich Siebert, new to military bands but brass bands had already being playing it for a number of months.
I replied 'yes' and that I had played the second part. The next sentence from Sgt Cobb was that I should come out to the front to play it with Musn Paul Piumarta and himself.
I suppose it was a tremendous stroke of luck because the Director had never heard me play, and here I was supposedly sight-reading a piece I had recorded with Frickley!
I was told by the Director to move up the line to sit with the other two and that is where I remained for the rest of my time in the Band!"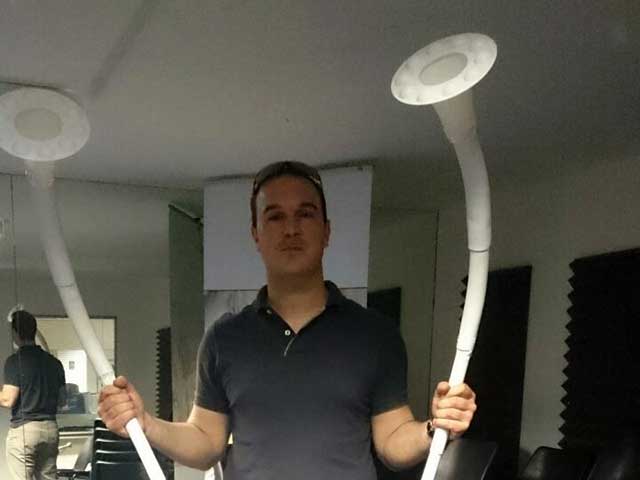 Times and instruments have changed...

Inspiring

Musn Read's time next to Sgt Cobb was an inspiring one.
"I was in great awe of Roland's ability as a player. We had to play in extremes of weather on Guard Mount.
Freezing temperatures in winter when the lips were so cold it was difficult to form an embouchure and in the summer, it could be so hot under the bearskin that the mouthpiece would slip due to the perspiration on the face.
In all these different conditions, I can hardly remember a time when Roland missed or split a note! His playing was never less than immaculate."
Impressive form

Conditions for David's recent visit were more favourable, and as we watched on, the band were on impressive form, drawing top marks from our visiting adjudicator.
I had been given the morning off to escort David and to introduce him to the band members, and what struck us both was actually how little had changed – especially the format of a Guard mount.
He asked me, "Do you still play those show selections?" just as they launched into a James Bond medley, to which my answer was "...apparently so!" - although David may have been recalling Rogers & Hammerstein rather than 'Goldfinger' and 'Skyfall'.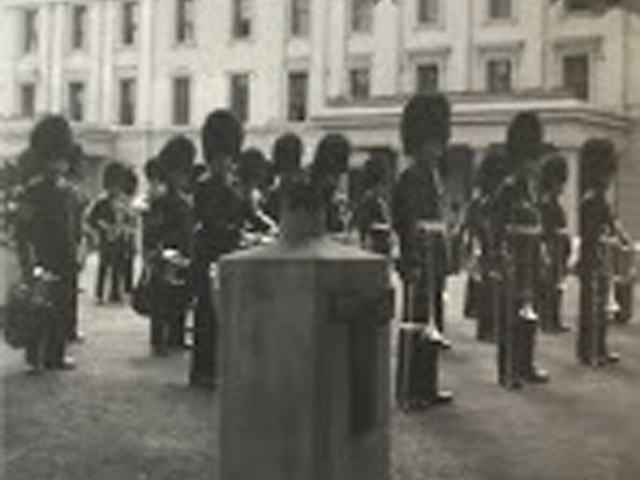 Duties haven't though...

Classics

However, the march selection list was near identical.
David recalled playing classics such as 'Trafalgar', 'Thin Red Line', and 'Wellington' - all still featuring in our current repertoire alongside the marches of Arnold Steck such as 'The Guardsman' and 'Birdcage Walk'.
'Arnold Steck' was actually the pen name of Major Leslie Statham, the Director of Music whom David served under during his time in the Welsh Guards.
Changed

I introduced David to our current Director Lt Col Kevin Roberts, also the current Senior Director of Music of the Household Division.
He has just completed his first summer season in the top job, including the annual Queen's Birthday Parade on which the 1st Battalion Welsh Guards trooped their new colours - the format hardly changing even before David first did it.
Beating Retreat however would be unrecognisable today.
Now it has become an amazing military spectacle and is performed for two nights in the week of Trooping the Colour to a sell-out audience on Horse Guards Parade.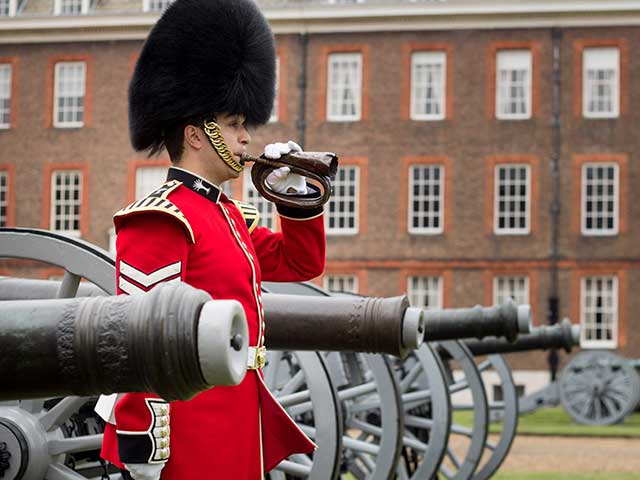 Making a worldwide mark on a Waterloo bugle

200th anniversary

This year's event commemorated the 200 year anniversary of the Battle of Waterloo and was a memorable one for me, as I played an antique bugle recovered from the battlefield in period uniform!
The media interest made for quite a frantic week, with a live television interviews and a plaque unveiling in Waterloo station which made world news.
We both recalled that Fanfare trumpets also bring their fair share of memorable events.
VE Day

The recent 60th anniversary of VE Day saw us in the organ loft of Westminster Abbey, playing live to a national audience with my colleague LSgt Stuart Laing, performing the best 'Last Post' I have ever heard under immense pressure.
As we struck up with Jacobs' famous 'Fanfare' I remember being distracted by a photographer who was scampering beneath us.

Fortunately we 'nailed it' and compliments poured in, especially as he had taken some stunning images for world news channels and newspapers.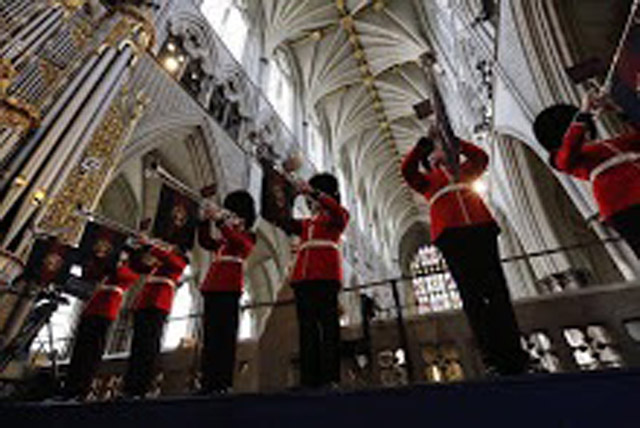 Fanfare team at Westminster Abbey

Memories

David also had many great memories like these and we recalled that within 12 months of us both commencing our careers we played fanfare trumpet at the Royal Hospital Chelsea for 'Oak Leaf Day', or what is now known as 'Founders Day'.
For me, that was the first occasion I had seen HRH Prince Harry, whilst David remembers being positioned adjacent to HRH Princess Margaret as she distributed oak leaves to the Chelsea Pensioners.
Tours

Band tours always provide great memories and David's first was to Canada, as was mine.
In 1953 they performed in the Canadian National Exhibition in Toronto, but in 2014 we were over in Calgary for the Spruce Meadows show jumping event.
Fantastic players

The other four Foot Guards bands have also boasted their fare share of fantastic players over the years, and apart from the many SA players, there are quite a few brass players who have enjoyed wonderful times time with the likes of Zone One Brass, Redbridge, Desford and GUS.
I've also been fortunate to fit occasional dates in with Cory and Grimethorpe, although being in the Army is about more than just playing in a band.

On the march in the 1950s....

Close friendships will inevitably be formed for life; such are the close daily working and living conditions.
Massed band events like 'Troop' and 'Cenotaph' are our annual excuses to get together on mass - often in the nearby taverns (which apparently have also hardly changed!).
Good friends

I have many good friends across the Household Division, as did David in his day, as he recalled:
"As a single young man I made friends with players from other Regimental Bands. One such was Tommy Wilson a fellow cornet player in the Scots Guards. We became great friends and had some great times together, and he had joined the army a few months before me.
Tommy later became a very fine Principal Solo Cornet player of the Scots Guards Band under Major James Howe.
Like Roland Cobb and Paul Piumarta Tommy also played with the Hendon Salvation Army Band when off duty.
What a great cornet section they must have had at the time! The Scots Guards had some fine cornet players while I was in the army, such as the legendary Fred Muscroft and also Bram Gay.
Others of my age at the time and with whom I had passing acquaintances were Colin Casson of the Irish Guards Band, and Trevor Leaning and Herbert Martin of the Coldstream Guards Band."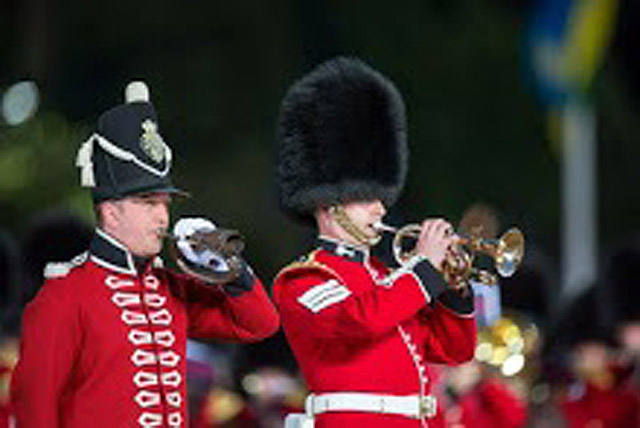 A slight change in the uniforms...
Charting careers

As David has done, I look forward to charting the careers of those I have served with in years to come. Some are clearly destined for great things, whether it's in the Army or on 'Civvie Street'.
Many things have changed, but a great deal hasn't.
Quiff

As we looked over old photographs, so much was recognisable - the uniforms, the parade squares and the buildings, the parade formats... even David's trademark finely-groomed quiff that once hid under a bearskin!
Serving in one of these great bands is still a wonderful way to start a career in music. The experience of performing at some of most prestigious national events is something to treasure.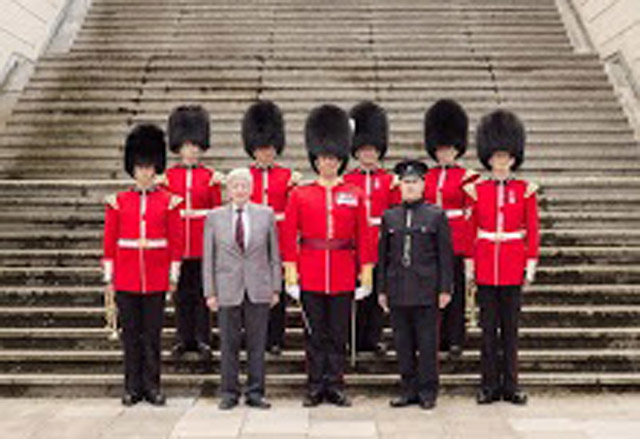 Bringing back memories...

I can quote from David's autobiography as if it were something I might say:
"I enjoyed my years in the army and have never regretted it for a moment. It passed very quickly and I had some wonderful experiences in this country and abroad.
I made many new friends and I had the opportunity to play at venues that otherwise would not have been available to me. Finally, I am proud to have been a member of one of the best Military Bands in the country."

Nick Walkley
---
If you are interested in a career in the Corps of Army Music, see this link for further information:

http://www.army.mod.uk/music/23261.aspx