Composers Comp • Thursday 30, 22:28:52
The new European Composer Champion is Stan Nieuwenhuis who claimed the €3,000 first prize for his composition 'L'effect divers' - a quartet of four very clever musical pictures inspired by quite surreal news stories.
Second place went to Christain Overhead for his compact 'Symmetricoil' inspired by day dreams of youth when working in heavy industry - with third place, the Audience and the Band Prize being claimed by Ludovic Neurohr for his evocative, '...as a Glow'.
Result:
1. Stan Nieuwenhuis
2. Christian Overhead
3. Ludovic Neurohr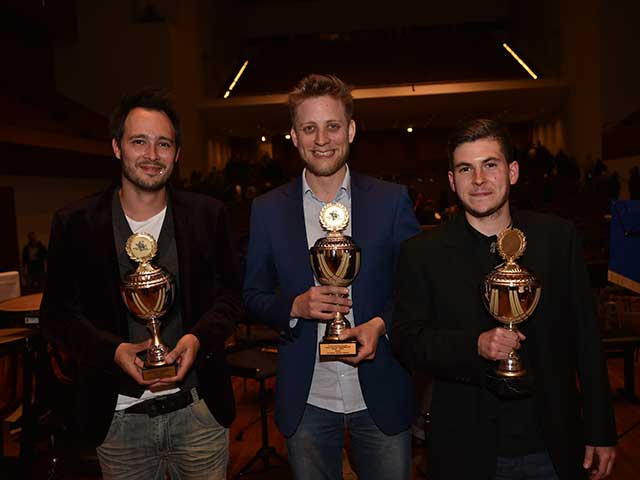 ---
Composers Comp • Thursday 30, 21:42:48
We are now enjoying the second half of the evening with the European Youth Band giving us a programme with a Germanic flavour - from Struass and Bruckner to Wagner, Hindemith and Bach.
Directed by Uwe Koller they are made up of 34 players from 15 different countries and are currently giving it their all to what it must be said is a fairly sparse sprinkling of an audience.
After this we will find out who has won the generous €3,000 first prize (second picks up €2,000 and third €1,000, with additional €500 prizes to the Audience favourite and €500 for the band's fav piece.)
Given the newly crowned European Champion gets €1,000 plus a Besson Prestige euphonium, you can see why a few people have raised an eyebrow or two.
Nice shiny new instruments don't pay hotel bills - even if you flog them quickly on the German version of eBay.
---
Composers Comp • Thursday 30, 21:01:29
A trio of very interesting and very different compositions to enjoy tonight.
The mature, emotive Neurohr work really had depth and a sense of clarity of thought, whilst the Nieuwenhuis was a witty delight - packed with clever, intelligent motifs of surreal meaning - a bit like a Rene Magritte painting.
Although just six minutes long, Christian Overhead's work was full of subtle and not so subtle musical imagery - such a clever piece of compact writing. Who would have thought that engineering swarf waste could inspire such sharp focussed brass band writing?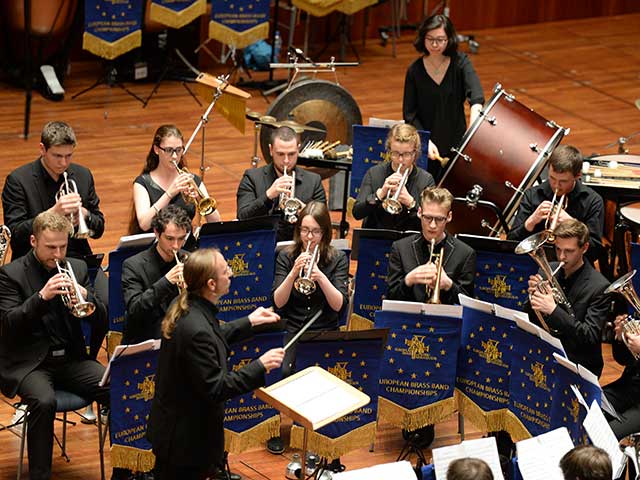 ---
Composers Comp • Thursday 30, 20:28:03
The third composer to be featured is Ludovic Neurohr and his very personal '...as a Glow'.
It takes its inspiration from two sources - the first, the theme written by Italian baroque composer Giovanni Battista Pergolesi, and the second, the suffering of the composer's grandfather, who is entering the final stages of his long, painful battle against the ravages of cancer.
It's is a deeply emotional work - beautifully balancing the simple thematic line with evocative effects. It is mature writing - bold, demanding and emotive. The light at the end of the tunnel of a fine life lived and enjoyed is very real and very close.
However, The 'glow' is the life force that still burns bright in the eyes of his grandfather despite the obvious pain he feels from his illness. As the composer states - they glow brightest when surrounded by his loving family.
This was music full of heartfelt emotion.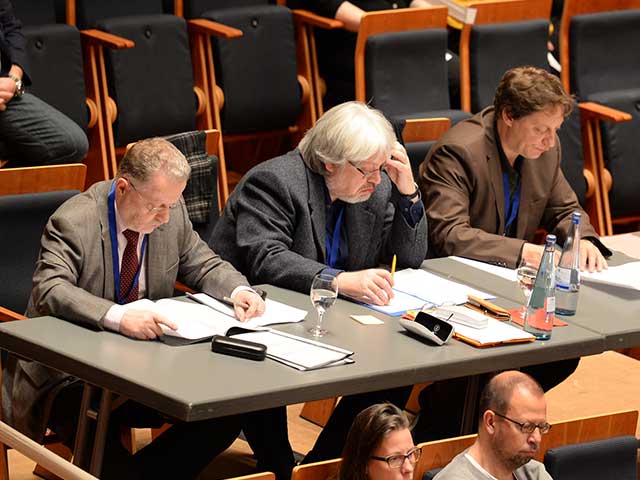 ---
Composers Comp • Thursday 30, 20:12:14
The second composer to be featured is Stan Nieuwenhuis and his very witty suite entitled, 'L'effect divers', inspired by four bizarre real life news stories - none connected, but all odd, funny, sad and meaningful in their own way.
The first concerns a land dispute between two neighbours that starts with terse words and soon escalates into almost outright war - from insults to burying a new car in sand and concrete.
The second movement recalls the sad tale of an elderly man who loses his memory of where he is and drives around London for three days and nights, chalking up 3,000 kilometres of mileage before the police finally find him and return him confused, tired and dazed back to his family.
The third concerns a forlorn Mafia boss, tired of being on the run and lacking meaningful company, who finally decides to turn himself in and be arrested by the Chief of Police so that he can spend the rest of his time with fellow human beings - despite being behind bars.
The last movement is about a multi millionaire who decides to leave all his money to the small village where he was originally brought up so that they can plant one million flowers a year in his memory.
It's a wonderfully inventive work - full of meaning and pathos despite the stories themselves being so odd and surreal. The Mafia interlude is so sorrowful, whilst the finale is a celebration of all things weird and wonderful.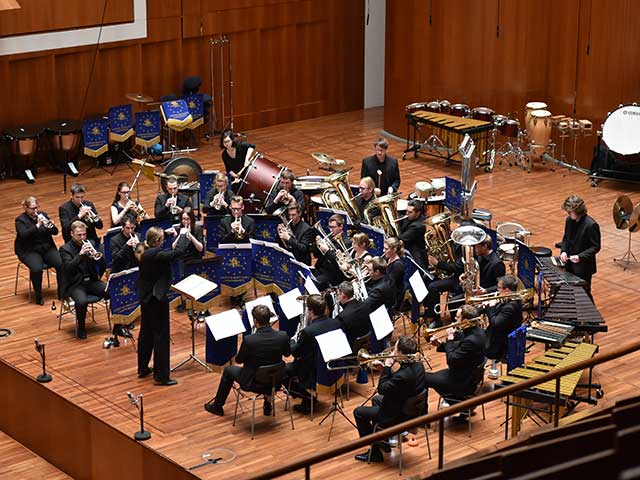 ---
Composers Comp • Thursday 30, 20:07:58
The first of the composers to be featured is Christian Overhead from the UK via The Netherlands, where he now lives and has studied.
His work is entitled, 'Symmetricoil' and is inspired by the work environment of heavy industry (it refers to the waste metal produced by a drill bit) - and the time he spent working there - although at times, day dreaming.
The composition is dedicated to his fellow workers who kept him from endangering himself and others by making him concentrate on the job in hand despite his dream like longings for something less arduous and fulfilling.
It's deliberately heavy, percussive and almost vicious in intent to start, but soon becomes reflective - twinkling in its dreamlike state.
It's short (around 6 minutes) - very neatly written and brings together both the sounds of heavy industry and of a latter day Daydream believer so well.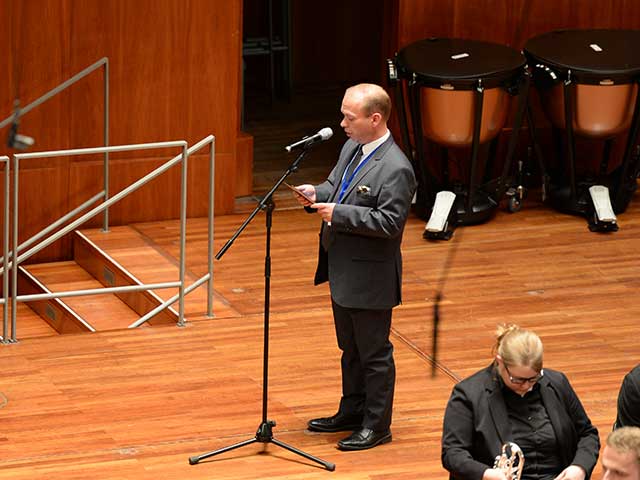 ---
Composers Comp • Thursday 30, 19:33:25
Ahead of the 6th European Composers Compeititon in Freiburg, 4BR Editor Iwan Fox talks to conductor Martin Schadlich who will direct the Youth Brass Band of North Rhine Westphalia on the three finalist's works.
---
Composers Comp • Wednesday 29, 15:14:03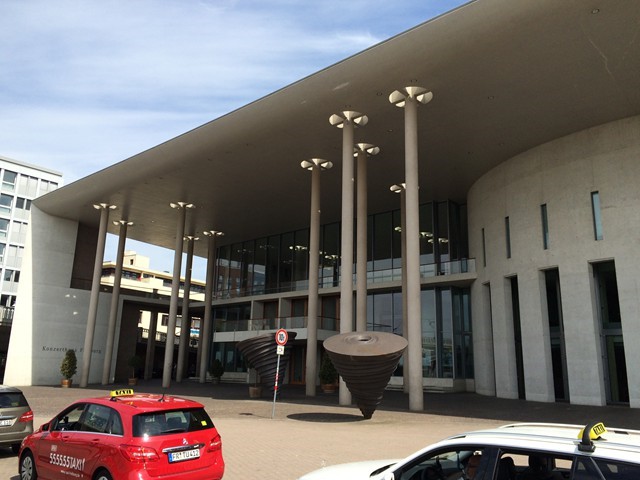 Thursday 30th of April
20:00—22:15
Rolf Böhme Saal—Konzerthaus Freiburg
European Composer Competition—Final
EYBB concert followed by award ceremony
---