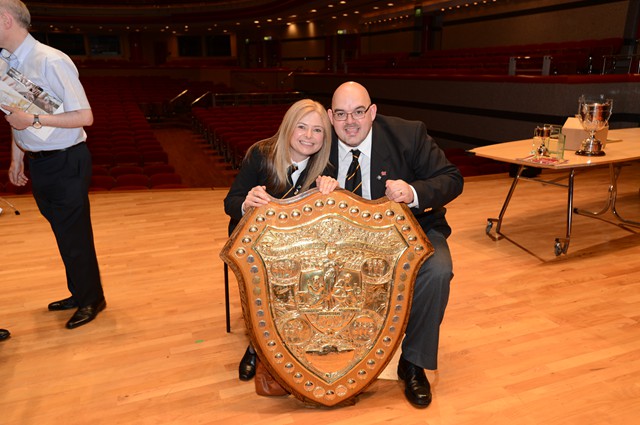 Great team: Helen and Glyn Williams

Malcolm Wood: Thanks for joining us Helen. Congratulations on your recent appointment as Musical Director of Huddersfield & Ripponden Band. How did that come about?
Helen Williams: My husband Glyn has supplied instruments to Huddersfield & Ripponden Brass in the past and the band has some close connections with Marsden who Glyn also conducts.
Back in May 2014, Alan Jazwinski from Huddersfield asked Glyn if he could take some rehearsals. He was (as ever) really busy with Foden's and Marsden, so suggested Alan should approach me.
I have to say at this point Glyn hadn't even mentioned it!
However, when Alan rang, I accepted the initial invitation. I took one rehearsal - which must have been OK - as within a week he was back on the phone asking if I would consider taking on the job permanently.
---
Malcolm Wood: Having played with some of the finest bands in the country under some of the most famous MDs, was conducting something you wanted to explore?
Helen Williams: Actually, I never really had any aspirations to conduct!
I will have been playing for 40 years in 2015, and have always been happy to be conducted and directed in my playing by the person in the middle.
I did conduct the Training Band at Oldham Music Centre for a while, but certainly hadn't been looking for a conducting position. Perhaps it's been a bit of a subconscious thing!
---
Malcolm Wood: So how is it going? Are you enjoying it?
Helen Williams: Yes - especially as it's going well!
Particular highlights have been Whit Friday: What a buzz I got from conducting in my home village of Delph with my neighbours cheering us on!
Then there was my first 'proper' contest debut at the Pogson Bray Entertainments Contest, where we came 6th out of 13 bands and picked up the 'Best Fourth Section Band' prize - and most recently, our Christmas concert which also featured Huddersfield Youth Brass and a couple of local school choirs.
Of course, I've been playing at Championship Section level a long time now (amazingly I've managed 15 years at Foden's!) so the Fourth Section is a very different place.
I'm working hard to keep my expectations realistic: The band members haven't quite cottoned on yet that I'm serious when I say the only reason to miss band is due to childbirth, or death (your own!). That's the world that I come from!
---
Malcolm Wood: Walking into a band room for the first time to conduct can be a daunting experience, so has having that top flight playing experience benefited both you and the band?
Helen Williams: If I'm honest, I was frightened to death when I went to my first rehearsal; and of course each 'new' thing (contest, concert) that I do is forever stretching my comfort zone.
I'm learning all the time and won't pretend to anyone that I'm not.
By being a recognisable brass banding name will hopefully generate some publicity/interest for the band and maybe encourage some new players into the ranks.
However, having been with the band for a few months now, I think the players have realised that I won't be sprinkling magic dust over them and that I expect them to do plenty of work too!
---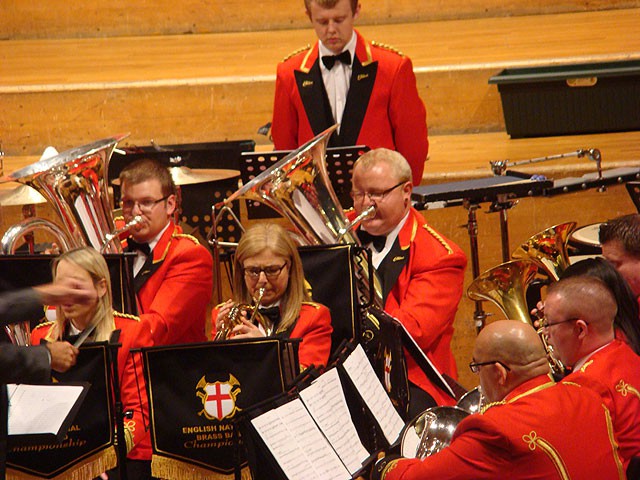 At the heart of the Foden's action...

Malcolm Wood: You've experienced firsthand how the finest conductors approach rehearsals, concerts and contests. Has that influenced your approach or have you got your own thought processes?
Helen Williams: Of course I'm influenced: I've sat on the other side of it for far too long not to be. I do, though, know what I like and enjoy as a player.
Although I don't have formal qualifications, I've been teaching brass for about 15 years now and I seem to be pretty good at getting my message over to both young people and adults. I have simply transferred those skills into the band room.
As for stick technique (not that I use one)……well, that's a work in progress shall we say!
Wrong as it sounds, I do watch conductors more these days. Conducting has given me a whole new perspective!
---
Malcolm Wood: So if you needed help and guidance then you'd happily pick the phone up and speak to somebody?
Helen Williams: Obviously Glyn is my first port of call - he is for everything!
I'm fortunate to have lots of friends in the banding world who I know would be happy to support me, but I generally play my cards close to my chest.
---
Malcolm Wood: Is the challenge of preparing a test piece from a conducting perspective, something you relish?
Helen Williams: Yes. I'm really looking forward to preparing for the Yorkshire Area (Huddersfield & Ripponden will play in the Fourth Section) - in fact work has already started.
It's certainly a responsibility, but the band gives me the feeling that they trust me. It has to be said though that my main worry is getting players around the stand for rehearsals!
---
Malcolm Wood: What are your aims and objectives at Huddersfield?
Helen Williams: As I've said, my main concern is having regular players at rehearsals.
We've done well so far, but the potential for so much more is there…..as long as we can fill some persistently vacant chairs.
It is proper banding at grass roots level, but if I can bring to it a little of my experience and dedication, and we can all have some fun whilst we do it, then I'm happy.
---
Malcolm Wood: With your other banding commitments at Foden's and Glyn with Foden's and Marsden, free time must be a luxury?
Helen Williams: We are both passionate about what we do: We live and breathe brass bands.
There are times when it feels too much, but then we reflect on all the great memories, great achievements and fun times and realise that we wouldn't change it for the world.
---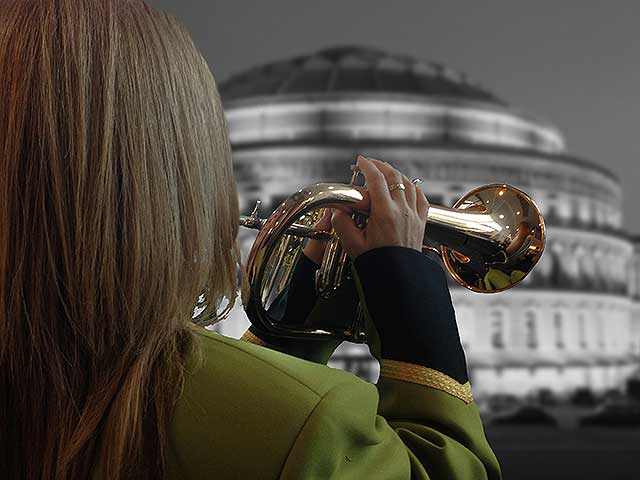 Something different in the future perhaps....

Malcolm Wood: Finally - you recently dipped your toes into the world of adjudication, judging at the Milton Keynes Contest.

Is this, another area of banding that you'd like to explore in future?
Helen Williams: I've adjudicated at solo contests in the past, and a lower section entertainments contest, but Milton Keynes was my first experience of closed adjudication.
I did it because I was invited to, thoroughly enjoyed myself, and would definitely do it again..... if asked!
---
Malcolm Wood: Thanks for talking Helen. Congratulations once again on your appointment at Huddersfield & Ripponden and we wish you well.