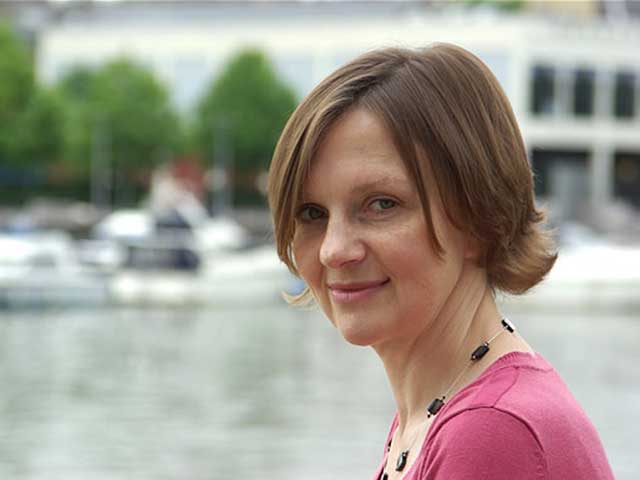 With the recent premiere of 'Silver Rose' at Bristol Museum & Art Gallery on Remembrance Sunday, composer Liz Lane (above) unveiled the latest and most substantial of several pieces for brass band she has penned over the last few years.
Yet the path to working with the medium is one that has taken time to come to fruition for a composer whose immense creative talents were recognised at a very early age.
By the time she was 10, Liz Lane had already made a significant musical mark with her first work having been publicly performed at the age of six.
Public performances

It led to a string of professional public performances of her early music, resulting in considerable media publicity and ultimately leading to a 40-minute television documentary dedicated to her childhood as a creative musician.
In the years following her graduation from Cardiff University, her career path has seen her perform as a professional French horn player and percussionist to become a highly respected senior lecturer at the University of the West of England and for the Open University.
Flourished

Her composing career has also flourished, with works across many genres including ensemble, chamber and choral music, a substantial orchestral work and 'Old Stones Remember', a musical crossover project for the Presteigne Festival.
4BR's Chris Thomas caught up with the composer at her West Country home to discuss her music, the impact of childhood celebrity and her increasing fascination with writing for the brass band medium.
---
Chris Thomas: Music was with you from an early age: You started to play the piano at 3!

Did you grow up as part of a musical family?
Liz Lane: Yes, my mother was a pianist and teacher and my dad taught music at school.

He now plays the organ at local churches and kindly helps proof-read my music (which he says he really enjoys!)
---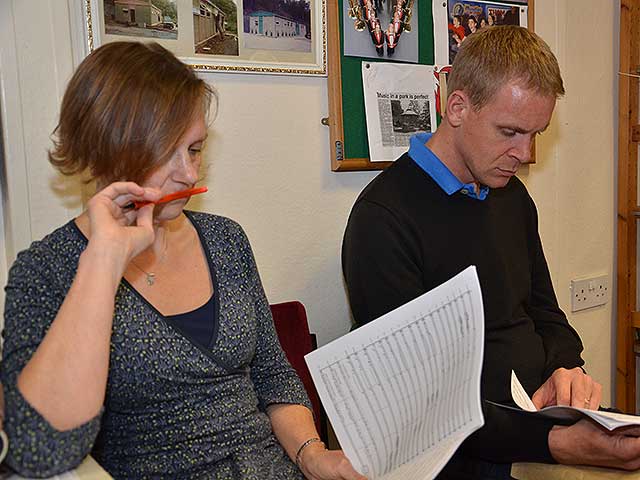 Brass band connection: Working with Cory MD Philip Harper

Chris Thomas: Your early compositions, including a prize winning carol written when you were eight and performed by the Bach Choir and Philip Jones Brass Ensemble, attracted a great deal of media attention including televised performances and a 40 minute ITV 'Magpie' documentary.
How influential was that early media interest in shaping you as a composer?
Liz Lane: Very influential I think. It was quite an unusual musical childhood really with some extraordinary opportunities, including making the front page of the Daily Mail!
One of my best memories was seeing the late, great John Wilbraham play the piccolo trumpet with the Philip Jones Brass Ensemble.
I remember asking him for an autograph and never dreamt I would later play in a brass group with him when he moved down to the West Country.
---
Chris Thomas: So from an early age, you always knew what your vocation was going to be?
Liz Lane: Composing has been an integral part of my life since then, although it did get put on hold for a while in my late teens/early twenties.

There was always a draw to go back to it though and happily it has taken up an increasing amount of time as I've received more commissions and performances.
---
Chris Thomas: Following your studies though, it was as a French horn player and percussionist that you initially made your living?
Liz Lane: Yes, I used to play professionally and taught as well. I still play a little although composition now takes precedence.

Playing in an ensemble with John Wilbraham was a real highlight though.
---
Chris Thomas: Looking at your substantial list of compositions, relatively few pieces have abstract titles. What inspires you creatively?
Liz Lane: Mostly being asked to write something and knowing that there's the end goal of a performance.
The thought process will often spark ideas at awkward moments (such as when I'm driving in the car!) but if I don't write down or record the ideas I can never remember them later!
---
Chris Thomas: Listening to works from your catalogue and bearing in mind the stylistic pluralism of modern music, melody is obviously important to you?
Liz Lane: Yes it is. I love working with melody (although my dad often says the melodies I write are too difficult to sing!)
When people ask me to describe my music I sometimes say 'tonal with a twist'.

Melody (in whatever form - perhaps sometimes unexpected) is an important part of this.
---
Chris Thomas: Is it important to you that your music communicates with your audience on a very direct level?
Liz Lane: Definitely. I love it when people enjoy playing and listening to my music. That is my greatest reward.
---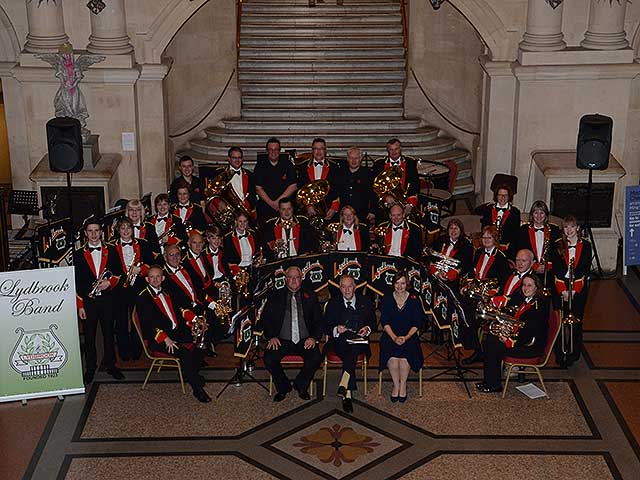 Turning attention to the brass band medium with Lydbrook Band

Chris Thomas: Turning to brass bands: You have a close connection with the banding world through your husband Ian Holmes who is MD of Lydbrook Band.
But when did you hear your first brass band and recognise the creative potential of writing for brass?
Liz Lane: My first ever brass band experience was with my local band in Somerset when I was asked to play at a rehearsal on the French horn! Just after I started learning….it was a great transposition exercise!
However, it was really through Ian that I got to know and love the brass band music and sound.
As a percussionist I was invited to play with several bands he conducted. For a while I was principal percussionist with Parc & Dare, including when they won Radio Wales Band of the Year. I also performed with Cory (then Buy as you View), Aldbourne and City of Bristol.

I loved the soundworld and superb technique of the players - and also the fact that it is a wonderful opportunity for a composer to work with top quality performers who have a real love for their art.
---
Chris Thomas: Although you had written for brass ensemble previously, your first full brass band piece was 'Diamond Fanfare' in 2012 which was quickly followed by the longer 'Antiphonary' in 2013.
Was there a reason that it was well into your career before you wrote your first brass band piece?
Liz Lane: I'm not sure really.
It was probably through circumstance and being involved with other commissions.

Having been brought up in the orchestral tradition, I think I was assimilating the brass band sound for a number of years as a performer and audience member before the opportunity arose to write for the genre.
---
Chris Thomas: Amongst a host of shorter works, you have written a substantial 35 minute orchestral piece, 'Time Travel' which occupied you for four years between 2005 and 2009.
Can you tell us a little about the inspiration behind the work?
Liz Lane: I have always enjoyed writing for orchestra and the opportunity to work on a large scale symphonic work was a rewarding challenge.
In fact, the fourth and final movement of 'Time Travel', 'Somewhere Unknown', was the central focus of my PhD and although it is linked to the preceding movements, it also works as a stand-alone piece in its own right.
The four movements are quite disparate in many ways but they all have a common theme of travel and time.

'Somewhere Unknown', however, remains a favourite of mine. It is partly an emotional response to the sad death of my mother but also aspires towards a positive and more optimistic future.
Actually, I have often thought about arranging it for brass band. It has been performed several times and the Orchestra of Welsh National Opera gave the premiere at the Wales Millennium Centre.
---
Chris Thomas: One forthcoming project is a piece for Jim Hayes (or should we say Johnny Midnight!) for his new solo album. Have you any ideas as to what you want to write yet?
Liz Lane: Ah yes - I'm working on that!
I want it to be something a little different, possibly incorporating words in some way.
I work part-time as a Lecturer in Composition & Performance at the University of the West of England and they have allocated me research time this year. I am putting some of this aside to write a piece for the album.
Ideas are very much work-in-progress at the moment but I'm really looking forward to working with Jim and the band.
---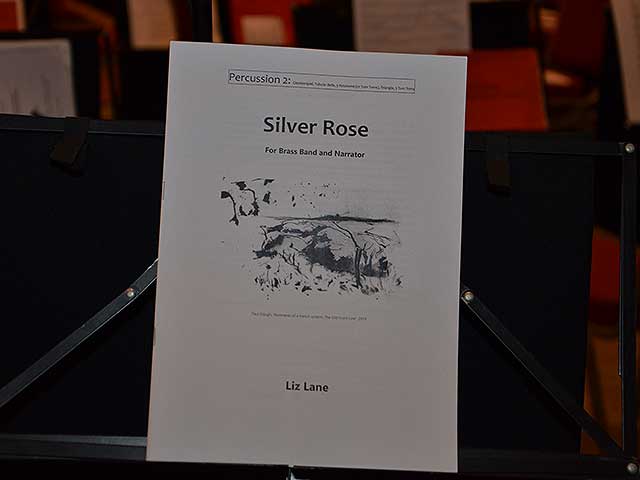 Silver Rose

Chris Thomas: Your new work for brass band and narrator 'Silver Rose', was premiered in Bristol Museum & Art Gallery on Remembrance Sunday by Lydbrook Band and Robert Hardy CBE and incorporates poetry by the Bristol born poet Isaac Rosenberg who lost his life in the last year of The Great War.
Could you tell us a little more about the piece and how it came into being?
Liz Lane: Yes, 'Silver Rose' is one of twenty arts projects commissioned by Bristol City Council with funding from Arts Council England as part of Bristol 2014 www.bristol2014.com.
They wanted to include a brass band as part of the commemorations, as well as poems by Isaac Rosenberg, so the two tied in very well.
As well as writing the music, I have been very much involved in the planning, working closely with Bristol Museum & Art Gallery where the performance was held and of course with Ian and Lydbrook Band.
---
Chris Thomas: The sound world you create in 'Silver Rose' is both evocative and moving.

How did you approach the creation of a piece that is underpinned by such a profound premise as the First World War?
Liz Lane: Thank you. I love working with words and I chose a set of poems by Isaac Rosenberg that spoke to me instinctively.
The musical settings echo perspectives including the atrocities of war and hope for peace.
It really had to be a personal response and I mostly set the words as though they were a wordless song.
I actually started writing the last movement first; the band stand up in honour of those who lost their lives in the war and as the music draws to a close fewer instruments play, ending with one solo Bb bass and the remainder of the band in silence.
---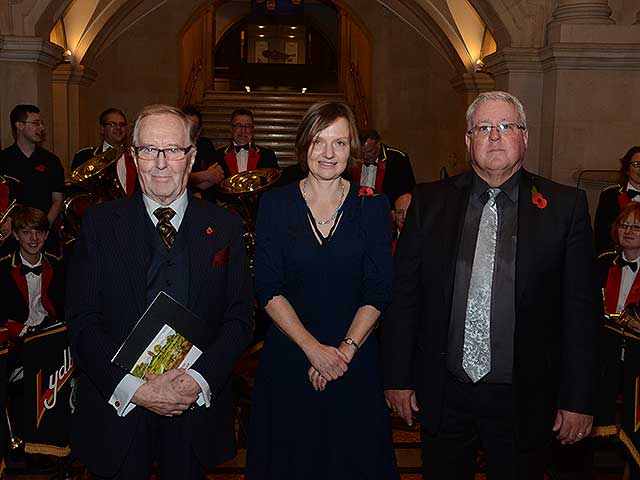 With Robert Hardy and husband Ian Holmes at the Silver Rose premiere

Chris Thomas: Given the surroundings and circumstances of the first performance, it must have been a very moving occasion for you, the audience and the performers?
Liz Lane: It certainly was and for all kinds of reasons. The audience was really appreciative and there has been some lovely feedback.
Robert Hardy's iconic presence gave an incredible sonority to an event which being on the Remembrance Sunday World War 1 centenary, was particularly poignant.
Bristol Museum & Art Gallery is a beautiful venue and their support and that of Bristol 2014 ensured the organisation of the day was very smooth.

Lydbrook Band has been brilliant to work with and gave a very special performance and Ian has a wonderful ability to interpret the music and also to lead an occasion such as this.
We were also honoured by the surprise presence of two of Isaac Rosenberg's relatives at the performance.
I am very grateful for everyone's support with the project and privileged as a composer to be a part of such an important day.
I hope very much that 'Silver Rose' will be performed many more times during these commemorative years; there has already been some further interest shown which is great.
---
Chris Thomas: Finally: What other projects do you have in the near future and do you see yourself writing more brass band music, including perhaps a more substantial work?
Liz Lane: I am currently working on a 45 minute oratorio for the St Alban's Choral Society and a short Spanish-influenced work for an ensemble in the USA.

I'm also in the early planning stages with Lydbrook to write for their Proms in the Park event next summer.
I would absolutely love to write much more brass band music in the future, definitely including a more substantial work such as a test piece. I'm just waiting for someone to ask me!
---
Chris Thomas: Now there's an opportunity for an enterprising band or contest organiser!

Thanks for talking to us Liz. We wish you well.
---
More information:
More information on Liz Lane can be found on her website:http://www.lizlane.co.uk with various recordings being available for listening on her Soundcloud page