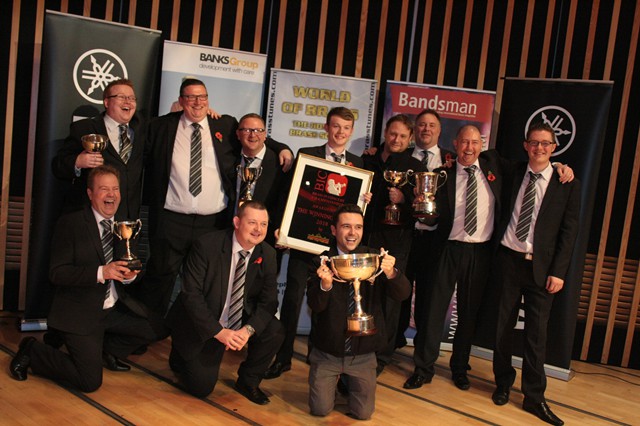 Waiting for the celebratory after effects of victory...

The after effects of hangovers can be of two distinct types.
The celebratory short term ache of throbbing temples will certainly have been felt by the players and supporters of Grimethorpe Colliery Band, after their long awaited 16th title success at Brass in Concert.
Meanwhile, the contest management team were left with more lasting DT palpitations over how in future they continue to serve their punters a heady, yet coherent 'free of artistic restriction' cocktail mix made up of five very different shots of adjudication ingredients.
Curious headache

Grimethorpe won't have minded nursing their sore heads with an extra pack or two of Neurofen on Monday morning, but the organisers may well have needed something a little stronger to rid themselves of a curious headache of their own making.
To be fair, not even Nucky Thompson in 'Boardwalk Empire' could to come up with a perfect mix of bootleg liquor to satisfy the taste buds of all his prohibition clientele, so no wonder Brass in Concert still suffers a few after effect troubles following the introduction of its commendably innovative 'Mission Objective' hooch in 2012.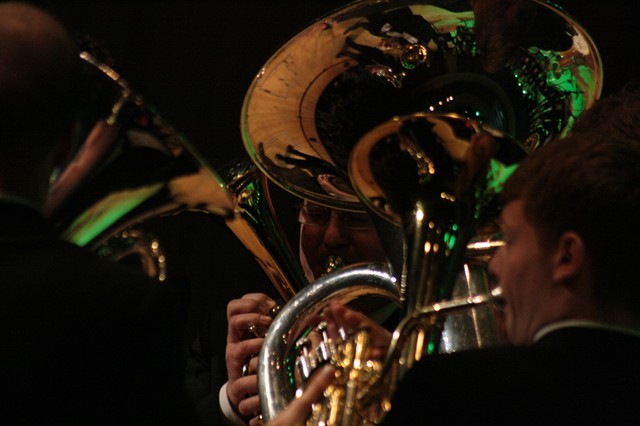 Closing in on a 16th title...

Current tipple

The strength of the current tipple aimed to be served in the Brass in Concert establishment is clear enough (and it was intoxicatingly good at times on the weekend) - even if it can sound un-necessarily complex when ordering it up on the customer's bar bill.
It states: 'The Brass in Concert Championship strives to provide a platform for the finest brass bands in the world to display, free of artistic restriction, their excellence as performers of high quality original and arranged brass band music, through programmes and presentation reflecting the most current and progressive form of the genre and designed to appeal to both the general listener and aficionados of the discipline.'
Ingredients

However, that 'ethos' is distilled with ingredients that include two major 'shots' of 'Quality of Performance' - with the judges instructed 'to disregard aspects of programme content and entertainment and presentation value'.

Add to that one high strength nip of 'Programme Content' that '...takes into account various aspects including concept, quality of compositions and arrangements, programme balance, musical invention, innovation and level of input that has been made to deliver the band's overall presentation'.

It's rounded off with two low alcohol slugs of 'Entertainment & Presentation', which, '...will take into account audience reaction, input and engagement, presentation, entertainment, impact and use of application of facilities and resources. They will not be concerned with the quality of playing except as it effects their enjoyment of the programme.'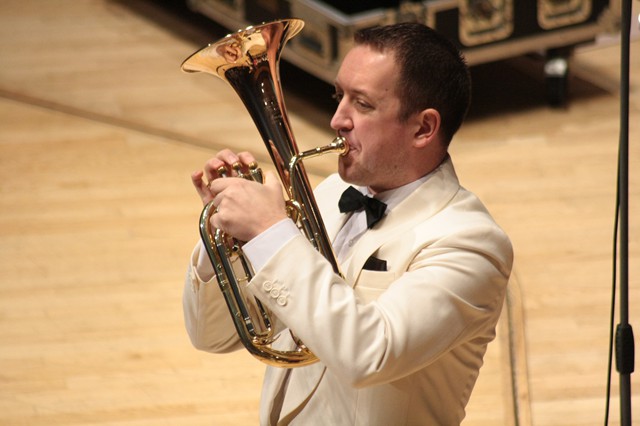 Horn of plenty: Owen Farr in top form with Cory

Imbibers

No wonder it's a potential recipe for sore heads - especially with over enthusiastic audience imbibers (who don't read the excellent progamme) or temperance tempered conductors (who don't read the excellent guidance notes from the organsiers) - and especially if the judges themselves are tempted to reveal to the bands in their written remarks that they have had a sneaky sip of the ingredients not in their carefully prescribed optics.
It certainly hasn't yet left a bitter taste in the mouth - but a few of the contenders were left wondering if the owners need to issue a reminder to their 'bar staff' of just what they are trying to achieve in their high class entertainment establishment.
Knuckle dusters

Nucky Thompson would get out the knuckle dusters. The hard working BiC management team may have to do with a 'refresher course' that more coherently links together the two eminently workable elements of its mission statement and adjudication process.

It's certainly not broken (and is admirably transparent) - but it may well need a focussed tweak or two.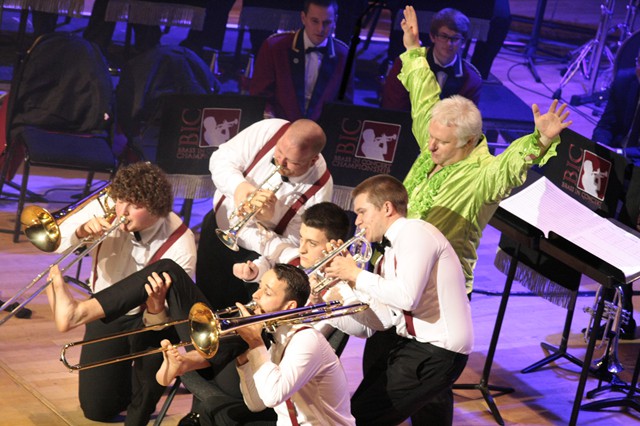 Look. No hands - but feet! Tredegar's Lonely Boy and friends...

Bemusement

It is required, as some contenders were left wondering just how their performances elicited such varied responses, whilst it may also account for the obvious touch of audience bemusement that surrounded the announcement of category placings, which were at times accompanied by the uncomfortable sound of laughter and a couple of boos.
A computer glitch and a missing piece of script are easily fixed though - but it did highlight the need to keep explaining to bands, conductors, judges and audience, what Brass in Concert is now all about.
No Grimey worries

That won't worry Grimethorpe (although it has done in the past) who were worthy winners - the numerical clarity of the results told you that (two first places, two podium slots and a fourth).
A brave, evocatively 'Lest We Forget' theme by Dr Robert Childs was so solidly delivered; five new works that were nothing too extravagant, too left field or too taxing.

On a day when other contender's ingredients brought a wince to the judging eyes and ears, the cleverly chosen content allied to the thoughtful images of sacrifice and remembrance gained a collective, reflective adjudication response.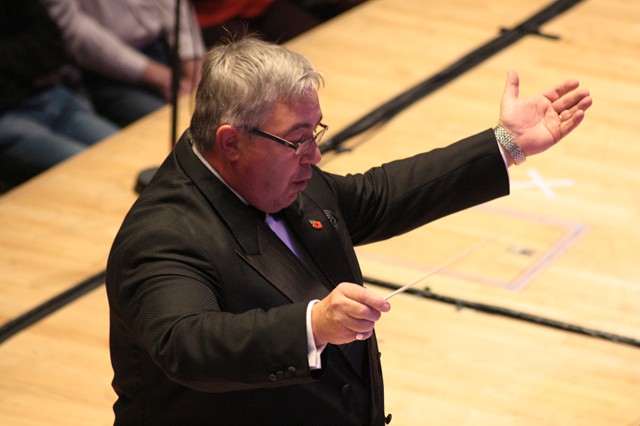 In control: Dr Robert Childs leading Grimethorpe to major success again

High impact

Both Cory and Tredegar will have wondered quite why their high impact programmes were left a margin behind on this occasion (Frank Renton revealing that Grimethorpe could not be beaten even before the final announcement of Alan Morrisons's marks), but it seems their more potent musical cocktails where just a little too piquant for all five judge's tastes - even if the audience did lap them up.
They remain the two bands with perhaps the clearest appreciation of the Brass in Concert mission statement and how to implement it (although each topped just one judge's preference list), although this year they were certainly joined by Grimethorpe and a resurgent Fairey, who finally came to the party with their own bottle or two of 'Jägerbomb' musical magic in their cases instead of old operatic plonk.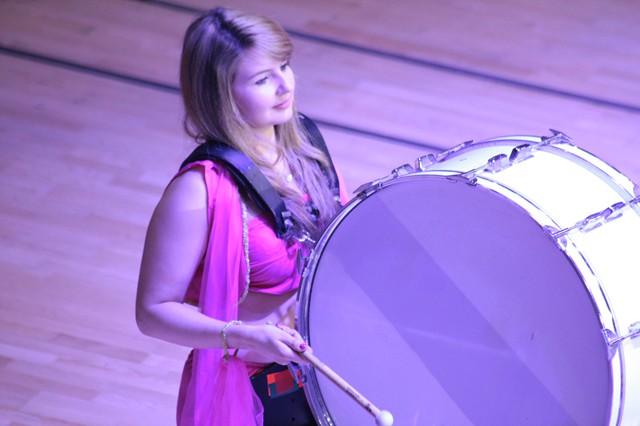 An exotic tipple for Foden's....

Essence of figs

Flowers fine season was rounded off with yet another confident delivered performance (although it didn't really resonate with the entertainment judges), whilst Foden's produced a Nordic/Arabic curiosity that seemed to be flavored with a mix of pickled herring and essence of figs.
It's not often Allan Withington misses a trick, but on this occasion it seemed just one person in the hall (entertainment judge Jo Wheeler) licked their lips in complete satisfaction after a swig of their exotic tipple, which came with a lack of audience friendly drinking instructions.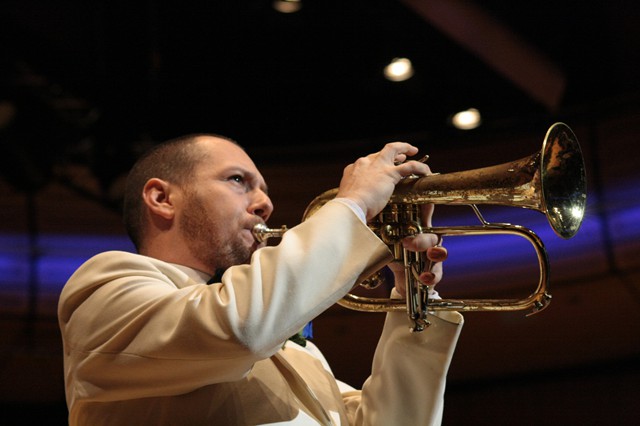 Not quite celebratory Blue Moons for John Doyle and Leyland this year

Feeling orange and blue

The 'Orange' flavoured Dutch of Schoonhoven will have headed home a little bemused by the outcome of their debut appearance. Winning the 'Best Entertainment Prize' was a bonus - but perhaps not the one they were expecting after delivering a high class 'South African Symphony'.
Meanwhile, Richard Evans and Leyland did their best to encourage a sense of collective excitement in their 'Blue' inspired set, but didn't quite have their usual sparkle, whilst Carlton Main's brave commitment to contemporary musical content saw them find a real fan in Paul Cosh - and a resultant jump up the results table to end ninth.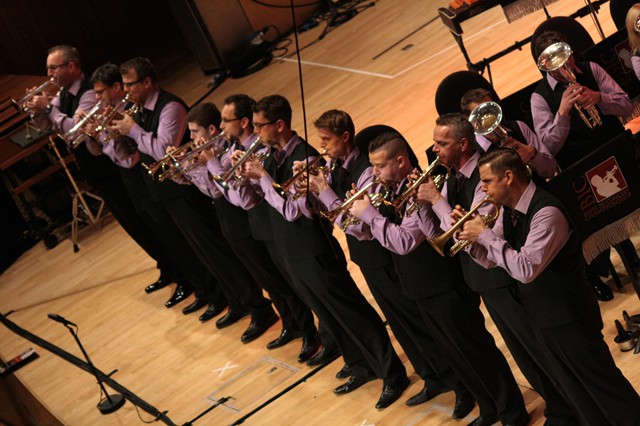 Dutch line up - as Schoonhoven impress on their debuts

Off the pace

No real complaints from Florida, Woodfalls or Virtuosi GUS on this occasion.
The Americans were brash, exciting and very loud (but still the only band that could swing) to end tenth with a set that cried out for contrast, whilst Woodfalls and Virtuosi GUS may not get a chance to redeem themselves for a year or two to come after choosing some pretty dated repertoire. Both were rather surprisingly way off the pace.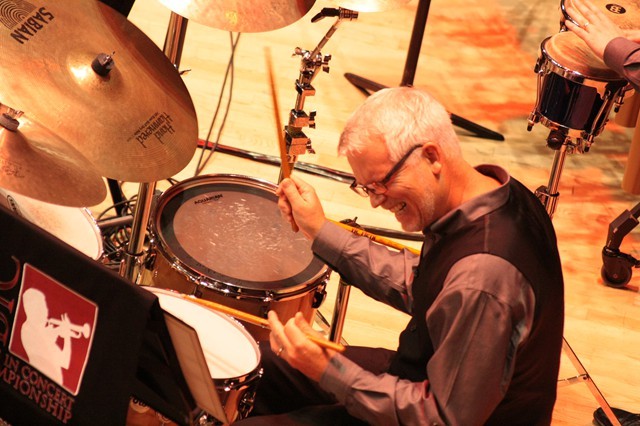 The finest swinger in town: The great Rich Sweat on drums with Florida

With the contest day starting at 9.00am but finishing at an hour that allowed for a few well earned celebration or commiseration beverages, the outcome of the 2014 Brass in Concert Championship was discussed and debated long into the Gateshead night.
Grimethorpe players may well have awoken on Monday morning nursing sore heads - but it would have been a price well worth paying for a return to the winner's enclosure at a major championship for the first time since 2010.
For the Brass in Concert management team, it was also a price worth paying too - especially if a wonderful event can carry on persuading its punters, bands and conductors that it remains fully committed to making its competition cocktail mix as palatable to everyone's taste buds as possible.
Iwan Fox