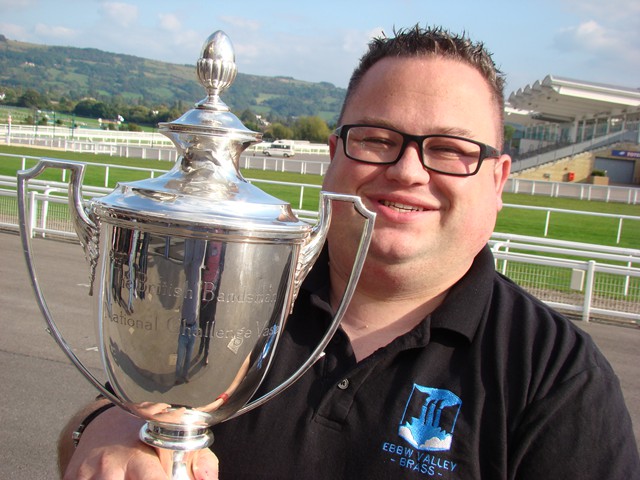 The supreme leader: Comrade Ritter and his band remain unchallenged again

The Third Section National Final certainly had all the potential to be an intriguing, multi-rival battle for Russian inspired supremacy.
However, in the end it turned out to be the type of musical coup d'état, that would have made even Comrade Stalin green with envy.
Authority

For the second year in a row Ebbw Valley simply rolled their considerable array of forces into Cheltenham's leafy suburbs, headed for the Centaur politburo and waited for someone to challenge their authority.
Nobody did. This was as clear cut a victory as any band could have hoped to achieve. The Welsh champion had won by the type of margin usually seen when the votes are totted up from Kremlin ballot boxes.
It was something that wasn't lost on the judges either, as Mike Kilroy and John Winterflood delivered their clear, hard hitting assessments on what they had heard for over five hours on 'Symphony for Brass'.
Fidel Castro

Thankfully, Mike didn't go into Fidel Castro mode on this occasion with his pre-results speech, but he was just as forthright and passionate with his accurate observations.
Meanwhile, John added an equally perceptive addendum; although it must have been a hard old task for the duo to place the rest of the misfiring rivals in some sort of order after Ebbw Valley played so imposingly off the number 10 draw.
In the other competitor's defence, a difficult, rather staid set work (which had certainly lost a great deal of its quintet flexibility and optimism in being bulked up) did pose significant problems for soloists and ensemble alike.
However, just as in the Fourth Section, it was the poor application of basic fundamentals that undermined many efforts - right from the opening ten bar stanza.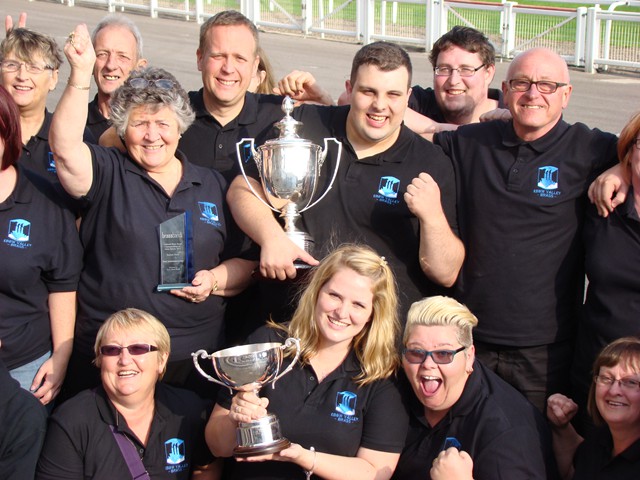 Ebbw Valley's musical troops

Minor tones

That said, the rather predictable development of Michael Hopkinson's arrangement allowed little scope for the MDs to try and bring an extra sheen of colour and texture (other than more shades of grim Russian melancholy) to the minor intoned sombreness.
As much as some tried, it was never going to be a piece that would put a smile on even the most committed revolutionary's face - and it showed.
The prize winners emphasised their qualities thanks to sensible approaches by their MDs in terms of dynamic contrast and tempo, whilst the winner was a class apart. The rest just weren't inspired at all - even resorting to a bit of misplaced CD plagiarism according to Mike.
Dissatisfaction

It was an approach that certainly frustrated the men in the box.
It's not often you hear the admirably diplomatic Mike Kilroy show his dissatisfaction so openly; but you could sense his frustration when he said 'it was not appreciated'. John also breathed a deep sigh of resignation before describing the intermittent percussion and lack of dynamic contrast that blighted so many performances.
Only the bravest of those in the hall who'd heard all the renditions of Victor Ewald's 'Symphony for Brass' could disagree with their findings. If they had been in the old Soviet Union you suspect the two judges would have been recommending a few years in the Siberian gulags for some of the MDs.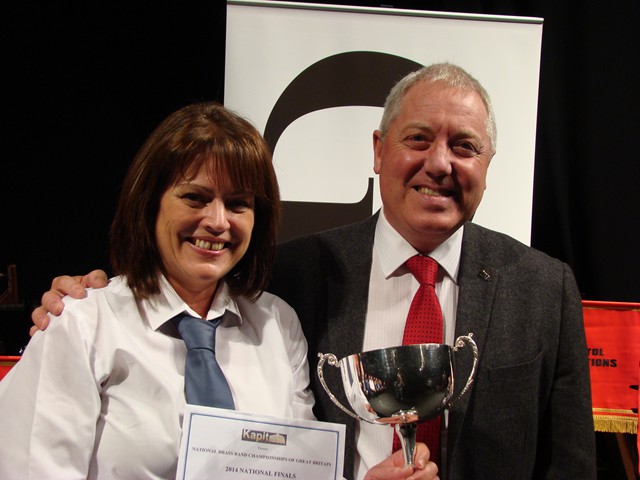 Dunaskin delight in second place

No arguement

Not so Ebbw Valley, who emerged triumphant after delivering the type of performance which brokered little or no opposing title winning argument from opposing rivals.
Gareth Ritter's supremely confident band did all that was asked of them (despite a couple of noticeable little clips here and there) - thanks to a finely shaped reading of the score that retained its sense of chilly spirit without ever becoming overtly dour or depressing.
Neat balance contrasts, flexible tempo nuances and well shaped phrasing stood out - as did the quality of the main soloists - especially Kevin Moxon, who deservedly took the 'Best Instrumentalist' award.
There is no doubt that they could return next year and make it three victories in a row.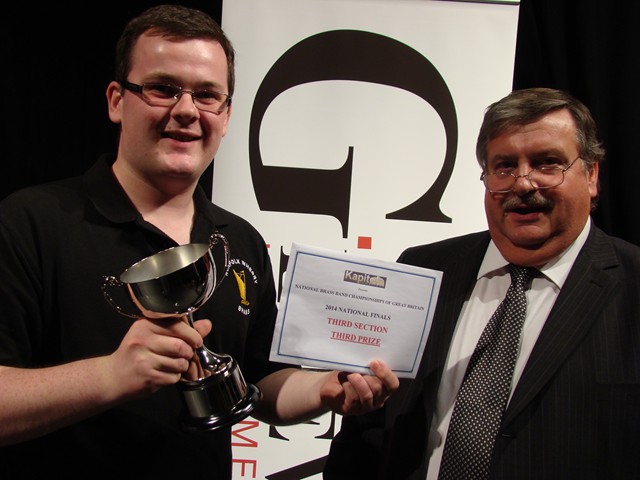 Great step up in class for Norfolk Wherry

Podium recognition

The winners aside, there was a real scrap for the remaining podium places, with a veritable 'draw full' of contenders battling for podium recognition from the men in the box.
Many pundits fancied the confidence of Dinnington Colliery, the growing potential of Old Hall and the pacy excitement of Foss Dyke.
And whilst their efforts may have caught the ears of fans and even the press contingent, Messers Kilroy and Winterflood were not so easily swayed - placing them 13th, 10th and 7th respectively: On such inconsistencies of execution and varied interpretations are such inconsistent and varied results made.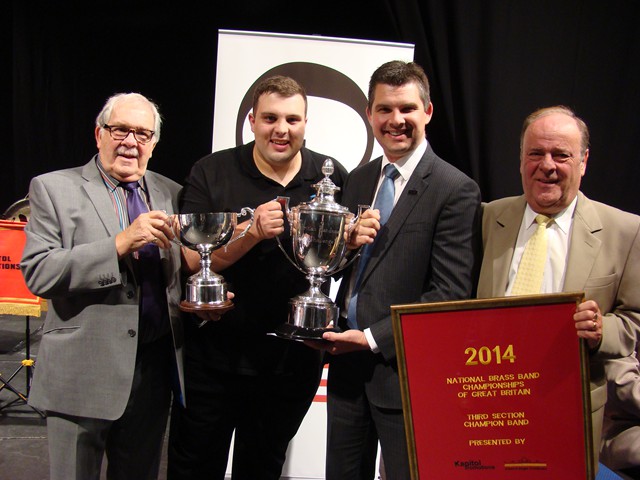 Ebbw Valley meet the members of the politbouro

Delighted Dunaskin

In the end, it was the delighted Dunaskin Doon who rescued dented Scottish pride on what was another pretty depressing raiding party south of the border for the nation's representatives.
Their well set out approach under Gary Williams resonated with the judges to end runner-up, whilst former Fourth Section National champion Norfolk Wherry showed that they had certainly made the step up in class since winning the Fourth Section in 2012, by coming a deserved third under Andrew Craze.
Varied standard

Given the judges remarks it was hard to disagree with the remaining top six places for Rushden and Grimesdyke: They gave them what they wanted, even if it was at times a little strained and inconsistent.
Behind them the standard varied greatly - with so many performances blighted by nerves, poor intonation and simple, avoidable errors. Brave efforts were simply shot through with damaging errors and slips.
'Symphony of Brass' may not have been the most uplifting of musical fayre, but at times it was played as if accompanying the funeral cortege of an old Soviet Union leader.
For Ebbw Valley though it was more like a Red Square May Day celebration - with the contest super power of the lower sections in no mood it seems to end their tenure as its supreme leader any time soon.
Malcolm Wood