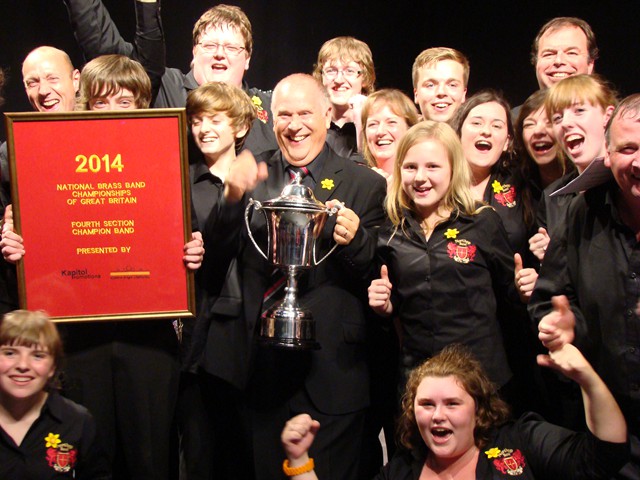 No disappointment for champions Northop

For the first time in many years, the Fourth Section National Final was a disappointment.
And although the remarkably, almost freshly minted Northop Brass continued the Welsh domination of the event with their uplifting victory, the lasting impression of a highly inconsistent contest was of far too many bands failing to produce performances built on fundamental brass banding basics.
Difficult to understand

And as the adjudicators Tom Davoren and Mark Wilkinson confirmed; it was difficult to understand why.
Geoffrey Burgon's set work was certainly tricky, but should have been well within the scope of what on paper looked like 19 well led, confident bands.
Parsley

Instead, this was far too often a 'Narnia' of misplaced ideas, scruffy entries and poor tuning - as if the wardrobe had been made at MFI, the Witch came from Wookey Hole and the Lion was more Parsley than Aslan.
As hard as the bands tried (and there were plenty of battling efforts) the MDs simply didn't seem to be inspired by the storyline (which was a bit arse-backwards it must be said): As a result, the players all too often simply didn't seem to be inspired by their MDs efforts either.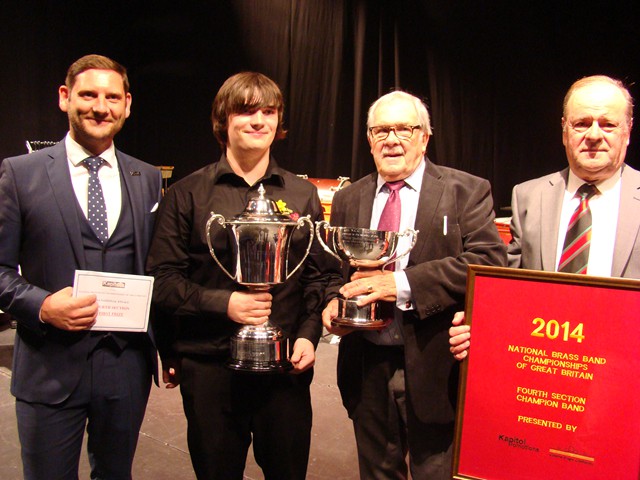 Another win for Wales as Northop claim the title

Crackanory

Perhaps bands (and especially young players) don't perform this music often enough; its lyrical lines, obvious classical ciphers and elegant architecture (even the battle scenes sounded as if run by Queensbury Rules) lacking the vivid excitement of the First Section work, 'A King's Lie' and its popular filmatic ilk.
Youngsters tend to get excited nowadays by Paul Lovatt-Cooper and Transformers not CS Lewis and religious morality tales.
It has to be said, 'Narnia Suite' sounded very much of its time: A 1950's tale of Christian worthiness that lacked even a touch of evangelical fire and brimstone - a Sunday School story read to you by Felicity Kendall, rather than a 'Crackanory' tale told by Rik Mayall.
It still should have been played better though.
Generous

Tom Davoren and Mark Wilkinson were generous and diplomatic with their on stage comments, but the content of their précis's revealed the stark truth:
Those who didn't manage to put the basics in place (balanced ensemble, dynamic contrast, good intonation and rhythmic pulse as Tom said) found their chances of success shooting out of the Narnia cupboard faster than Dale Winton dressing up for a night out at a Judy Garland tribute act.
Those that did (and the winners in particular according to the duo) found themselves facing the banding paparazzi with trophies in their hands.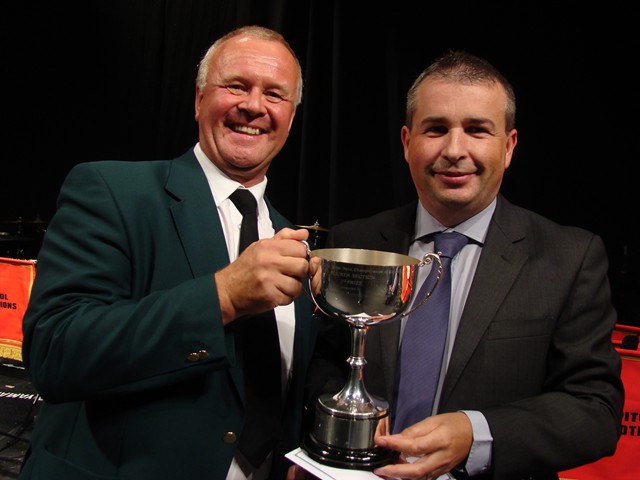 North Skelton smiles as they claim the runner-up prize

Thoughts

The judges also revealed that what they had initially thought before they entered the tent could be a very close contest to judge, in fact turned out to be quite an easy one. And that more than anything left them feeling disappointed the most.
The top three were a clear margin ahead of the field for them - with the winner a good neck in front in the race for the Cheltenham finishing line. The rest of the top six places were a furlong behind, with the remaining rivals some distance back.
Concern

After an encouraging start there may also have been some growing concert in the blue tent as the contest started to unfold into the early afternoon.
After a solid opening from Valley Brass (Haydock), Camborne Junior Contesting Band overcame a nervous start to produce a high energy rendition off the number 2 draw under Alan Pope. It was heading for a podium finish until overtaken in the final stretch by the more mature sounds of a trio of rivals.
After that though, rivals came and went without making an impression behind the polyester barrier - the best being Jubilee Brass (who ended 8th) before North Skelton directed by Dennis Noble produced a bubbly, colourful account (with a cracking flugel contribution from 'Best Instrumentalist' award winner Gavin Brown) just before the break to lead by some margin and eventually finish as runner-up.
Their celebrations in the hotel afterwards were very much of the same variety.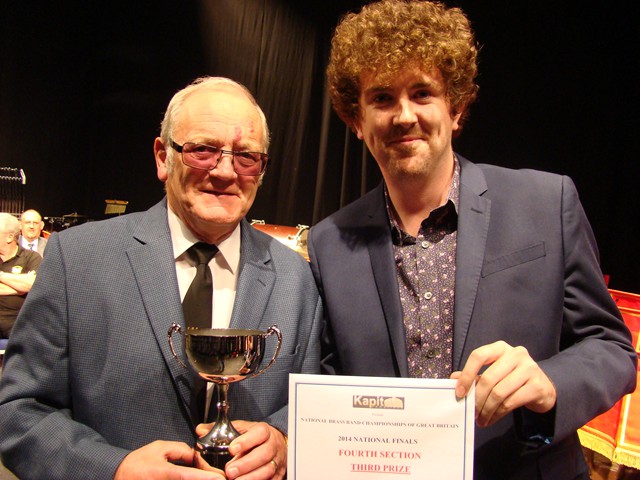 Thanks Tom: Third prize for Fairfield (Buxton)

However, as Tom and Mark enjoyed a quiet cup of tea in the comfort break they must have been wondering if things were going to improve in the second half.
They did - although it took a little while.
Upped the ante

Northop upped the ante considerably with a fine effort under MD David Davies, who seemed noticeably much more comfortable with the Burgon score than others on the day.
Not every quite came off, but the way in which those essential basic requirements were so solidly portrayed (with excellent tuning a feature), ensured that the little touches of stylistic nuance made an even greater impression.
It was beatable - but not by any other rival.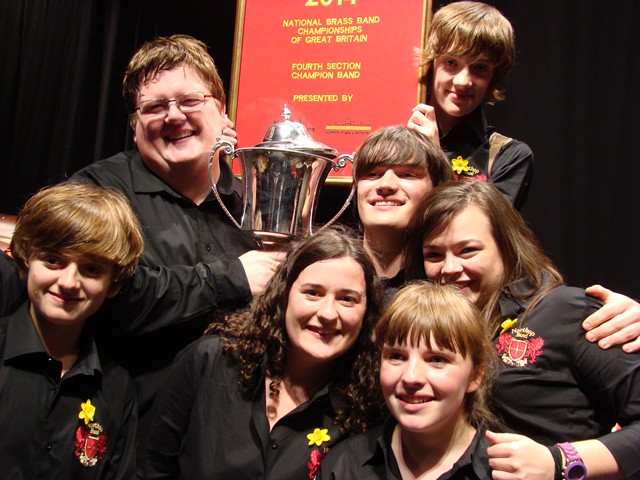 Investment in youth for Northop Brass

Rockingham followed by Corsham give it a bold go - but a few too many little fault lines in those banding basics saw them eventually come fourth and fifth respectively, whilst Fairfield (Buxton) directed with a touch classy brio by Charles Kitchen, gave a fine account of themselves as the penultimate band to come a deserved third.
Compare and contrast

Elsewhere it was the usual tale of compare and contrast - with performances from the likes of Ifton Colliery and Stourport on Severn gaining plaudits from listeners in the hall and the press gang perched in the icy top tier of the hall.
There was no questioning their confident approaches - but on this occasion the boldness coupled with more noticeable slips and wayward intonation cost them dearly.
Despite a host of bands simply not producing the type of performance they would have hoped for, the result was still no forgone conclusion as the amazing youngsters of Porthleven (with 20 teenage players) give it a real fizzer to round off an inconsistent day on a noticeably upbeat note.
Secret of success

There could only be one winner though - and on this occasion it was the remarkable Northop Brass (also packed with youngsters) - formed just a year ago in a bid to encourage long term growth and development of home grown talent for their senior North Wales band.
But as their MD David Davies revealed the secret to their success (two contests two titles) was a mixture of 'hard work and plenty of fun', you couldn't help think that there was also a fair dollop of brass band basic common sense in there too.
Let's hope plenty of others follow their lead in time for Cheltenham next year.
Matthew Shaw