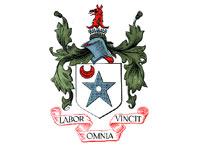 Ashton-under-Lyne
Conductor: Philip Chalk
Website: http://www.ashtonband.com/
The Ashton under Lyne band was reformed in 1996 after a period in the doldrums - and their subsequent resurgence has been nothing short of spectacular.
A trio of National titles from Third to First Section in consecutive years followed, as did Pontins titles and qualification from the Grand Shield to appear at the British Open in 2005 and 2006.
Promotion straight through to the Championship Section saw them just miss out of qualification to the Albert Hall, and although they have since returned to the First Section, they remain one of the North West's most vibrant contesting bands - as seen by their fifth place finish at this year's Senior Cup at Blackpool and victory at the Area contest.
Principal Players:
Principal Cornet: Claire Chalk
Solo Euphonium: Brent Warren
Soprano: Lindsey Marson
Solo Horn: Louise Maden
Principal Trombone: Dave Priestley
Flugel: Janet Lewis
Baritone: Paul Greenwood
Eb Bass: Paul Conchie
Bb Bass: Gary Roylance
Principal Percussionist: Mike Emery
Qualification:
Region: North West
Qualified: Winner
Musical Director: Philip Chalk
Philip Chalk has a well respected reputation as a cornet player and conductor - with a CV that contains some of the finest names and awards in banding on it.
It is the second time that he has conducted the band - the first seeing him lead them to the British Open and to a podium finish in the First Section National Finals in 2005.
In 2006 Phil began studying for his MA in Music Performance and Conducting at Salford University with David King, graduating with distinction in the same year.
Test Piece Views:
We have found the piece a good challenge and we believe this is an excellent choice for the First Section Finals. We are enjoying the music and getting to grips with the technicalities of the piece.
---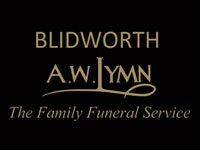 Blidworth Welfare
Conductor: Martin Heartfield
Website: http://www.blidworthwelfareband.co.uk
The band was formed in the 19th century as the Stanton Hill Temperance Band, before becoming the Stanton Hill Silver Prize Band.
A musical merger with Teversal, Silver Hill and Sutton Collieries brought another new name as the Teversal Collieries Band, but on the demise of the mining industry the band moved to Blidworth in 1980, to become Blidworth Colliery Welfare Band and to enjoy continuing contest success.
Principal Players:
Principal Cornet: David Peck
Solo Euphonium: Andy Baldwin
Soprano: Trevor Milner
Solo Horn: Sandra Kowalenko
Principal Trombone: Malcolm Portman
Flugel: Sara Baldwin
Baritone: Dawn Evans
Eb Bass: Jon Wilmot
Bb Bass: Phil Lee
Principal Percussionist: David Dernley

Qualification:
Region: Midlands
Qualified: 3rd (M. Heartfield)
Musical Director: Martin Heartfield
Martin has a long and illustrious career stretching over thirty years in leading brass bands and winning brass band competitions.
Before taking charge at Blidworth Welfare, Martin was MD with Thoresby Colliery, Nottingham City Transport, Aveley and the Welwyn Garden City Bands, with which he enjoyed great success.

Martin encourages young talent within the band and this is reflected in the spread of ages represented in the current line-up. His commitment to youth is confirmed by his position as Deputy Head at the Brunts Academy in Mansfield.
Test Piece Views:
We have really enjoyed preparing this very descriptive piece and the challenge has been to tell a convincing musical story.
---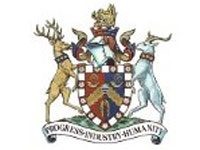 City of Bradford
Conductor: Lee Skipsey
Website: http://www.bradfordbrass.co.uk
The City of Bradford Band was formed in the early 20th century in Saltaire. Having previously been known as the Hammonds Hawley Band and Yorkshire Building Society Concert Brass, it has been contesting under the City of Bradford name since 2010.
Under the direction of MD Lee Skipsey, the band has enjoyed the most successful period in its history, with top-three finishes at four consecutive Yorkshire Area contests (2011-14), three Northern Open titles and an array of trophies from the Whit Friday contests.
The band is no stranger to Cheltenham - having been crowned Third Section National Champion in 2011 and qualifying in the Second Section the following year. This year the band arrives as Yorkshire Area champion, having secured victory at Bradford and topping off a remarkable success story by earning promotion to the Championship Section from 2015.
The band will launch their new BD1 Brass in October, the first of what will hopefully be many new groups under the City of Bradford umbrella.
Principal Players:
Principal Cornet: Rob Westacott
Solo Euphonium: Jolyon Stead
Soprano: Claire Allen
Solo Horn: Alex Crisp
Principal Trombone: Julie Helliwell
Flugel: Claire Westacott
Baritone: Eric Lonsdale
Eb Bass: Kerry Lewis
Bb Bass: Simon Hunter
Principal Percussionist: John Mallinson
Qualification:
Region: Yorkshire
Qualified: Winner
Musical Director: Lee Skipsey
Lee Skipsey started his musical career as a cornet player in the Regent Hall Corps of the Salvation Army, before progressing onto percussion and joining Black Dyke in 2002.
As their principal percussionist, Lee toured the world, performing at prestigious venues in over 20 countries. As a performer, he experienced major contest successes including two British Open and three National Championship crowns. The pinnacle of his Black Dyke career was being awarded 'Player of the Year' in 2006.
Lee became MD of City of Bradford Brass in 2010, at a time when the band's future looked uncertain.
Within six months of his arrival, they had secured their first contest victory for several years at the Northern Open Outstanding successes followed, with the band now poised to make the move to the Championship Section.
In addition to his success with City of Bradford, Lee is the professional conductor of Newtongrange Band, leading them to victories at the Scottish Championships and Senior Trophy.
Test Piece Views:
A sure test of music-making throughout, with so much to admire.
---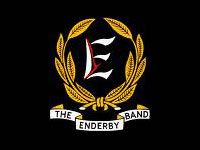 Enderby
Conductor: Simon Jones
Website: http://www.enderbyband.co.uk/
The Enderby Band was formed in 1895, although records of a band in Enderby apparently date back to the mid 1850s.
The band enjoyed considerable success in the 1930s but after a considerable period in the doldrums when they almost folded on several occasions, the band was resurrected in the mid 1970s.
Enderby has now grown into the highly respected organisation - a thriving community set up that that also contains a Junior Band, a highly successful Youth Band, a non contesting brass Concert Band, and a Wind Band.
Enderby is proud of the high standards they have sustained over number of years, having never been ranked lower than the First Section since it was created in 1992. A sign of the high regard in which the band is held in Leicestershire is the invitation to play a leading role in the County's official commemoration of the First World War at Leicester's Curve Theatre.

The band have enjoyed significant contest success in the past year - most notably winning the First Section at the Leicestershire BBA contest last November, and becoming Midland First Section Champion for the first time in their history in March.

Principal Players:
Principal Cornet: Trevor Hounsome
Solo Euphonium: Chris Small
Soprano: Lee Rogers
Solo Horn: Robert Foulds
Principal Trombone: Neil Brownless
Flugel: Ian Hayto
Baritone: Chris Stanley
Eb Bass: Danielle Thomas
Bb Bass: Andy Miller
Principal Percussionist: John McDonough
Qualification:
Region: Mildands
Qualified: Winner
Musical Director: Simon Jones
Originally from a small brass banding community close to Manchester, Simon's introduction to banding was playing tenor horn with his local town band aged 12.

He went onto study music at Salford University and subsequently relocated to London to further a professional career outside music.
Throughout this time, Simon has remained extremely involved and dedicated to the movement: playing and conducting bands across all sections and attending several conducting courses/competitions in UK and abroad.
He continues to balance his playing and increasing conducting commitments with those of his work.

Following relocation to the Midlands in 2013, Simon became Musical Director of both Gresley Colliery and Enderby Bands.

Test Piece Views:
The players have enjoyed rehearsing 'A King's Lie'. Every part has some significant technical challenges for individuals, with the complexities of the ensemble writing making for some intense and intricate rehearsals.
---
Filton Concert Brass
Conductor: Tom Davoren
Website: http://filtonconcertbrass.weebly.com
Filton Concert Brass was formed 40 years ago by Jim Scott as the Avon School of Music Band. It was formed as a place for training and nurturing local brass players, many of whom are still playing with bands in the area.
Sadly, Jim passed away earlier in the year, shortly after the band had assured its place in next year's Championship Section for the first time in its history and so making it Bristol's highest ranked band.
Filton meets regularly on Wednesday nights as a smaller brass ensemble, performing at concerts and functions in the local community, but also comes together as a contesting band twice yearly for specific projects.
This, together with the continued strengthening of the band, has led to their growing success in recent years.
Principal Players:
Principal Cornet: Kevin Darby
Solo Euphonium: Anthony Smith
Soprano: Chris Howley
Solo Horn: Stewart Crawford
Principal Trombone: Andrew Norman
Flugel: Tim Malpas
Baritone: Philip James
Eb Bass: Oliver Browne
Bb Bass: Jon Daw
Principal Percussionist: Nathan Cole
Qualification:
Region: West of England
Qualified: Winner
Musical Director: Tom Davoren
Tom has developed a well earned reputation as an exciting brass-wind composer; his music commissioned by leading bands, world class performing artists and national championships throughout the globe.
He is the Reviews Editor of Brass Band World magazine and is a conductor with a successful pedigree in the UK, working with the likes of BTM, Filton and Desford Colliery Bands.

In 2013 he was welcomed into the Association of Brass Band Adjudicators, officiating over contests including the Swiss Solo Quartet Championship, National Eisteddfod of Wales, Whit Friday and National Championship of Great Britain.

Tom holds Bachelors and Masters degrees, having studied at the RWCMD and Cardiff University.
In 2009/10 he was awarded a coveted research scholarship from the AHRC and the Welsh Livery Guild Composition Award. He is also a BASCA British Composer Award nominee, a prizewinner at the EBBA European Composers Competition and recipient of a Harvey Phillips Award for excellence in composition, presented by the International Tuba Euphonium Association.
Test Piece Views:
'A King's Lie' is both a fantastic challenge for performers and an enjoyable listen. Stan's unique voice effectively draws in players and listeners, whilst his microscopic attention to detail presents conductors such a wide degree of interpretive choice. We've grown to love it.
---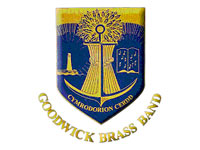 Goodwick Brass
Conductor: Matthew Jenkins
Website: http://www.goodwickbrass.org.uk
Goodwick Brass was originally formed in 1911, although for reasons unknown it later disbanded around 1936.
Fortunately the band was reformed in 1987 by John Evans and since grown from strength to strength, with highly successful senior and youth bands which takes its membership from all over Pembrokeshire.
Goodwick has seen increasing success in the contest and contest platforms, having recently been promoted to the First Section following its National Championship title success and other victories in the past couple of years.
Principal Players:
Principal Cornet: Luke Jenkins
Solo Euphonium: Gareth Trott
Soprano: Kevin Shanklin
Solo Horn: Geraint Harries
Principal Trombone: Nick MacDonald
Flugel: Ffion Williams
Baritone: Ben Stacey
Eb Bass: Aled Meredith-Barrett
Bb Bass: Hywel Davies
Principal Percussionist: Jordan James
Qualification:
Region: Wales
Qualified: 2nd place
Musical Director: Matthew Jenkins
Matthew was a part of many prestigious title-winning performances as a member of the Cory Band while studying at the Royal Welsh College of Music & Drama.
He started playing the euphonium aged eight and worked his way up from Fishguard High School through the county ensembles up to the National Youth Band of Wales and the European Youth Band.
Aged just 27, Matthew reflects the youthful make-up of the Goodwick Band which has only a dozen members currently older than him. He is currently working with his brother Luke, Chairman Tony Evans and Secretary Mike Hughes to secure the future of the band which can look to a steady supply of talent from its Community and Youth Bands.
Test Piece Views:
The band has enjoyed working its way through the test piece. It poses quite a challenge to all sections and is a stark contrast to last year's test piece.
---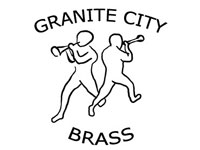 Granite City
Conductor: Bruce Wallace LGSM
Website: http://www.granitecitybrass.co.uk
The band was originally formed in 1850 as the Stoneywood and Auchmill Union Band and comprised members of the several local paper mills.
In 1908, it gained a new name of Stoneywood Brass with rehearsal facilities at the Stoneywood Paper Mill, and in the post-war years they travelled widely to take part in contests, including several trips to the National Finals.
As the percentage of musicians employed by the mill declined, the link was severed, although new rehearsal facilities were offered by UDI, a local off-shore services company which saw the band become UDI Brass.
The years which followed were particularly successful; achieving Championship Section status before merging with Aberdeen City Band to become UDI Aberdeen City Band.
One final name change came in 2004 with Granite City Brass. Since 2005 the band has experienced a period of mixed success in the First and Second Sections. However, the appointment of Bruce Wallace as MD in September 2013 brought a new dynamic and the First Section winner's trophy at this year's Scottish Championship.
Principal Players:
Principal Cornet: Allan Wilson
Solo Euphonium: Lewis Catto
Soprano Cornet: Alan Haggart
Solo Horn: Steven Fraser
Principal Trombone: Kenny Hamilton
Flugel Horn: Jennifer Gourlay
Baritone: James Boulton
EEb Bass: Clive Zwanswiniski
BBb Bass: Andy Paterson
Principal Percussionist: Philip Eost
Qualification:
Region: Scotland
Qualified: Winner
Musical Director: Bruce Wallace
Bruce is a brass instructor with Aberdeenshire Council in the North East of Scotland and is an accomplished trombonist.
He has been training and conducting brass bands, wind bands and other ensembles for some 20 years.
Test Piece Views:
Despite some initial reservations, the piece has grown on the band. Whilst not in a style we are accustomed to playing, it remains musically accessible.
There are a number of technical challenges to overcome and some awkward unison passages to worry about.
---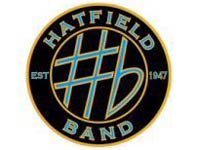 Hatfield
Conductor: Stan Lippeatt
Website: http://www.hatfieldband.co.uk
In 1947 the Hatfield Band was formed by two colliery workers, and was based in Stainforth, seven miles from Doncaster.
In 1950 it became officially known as Hatfield Colliery Band and has since enjoyed considerable successes as well as periods when its outlook was not as bright as it is today.
Principal Players:
Principal Cornet: Tim Pratt
Solo Euphonium: Andy Kennedy
Soprano: Gary Bates
Solo Horn: Christine Lippeatt
Principal Trombone: Ian Kennedy
Flugel: Amy Mondschein
Baritone: Steve Fisher
Eb Bass: Paul Davis
Bb Bass: Robert Brown
Principal Percussionist: Margaret Curran
Qualification:
Region: Yorkshire
Qualified: 2nd place
Musical Director: Stan Lippeatt
Born in Hemsworth, South Yorkshire, Stan was for many years the flugel horn player with Grimethorpe Colliery Band as well as being privileged to have held the same position with Kings of Brass.
His distinguished playing career brought many successes, including the premiere of John Golland's 'Flugel Horn Concerto', a work that he had commissioned.
Stan's conducting career started in 1983 with Grimethorpe Colliery Junior Band before a highly successful spell of 17 years as MD of Thoresby Colliery, which saw the band claim the French Open title and qualify on four occasions for the National Finals.
He has also enjoyed considerable success as a freelance conductor and highly respected adjudicator.
Test Piece Views:
We have enjoyed rehearsing the test piece. It's quite challenging with some interesting rhythms and time signatures. There are some sections that are like a film score which are very enjoyable to play, as well as some lovely quieter sections with wonderful chord progressions.
---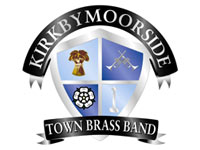 Kirbymoorside Town
Conductor: John Woodward
Website: Not given
The band can trace its existence back to 1856 and perhaps as far back as 1815.
This will be Kirkbymoorside's first appearance at the National Finals since 2008 when they claimed a podium finish under MD John Woodward.
The band has however enjoyed many contest successes over the years and continues to play an active role in the musical life of its local community.
Principal Players:
Principal Cornet:
Solo Euphonium:
Soprano:
Solo Horn:
Principal Trombone:
Flugel:
Baritone:
Eb Bass:
Bb Bass:
Principal Percussionist:
Qualification:
Region: North of England
Qualified: 2nd place
Musical Director: John Woodward
John Woodward started playing the tenor horn with Kirkbymoorside in 1958. Over the years he played solo horn, baritone, euphonium, trombone and bass trombone.

In 1970 he joined the Kippax Band, but in 1974 he returned to Kirkbymoorside. The following year he volunteered to tutor the young players and develop the Junior Band and was appointed Deputy Bandmaster, a post he held for 17 years.

In 1992 he was appointed Bandmaster to the senior band and under his baton they have enjoyed a long period of success and have maintained a high standard of playing.
Test Piece Views:
None given
---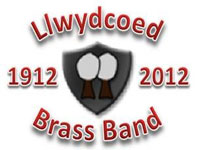 Llwydcoed
Conductor: Chris Turner
Website: Not given
The Llwydcoed Band was formed in 1912 and celebrated its centenary in 2012 with a visit to Ravensburg in Germany.
At the start of 2014 the Cynon Valley could once again boast a top flight band as Llwydcoed secured the Welsh League First Section title to gain promotion to the Championship Section.
In February this year the band took to the stage for the Welsh Miners Open Entertainment Contest in Porthcawl, which saw the start of a new conducting partnership with MD, Christopher Turner.
The band then went on to win the Welsh Area First Section in Llandudno under the baton of David Childs (with Chris playing principal cornet) and recently claimed a podium finish at the Weston contest.
Principal Players:
Principal Cornet: Nicholas Brill
Solo Euphonium: Darren Morris
Soprano: Ian Johnson
Solo Horn: Ross Dunne
Principal Trombone , Mark Wilkes
Flugel : Sian Drew
Baritone: Chris Johnson
Eb Bass : David Groves
Bb Bass: Dene-Paul Stephens
Principal Percussionist: James Harrison
Qualification:
Region: Wales
Qualified: Winner
Musical Director: Chris Turner
Chris hails from the Welsh village of Briton Ferry. He began his musical career playing cornet for the local band and West Glamorgan Music Ensembles where he came under the guidance of Tony Small and Andy George.
In 1989 he became a member of the National Youth Band of Wales, working his way to become principal cornet, but it was his trumpet playing that led to him to move to London where studied at Trinity College of Music.
During this time Chris was the winner of the Phillip Jones Brass Ensemble Prize twice and the John Burden Soloist Prize.
He completed his musical studies as a postgraduate at the Guildhall School of Music & Drama and since 2000 has returned to his brass band roots, playing with the likes of Black Dyke, Brighouse & Rastrick and most notably Cory with whom he performed for a decade with great distinction winning every major championship honour.
Chris joined the Gwent Music Support Service as a peripatetic brass teacher in 2005 becoming a tutor organiser in 2006. He is also the cornet tutor at the Royal Welsh College of Music & Drama and has been tutor on the National Youth Band of Wales.
Test Piece Views:
'A King's Lie' is a great test for the First Section. The piece is multi-layered and will be popular with players and audience alike.
It contains exciting and interesting music in lots of different styles and beautiful slow music, giving the band the chance to express themselves. It is a breath of fresh air.
---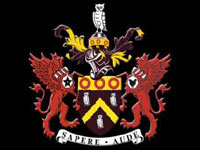 Oldham Band (Lees)
Conductor: John Collins
Website: http://www.oldhamband.co.uk/
The Oldham Band (Lees) was formed in 2004 when the nine remaining players from Oldham Brass '97 joined forces with John Collins and members of Bare Trees Community Band to start competing in the Fourth Section.
The success of the band has since been nothing short of remarkable - with this, its sixth National Finals appearance. They have taken part in 50 contests, finishing in the top three 34 times with 24 victories.
This year they won the First Section at the Brass at the Guild contest and followed it with second place at the North West Area contest to gain promotion to the Championship Section in 2015.
In June, the band enjoyed another successful Whit Friday to come third overall locally behind Championship Section rivals Marsden and Milnrow.
Principal Players:
Principal Cornet: Grant Taylor
Solo Euphonium: Harrison Heeley
Soprano: Robin Ballantyne
Solo Horn: Chris Sanders
Principal Trombone: Ellena Newton
Flugel: Toni Heywood
Baritone: Catherine Cordwell
Eb Bass: Joshua Flynn
Bb Bass: Will Jordan
Principal Percussionist: Alex Temple-Heald
Qualification:
Region: North West
Qualified: 2nd place
Musical Director: John Collins
John Collins started playing the euphonium when he was seven in order to help him control his asthma, and went on to play with many local bands including Uppermill, Todmorden and Dobcross Silver.
Whilst teaching at Bare Trees Junior School in Chadderton, he started a brass ensemble from scratch with six old Salvation Army instruments. Very quickly this grew into a wind band and because the young people did not want to leave, it developed into a community band and then a youth brass band.
Test Piece Views:
The band has enjoyed working on this piece, which, although not too technically demanding, is full of detail and contains great percussion parts.
The love story behind the piece gives great insight into the composer's intentions.
---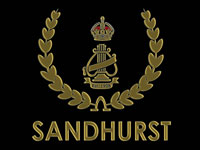 Sandhurst Silver
Conductor: Ian McElligott
Website: http://www.sandhurstband.co.uk/
Sandhurst Silver Band was formed in 1908 by the Coombs family, and in its early days musicians largely came from Sandhurst's Royal Military Academy.
During the 1920′s Sandhurst Silver competed in National Championships for free – the income going to cover expenses such as purchase and maintenance of instruments and uniforms, and rates for the bandroom.
More recently; Roger Burke, MD from 1995 to 2007, took the band to a number of contest successes and in 2001 they won through to the Fourth Section National Finals - the first of five consecutive qualifications.
Under the baton of current MD Ian McElligott, the band continues to thrive and progress to a high standard with its debut in the Championship Section in 2010, and its return there again in 2015.
Principal Players:
Principal Cornet: Chris Atchley
Solo Euphonium: Matt Spriggs
Soprano: Bryan Herman
Solo Horn: Antony Steven
Principal Trombone: Nigel Howard
Flugel: Carol Porter
Baritone: Graham McKillop
Eb Bass: Nick Collier
Bb Bass: Pat Donovan
Principal Percussionist: Nick Cornock
Qualification:
Region: London & Southern Counties
Qualified: Winner
Musical Director: Ian McElligott
Sandhurst Silver Band's Musical Director is Ian McElligott. Well known in banding circles, Ian has conducted top names such as Grimethorpe, Brighouse & Rastrick, Desford Colliery, Scottish Co-op and Thoresby Colliery Bands since leaving the army as Director of Music to the Band of HM Coldstream Guards in 2001.

Ian led Sandhurst to a prizewinning performance at the 2007 SCABA Autumn Contest in Folkestone in his first ever engagement and has since led them to the First Section National Finals in 2009 and promotion to the Championship Section in 2010, and again in 2015.

Test Piece Views:
Every band is on a level playing field with this piece, so it's down to the conductors to come up with their own interpretation.
It's a great work with some stunning solo lines – and a great test for bands! We just feel sorry for the percussion….we have never seen so many players needed!
---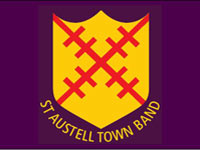 St Austell
Conductor: Steve Sykes
Website: http://www.staustelltownband.co.uk
The St Austell Saxhorn Band was formed in 1838 and in the early 1900s was reformed as the St Austell Territorial Band, changing its name to the St Austell Town Band in 1912 before competing in the first West of England Bandsman's Festival (Bugle Contest).
Throughout the 70s, 80s and 90s the band enjoyed numerous contest successes, including fifth place in the Championship Section of the National Finals and wins at the Yeovil Entertainment contest, Pontins and French Open.
In 2002 the band won the West of England Area contest and represented the region in the First Section National Finals where they were placed third. St Austell returned to the Championship Section in 2003 and in 2005 qualified for the National Finals at the Royal Albert Hall.
After being relegated to the First Section in 2013, the band won the historic Bugle contest in its centenary year and has since become the reigning Cornish Champion.
The band's second placed performance at Torquay this year earned another National qualification and promotion to the Championship Section for 2015.
Principal Players:
Principal Cornet: Hannah Hawken
Solo Euphonium: Paul Smith
Soprano: Rachel Whitaker
Solo Horn: Tom Howard
Principal Trombone: Graham Hooper
Flugel: Yasmin Stevens
Baritone: Viv Hawkey
Eb Bass: Gavin Rowe
Bb Bass: Ben Minear
Qualification:
Region: South West
Qualified: 2nd place
Musical Director: Steve Sykes
As one of the finest conductors and tuba players in the world, Steve Sykes needs little introduction.
His playing career started with Carlton Main Frickley Colliery and he has since become a world renowned performer and conductor, directing bands at all major championships and playing with many of the world's finest bands as a player and soloist.
He has performed with the likes of the U.S. Army Orchestra, Chicago Staff Band and UNC Symphonic Wind Ensemble, and shared a solo stage with jazz greats Bill Watrous and Arturo Sandoval. In 2002 he presented a solo recital at the Royal Albert Hall.
He regularly appears as an adjudicator at leading music festivals throughout Britain, North America, Norway and Switzerland.
Test Piece Views:
None given
---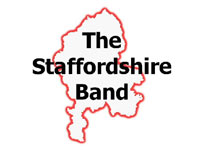 Staffordshire
Conductor: Leigh Baker
Website: http://www.thestaffordshireband.com/
The Staffordshire Band can trace its roots back to before the turn of the last century, when it was known as the Walsall Wood Institute Temperance Band.
Since that time it has enjoyed a great deal of success under a number of different names, but can boast numerous contest victories at the highest level, including the Midlands Area Championship, Pontins, Buxton, Senior Trophy and at the First Section National Finals in 2002.
The band has gained a fine reputation on the concert stage and has recently accepted an invitation to become the Brass-Band-in-Residence at the prestigious Forest Arts Centre in Walsall.

Principal Players:
Principal Cornet: Adrian Lacey
Solo Euphonium: Mark Lowe
Soprano: Andy Jennings
Solo Horn: Craig Holloway
Principal Trombone: Alan Gifford
Flugel: Izzy Rutherford
Baritone: Richard Corser-Wallace
Eb Bass: Kris Davies
Bb Bass: Martin Barnett
Principal Percussion: Ian Richards
Qualification:
Region: Midlands
Qualified: 2nd place
Musical Director: Leigh Baker
Leigh Baker hails from Melton Mowbray in Leicestershire and began his playing career with the local Melton Borough Band before quickly progressing to Championship Section banding with the Ancient Order of Foresters Band.
After his school education he moved to Huddersfield Polytechnic to study Euphonium Performance and Composition on the BA (Hons) Music Degree course, where he became solo euphonium with the Jayess (Queensbury) Band.
He was the composer in residence at Brighouse & Rastrick, and a playing member for 19 years, and is currently the MD of Carlton Main Frickley Colliery and South Yorkshire Police Bands.
Leigh conducted Staffordshire to victory at the Midlands Area First Section contest (and to qualify again in 2014) and to come runner-up at the First Section National Finals in 2013.
Test Piece Views:
The band finds 'A King's Lie', a very interesting and inventive piece that is sure to test the bands.
---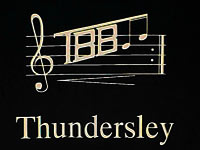 Thundersley Brass
Conductor: Nigel Taken
Website: www.thundersleybrassband.co.uk
Thundersley is situated on the Thames Estuary in Essex, some 6 miles west of Southend on Sea.
Brass banding in the local community goes back to at least the early part of the last century, but Thundersley Band was formed in 1980 from a nucleus of young local players, some of who are still current band members.
In the late 1980's and early 1990's the band achieved regular success including qualifying for the National Finals in London in 1989.
Their journey gathered momentum in 2006 under Keith Schroeter when they were crowned London & Southern Counties Fourth Section Champion, as well as becoming scaba 'Band of the Year'.
As runner-up in the 2007 L&SC Area contest the band was promoted to the Second Section and saw further successes in the scaba contests that year.
In 2012 they formed a new partnership with MD John Ward, and again claimed victory at the Area contest, securing promotion to the First Section and finally realising a long standing goal for its founding members.

Principal Players:
Principal Cornet: Gavin Hall
Solo Euphonium: Andrew Hicks
Soprano: Andy Hornsby
Solo Horn: Kelly-ann Hall
Principal Trombone: Helen Creak
Flugel: Rhys Cave
Baritone: David Maddox
Eb Bass: George Bray
Bb Bass: Chris Bearman
Principal Percussionist: Mark Gibson
Qualification:
Region: London & Southern Counties
Qualified: Winner
Musical Director: Nigel Taken
Nigel has been conducting brass bands at the very highest level for more than 25 years.
At the age of 15 he became the flugel horn soloist with the City of Coventry Band and also played regularly with Harry Mortimer's All Star Brass and Men O' Brass.
Relocating to London to study music, and after several years playing professionally, he moved into brass and music teaching. He is currently Music Co-ordinator at Goffs School in Hertfordshire, where he has worked for 24 years.
Nigel has many contest successes to his name, including victories at the West of England and London & SC Championship Area contests. He has also conducted winning performances at the Grand Shield in 2006 and the Yeovil Entertainment contest, as well as appearing at the National Championship Finals at the Royal Albert Hall, the British Open Championship and the All England International Masters.
Nigel is in great demand as a conductor and band trainer and works with many bands on a freelance basis. He is currently the Professional Conductor of Bournemouth Concert Brass.
Test Piece Views:
None given
---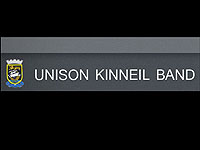 Unison Kinneil
Conductor: Craig Anderson
Website: http://www.kinneilband.co.uk

The Unison Kinneil was originally formed in 1858 as a military style band, but in 1953 changed to the traditional brass band format.
Major contest successes include becoming Second Section National Champions in 1959 and to come 4th at the Championship Finals in 1965. The band also won the inaugural Land O' Burns contest, and has been Scottish Champions at various levels on no fewer than eight occasions.
Principal Players:
Principal Cornet: Lauren Robb
Principal Euphonium: Ian Campbell
Soprano: Katie Ankers
Solo Horn: Hayley Tonner
Principal Trombone: Graeme McGregor
Flugel: Trevor Gray
Baritone: Laura Galbraith
Eb Bass: Ann Black
Bb Bass: Gary Kelly
Principal Percussionist: Cameron Marr
Qualification:
Region: Scotland
Qualified: 3rd place
Musical Director: Craig Anderson
Craig Anderson is an award-winning tuba soloist and freelance player with a wealth of experience that has seen him play with numerous leading orchestras and ensembles.
Craig studied at the RSAMD and whilst at college he was a finalist in the Radio 2 Young Musician of the Year and won the prestigious Governors recital prize for brass.
He plays regularly with the BBC SSO, RSNO, Northern Sinfonia, Scottish Chamber Orchestra and many more and conducts wind and brass bands throughout Scotland. He is currently MD of Unison Kinneil Band.
Test Piece Views:
We have relished the opportunity to prepare this varied and interesting work, both in regular rehearsals and with section practises.
The band is absolutely delighted to be representing Scotland in Cheltenham at this year's National Finals.
---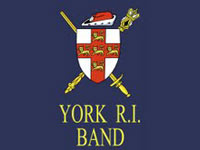 York Railway Institute
Conductor: Chris Hirst
Website: http://www.yrib.org.uk
York Railway Institute Band was established in 1883 and is York's oldest brass band.
Originally named Chaucer Street Mission Band it was later known as York & District Mission & Temperance Band, York Excelsior Brass Band, York Home Guard Band and Ebor Excelsior Silver Band, before taking the name of York Railway Institute after allying itself to the organisation in 1952 - the majority of members being railwaymen at that time.
York R I was the first band in the area to achieve Championship Section'status, competing at the very highest level for many years.
The band enjoys regular contesting success and has qualified for the National Finals for the last five years. In recent years the band has also held the titles of North of England and Northern Open Champion.
Principal Players:
Principal Cornet: Andy Novell
Solo Euphonium: Richard Lovatt
Soprano: James West
Solo Horn: Sarah Smith
Principal Trombone: Pearce Abbey
Flugel: Malcolm Watson
Baritone: Dawn Groves
Eb Bass: Nathan Coope
Bb Bass: Andy Marshall
Principal Percussionist: Francesca Rochest
Qualification:
Region: North of England
Qualified: Winner
Musical Director: Chris Hirst
Chris Hirst studied music at Salford and Birmingham Universities. He won the prestigious Harry Mortimer Award in 1987 and went on to become principal trombonist with Grimethorpe Colliery, IMI Yorkshire Imperial Metals and Brighouse & Rastrick Bands over a ten year period.
He started his brass band conducting career with the Nestlé Rowntree Band in 1997, taking them to two consecutive National Finals and paving the band's way to Championship Section status. He has been resident conductor of British Steel Teesside and EYMS and had a very successful three years as MD of the Barnsley Building Society Band, winning the First Section CISWO National Brass Band Championships in 2003.
Chris has worked as a brass teacher with the North Yorkshire County Music Service since 1988. For ten years he was conductor of the York Area Schools Concert Band and he has been Musical Director of the North Yorkshire Schools Concert Band since 2007. He has been Head of Selby Music Centre for the last eight years and is now Assistant Head of the Music Service.
Test Piece Views:
We love 'A King's Lie' - it's one of those test pieces that you never tire of working on.
The different musical styles covered suit the band very well with the huge dynamic range needed.
We are really looking forward to the Finals as we have every confidence of producing a quality performance.