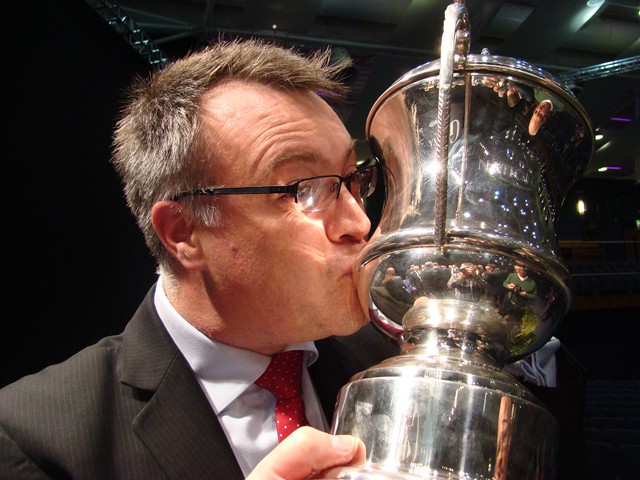 Which MD this year will be doing this on Sunday afternoon?

Well now: Sunday afternoon promises to be a corker at the Centaur.
Looking at the line up of seventeen bands ready to lock horns on 'The King's Lie' reveals more fancied runners than can be found on Gold Cup day here in Cheltenham. Wherever you look, there are bands that make the trip in the type of form that would have the Ladbrokes bookies running for cover.
Tip top nick

This is a contest that has starting stalls filled with thoroughbreds in tip top nick, led by conducting jockeys who know how to whip their mounts into prize winning shape on the rehearsal gallops: We could be in for one heck of a photo finish.
The test piece ground is certainly hard to firm - an expanse of filmatic furlongs that although not making the competitors quiver in their racing silks at the prospect of being unseated at the musical equivalent of Becher's Brook, is still testing enough to bring down an unwary or over excitable runner if the MD has not been able to crack the whip to control pace and dynamics.
Whopping great fib

Stan Nieuwenhuis's work is inspired by a whopping great regal fib - a fable of youthful love conquering the initial deception of a spiteful King:

Think of old Charlie boy telling Prince William that he intends to pass the crown to Harry because he doesn't like his missus - only to change his mind when the pair of them keep churning out royal off-spring to keep the Windsor line from expiring from a lack of procreation from his vacuous second son.
It's a bonkers tale that has a plot line out of Mills & Boon meets 'Family Guy', but which ends happily ever after with the two young lovers becoming the future monarchs of all they survey whilst still being canny enough to sell their wedding pics to 'Hello' magazine in the process. Perish the thought....
Drama and excitement

As is the modern compositional taste on such matters, the drama and excitement of the 13 minute piece is relentless; boldy written with youthful verve and splashes of exotic colour.
It's certainly shock and awe in places - but you have to take your hat off to the young Dutch composer who has brought each of the three chapters of the musical story to life - from the opening flowering of teenage passion, to the mournful despair of love lost and the final trek and rescue act that results in their day in a Babylon court. It ends in breathless clamour.

Two young princes: Stan Nieuwenhuis and Glenn Van Looy

Hopes and aspirations

So which of the seventeen bands will leave Philip Harper and Michael Fowles breathless in the box then?
Welsh hopes rest with the powerful looking Area champion Llwydcoed and the youthfully exuberant Goodwick, who won the Second Section title last year with such splendid aplomb.
The duo have bags of talent around the stands, are very well led and are hungry for success - so both should be confident of making a mark on the prizes as they seek to bring the title back to Wales once again.
Ambitious

That said - so should the North West duo of Ashton-under-Lyne (who won this title in 1999) and the equally ambitious Oldham (Lees).

Both have enjoyed good contesting returns against Championship class opposition this year (especially at the Senior Cup and Senior Trophy) and are led by MDs who have a great deal of experience to fall back on too.

Solid, well drilled and sprinkled with high class soloists they will contenders to listen out for.
Short priced

That's already four runners that will travel with realistically high expectations, and we haven't even got as far as Yorkshire yet - where City of Bradford will surely be one of the short priced favourites alongside fellow qualifiers Hatfield.

Both were impressive in claiming the top spots at St George's Hall and should be confident of catching the ears of the men in the box if they can deliver in the same fashion again - with the flamboyant conducting of Lee Skipsey sure to be an interesting contrast to the compact assuredness of Stan Lippeatt.
Bounced back

What then of the Midlands?
Area champion Enderby bounced back in remarkable fashion at Bedworth after their poor return at Butlins earlier in the season, whilst Staffordshire (who won this title in 2002) will be determined to go one better than last year when they just missed out on the title by a short neck under Leigh Baker.

The same determination applies to Blidworth (although they will want to finish much higher after drawing number 1 last year) as they look to build on encouraging 2014 form.
High hopes

West of England high hopes rest with the impressive Area champion Filton Concert - who delivered one of the best title winning performances this year under Tom Davoren (and who came 6th last year), and St Austell, who are quickly becoming a force to be reckoned with again under the experienced direction of Steve Sykes.
Long trip

Meanwhile, Scottish hopes rest with Granite City and Unison Kinneil (who actually came third at Perth) - both of who make the long trip south buoyed by recent solid form: Granite posting a runner-up spot at the Northern Open and Kinniel coming in the top ten at the Senior Trophy.
Remarkable
South of Hadrian's Wall and the North of England sends the remarkable York Railway Institute - making their fifth consecutive Finals appearance after winning the Area title at Darlington in confident fashion, and Kirkbymoorside, making their first Finals appearance since 2008 when they claimed a podium finish.
Future promise

The emerging strength of London & Southern Counties banding has been heard at this level over the last few years (Friary Guildford winning in 2010 and going on to qualify for the Albert Hall in the past two years), so hopes are high that the future holds the same promise for Area champion Thundersley and Sandhurst.
If Butlins was anything to go by then they will be bands to fear on the weekend - as Sandhurst took the honours with their rivals coming fourth.

Full of ensemble quality and led by two very experienced campaigners in Nigel Taken and Ian McElligott they could be two dark horses that could very well pip their rivals on the line - if there is any space left!
---
4BR Prediction:

That's everyone covered then - and to tell you the truth, there are cases to be made for just about any of the bands to be considered as a potential winner.
We are going to out our necks on the line with City of Bradford - as you get the feeling that this could be the type of piece that is just up their street.
They will have to be at the very peak of their classy form though if they are to repel the assault from the likes of Ashton, Filton, Oldham (Lees), Staffordshire and Hatfield with our dark horse of Thundersley snapping at their heels.
1. City of Bradford
2. Ashton-under-Lyne
3. Filton Concert
4. Oldham (Lees)
5. Staffordshire
6. Hatfield
Dark Horse: Thundersley