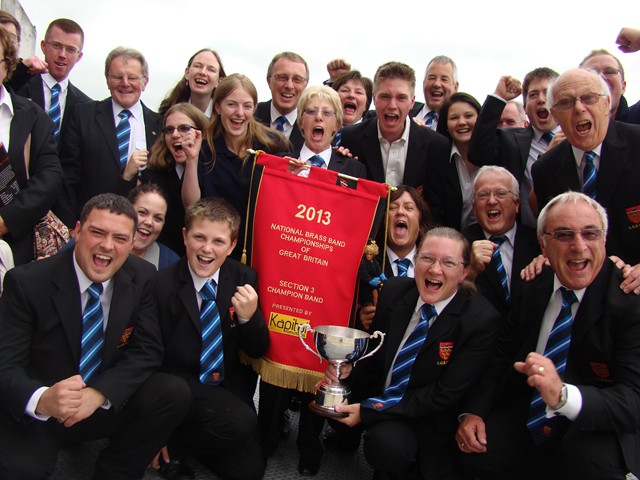 LGB Brass repelled the hordes last year to take the title

Strange as it may seem, but at the time when Britain was taking its first major contesting steps at Belle Vue in the 1850's, high class brass ensembles (early British bands still varied greatly in quality) had already been well established in other parts of Europe - from Sweden and Finland to the Balkans and Russia.
Comrade Lenin and Uncle Joe

Although size and instrumentation varied, the tradition of small community ensembles, theatre groups and travelling bands remained very much a part of the social fabric of musical life until the sweep of revolution in the early part of the 20th century, when the overwhelming sound of brass was to be provided by Comrade Lenin's Red Army bands.
Even as the late Victorian age saw the emergence of the first amateur cornet stars such as Alexander Owen, European banding had already produced superstar performers like German virtuoso Wilhelm Wurm, who held the position of Imperial Court Cornet Soloist in St Petersburg, whilst a little later Oskar Bohme was plying his trade at the famous Marinsky Theatre until Uncle Joe Stalin packed him off to dig canals in Siberia.
Ghengis Khan

For those traditionalists steeped in all things Empire, it's a bit like finding that the game of cricket was actually invented by Mongolian sheep herders, with Ghengis Khan boasting a better batting average than Jack Hobbs.
History though will count for little you suspect come Sunday morning, despite 18 bands having to tackle the rather seriously intoned 'Symphony for Brass' by Victor Ewald with a great deal of appreciation for traditional British brass banding virtues.
Minor constructs

Although essentially part of that European brass ensemble tradition - with the composer born in St Petersburg in 1860, and the piece originally written as brass quintet around 1890, its since been inflated in size to accommodate a modern brass band set up by Michael Hopkinson's restrained late 20th century craftsmanship.
As a result it retains its 'Russian' feel - with its melancholic minor constructs bringing images of bread queues, Lenin's mausoleum and snowbound gulags to the front of your mind.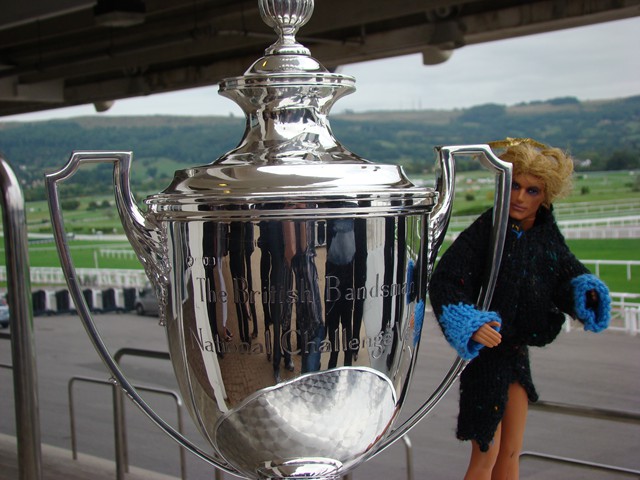 Not quite a shot putt champion....

Shot putter

It may have the ephemeral attractiveness of an old USSR female shot putter, but just like those hairy-chested ladies of the Urals, this has been steroided up to do a job, and does it well. It is a stern test of musical stamina, character and style for even the best Third Section finalists on the weekend.
There certainly isn't a lot of whizz bang, musical mortar fire on show, but plenty of melodic interest, balanced ensemble symmetry and a finale that although not making you want to storm the Winter Palace with the hammer & sickle in flag waving glory, may still persuade the winning band to celebrate with a few slugs of vodka in the bar afterwards...
Much then for two men who well remember the 'Cold War' to enjoy in the box, with the experienced pairing of Mike Kilroy and John Winterflood certainly knowing the difference between true revolutionary spirit and misplaced champagne socialist sentiments.
Red hordes

Last year it was LGB Brass from London & Southern Counties that were the only band to repel the red hordes from the Principality that were cutting a swath of musical destruction over rivals in other sections.
So can the area make it a hat trick of wins (Hitchin claimed the title in 2012) with Area champion Grimsdyke and 2012 Fourth Section National Champion, Norfolk Wherry?
Grimesdyke makes their Finals debut, and has been making solid progress of late after dropping down the sections in the last couple of years, whilst Norfolk could be ready to make another mark on the silverware under Andrew Craze after building progressively since that historic win.
Yorkshire favourites

Meanwhile, Yorkshire pride will be focussed on the confident pairing of impressive Area winners Dinnington, who could well be one of the bookies favourites under Jonathan Beatty given their recent run of fine form, and the emerging Wetherby & District who make only their third visit to the Finals since 1957.
Solid North West

The North West has enjoyed considerable success at this level over the years, and the solid looking trio of Area winners Darwen (who played here in the Fourth Section in 2012), City of Chester (who qualified last year but didn't take up the invitation) and Old Hall Brass (who have been up and down the sections since their last appearance in 2004) should make the trip south confident of doing well.
Darwen has improved with each outing this year whilst City of Chester took the French Open title a couple of months ago and Old Hall hasn't been outside the top six at any contest since last year.
Hopes are high then that the trophy will return to the North West for the first time since 2010.
Welsh pressure

Oddly, despite all that success elsewhere, Wales hasn't produced a Third Section National Champion since Beaumaris in 1992, so a little bit of pressure is certainly on their representatives.
This may be their best chance of ending that hoodoo though with Area champion and 2014 Fourth Section National winners Ebbw Valley, who many are tipping to push for yet more glory, and Ammanford, who have been in fine form of late and took the National Second Section title off the number 1 draw back in 2001.
Scottish brace

Scotland's hopes of claiming a first National title since 2000 are also boosted by a brace of strong looking contenders in Tullis Russell Mills Intermediate, who return again this year having enjoyed 12 months of unprecedented success, and Dunaskin Doon, who make their first Finals appearance since 2007.

West on the up

The West of England will also be looking to return winning ways (their last triumph was in 2009), and they send two bands very much on the up in Area champion Bratton Silver and qualifiers New Forest Brass, both of who are making solid progress under talented MDs.
Dark horses

That is also the case with two dark horses from the North of England in Area champion East Riding of Yorkshire, who came an impressive seventh last year off the early number 3 draw, and Ellington Colliery, who make their first appearance since 2002, but come off the back off a fine victory north of the border in Fife.
Favourites

That just leaves the purposeful trio of Midlanders, with Area champion Rushden one of the pre-contest favourites if they repeat the type of form that gained them a podium finish at Butlins earlier this season.

Also confident of doing well should be Foss Dyke who were 9th at Skegness but have shown over the years that they can mix it with the best, whilst the famous banding name of Newhall has been making real progress in the last few years under the baton of the experienced Kevin Holdgate.
---
4BR Prediction:

This is a close matched field of rivals in anyone's book.
You can make a pretty persuasive case for any number of contenders to end up in the bar drinking celebratory shots of Russian vodka, but when it comes to sticky bum time it could well be Rushden Town that may just pip everyone to the title.
Close on their heels for us should be the likes of Ebbw Valley, Dinnington, Tullis Russell Mills Intermediate, Darwen and East Riding of Yorkshire with our dark horse of Grimsdyke.
1. Rushden Town
2. Ebbw Valley
3. Dinnington Colliery
4. Tullis Russell Mills Intermediate
5. Darwen
6. East Riding of Yorkshire
Dark Horse: Grimsdyke