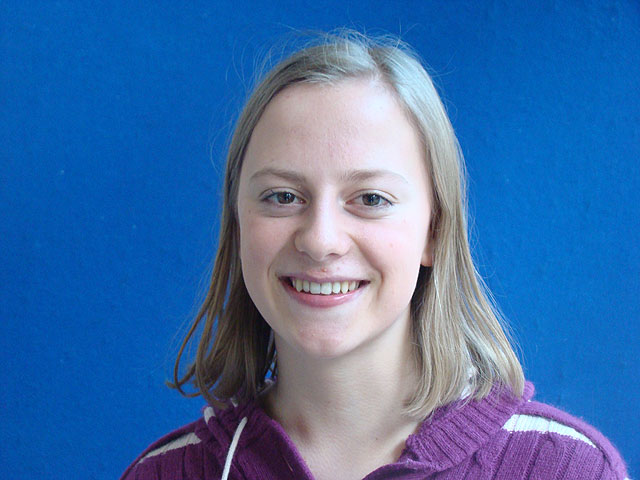 Making an impression: A smiling Pippa Scourse

Name: Pippa Scourse
Age: 16
Instrument(s): Cornet, Trumpet, Piano
Current Bands: Beaumaris Band, National Youth Brass Band of Wales, National Youth Orchestra of Great Britain
---
Every now and again a young performer appears on the banding scene and immediately grabs your attention; not for their bravura virtuosity, but for their remarkable musical maturity.
One such musician is 16 year old Pippa Scourse, who first came to 4BRs attention when she took part in a masterclass led by French trumpet star Alexis Demailly at the 2013 RNCM Festival of Brass.
There was something about her playing that lifted it from the merely excellent to the outstanding; a confidence built on an intuitive appreciation of what she was performing: The notes on the page meant something.
It was not just Monsieur Demailly who was left suitably impressed that day.

Fine performances

Since then Pippa has continued to develop as a player and in the past year her fine performances at the Action Medical Research Youth Entertainment Championship with Seindorf Beaumaris Youth Band, and as the principal cornet with the National Youth Brass Band of Wales on their recent 2014 course have continued to catch the ear. In April, she was also invited to represent Wales as part of the European Youth Band in Perth.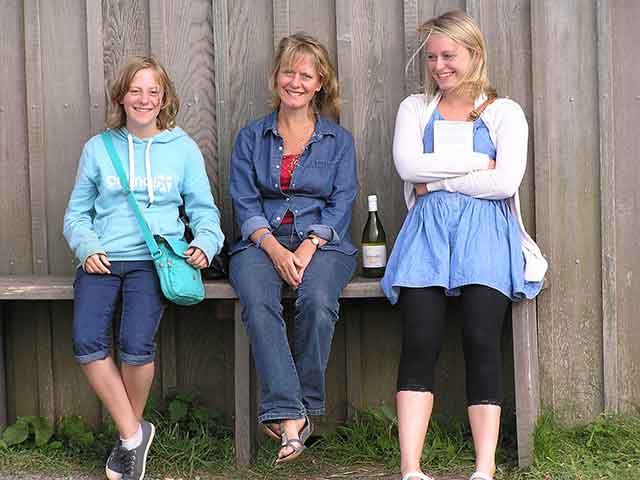 Family infusion: With her musical mam and sister...

Pippa's background is infused with music - it's in the Scourse family DNA.
Her mother, Margaret, is a fine violin teacher who also plays the piano, whilst her father and elder sister are both very good cellists.

If that's not enough, Pippa's other sister also played percussion with the Beaumaris Band and was the catalyst for her to take up the cornet when she was just 8 years of age.
So much fun

"I was fascinated by the cornet," Pippa told 4BR. "The sound it made and the things you could do playing it seemed to be so much fun."
Luckily, Pippa came under the musical influence of Beaumaris MD Gwyn Evans, who has since nurtured her development (she is also an accomplished pianist) with an admirable long term view towards her aims and objectives.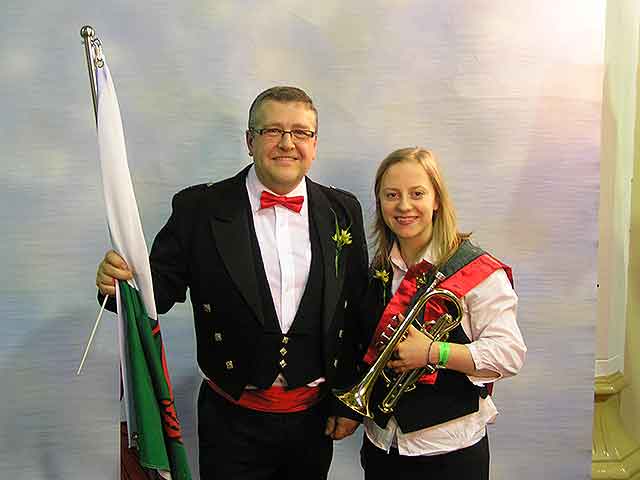 Welsh mentor: With Gwyn Evans, MD of Beaumaris Band
Talented

"It was pretty obvious as soon as she got to grips with the basics, that she was a very talented young player," Gwyn told 4BR.

"Her brilliantly supportive family environment has helped a great deal too - allowing her to develop at the correct pace as a player, despite Pippa's amazing enthusiasm and hunger to play every minute of the day!"
He added: "What I find so encouraging is not just her willingness to learn, but to do so without trying to find a short cut or quick fix. The building blocks of her playing are so secure."

RNCM

It is also an aspect that has been overseen by her regular weekly visits to the Junior RNCM in Manchester, where Pippa has enjoyed tuition from former Foden's soprano star, Tracey Redfearn and the highly respected Head of Brass, John Miller.

"Pippa has terrific natural abilities as a performer," he said. "The key will be to develop those talents for the long term."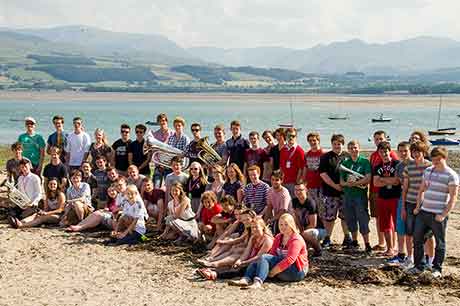 Enjoying a bit of relaxation with the National Youth Band of Wales

Impressed

Pippa is currently receiving lessons at the RNCM with Roger Webster, and he also believes that there is a great musical future ahead of her.
"I first heard Pippa at that Alexis Demailly masterclass, and he rang me the next day to find out more about the young player who had so impressed him.
I hear such a natural musicality in her playing, and her focus and determination is second to none. I'm sure she will succeed in whatever she wishes to do with her playing and it's great to be able to help her develop as a performer."
Nervous wait

So how does Pippa herself see her career developing in the next few years as she nervously awaits her GCSE exam results and continues to work towards her diploma?

"I want to be able to go to Music College and hopefully become a professional musician, although I also want to carry on playing in brass bands. I'm inspired by the likes of Richard Marshall, Roger Webster, Alison Balsom, Philip Cobb and Haken Hardenburger and what they have been able to achieve."

She added: "A lot of people think that playing in a brass band and playing in an orchestra is incompatible, although players like Philip Cobb and Maurice Murphy have proved this wrong.

I think both sides benefit the other. I enjoy doing both, and find the transition a challenge!"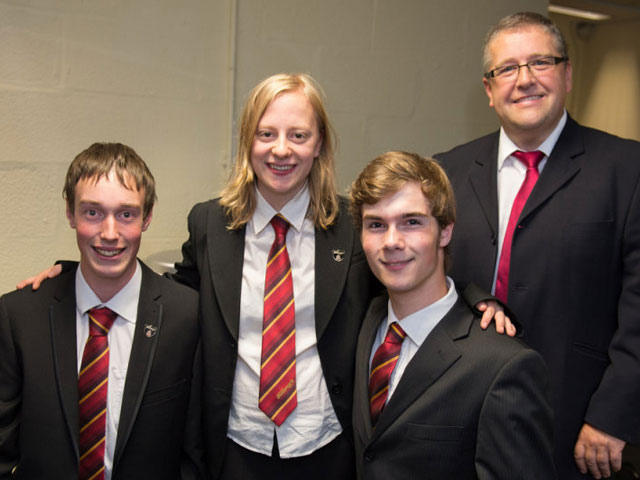 A taste of the British Open: And all off the number 1 draw!

Transitional

Pippa has already had a taste of that transitional life - playing principal cornet on the last two National Youth Brass Band of Wales courses, as well as performing with the National Children's Orchestra and National Youth Orchestra of Great Britain.
Last September she enjoyed the experience of playing at the British Open with the Beaumaris Senior Band - and off the number 1 draw at that!

Advocate
Not surprisingly then she is also a brilliant advocate in encouraging others to follow in her footsteps.
"The experience is immense in several ways. Being tutored by some of the best players in the country is second to none, and you also get to play in some of the biggest venues in the country directed by amazing conductors," she added bubbling with enthusiasm.

Pippa has already gained huge experience as a solo performer; winning the Eisteddfod yr Urdd several times, as well as picking up numerous awards on the regional solo contest circuit and as a featured soloist with the Beaumaris Youth Band - notably at the Action Research Championship this year where her rendition of Arban's 'Carnival of Venice' left the audience breathless in admiration.

Other notable accolades have come with the presentation of the John Crosdale Prize for Brass at the Junior RNCM last summer, as well as the Leverhulme Scholarship when she was in the National Children's Orchestra.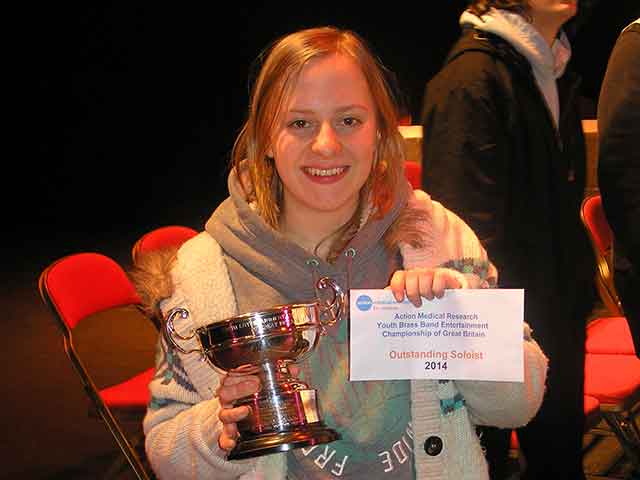 Prize winner: Picking up the Action Research Outstanding Award Soloist

Musical tastes

Not surprisingly her eclectic tastes as a soloist encompass both brass band and classical repertoire.
"I like the pieces that are both challenging and fun," she said. "Anything from Arban, Herbert Clarke and Kenny Baker to Arutunian, Hummel and Haydn - although I also like listening to Michael Jackson and Stevie Wonder!"
You suspect her wonderfully warm personality does hide a streak of steely determination to succeed though, as Gwyn Evans was keen to point out.
"Pippa really does know what she wants to do and has the desire as well as the undoubted talent to make it happen. She is a delight to work with and a wonderful person with her feet planted firmly on the ground."
From now on, lots more people are certainly going to find that out too.

Malcolm Wood