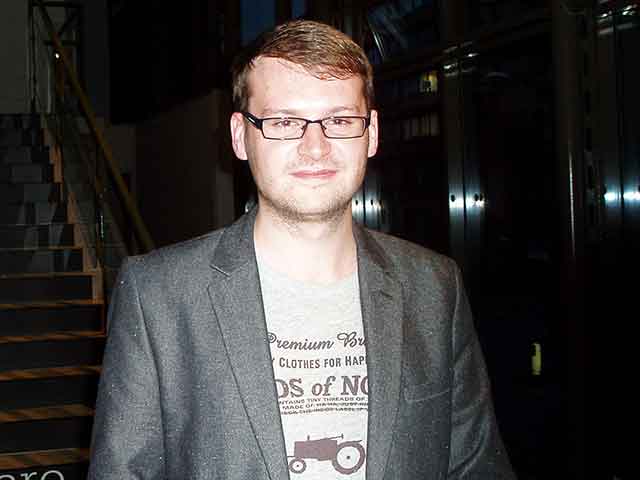 Name: Dave Hanson
Age: 21
Instrument(s) played: Baritone, Euphonium, Trombone, Bass Guitar, Double Bass
Current Bands/ensembles performed with: Long Eaton Silver Prize, Ilkeston Brass, Newstead Brass, Derbyshire City and County Wind Band, Nottingham Youth Orchestra, Salford University Brass Band.
Won the Anne Welsh Memorial Ensemble Prize whilst at Salford University for three consecutive years as part of the '4tune Tubas' tuba quartet.
---
Malcolm Wood: Before talking about your recent award winning Foden's composition work 'Aurora Borealis', what's your musical background?
Dave Hanson: I come from a brass band family and first picked up the baritone at the age of 11 in Long Eaton Silver Prize Band in addition to various wind bands around Derbyshire. I now swap between euphonium, baritone and trombone positions at Newstead Brass.
I was raised on a healthy dose of progressive rock - bands like Rush, Yes and Genesis; exposure to which led me to pick up the bass guitar aged 16.
Thanks to time playing and working on bass, I've ended up with slightly sporadic and heavily varied music tastes: It's not unusual for my iPod to switch between reggae, heavy metal, free jazz and brass band test pieces consecutively!
---
Malcolm Wood: With your family involvement in banding, did that have any influence on you to write for the genre?
Dave Hanson: Lots!
I'd always write sketches and ideas of pieces on piano scores or prog-rock band set-up - at which point someone (my Dad, usually) would turn round and exclaim, "Stop messing about and score it for band!"
Luckily the peer pressure got to me!
---
Malcolm Wood: How old were you when you started to compose and what was it that inspired or influenced you?
Dave Hanson: I started composing properly around the time I was doing my GCSEs.
There were two particular moments: The first occurred in rehearsal with a 60's cover band. The keyboard player showed me that it was possible (in fact, it sounded better!) to stick an F# in the middle of an E minor triad.
As a result, I had to know why, and how to make that kind of sound myself. I got obsessive over theory!
The same thing happened in GCSE classes: We were studying some Debussy and it was quite evident that there were 'extra' notes in there.

I just had to find out what notes they were, and how he knew that they'd work against all the others.
---
Malcolm Wood: You studied at Salford University: Was that purely for composition?
Dave Hanson: Composition was certainly at the front of my mind, yes.
I wanted to learn more about modernist and jazz composition, so I went to Alan Williams and Robin Dewhurst respectively for my third year composition and arranging.
As well as being a massive influence on my style of writing, Alan taught me a lot about the creative process, writing under pressure, and how to develop ideas.
---
Malcolm Wood: Which composers do you look up to, or influence your writing?
Dave Hanson: Philip Sparke and Eric Whitacre are my biggest influences, as well as Debussy for his 'chord painting' and Arnold Bax.
I always try and write something to sound like his orchestral stuff: Completely excessive grand gestures and imagery - I love it!
I'm finding more and more influences all the time.
I recently heard Manger Musikklag playing Oliver Waespi's 'Audivi Media Nocte' for the first time. I love the fact he's managed to sneak funk, disco and big band influences into a set of Tallis motet variations.
The same goes for Torstein Aagard-Nilsen. It's so rare to find those influences written into brass band music, and done so well.
---
Malcolm Wood: Has your compositional style evolved in recent years?
Dave Hanson: Not massively I think - as I've always heard fairly similar sounds.
If anything, it's become slightly closer to what I hear in my head. My ears improve every time I've written something, so every piece gets slightly closer to the result I actually want to start with!
Aside from that, the influences from the progressive rock bands I grew up listening to have started seeping into my brass writing.
I think the first obvious 'ROCK!' moment is in my new work, 'The Halls at Hardwick', which was written for the 2014 Bolsover Brass Summer School. It's plenty of fun for the percussion section, at least!
---
Malcolm Wood: Do you find composing comes quickly, or does it infuriate you, especially if you have to work to a deadline?
Dave Hanson: I usually have a motif or set of chords I can't get out of my head until they are written down.
I find a deadline really forces me to write - so much so that after an initial push it comes fairly instinctively.
I'm much worse when I've got all the time I want: I want to try out every single idea I have at once, so inevitably nothing gets done.
---
Malcolm Wood: When composing a piece do you take the opportunity to run it through with an ensemble?
Dave Hanson: Apart from the odd jazz/rock idea, I've never had the opportunity before an actual performance.

That's something I need to work on. It would be such a convenience.
---
Malcolm Wood: What's the best piece of advice you've ever been given when it comes to composing?
Dave Hanson: Always write with your ear first.
There's no point in forcing sounds that aren't yours, or techniques that you've only read about into your composition.
Organic composition is the best way. That was Alan Williams, again.
---
Malcolm Wood: So how did 'Aurora Borealis' come about?
Dave Hanson: I had Eric Ball's 'Kingdom Triumphant' stuck in my head and I ended up writing something of a simplified impression of the opening fanfare, which became the opening bars of 'Aurora'.
From then on, I found myself writing seemingly unrelated passages of music, but all of them featured the 6 notes of the opening motif - either fleetingly, or in an even more obscure way.
When the piece was halfway complete, someone remarked that the first major key change reminded them of something magically appearing, or lighting up.
This led on to the Northern Lights - and from then on, with the addition of several subtitles, it all seemed to link up.
The music leant itself to images of icy landscapes, particularly with the addition of more percussion in the 'Winter Tundra' movement.
Actually adding imagery and titles made it easier to finish the piece: The second half didn't even take half the time of the first to write.
---
Malcolm Wood: You were amongst some talented individuals in the competition, so was it a surprise to win?
Dave Hanson: A massive surprise! The pieces were all great - notably Matt Eden's 'Spring Song'.
He's written a gorgeous melody, and the band sounded absolutely crystal clear.

His orchestration is just outstanding. It was really quite intimidating (albeit enjoyable!) to listen to.
---
Malcolm Wood: Would you like to the opportunity to write a test piece for brass band and work more closely with an ensemble, perhaps as a composer in residence role in the future?
Dave Hanson: Absolutely! Some of the best music I've heard has been brass band test pieces, so I'd love the excuse to have a go myself.
Working with Foden's since the workshop until the performance of 'Aurora' at the Allan Withington Conducting School Concert has done wonders for my writing.

To get the chance to do that as a composer in residence with an ensemble on a regular basis would be ideal.
---
Malcolm Wood: And what does the immediate future hold?
Dave Hanson: I get to hear and play my next piece, 'The Halls at Hardwick', as part of the 2014 Bolsover Brass Summer School. Then I leave for Florida in mid-August to go and play bass as part of a showband on a cruise ship around the Cayman Islands for six months.
Hopefully there will be time to compose whilst out there. I'm also intending to try and get some private composition tuition when I get back - counterpoint, harmony, etc.
Long story short: Plenty of sunburn and lots more work!
---
Malcolm Wood: Thanks for your time and we look forward to hearing more of your compositions in the future.