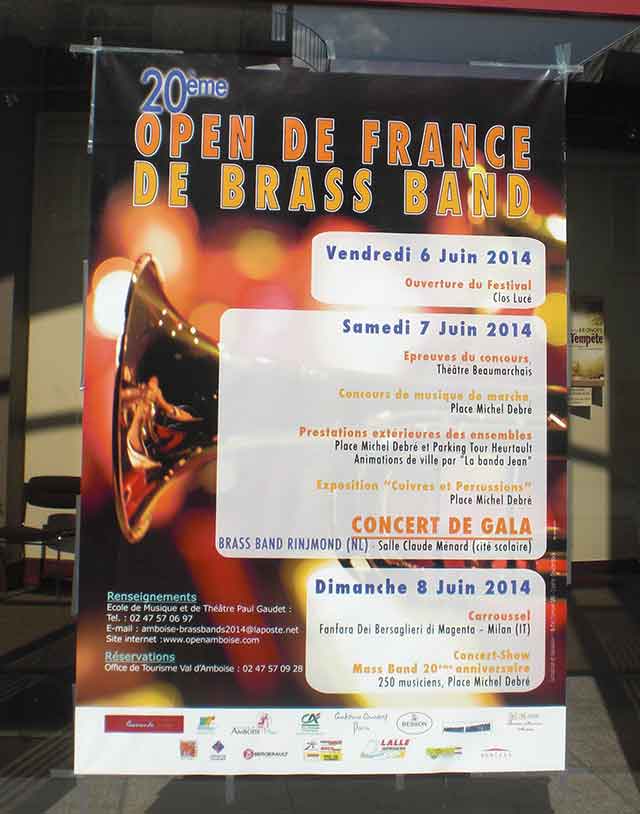 Sign of the times for French banding

As head of the historic Courtois Company in Amboise, Jacques Gaudet was looking for ways to encourage the expansion of brass instrument playing in France.
He had encountered British style brass bands during his travels throughout Europe and had immediately become an enthusiast. So in 1982, with the help of his colleague Jean-Paul Leroy, he set up a brass band in the Conservatoire in nearby Orléans.

His next step though was to show the local Amboise community what a good brass band sounded like, and with the French oil company Elf Aquitaine at the time drilling for oil in Norway, Jacques persuaded them to sponsor a visit by the Stavanger Band in 1994.
Subterfuge

However, that was not quite enough he thought, so in order to get the largest possible audience to his event, he cleverly resorted to a degree of subterfuge.
Since the term 'brass band' meant nothing to the local population, people would ask Jacques if they were going to hear a jazz, big band or a brass ensemble, to which he cryptically replied 'Yes!' to every enquiry!
By not really contravening any draconian French trade description laws and giving the event something of a surprise factor to boot, a large and enthusiastic audience found themselves entertained by a Norwegian brass band.

Such was the success, and Monsieur Gaudet's sense of gratitude, by way of returning the compliment, Courtois then became a sponsor of the Siddis Brass Festival in Stavanger.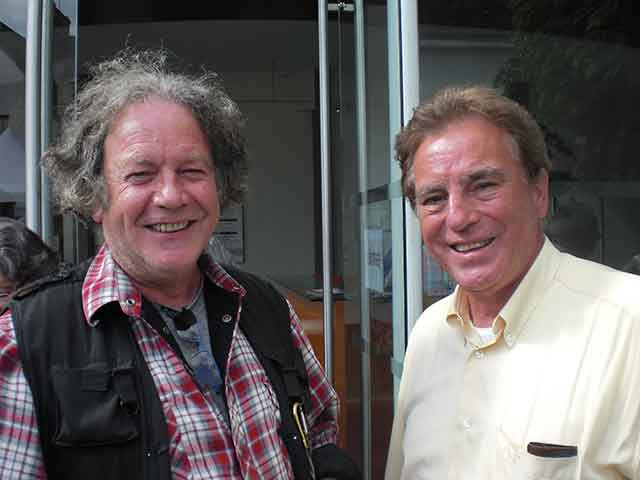 Founding fathers: Jean Paul Leroy (l) and Jacques Gaudet (r)

Next step

Inspired by the public's enthusiastic response to the inaugural event, Jacques Gaudet then decided to organise a French brass band contest, and he was joined in the venture by Pascal Caraty, Director of the Amboise Music School and conductor of the town's wind band.
In setting up the contest in 1995 they sought advice from the late and much-admired Stuart Broadbent and David Horsfield, who continues to this day to be a roving ambassador and chairman of the adjudication jury.
Support

Showing commendable entrepreneurship, they also succeeded in attracting an impressive array of sponsors - from local public sector support from the town council, the French Ministry of Culture, Regional Council and Departmental Council, to the likes of Bergerault Percussion, Robert Martin Publishing, two local music dealers, the town wind band and the Courtois Company itself.
The town council also provided all the necessary technical back-up, and the members of the town wind band worked as volunteers.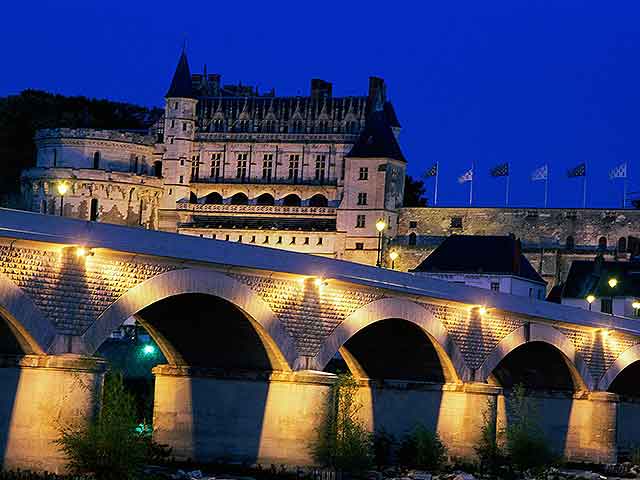 Not a bad backdrop for any contest...
All kinds of everything

To have a viable degree of French participation the first contest had to be open to all kinds of brass ensemble - probably in the hope that such organisations would subsequently think about switching to orthodox brass band instrumentation.
Eleven ensembles arrived in Amboise, with three French brass bands - Orléans Conservatoire, Val de Loire and Normandie, joined by brass ensembles from the towns of Décines, Oustreham, Morcenx and Tours and a trio of European visitors - Vetroz and Valaisan from Switzerland and Sovereign Brass from the UK.
The contest was a great success, but after just a few years, the imbalance between traditional brass bands and the other brass ensembles with their varied instrumentation became more of a musical problem.
Decision

The decision was therefore made to make the contest a purely brass band affair, with Jacques Gaudet's aim realised by developing a lasting appreciation of brass banding through a festival concept that encouraged participation as well as contesting excellence.
As a result, the idea of there being such a thing as true 'French brass bands' in 2014 can no longer be dismissed with a raised eyebrow or a rather patronising smile, with the 20th anniversary French Open certainly producing compelling evidence to show how far the French band community has travelled in that time.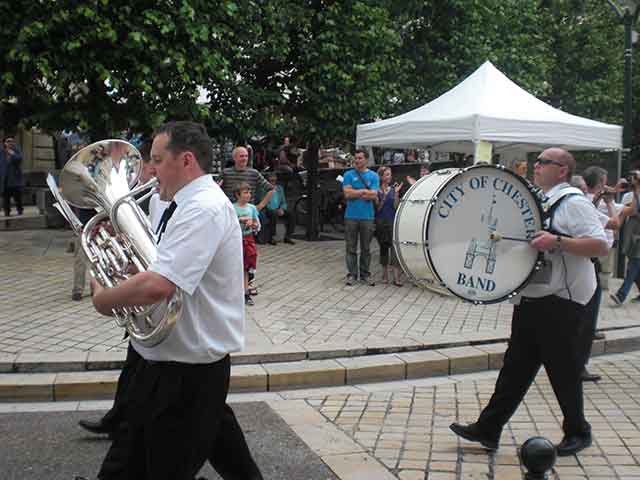 Welcome visitors: City of Chester Band
Equal terms in 2014

In the Championship Section contest, two of France's less well-known bands were able to compete on equal terms with established top level competitors from Holland (Rijnmond) and Norway (Krohnengen).
They more than held their own, giving credible performances of the set test, Philip Wilby's 'Paganini Variations' which at no time showed any sense that they were hanging on by the skin of their teeth.
Backbone

Val de Loire is in a sense French banding's backbone: As the first on the brass band scene just over 30 years ago in 1982, they have made consistent progress; first of all under founder Jean-Paul Leroy, who was present this year to join the celebrations alongside Jacques and Pascal, and for the last fifteen years under the baton of Jerome Genza.
Throughout its life Val de Loire has consistently developed, whilst still remaining a genuine community band. It was a delight to everyone who was in the audience to hear them convey the virtuosity the set work demanded of both the higher and lower brass, with their soprano in particular, right on top of his game.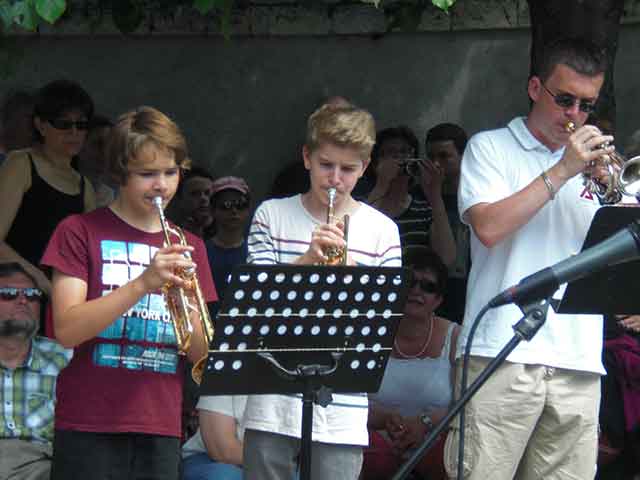 Getting to grips with all things brass...

Ambitious

Meanwhile, Exo (based in Tours) is still a young band, but they also displayed ample evidence of just how far they have developed in such a short space of time.
With a strong sense of ambition, they were disappointed with their eventual fourth place overall – although on reflection they will have been proud of their strongly characterised performance. Their recently appointed conductor, Dylan Corlay, is new to brass banding, but his previous orchestral conducting experience certainly allowed him to get to the heart of the score.
Different world

Both Krohnengen and eventual champions, Rijnmond inhabited a different tonal world; one characterised by boldness and technical proficiency, although somewhat at the expense of warmth of sound: Poise and atmosphere sometimes took second place to breathless virtuosity.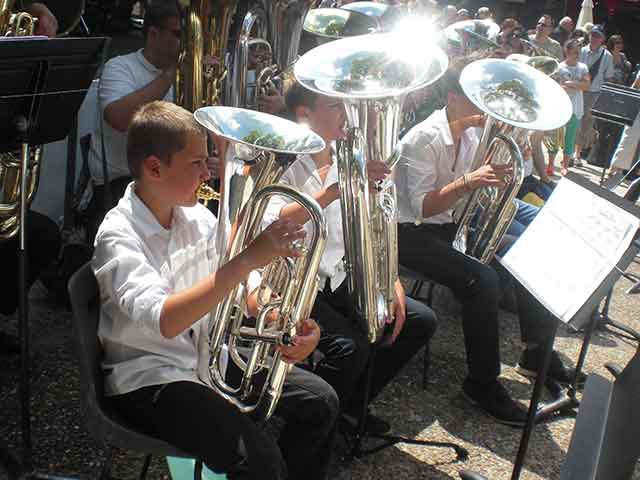 Massed band participation

Hold their own

What the contest did reinforce however was the fact that France now has a significant number of band's who would more than hold their own in the UK Championship Section: Paris (who informed critics thought came very close to the European Championship title in Perth this year); Aeolus, Nord Pas de Calais (both of who have impressed at the European event); Brassage, Lyon, Val de Loire and Exo.
A Tout Vent (from the Lens area of northern France), who played in the Second Section, would not be entirely out of place either, especially with their display under William Houssoy's cultured direction.
Clearest sign

However, the clearest sign that the brass band 'species' has taken root in France is the existence of a band of the quality of the 34-strong Tours Conservatoire Youth Band.
They have clearly been well taught, and have the advantage of playing on high quality instruments. The very competent performances of the test piece 'Episodes for Brass' (Gareth Churcher) and 'Olympic Fanfare' displayed admirable clarity of rhythm and articulation.
They also clearly represent the ethnic diversity of their communities: For a French conservatoire, once seen as élitist in every sense, to be taking this band seriously, is a rebuke to those English music services that still look askance at the brass band medium.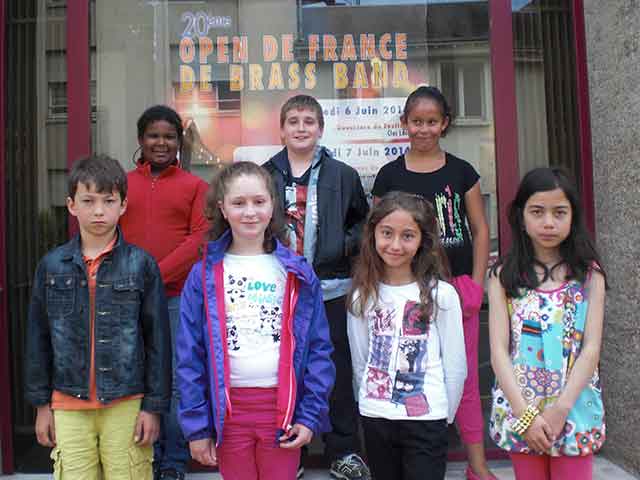 The next generation of French brass band stars at Amboise Primary School

Next generation

Brass bands are also taking off in French primary schools, and a group of children from the brass band of Amboise Primary School were in the audience to see what the future could hold for them - encouraged further by being asked to be part of an additional jury for the march popular contest.
It is interesting to note that having made progress in primary school, the players are not dependent on the (highly variable) quality of music teaching in French secondary schools, because they simply continue their music making in the town's own music school.
Conducting

Another highly encouraging aspect was the level of the indigenous conducting on show.
France has certainly moved on from the 'time-keeper' kapelmeister school of direction, and we are now seeing conductors who can shape the music in performance and who show an appreciable understanding of specific brass band musical architecture.
Intuitive

The four conductors in action in Amboise - Jerome Genza, Dylan Corlay, William Houssoy and Florent Didier were a delight to see (and hear) in action; all able to shape the music with intuitive appreciation of balance, line and tonality.
The bands of Val de Loire, Exo, A Tout Vent, Remiremont and Bourgeuil gave the traditional farewell Sunday lunchtime apéritif concert in the main square beneath the imposingly beautiful Amboise chateau.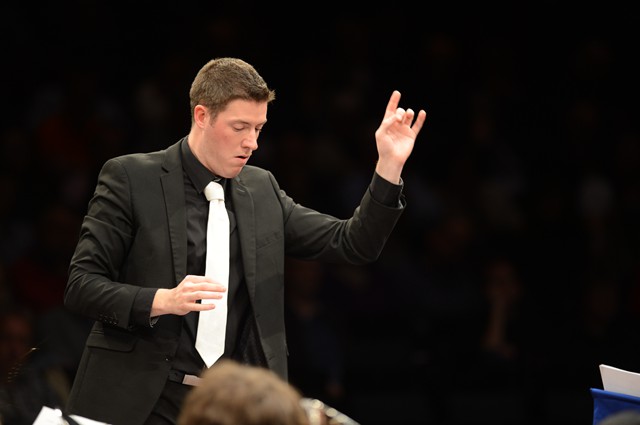 A class act: Paris MD, Florent Didier
On the strength of just an hour's pre-concert run-through, guest conductor Florent Didier's (the MD of Paris Brass Band) direction of the massed bands was a masterful display of technique; totally transforming the disparate parts into a unified whole.
It was also noticeable that experienced members of English bands in the audience were full of admiration for the way he controlled balance, dynamic contrast and tonal quality with a clarity of gesture that was never peppered with artifice.
The meditative music in particular made the deepest impression: 'Repton', 'Deep Harmony' and 'An Irish Blessing' played with refinement and tunefulness. There could have been no better, or obvious way to celebrate 20 years of quite amazing progress.
Prestige

As ever the European focus of the weekend adds to the prestige it brings the town.
Among frequent participants like Rijnmond and Amersfoort from the Netherlands, the UK was represented by Lockwood, making their tenth appearance, City of Chester making their first, as well as Blackley and Lympstone.
Amboise is exactly the kind of mini-European festival that the European Brass Band Association could be encouraging in its other member countries – and the kind that in its short 20 year history has become a wonderful catalyst for brass band development in France.
Roy Terry