Medallion men: Newcastle Steel Works Band: 1924 British Open winners

The ornate engraving on a small, gleaming medallion, fixed proudly at the top of the British Open Gold Challenge Shield tells its own tale.
1924: Won by Australian Newcastle Steel Works Band at Belle Vue, Manchester
Meanwhile, less conspicuous, almost hidden away on one of the silver commemorative strips on the back of the iconic trophy is another story telling inscription - 1953: National Band of NZ
Empire outposts

They record the only occasions when the most prestigious brass band contest in the world has been won by competitors from outside the UK - victors from the farthest outposts of the British Empire.
Other challengers have been rare: Australian Commonwealth (1926); Woolston (1975 & 2000); Hawthorn (1982); Dalewool (2004); Brisbane (2009) - due to the fact that 90 years after that historic Australian win, and 61 after the New Zealander's success (the miserly engraver didn't gave the band its full title), it is the age old problem of finance, not musical excellence, that keeps southern hemisphere banding in contesting isolation.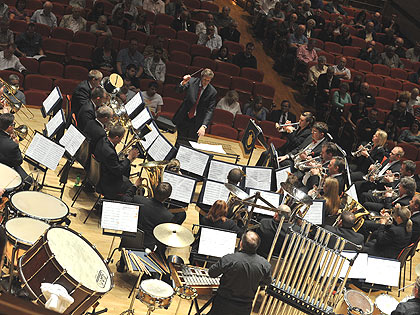 The last Aussies? Brisbane take to the stage in 2009

And as the British Open Championship contemplates the opening of its European borders for the first time in 2015, the prospect of the very best Australian and New Zealand bands returning to compete at Symphony Hall, let alone emulating their illustrious predecessors, seems unlikely for the time being at least.

Travel time

Despite the vast reductions in travel time in an ever shrinking, linked-up world, the cost of making the trip to the UK to compete at the Open has become almost insurmountable without generous sponsorship.

It also means that the likelihood of Brisbane Excelsior or Wellington Brass, the current National championship winning cream of antipodean banding, being able to return to the contest motherland anytime soon appears remote, despite their obvious desire to test their mettle against the very best rivals - British and European.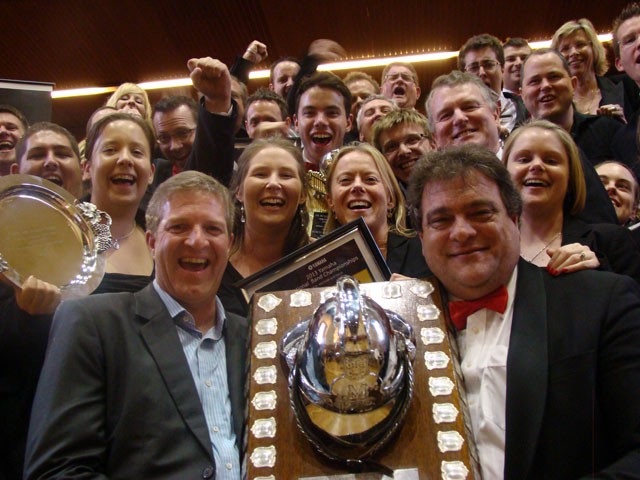 Fireman sums: Brisbane has won the National Trophy seven times since 2005

"We would love to come back and compete at the British Open, especially as the 90th anniversary of Newcastle's historic success will have passed this year," Brisbane Excelsior's Secretary, Stuart Bent told 4BR.
"It remains the most prestigious contest in the world, and the benchmark for excellence. Our last visit was in 2009 when we came 10th, so we would love to compete against the world's best bands on a more regular basis."
Immense

As Stuart revealed though, financing such an undertaking would be immense: "Despite the brilliant commitment of our players, it cost well over $AUS 120,000 dollars in 2009, and even with a better exchange rate we are still talking a minimum of around £45,000 in the next couple of years.
All this and we have to finance our trips to our own National Championship; so without sponsorship it just isn't feasible - although if we can find a way, we will."

China

In the meantime Brisbane XLCR will travel to a foreign land this year, as they contemplate a week-long tour to China in September with concerts in Shanghai at a major tourism festival.
"This is a different type of opportunity for the band," Stuart added. "And who knows what may come of it. World travel is getting easier, but it's still very expensive."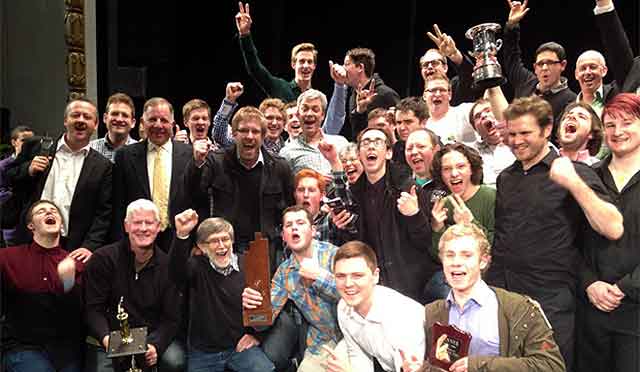 Wellington's victory: The National success of 2013

That is something which the newly crowned New Zealand champion, Wellington Brass faces as they look into the possibility of a UK tour in 2015.
"We are starting to explore things," MD Dave Bremner told 4BR. "Meeting the costs for such a trip, without asking too much of highly committed players though, is the key. We are looking at £50,000 or more, so being able to access different funding streams and sponsorship is vital."

Plans

He added: "We have just returned from a wonderful National Championship in Invercargill, which took three internal flights and cost around £25,000.

We also have plans for a new CD, and a possible National hat-trick in Rotorua to aim for next year, so it's a question of getting our priorities as well as our finances right."
Holy Grail

Being able to emulate the famous 1953 band is something that has become something of a Holy Grail to New Zealanders though, as David explained.
"Stories about that British Open victory have become legendary at home, especially as other great bands have made the trip to the UK and have been unable to emulate them since.

We would love to try ourselves - and as a young band we certainly have the ambition."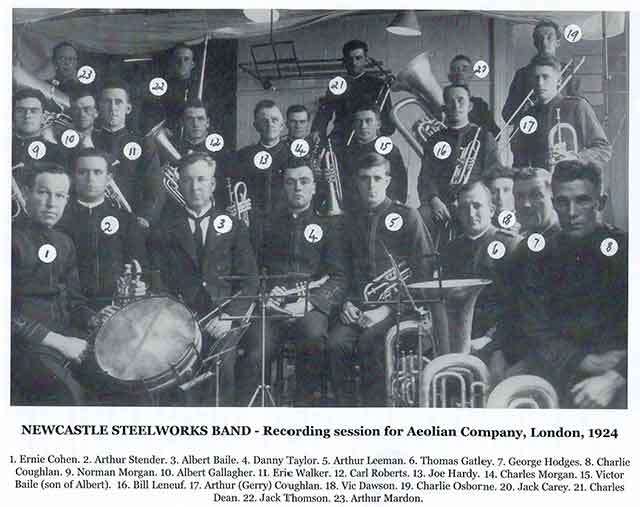 Making the most of their time: Newcastle also recorded on their 1924 trip

If either Brisbane or Wellington eventually takes to the Symphony Hall stage, the age of globe-shrinking internet contest coverage will mean that they won't come as surprise musical packages, as was certainly the case with the Newcastle Steel Works Band in 1924 or the National Band of New Zealand in 1953.
Clever signings

Newcastle's trip was ostensibly organised to perform for three months at the British Trade Exhibition at Wembley under MD, Albert Baile, although before leaving, he cleverly signed up a few top Australian players such as the remarkable cornet virtuoso Arthur Stender.
The New South Wales band soon acclimatised quickly, and boosted their tour earnings with a contest victory at Halifax over the likes of Foden's and Black Dyke, before going on to record their famous victory at the King's Hall - becoming the first band to have their name engraved in the iconic Gold Trophy in the process.
Immense impact

Their impact was immense - with their pioneering the 'all seated' square formation soon taken on by the Brits after they also went on to come third at the National Championships at Crystal Palace.
By the time the Australian Commonwealth Band made the trip in 1926, the top British bands no longer underestimated their challenge, and despite coming fourth at Belle Vue, it was concert earnings that paid their way.
Trailblazers

That 1924 Newcastle Band may well have left the initial mark of antipodean contesting excellence, but in terms of trailblazing, the New Zealanders led the way.
Not only did they instigate their own National Championships in 1880 (20 years before the Brits), but they also sent a band to perform in the UK in 1903, when according to contemporary reports a hand-picked 'Hinemoa' Band, led by Thomas Herd, performed in 'one hundred British towns' before returning home amid recriminations of bad organisation.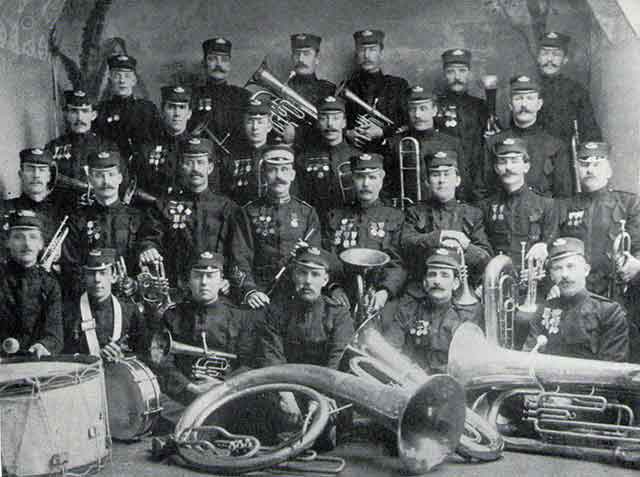 The originals: The 1903 Hinemoa Band

Half a century later however and a very well organised National Band of New Zealand made its way to UK shores - helped by a government grant of £10,000, which met a third of the overall cost.

Royal Command

Under the direction of the great K.G.L. Smith, the newly formed band came to Britain to play their part in the Coronation festivities, and performed in 170 concerts and marching displays (which was revolutionary compared to British bands) - including a Royal Command performance at Buckingham Palace and a contest victory in Edinburgh.
However, even on the day of the British Open their MD still thought they hadn't a chance: "I did not for one moment think we would win," Ken Smith later recalled. "Our style and sound was completely different from the British bands."
Lap of Honour

Win they did though on 'Three Musketeers' - although their 'Lap of Honour' performance was a hastily arranged 'William Tell', starting with just six players with others racing to the stage to join them in time for the 'furioso' finish!

It was a victory every bit as startling as Hungary beating England 6-3 at Wembley a few months later, with British bands shown to be both technically and musically inferior to their New Zealand counterparts: Their legacy remains every bit as relevant today as it was over 60 years ago.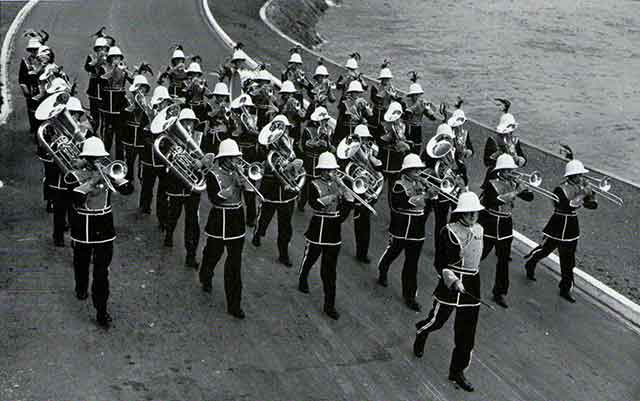 Well drilled: The marching talents of the 1953 National Band of New Zealand

Greater scheme

So where does that leave the current antipodean champions in the greater scheme of world class contesting hierarchy?
Brisbane recently won the Australian National title for the seventh time since 2005 - a record unsurpassed in the history of the event - making the famous Fireman's Helmet Trophy an almost permanent fixture in their Queensland bandroom.
Wellington meanwhile has forced its way to the top of New Zealand banding with its second successive National victory in Invercargill.
Without doubt, both are fine top class Championship bands - excellently led, well organised, ambitious and hungry for further success.
Whether or not they are capable of emulating their predecessors and winning a future British Open is perhaps more debatable, but one thing is for sure - they wouldn't be out of place at the contest, if they can find the money to get to Birmingham.
All that, and history does have a funny way of repeating itself every now and again….
Iwan Fox